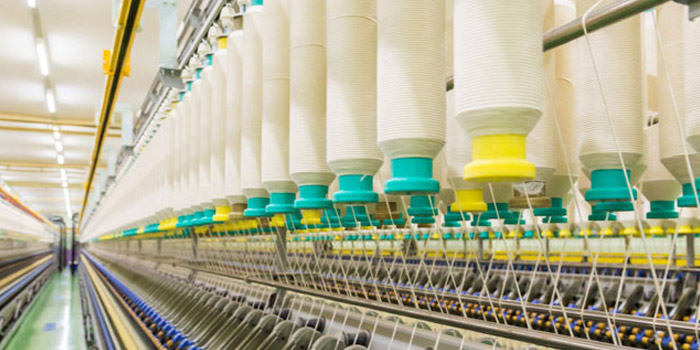 Technology on the Forefront
Textile mills face a number of issues with the movement of raw materials such as cotton, yarn, and fabric from one department or machine, or floor to another.
Textile mills face a number of issues with the movement of raw materials such as cotton, yarn, and fabric from one department or machine, or floor to another. Not only does the transportation of materials consume time and resources, but there are also various challenges in ensuring that material is handled safely, efficiently, and economically without compromising the production targets.
Material handling involves the movement of materials, manually or mechanically in batches or one item at a time within the plant. The movement may be horizontal, vertical or the combination of these two. Material movement adds to the cost but not to the product value. The ideal manufacturing plant would have an absolute minimum of materials handling and more use of mechanical material handling equipment.
Modern retail today is a global marketplace, which streamlines transactions between manufacturers, producers (farmers), creators (designers, etc.), shopping platforms and consumers. The logistics and supply chain acts as the key enabler in making both the consumers get what they want and the retailers deliver to the consumer expectation in the challenging season.
Textile mills face a number of issues with the movement of raw materials such as cotton, yarn, and fabric from one department or machine, or floor to another. Not only does the transportation of materials consume time and resources, but there are also various challenges in ensuring that material is handled safely, efficiently, and economically without compromising the production targets.
Recognising this need, A.T.E. has tied up with Godrej & Boyce Mfg (Material Handling Division) to provide effective solutions for material handling and warehouse management. This will help textile mills: reduce manpower, increase the speed of material movement, improve productivity, minimise production cost, increase handling capacity, and ensure safety.
Godrej & Boyce is India's largest manufacturer of lift trucks. Its product range includes electric, LPG, and diesel counterbalanced forklifts (up to 25 tonne capacity), warehouse trucks, and other trucks for specific applications. They also design and manufacture attachments for addressing a wide range of special handling applications.
A.T.E., a single window solution provider across the textile value chain with 80 years of experience, is an expert in providing high quality, end-to-end solutions to the Indian textile industry. The partnership between A.T.E. and Godrej & Boyce Mfg will immensely benefit the Indian textile industry to meet the material handling and warehouse management challenges head-on, gaining a sustainable competitive advantage in their businesses.
A.T.E. has also tied up with ost's Engineering Company Limited to bring the best material handling equipment to the textile industry in India and Bangladesh. Jost's is a leading manufacturer of material handling equipment in India since 1920, and has carved out a formidable reputation in Indian industries as an engineering company focused on developing technology based solutions and services for specific needs. Jost's has expertise across segments such as textile, power, oil and gas, defense, aerospace, and other critical sectors with customised solutions. With headquarters in Mumbai, it has branches spread across multiple locations to be close to its customers.
A.T.E. with its reach in textile industry will exclusively market Jost's material handling products jointly with Jost's in India and Bangladesh. Products offered includes platform trucks, hand pallet trucks, manual and electrical stackers, dock levellers, electric stackers, reach trucks, electric forklifts, scissor lifts, custom-built trucks, and racking systems. Jost's has an integrated service team through seven strategically located service centres, which are equipped with sophisticated test and measuring instruments, calibrators, diagnostic software, and fully trained service technicians. A stock of critical spares is also maintained at all service centres to provide prompt services. A.T.E. with over 75 years' experience in the textile industry is a domain expert in textile processing providing end-to-end solutions. The expertise these partners – A.T.E. and Jost's – will bring on the table will immensely benefit the Indian textile industry.
Robinsons Global Logistics Solutions (RGL), a warehousing and distribution company than has been spun off from the reputed Robinsons Cargo & Logistics (RCNL), brings a strategic combination of technology, international best practices and deep domain expertise to the Indian market. Building on the 65 years of legacy of RCNL's market leadership, RGL is built on the firm values and business ethics of integrity, commitment, customer satisfaction, and drive for excellence.
Aditya Vazirani, Founder Director, RGL, said, "We would consider the textile industry in two ways: the feeding of raw materials onto the line and the delivery of the end product to the customer. After understanding the needs from the procurement teams of raw materials and the manufacturing team of what they need when, we can devise with the use of our system the minimum stock quantity required at your location, work backwards with the procurement teams on the various BOQ for the MRP1 and MRP2 to ensure that it is available at our warehouse and ready for dispatch through connectivity through API and EDI with the ERPs used for manufacturing. Basically ensuring that the right amount of material is delivered at the right time so that the warehouse on/off site is managed efficiently and thus putting more efforts and less space and inventory holding requirement for manufacturing."
He added, "On the other side, depending if the textiles are made to stock, we can plan efficient inventory management based on batch accuracy of FIFO and ensure delivery when required is done on time in full. When it comes to made to order, we will advise / implement the cost effective and efficient delivery methods to the end customer."
In spinning mill, there are many departments that involve handling of raw material, intermediate products, wastes, finished goods, stores and maintenance tool equipment. During fibre to yarn conversion, materials (raw material, laps, sliver, roving, yarn, and wastes) are stored at different places and transported between departments. The selection of appropriate production machinery and proper layout of spinning mill eliminate as far as possible the need of material handling. In a spinning mill, the chute feed system, and automatic material transportation (ribbon lap, roving bobbin, ring bobbin, cone) reduces the material handling activities to a greater extent, which significantly contributes to productivity enhancement. The selection of appropriate material handling equipment for performing a particular task is crucial in terms of cost minimisation.
Ruchi Dogra, Co-Founder & Director, FreightCrate Technologies says, "Retail, from luxury to e-commerce, is an extremely price sensitive business and especially so in the festive season. Logistics, when utilised smartly, can prove to be a key factor in improving profits. Streamlining the processes through advance planning and execution through the help of experienced online logistic marketplaces can not only ease the burden of planning, supervision and management but also helpsto dramatically control costs, thus add to revenue growth through well planned and efficient functioning."
Automation is about improving quality, because frequent contact with the bobbins, which damages the material and impairs quality, is avoided, and many working processes can be simplified and designed to be less labor-intensive. The bobbin transport system provides economic advantage to package handling in ring spinning. It ensures the protection of roving wound around the bobbin, which is highly liable to damage during manual transportation.The train of bobbins is automatically transported from speed frame to the storage area and respective ring frame by selecting the appropriate program in the PLC. Empty bobbins in the ring frame are manually interchanged with full bobbins.
This joint venture agreement of Rabatex with the Alexander & Giovanelli Group will bring unique expertise in manufacturing and sales of advanced, electric operated, handling equipment to the Indian market. The A&G Group currently has an extensive range of electric trolleys for weaving room, which it will now manufacture on Indian grounds instead of exporting them from Italy. However, throughout the production, quality and production standards of the Group will be maintained.
Luca Giovanelli, Director at Alexander & Giovanelli Group, said "The main reason for tying up with Rabatex is to use their world-class manufacturing facilities and proficiency. It will reduce our production costs and we will be able to offer products with the most competitive prices in the world market. The supply from India will surely shorten the delivery time to supply to India and other Asian countries as well. We hope to have progressive association and partnership with the Rabatex Group".
This joint venture will also complement Rabatex in offering a complete range of material handling equipment for the textile industry, including the mechanical trolleys and electric operated trolleys. The company is well established in the Indian and global market with more than 5000 trolleys working successfully in leading textile mills. With the industry moving towards automated technologies, Rabatex foresees a good demand for the electric operated trolleys. And, due to increased capacities with this tie-up, their market share for trolleys is all set to increase in India and 28 other countries as well.
Additionally, the company's customers will have several advantages. According to Sandeep Panchal of Rabatex Group, "Rabatex produces mechanical trolleys but is looking forward to catering to the demands of automated equipment. This may ease the functioning of any unit with a lesser operational cost to the weaving department, by enhancing productivity and reducing downtime. Also, the electrical trolleys are equipped with several safety features, so the chances of accidents will be minimized".
Luca Giovanelli also wants to explore a new concept of renting trolleys to mills. The company would be the first to start such a service. It plans to, rent the trolleys to the mills and provide the service of regular upkeep of these trolleys. This will ensure that the trolleys are always maintained as per the strict European safety standards and will also be cost-effective for the mills.
After this amalgamation of resources and expertise, the Rabatex Group is looking to diversify manufacturing by focusing on Material Handling and Storage Solution Equipment as well. Rabatex is also aiming for more technical tie-ups in this field in the coming years. Another addition to its list of joint ventures is a tie-up with world-renowned Karl Mayer for manufacturing of warp preparation machinery in India. These companies are known for their innovation and ability to produce futuristic technology for the industry. With several such contributions, Rabatex has set benchmarks in the industry and will continue to move further with the same spirit and dedication.
Rapid roll up doors manufactured by Gandhi Automations (Prime Internal Door) are fast, durable, energy saver and are engineered for all kind of industrial application. Rapid doors (internal) are used where a section of the facilities has to be isolated from other section. This simple curtain design of door aids in quick opening and closure of Rapid Doors and ensure effective protection of the against heat, dust, humidity and temperature.
Gandhi rapid door aids you in meeting your operation's targets. Save energy, decrease total operational costs, restructure traffic flow and improve logistics. The company has designed its rapid doors to be safe, dependable and maintenance-free, conferring to all international standards.
Auto Guided Vehicles (AGVs) are the newest trend in material handling. AGVs are portable robots, which follow a prefixed path for navigation. They can tow the material stored on trailers and trolleys attached behind them or can store the material on the overhead beds for conveyance. They are used to transport loads in a manufacturing facility or a warehouse, where repetitive movement of material is required with little or no human interaction. Nowadays, they are deployed in nearly every industry including automobile, food, pharmaceuticals and textiles, their scope ranging from handling raw materials to finished products.
AGVs are 100 per cent autonomous requiring no human interaction at all. Due to this the chances of errors are reduced manifolds. Unlike the traditional forklifts, pallet trucks etc they require very low maintenance. The standard AGV range at Rucha Yantra LLP includes Tugger/Tow type AGVs, Unit load carriers, Tunnel Type or Flat Bed AGVs and Mobile Assembly Conveyor AGVs. The Flat Bed AGV is the most suited product for a textile industry. It is designed in such way that it is extremely compact and low height – even less than 300 mm. This makes it very easy to slide under a trolley carrying a 100 meter cloth roll and lift it easily without requiring any manual help. It ensures completely automatic load carriage, from say spinning mill to weaving mill including automated picking and placing of the pallets, carts or trolleys.
Jay Storage Solutions based out of Vasai, Maharashtra has been at a forefront of designing and offering smart and intelligent solutions to the logistic industry. As supply chain becomes more complex, the company has made it the mission to find innovative solutions that makes logistics lives better. The company provides solutions for wide ranging products for every industry. Textile being an important industry is no exception. Jay Storage Solutions can suggest wide range of products depending on the type of products you are looking to store. The palletised material can be stored on conventional pallet racking, drive in racking or automated systems. If the material is in roll formed, the company can provide long span shelving with either plywood or metal decking and if it is finished product like garments, they can provide garment racking where clothes are on hangers.