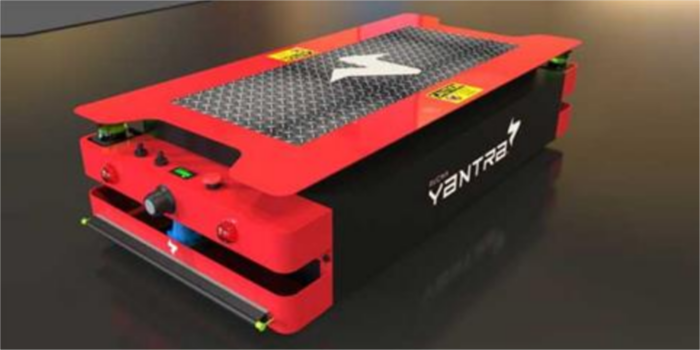 Material handling innovations for a better future
Material handling in manufacturing sector refers to the movement of any kind of material/load within the limits of shop floor or at the most to the transportation vehicles or warehouses.
Textile mills face a number of issues with the movement of raw materials such as cotton, yarn, and fabric from one department or machine, or floor, to another. Not only does the transportation of materials consume time and resources, but there are also various challenges in ensuring that the material is handled safely, efficiently, and economically.
Textile mill consumes a huge amount of raw material for conversion of raw material to final products. The mills are using a large number of machines and processes. During conversion of raw material to end product; material moves from one department to other, one machine to other machine and from one floor to other. Day by day, production of each machine is going up. To achieve the target of production, the mill management is facing the challenge of safe, efficient and economical material handling.
Material handling is an art and science of conveying, elevating, positioning, transporting, packaging and storing of materials, starting from the time, the raw material (such as fibres for spinning unit or yarns for weaving/ knitting unit and fabrics for wet processing or garmenting units) enters the mill gate and goes out of the mill gate in the form of finished products; it is handled at all stages within mill boundaries such as within and between raw material stores, various section of production department, machine to machine and finished product stores. A material may be handled even 50 times or more before it changes to finished product. It has been estimated that average material handling cost is roughly 10 to 30 per cent of the total production cost depending upon product to process.
By saving in the material handling cost, the cost of production can be reduced considerably. Material handling involves the movement of materials, manually or mechanically in batches or one item at a time within the plant. The movement may be horizontal, vertical or the combination of these two. Material movement adds to the cost but not to the product value. The ideal mill would have an absolute minimum of materials handling and more use of mechanical material handling equipments. The shortage of labour and increasing wages cost demand the most efficient use of labour.
Typical handling tasks are picking and orderly placing of fabric parts. Main concerns are: robust and reliable grasping of limp parts without damages and accurate positioning for the following manufacturing operations guaranteeing the quality of the final product. The development of robotic systems to carry out tasks involving soft and limp material is challenging and few reliable systems exist most of which narrowly oriented to specific tasks. Skills involved may comprise tactile and vision although material properties can be taken into account to achieve intrinsic grasping robustness.
A.T.E. has tied up with Jost's Engineering Company Ltd. to bring the best material handling equipment to the textile industry in India and Bangladesh. Jost's is a leading manufacturer of material handling equipment in India since 1920, and has carved out a formidable reputation in Indian industries as an engineering company focused on developing technology-based solutions and services for specific needs. Jost's has expertise across segments such as textile, power, oil and gas, defense, aerospace, and other critical sectors with customised solutions. With headquarters in Mumbai, it has branches spread across multiple locations to be close to its customers.
A.T.E. with its reach in textile industry will exclusively market Jost's material handling products jointly with Jost's in India and Bangladesh. Products offered includes platform trucks, hand pallet trucks, manual and electrical stackers, dock levellers, electric stackers, reach trucks, electric forklifts, scissor lifts, custom-built trucks, and racking systems.
A.T.E. has also tied up with Godrej & Boyce Mfg. (Material Handling Division) to provide effective solutions for material handling and warehouse management. This will help textile mills reduce manpower, increase the speed of material movement, improve productivity, minimise the production cost, raise handling capacity, and ensure safety.
At the time of new garment factory set up or improvising production system and factory layout, material handling system is taken into account for better factory performance and smooth material flow. A right material handling system across the factory departments reduces material transportation time, waiting time at work and delays.
Cutting table unloading is considered a reference task because it is a necessary step in an automated garment manufacturing process today and it involves all main handling issues: picking from flat a thin soft part without own stable shape, lifting up, displace, deliver to further manufacturing operations with required position accuracy and complying with quality requirements.
The robotic system is developed to carry out automatic unloading of fabric parts laid down in single layer on the stiff flat surface of a cutting table. The cut parts can be made of different material: wool, linen, cotton and artificial fibres, can have various shape, are very thin, soft and are generally porous. Attention has to be given to possible damages to the high quality garment costly material during picking and handling tasks.
Auto guided vehicles (AGVs) are the newest trend in material handling. AGVs are portable robots, which follow a prefixed path for navigation. They can tow the material stored on trailers and trolleys attached behind them or can store the material on the overhead beds for conveyance. They are used to transport loads in a manufacturing facility or a warehouse, where repetitive movement of material is required with little or no human interaction. Now a days, they are deployed in nearly every industry including automobile, food, pharmaceuticals and textiles, their scope ranging from handling raw materials to finished products.
AGVs are 100 per cent autonomous requiring no human interaction at all. Due to this the chances of errors are reduced manifolds. Unlike the traditional forklifts, pallet trucks etc they require very low maintenance. The standard AGV range at Rucha Yantra LLP includes Tugger/Tow type AGVs, Unit load carriers, Tunnel Type or Flat Bed AGVs and Mobile Assembly Conveyor AGVs. The Flat Bed AGV is the most suited product for a textile industry. It is designed in such way that it is extremely compact and low height – even less than 300 mm. This makes it very easy to slide under a trolley carrying a 100 meter cloth roll and lift it easily without requiring any manual help. It ensures completely automatic load carriage, from say spinning mill to weaving mill including automated picking and placing of the pallets, carts or trolleys.
The specialised mechanism of the AGV bed allows to transport yarns, bobbins, cloth and carpet rolls of up to 500 kg without the need of any hooking or tying. This saves manual time and effort making 100 per cent automation possible. As we know textile companies have very noisy environment due to several machines operating at the same time. The Flat Bed AGV can work seamlessly in such noisy as well as high temperature environment. Additionally, it deploys two collision detection sensors, one at front and other at rear side while ensuring complete 360 degree protection against safety incidences on factory floor. Due to inherent flexibility and accuracy, it is also ideal alternative to the heavy stationary conveyors or gantries on assembly lines occupying permanent spaces.
This flat bed AGV comes in two variants based on navigation technology requiring no floor and structural modifications – coloured path guidance technology which is three times more flexible and lower in maintenance than traditional magnetic tape or laser based navigation or a more advanced SLAM based Natural Navigation based technology which relies on static natural features in the environment and does not need additional navigation aids like tapes, reflectors, etc. This makes it easier to accommodate in the tight spaces in a textile company.
Jay Storage Solutions based out of Vasai (Maharashtra) has been at a forefront of designing and offering smart and intelligent solutions to the logistic industry. As supply chain becomes more complex, the company has made its mission to find innovative solutions that makes logistics lives better. Jay Storage has invested heavily in our in-house R&D to manufacture comprehensive range that caters to a wide variety of needs across industry segments and wide applications.
Jay Storage Solutions offers wide range of products depending on the type of products you are looking to store. The palletised material can be stored on conventional pallet racking, drive in racking or automated systems. If the material is in roll formed, Jay Storage Solutions can provide long span shelving with either plywood or metal decking and if it is finished product like garments, we can provide garment racking where clothes are on hangers. While providing any of this solutions, the company makes sure to utilise maximum available space.
Samir Gandhi, Director of Gandhi Automations, had this to say: "The demand for material handling automation and equipment has increased exponentially over the past few years. It is because of the increasing production capacity, reducing man hours and meeting deadlines. Now with more and more companies streamlining their processes the use of material handling equipment's for any industry is a must. The demand for such automation is the need for the hour; to deliver faster, hassle free loading/ unloading and reducing supply chain operating costs. How efficiently materials move through a manufacturing or warehouse facility will affect the cost of production as much as any other part of the supply chain. Given its importance, companies have found ways to leverage technology to improve this process. Because most manufacturing companies' internal processes are only visible to employees, a lot of people are unaware of how common and advanced the technology involved with the many parts of the production process really is."
He added, "In future we feel technology advancement combined with material handling equipment's will change how logistics and supply chain management companies' function. Looking at the current situation at hand, the future of material handling sector looks very promising as it is not just helping companies perform better but also save money whilst increasing their production capacity. Thus, we at Gandhi Automations are always innovating and learning new technological advancements to help improve processes for all kinds of industries."
On the offerings for the textile industry, Gandhi said, "We manufacture a wide range of materials handling equipment's. These equipment's have been designed after studying the various designs available and in use worldwide and adapting them to suit Indian operating conditions. Focus is on manufacturing robust, reliable, safe, simple to operate and maintain, durable quality equipment's. This has earned us customer appreciation and repeat orders from all over India."
"Dock Levelers are the crucial part of your loading bay area. Usage of dock leveler aids in fast loading and unloading of goods at warehouse, moreover is also important from safety and security view. Dock leveler acts as bridge between loading bay area and truck, height difference between truck and bay area is bridged and material movement can be carried out smoothly between warehouse and truck. We manufacture dock levelers conforming to EN 1398 standards and our product is CE marked. Operation of dock leveler is very easy, unskilled labor can use perform operation with ease," added Gandhi.
Rapid roll up doors / high speed doors manufactured by Gandhi Automations (prime internal door) are fast, durable, energy saver and are engineered for all kind of industrial application. Rapid doors (internal) are used where a section of the facilities has to be isolated from other section. This simple curtain design of door aids in quick opening and closure of rapid doors and ensure effective protection of the against heat, dust, humidity and temperature.
Gandhi rapid door aids you in meeting your operation's targets. Save energy, decrease total operational costs, restructure traffic flow and improve logistics. The company has designed its rapid doors to be safe, dependable and maintenance-free, conferring to all international standards.
Prime high-performance doors/high speed doors are designed and factory-made with German collaboration using state-of-the-art and resourceful engineering technology for frequent use in high traffic areas with opening speeds up to 2.5 m/s. The high opening speed reduces time taken in movement of material, thus hastening the logistics process. Rapid doors/high speed doors are manufactured and installed keeping in mind international standards.
For the textile industry, Nilkamal has been an indispensable supplier for over 25 years. A wide range of Nilkamal crates developed for specialised applications like storing yarn, coning, doubling, steaming, yarn dyeing, spinning, weaving, warping, doffing, donning, etc. Today, Nilkamal is a one-stop-shop for material handling solutions offering specialised pallets for the textile industry, emission-free material handling equipment, as well as shelving for storage of yarn and cloth. Nilkamal's capabilities grow to keep pace with the growing needs of the industry.
With over 5,000 tailored installations for a range of industries installed in over 60 countries, Eton Systems, headquartered in Gånghester, Sweden, has established a reputation as a clear leader in the field of complete material handling systems.
"Our systems are a natural fit with the major Industry 4.0 networked manufacturing plants that are now being constructed worldwide for sectors such as the garment and home textiles manufacturing and automotive industries. We have had a very busy last 12 months, with more major projects in the pipeline. We understand, however, that one solution does not fit all situations, which is why we think in terms of custom-made solutions matched to specific customer needs. Buying a system from us, is buying a solution and a partnership. Each system includes support, service, training and knowledge built on more than 70 years of experience. When a customer invests in an Eton System the increased efficiency normally results in savings of between 40 to 60 per cent" says Eton's Sales and Commercial Director Roger Ryrlén.
A typical system consists of overhead conveyors with individually-addressable product carriers which automatically steer their way through programmed operation sequences. They are monitored by a computer providing all the necessary data for optimally measuring and managing processes. The systems are also highly flexible and can be rapidly modified to changes in the production line or the need for expansion.