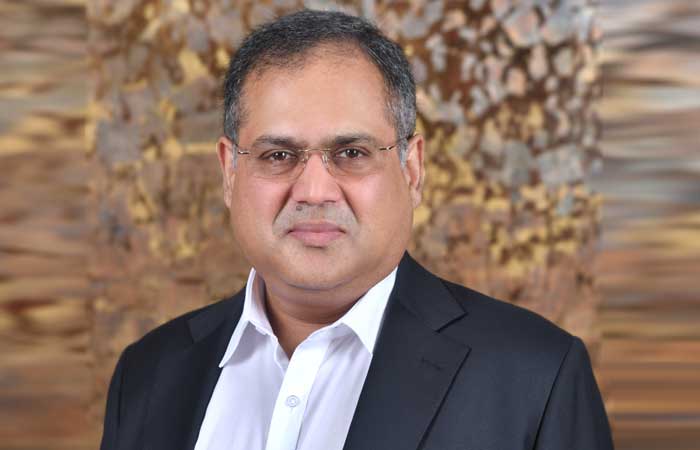 LMW spinning a success story
Born with a vision to provide the latest spinning technologies, which are developed & made in India, Lakshmi Machine Works Limited (LMW) today is one of the very few companies in the world that offer the complete range of spinning machinery. With a clear focus on sustainability and digitalisation, LMW is all set to fulfil the textile industry's future needs, says Rakesh Rao.
Indian spinning industry has undergone a sea change in the last six decades in terms of material being spun and technology being used. India is uniquely positioned to offer the entire range of yarns – from the coarsest count, like 6s Ne, to the finest count, like 300sNe. No wonder India today occupies the second position in the global spinning industry with more than 48 million spindles accounting for about 30 per cent share in the international trade. While there are many reasons for India's dominance in the spinning sector, one critical contributor to this success is the machines and technologies produced by the Coimbatore-based Lakshmi Machine Works Ltd (LMW). The growth of LMW's Textile Machinery Division (TMD) and the rise of the Indian spinning industry on the global platform can be seen as a symbiotic success.
Lakshmi Machine Works was established in 1962 to provide Indian textile mills with the latest spinning technology. Founded based on the Make in India premise, LMW, over the last six decades, has focused primarily on strengthening the competitive edge of Indian textile mills by providing state-of-the-art machinery supported ably with quality services. "When my late grandfather Dr G K Devarajulu, started the Company in 1962, it was with a vision to dedicate LMW to supporting the growth of India's spinning industry by providing high-quality machines and services that encompassed the entire gamut of spinning equipment. It was visionary thinking of him at that time when the spinning machinery industry already had established players. To date, we have continued to adhere to the vision of our Founder of providing a complete range of spinning equipment supported by quality services and spare parts," says Sanjay Jayavarthanavelu, Chairman & Managing Director of Lakshmi Machine Works.
Synergic businesses
Over the years, LMW has created synergic business verticals to make India globally competitive. The Company has four units – Textile Machinery Division, Machine Tool Division (MTD), Foundry Division and Advanced Technology Centre (to manufacture components for the aerospace industry). TMD is the largest of the four divisions accounting for 60-65 per cent of the overall turnover.
The Company's wide range of spinning machinery caters to different applications and has the capability of processing a variety of raw materials. LMW is one of the few companies worldwide that are skilled and equipped to manufacture the complete range of spinning machinery from blow room to winder. Talking about significant milestones during the last 60 years, Jayavarthanavelu says, "For us, the true milestone was when we started producing machines that were developed in-house. Earlier, many technologies used to come into the country from overseas as there were no Indian manufacturers with local research efforts. Our proud moment came when machines started rolling out using our in-house developed technology. This was followed up by other key developments like creating the longest ring frame in the world, most spindles sold, etc. As we grew, we started offering major accessories and components (like rings, top rollers, cots & aprons, etc.). Looking ahead, the introduction of the autocone winding machine and jet spinning will be memorable milestones in the Company's journey."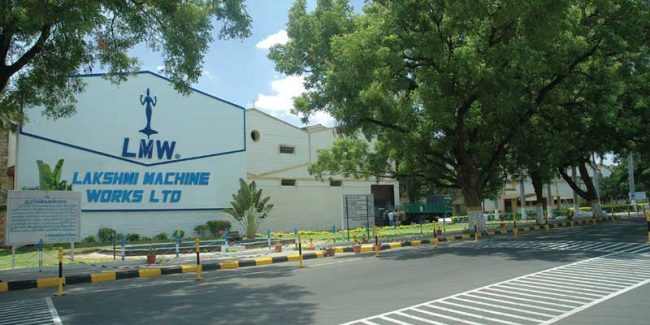 FY 21-22: A dynamic year
The fiscal year 2021-22 was a year just after the Covid. The government took an unprecedented step in the first quarter of 2020-21 to lock down the entire country to control the spread of Coronavirus. Later, this paid a rich dividend, enabling India to contain the impact of Covid 19 and bounce back quickly after the lockdown was lifted. Since then, the textile industry has looked up.
LMW also witnessed a surge in demand in 2021-22, with order flow increasing. Despite the second Covid pandemic wave, the Company showed remarkable growth. Overall, the Company's gross turnover increased by 84 per cent from Rs 1638.88 crore in 2020-21 to Rs 3016.76 crore in 2021-22. The net profit after tax grew by a whopping 278.5 per cent to Rs 179.67 crore in FY 2021-22 from Rs 47.46 crore in FY 2020-21. Commenting on the Company's performance, Jayavarthanavelu says, "Post Covid, the growth has been satisfactory.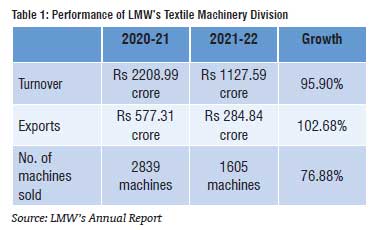 We are delighted with how things are going, especially with all our business segments doing well and good order booking. Our spare parts (components) business also performed well. The first half was good this year, and we are looking forward to the trend continuing in the second half as well." 
The Textile Machinery Division recorded a turnover of Rs 2208.99 crore in 2021-22 – up by 95.90 per cent compared to Rs 1127.59 crore in 2020-21. TMD sold 2,839 machines in 2021-22 compared to 1,605 machines in 2020-21.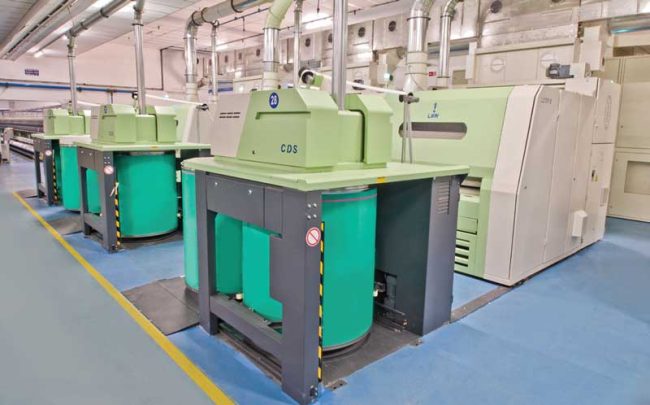 During the Covid period, the Company focused on areas like Industry 4.0, the Internet of Things (IoT), digitisation, etc. "First, we have concentrated on making our products smarter, which helps create a digitised shop floor. Second, we made incremental but important changes in the machines, especially in the draw frame and carding machines, which the customers have received well. We also successfully established TMD in the compact spinning machine segment (used on a ring frame for compacting yarn). All these steps have enabled our customers to raise their productivity and have yielded excellent results," observes Jayavarthanavelu.
Made in India for the world
Over the years, LMW has strengthened its position in overseas markets by securing numerous projects for supplying the entire array of textile spinning machinery. In 2021-22, despite challenges of rising input costs and logistics issues due to global geopolitical changes, the Textile Machinery Division maintained its good show. It contributed handsomely to LMW's export business. TMD accounted for 91 per cent of LMW's total exports of Rs 634.14 crore in 2021-22. At the same time, the Textile Machinery Division's exports grew by nearly 103 per cent in 2021-22 compared to 2020-21.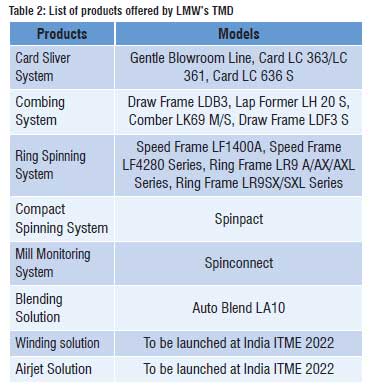 "Traditionally, exports account for about 20-25 per cent of our turnover. But, in the future contribution of exports will grow as we focus on exploring new overseas markets and expanding into the existing market. While there has been a new push into Turkey, we have been exporting to traditional textile manufacturing countries like Indonesia, Bangladesh, Vietnam, etc. In addition, we have a factory in China, which caters to that market," explains Jayavarthanavelu.
In the last quarter of 2021-22, TMD opened a facility for preparatory machines in UAE to further consolidate its position in the Middle East. LMW expects its exports to grow faster with rising demand for its machines from traditional and emerging markets.
Spinning machines from LMW contribute to a large extent in keeping production costs down and quality standards up. Hence, as part of its customer service strategy, TMD supplies spare parts & components to optimise machine reliability and ensure quality and performance. To ensure business continuity at the customer's end, LMW provides round-the-clock service support for maximising machine uptime. This is in line with the Company's customer-centric approach to its business.
"We supply our machines across the globe, and most of our customers are located at not-so-easily accessible places. To serve them, we have our service set up in each country. We have a logistics strategy to deliver goods and parts on time," says Jayavarthanavelu.
Helping industry overcome challenges
In addition to ongoing issues concerning growing competition from local and global players, the Indian textile industry faces many traditional challenges. And LMW is working closely with textile makers to solve some of these issues.
"Textile industry is a labour-intensive industry. With an increase in the level of automation in LMW machines, the dependence on labour is reduced. Textile manufacturing processes consume a lot of energy. We have been able to introduce a lot of motors and electronic equipment which can reduce energy consumption. This is a blessing to the user, especially when energy costs continue to rise," says Jayavarthanavelu.
The textile business is cyclic. So, textile manufacturers must manage this cyclicity with proper planning and high-quality machines. Jayavarthanavelu emphasises, "Irrespective of all challenges, the opportunities for the Indian textile industry is only going to grow with India gaining hugely in the spinning segment. With LMW's quality equipment and the competency of our customers, India is today in a position to give the best quality of yarn. More and more buyers are coming to India, which is a great sign. The next 5-10 years will be good for our industry."
To increase its share in the global market, India will have to focus equally on synthetic (manmade fibre) and cellulosic & cotton fibres. "Our machines are equipped to handle all kinds of fibres and customised to the customer's requirement," says Jayavarthanavelu.
Sustainability and circularity in focus
As a responsible company, LMW has followed sustainability principles and practices across its value chain. As part of this policy, the Company has been tapping renewable resources for power generation and has put in place the necessary infrastructure to generate wind and solar power. Today, about 90 per cent of the Company's energy demand is met through renewable energy. "For the last 20-25 years, LMW has been dependent almost entirely on green energy – first it was wind and later solar. As a responsible citizen of the world, for many years, we have been adhering to the management philosophy that focuses on adopting sustainable practices," stresses Jayavarthanavelu.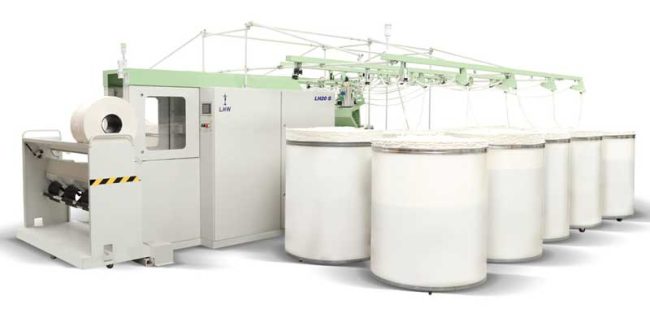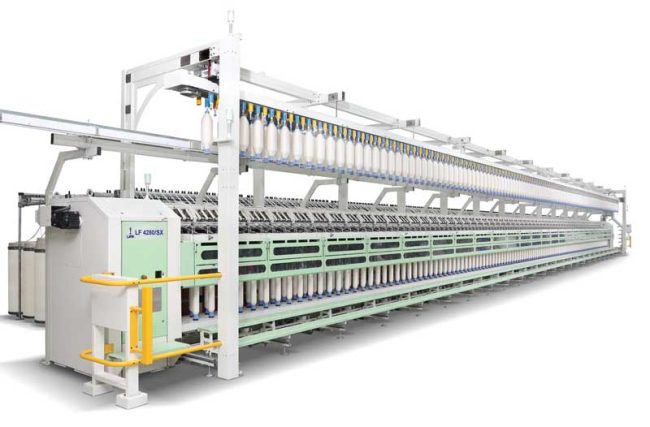 Textile manufacturers are increasingly migrating towards adopting sustainable practices in their businesses. "Spinning is an energy-demanding process. We look at the entire chain and look at ways to save energy at every level, thus, reducing the cost of production for our customers. This is an ongoing process, and our emphasis has been on designing the machine to make them energy-efficient," he says.
To help the textile industry on its green journey, LMW has adopted sustainability as an all-encompassing platform while designing and manufacturing its products. The Company always focuses on developing eco-friendly, sustainable, energy-efficient and low-carbon footprint technology. Jayavarthanavelu says, "Through our products, which are designed to fulfil the green goals (like reducing energy and water consumption, increasing productivity, lowering waste, etc.), we imbibed this value of sustainability into our customers. With end-user segments (like brand owners in the textile value chain) setting stringent green targets for their suppliers, the spinning industry has to be ready to show its commitment to sustainability. By using eco-friendly equipment of LMW, the spinners can not only reach their green targets but also achieve their business goals."
There is also a growing emphasis on recycling. According to Jayavarthanavelu, sustainability and circularity will be the key growth drivers for the industry in the future. While Western countries have been discussing sustainability and green practices, Indian industries, especially in Panipat (Haryana), have been recycling for many years. "Our spinners have adapted to regenerated yarn earlier, so I see the contribution of recycled fibres to increase. Our cards have been working on regenerated fibres for quite a few years. They have been doing a good job in India and Turkey. We are confident that this business will witness strong growth as recycling and circularity become mainstream," says Jayavarthanavelu.
LMW's R&D team continues to work on new techniques to design and develop superior products that enhance the value proposition of its customers. The Company has been developing innovative machinery to manufacture end-products at optimal cost.
Jayavarthanavelu elaborates, "Being a global company offering the entire range of spinning machinery (from blow room to autoconers), every segment in the spinning industry is important for us. We have a complete R&D strategy for every segment to ensure that the segment's needs are adequately addressed. So, there is an emphasis on R&D to upgrade all our products continuously. These efforts have helped LMW to become a one-stop-shop solution provider for all requirements of the spinning industry. Our strength is in providing a complete solution to our customers."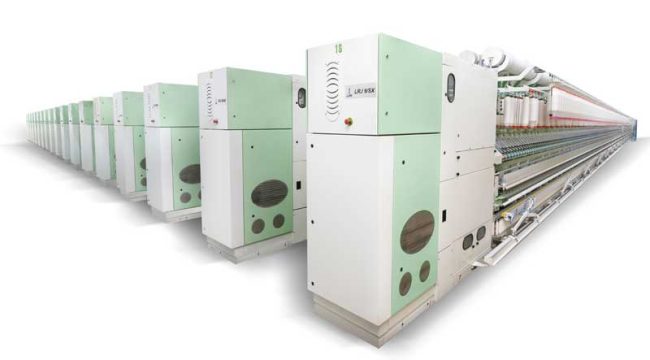 The robust project pipeline of the R&D team enables the division to widen its product basket to suit a more expansive customer universe. Extending its product portfolio, LMW TMD has developed autoconer and jet-spinning machines. "We will launch autoconer commercially in December 2022. We have developed air-jet spinning technology as an option for ring spinning. While we will display the jet spinning machine at India ITME 2022 at Greater Noida, the commercial launch will happen during the second half of 2023.
Supporting digitisation and automation
While companies across industries were in different stages of incorporating automation and digitising their processes, the Covid pandemic hastened their adoption. Today, digitisation (using data to improve business outcomes) has become a game-changer for many industries. Leveraging the experience of LMW's Machine Tool Division, TMD could quickly adopt digital solutions in its operations.
"We have been involved in developing smart machines through our division that manufactures machine tools – a sector which was first to adopt Industry 4.0 because of the advent of the CNC (computer numerical control) system. This proved advantageous for TMD as we could apply learnings from our machine tools business to textile machinery to make smart machines. As part of the roadmap for the future, we aim to make smarter machines for the textile industry to improve their productivity," says Jayavarthanavelu.
TMD also offers many automation solutions, such as lap transport, auto doffing, yarn breakage detection system, etc., to optimise workforce usage.
According to Jayavarthanavelu, all promising entrepreneurs should look at digitisation and automation to enhance productivity. "At the same time, efforts should be made to upskill the labour force to equip them to handle modern machinery and technology. India needs a skilled workforce to prepare for the next industrial revolution and take advantage of the new opportunities in the evolving global marketplace. LMW is helping its customers in their modernisation journey with automated machinery equipped with the latest digital tools to collect and analyse data for making proper business decisions," he added.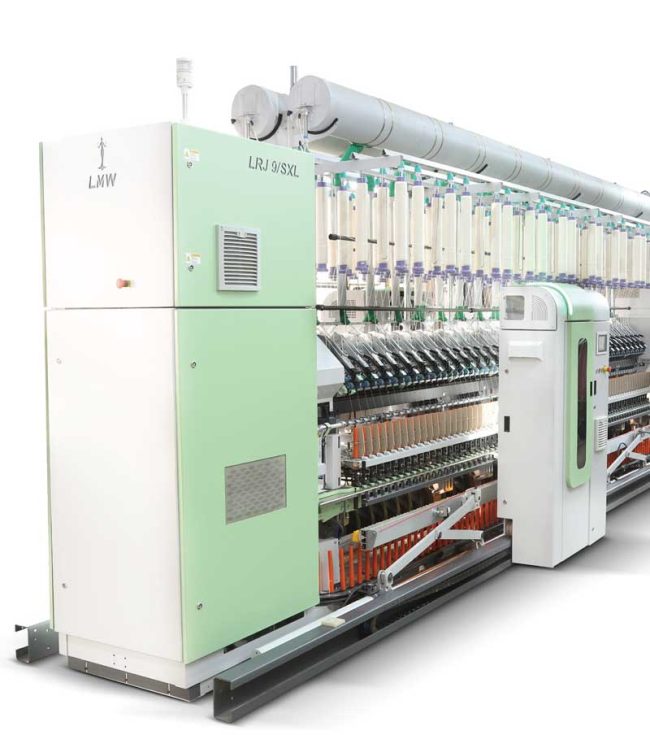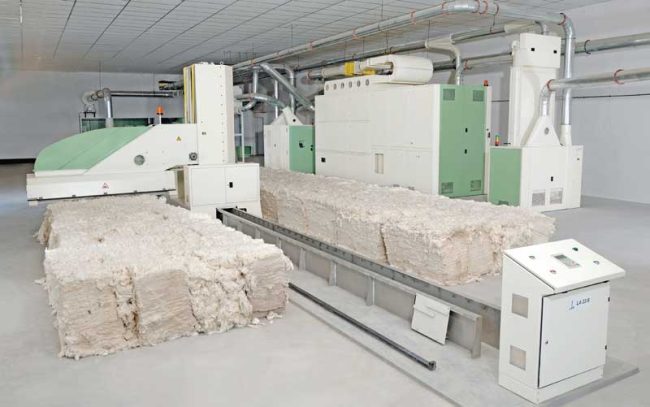 LMW welcomes you to India ITME 2022 (Hall 9, Stall – A1B2)
India ITME – the mega trade fair for textile engineering – is set to kick start on December 8, 2022, at Greater Noida. While LMW will display its complete range of innovative machinery for the spinning industry, it will also highlight the new additions – like autoconer and jet spinning machines. "We look forward to meeting our customers at India ITME 2022 and showing them our new, innovative products. It will also be a great platform to exchange new ideas. We encourage all to come and witness our latest offering at the trade fair," says Jayavarthanavelu.
Given the strength of the Indian industry and the changed geopolitical scenario, India is well poised to be a leading player in the global textile industry. In the last few years, the Government of India has taken many steps to address the pending issues of the textile industry. Sharing his views on the new opportunities for Indian industry, Jayavarthanavelu opines, "The concerned ministries and government departments have been able to understand the textile business cohesively and have provided all the necessary support by creating parks, infrastructure and providing incentives. Nothing more a government can do. It is now up to the industry to take advantage of all these things. With the world looking at India as a major part of the textile supply chain, we can easily be the world's second-largest producers."
In the future, sustainability and digitisation will be essential discussion points in the industry. Jayavarthanavelu adds, "Customers are looking at technologies which give them the flexibility to change the product mix (based on the raw materials) depending upon the market requirements, thus, giving them a good business opportunity. In addition, mill owners always look for means to raise productivity and quality."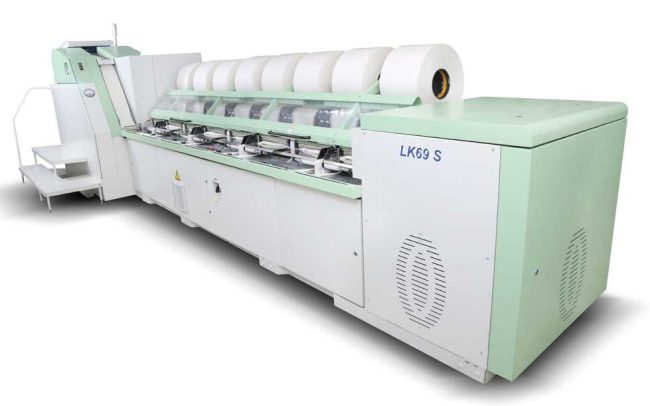 The symbiotic success
The recent geopolitical developments have resulted in a growing demand for all textile manufacturing hubs worldwide. For Indian textile makers, demand from domestic and international buyers remained buoyant throughout 2021-22, and the trend is expected to continue in the current year. As a result, spinning mills will continue to add spindles to meet growing demand. Thus, the future business prospects of LMW look comfortable with a healthy order book position. With textile mills looking to produce economically in a sustainable way, the industry can bank on LMW's Textile Machinery Division with its innovative, efficient and eco-friendly solutions.
"Our vision is to provide our customers with an entire range of spinning industry machinery and turnkey solutions. As an equipment supplier, we have the biggest stake in our customer's well-being as we have been associated with them for the longest time. This relationship (between LMW and the textile industry) will only grow in the future," concludes Jayavarthanavelu.
Table 2: List of products offered by LMW's TMD
| | |
| --- | --- |
| Products | Models |
| Card Sliver System | Gentle Blowroom Line, Card LC 363/LC 361, Card LC 636 S |
| Combing System | Draw Frame LDB3, Lap Former LH 20 S, Comber LK69 M/S, Draw Frame LDF3 S |
| Ring Spinning System | Speed Frame LF1400A, Speed Frame LF4280 Series, Ring Frame LR9 A/AX/AXL Series, Ring Frame LR9SX/SXL Series |
| Compact Spinning System | Spinpact |
| Mill Monitoring System | Spinconnect |
| Blending Solution | Auto Blend LA10 |
| Winding solution | To be launched at India ITME 2022 |
| Airjet Solution | To be launched at India ITME 2022 |