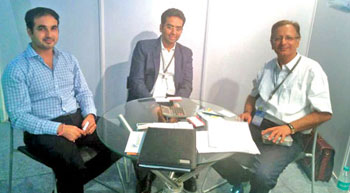 Total testing centre is already a hit with spinners
Integrated data analysis with USTER TESTER 6 brings multiple advantages for owners, managers and yarn sellers. The practical benefits delivered by USTER TESTER 6 range from assured quality control to expert process analysis and optimisation of the entire spinning mill with the total testing centre.
Integrated data analysis with USTER TESTER 6 brings multiple advantages for owners, managers and yarn sellers.
The practical benefits delivered by USTER TESTER 6 range from assured quality control to expert process analysis and optimisation of the entire spinning mill with the total testing centre.
It's no surprise, therefore, that this sixth generation of the renowned USTER tester has already earned widespread acclaim across every discipline of the yarn manufacturing sector.
In less than three years since its introduction, USTER TESTER 6 has earned positive feedback from spinning mill quality managers for automatic data analysis and alerting features provided by Assistant Q. Production managers appreciate the facility for connection with other USTER testing and monitoring instruments to offer detailed guidance on process improvements, integrated throughout all mill operations. At the top level, mill owners report great satisfaction with their investment in USTER TESTER 6 as a means to boosting staff performance in the drive towards managing the spinning mill with quality in mind. Ultimately, it's a risk-reducing guarantee of success – especially important in a highly-competitive market such as Turkey.
The benefits of the USTER TESTER 6 are also impressing professionals at the next stage of the yarn business: the traders and sales people tasked with linking yarn production to the paying customers downstream.
At the forthcoming ITM 2018 exhibition in Turkey, the USTER TESTER 6 will be showcased to all these groups from the yarn business, with USTER specialists ready to present the only evenness tester with numerous deal-making advantages, including the three specific areas highlighted here.
Pilling prognosis passes the test
Pilling trials carried out manually at the fabric stage consume both time and money – and even then, assessments are based on the subjective views of the operators. But it's different with Assistant Q: he provides objective grading of the yarn, with accurate and instant results. His prognosis relies on data and algorithms developed on thousands of samples. The grades have been proven in blind testing, so yarn sellers can rely on them.
An Indian spinner facing a severe quality claim decided to put the accuracy of predictions by human operators and Assistant Q to the test. The spinner had complaints about low pilling resistance in knitted fabric made from a Ne 30 100 per cent combed cotton ring spun yarn. The mill sent samples of knitted fabrics – made of yarns produced from three different cotton bale laydowns – to an institute, for testing with the pilling box method. At the same time, yarn samples of the same three different cotton mixes were sent to the USTER laboratories for a blind test. This was a task for Assistant Q, who provides data-based pilling grades as an integral part of the total testing centre of USTER TESTER 6.
The correlation between the pilling resistance grades determined by Assistant Q and those identified with the pilling tests was impressive, capturing the changes in the fiber mix that affected pilling behavior (see table). The accurate and reliable data measured by the different sensors of USTER TESTER 6 means that Assistant Q always has a significant advantage over human assessors in predicting pilling.
Fabric appearance forecasting with total testing centre
Since data can be used to forecast how a fabric will behave under friction stress, could it also be the basis of a fabric appearance analysis? Yes, it is possible to estimate the look of a fabric with the total testing centre – in fact it is achieved in a single step when testing the yarn quality parameters with the USTER TESTER 6.
Eray Aydok, a yarn trader within Biska, considers it essential that seller and buyer are talking about the same standards. So he uses USTER STATISTICS – when technical data for yarn parameters is required – which are appreciated as the common language of yarn quality. He regards grade information, including a picture of the predicted fabric appearance, as the best tool possible, and a 'language' which can't be misunderstood. "My customers love to see the finished fabric from the yarn they are going to buy right away, without waiting for test results. The fabric appearance grades influence trust positively and instantly. They ensure that the deal is based on mutual understanding," says Aydok.
The big Qs for weaving performance
The total testing centre has become a unique business tool, transforming data into practical choices for quality yarns and profitable production. A final set of questions needs to be answered by yarn sellers. How satisfied will the weaver be with the performance of the yarn? Will the quality be good enough to meet his production efficiency goals? Weaving performance can be predicted with a combination of strength testing parameters from USTER TENSOJET 4 and yarn quality parameters from USTER QUANTUM 3 yarn clearers. This is possible only with the total testing centre, as data can be connected to 100 per cent online quality parameters measured with the third-generation USTER yarn clearers, in the core of the USTER TESTER 6. By analysing test data from the two different sources, weak places can be reliably detected and the weaving behavior of the yarn predicted. The weaving performance grade allows yarn producers to identify batches with a high risk of yarn breaks during weaving. On a scale with one to five Qs (grades), yarn sellers can easily communicate to weavers the expected performance of the yarn in their fabric production. Pilling and fabric appearance grades are visualised in the same way with the Qs.
Pilling, fabric appearance and weaving performance are among the total testing centre features to be highlighted at the USTER booth at ITM 2018 (Hall 3, booth 309B). USTER is excited to present the concept of the total testing centre, highlighting to mill owners, operators, managers, technicians and yarn sellers the specific benefits they can expect. "USTER is convinced that the quality and production efficiency assurance provided with the total testing centre is a valuable success factor in a competitive market environment like Turkey. This advantage can be further driven on the one hand by the advanced alerting system – which simplifies the job of the mill personnel to secure quality – and on the other by a completely new system which allows the management to focus on fast and informed decision-making. For these and many other reasons, we are confident that the industry's appreciation of the
USTER TESTER 6 will surely grow," says Andreas Tanner, Executive Vice President Sales and Service within Uster Technologies.
The Uster Group is the leading high-technology instrument manufacturer of products for quality measurement and certification for the textile industry. The Group provides testing and monitoring instruments, systems and services that allow optimisation of quality through each individual stage of textile production.
This includes raw textile fibers, such as cotton or wool, all staple fiber and filament yarns, as well as downstream services to the final finished fabric.
The Uster Group provides benchmarks that are a basis for the trading of textile products at assured levels of quality across global markets. The group's aim is to forward know-how on quality, productivity and cost to the textile industry.
The Group is headquartered in Uster, Switzerland and operates through a worldwide Market Organization complemented by technology centres. It has sales and service subsidiaries in the major textile markets and Technology centres in Uster (Switzerland), Knoxville (USA) and Suzhou (China).
Spring, summer or sun, protection is vital!
The sun is the ultimate life-giver. But too much sun can do you harm. Ultraviolet rays (UV rays) in particular can cause lasting damage to eyes and skin. The damage can be caused earlier or later, depending on your skin type. On the other hand, we need exposure to the sun to produce vitamin D, which is, for example, important for bone development. However, do not forget that babies and children only have little or no protection and should therefore only enjoy limited exposure to direct sunlight. It takes until about the age of 15 before the human body develops full protection against harmful UV rays. But even then, this UV protection is only effective for a limited period of time – depending on your skin type, this could be just a few minutes – when exposed to direct sunlight outdoors.
What protects me from over-exposure to UV rays?: When sunbathing, we normally use sunscreen with UV protection. But even the most powerful of these – known as sunblock – only provide a sun protection factor (SPF) of 50. This gets washed off when you are in the water or gets rubbed off when you are drying yourself, and must be re-applied several times to ensure long-term protection. Sunshades or awnings only provide limited protection from indirect or reflected sunlight.
That is why dermatologists recommend that you wear clothes covering your body as sun protection. Long trousers, a long-sleeved shirt and headgear with as wide a brim as possible are all useful, while children should wear neck protection as well. The colour and design of clothing is important too. Dark colours provide a higher level of protection than light colours. In general, denser material provides better protection against UV rays. Synthetic fibres therefore have a higher UV protection factor than products made from natural fibres.
Additionally, you should apply sun cream with as high a UV protection factor as possible to any uncovered body areas. You should also use a sunshade for extra protection for yourself and particularly for small children. Make use of the combination of clothing, sunshade and sun cream.
How can you recognize modern UV-protective textiles?: The best way is to choose textiles that guarantee a high level of UV protection. This helps you to see to what extent a textile offers protection from sunlight.