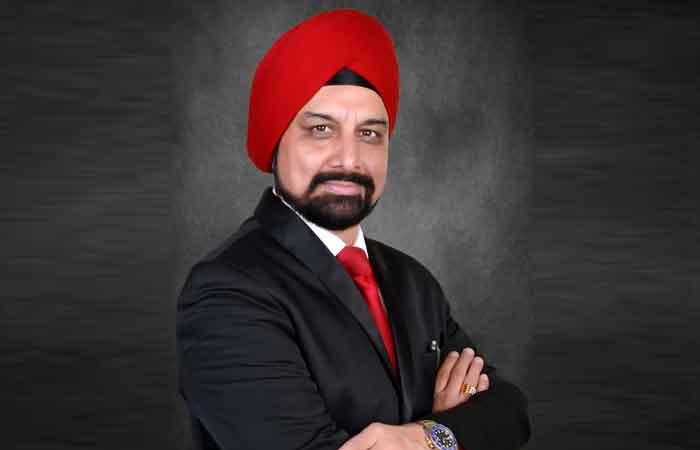 The industry is moving towards Touch Panel Controls with IIOT enabled functions
Paramount Group is engaged in Textile Testing and Quality Control Instruments since 1964. Paramount sets complete quality control labs for garment exporters, buying houses, textile mills, dyeing & processing houses, fashion and textile colleges etc. In this Interview, Manjit Singh Saini, CEO & Technical Director, Paramount Instruments Pvt. Ltd. shares the relevance of quality testing in textile industry and the latest upcoming trends of IIOT (Industry Internet of Things)
What kind of certificate does your organisation provide to textile sector?
Our Instruments adheres to all National and International Standards. Each Paramount Equipment is supplied with conformance certificate for its intended use along with a Calibration Certificate, traceable to NPL. Many of our clients have gone in for NABL Accreditation and we provide complete assistance to them in getting this accreditation. We also help our clients to get nominated by various international buyers, in regard to the accuracy of result of their In-house Testing lab. And each Paramount Equipment comes with a Life-time Buy back Warranty.
Kindly elaborate on the new testing Instruments being used today. Please inform about future trends.
The Testing Instruments industry started long back with manual testing Instruments, to electrically operated instruments, to electronically operated instruments and the current trend is moving towards touch panel instruments, wherein all the functions and testing process is run with mere touch of a button.  And now the latest emerging trend is that of Industry 4.0 IIOT functionality. IIOT stands for industry internet of things.  IIOT enables automation of processes in testing instruments, which results in high accuracy of testing operation with minimum human error in testing. IIOT clearly seems to be the future of the testing and quality control Industry. It has immense benefits: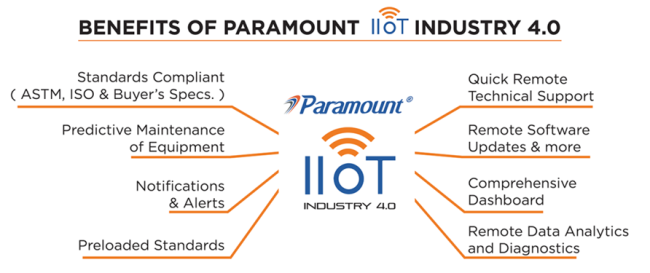 What type of quality challenges are faced by textile/garment exporters?
Along with other challenges faced by the exporters, the ten most important challenges faced by garment exporters are:
Colour matching problems
Colour bleeding due to rubbing (dry/wet)
Colour bleeding due to washing
Finding correct GSM of fabrics
To find the correct shrinkage in the fabrics
Finding the yarn count
Finding the reed/pick in the fabric
Finding the tensile strength of fabrics
Finding the tear strength
Finding the abrasion & pilling resistance
To check the above quality parameters, there are specific testing instruments, available in the market, with latest VFD Technology, for accurate and repeatable results.
What are your growth plans for the textile industry?
Paramount has good plans for the furtherance of the textile testing instruments. We are coming up with a new Plant in Manesar (Gurgaon), where we have more than 40,000 sq ft of area. We are installing all latest technology machines there like CNC Turning, CNC Milling, CNS Brake Press, Laser Cutting, Laser Marking etc. Most of the testing instruments manufactured at our new plant will be having IIOT technology.
We foresee promising future for our garment export industry, as the international buyers from our biggest competitor, are shifting their procurement to India. And it is only with our deep focus on quality control that we can fulfil their stringent quality requirements. And we at Paramount, are poised to put in our best efforts, to help our exporters grow, by providing them with world class testing instruments. We hereby reiterate our vow,: Since 1964, Paramount is on a mission to help our customers grow exponentially, thru quality control.