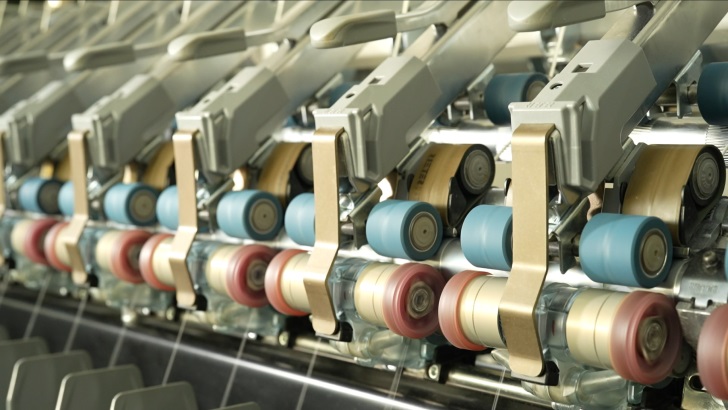 COMPACTdrum: Outstanding efficiency with up to 26 000 RPM
Sri Jayajothi and Company, a quality yarn spinner from South India, produces cotton and synthetic yarns with a daily production capacity of  55 tonne. Jayajothi invests in the latest technology to be able to produce at highest speed without compromising on quality. To help meet the growing market demand, the company opted for the Rieter ring spinning machine G 37 with the semi-electronic drafting system together with the compacting device COMPACTdrum.
The Rieter ring spinning machine G 37 with the compacting device COMPACTdrum runs with excellent spinning stability and ensures highest productivity. Jayajothi operates the machines at a maximum spindle speed of 26 000 rpm producing a very fine yarn (Ne 60) from 100  per cent cotton with 100 grams per spindle (GPS). This is far above the industry benchmark. The energy efficient components  such as the 75 kW IE4 main motor, the LENA spindles and the optimised suction systems reduce the energy consumption by up to 7 per cent compared to the previous model.
Best performance in downstream processes with COMPACTdrum
The compacting device COMPACTdrum reduces long protruding fibres of the yarn to an absolute minimum which increases the acceptance in downstream processing.
This enables Jayajothi to supply highly demanding customers in the global market. The yarn produced with this Rieter solution achieves the best performance in downstream processes: virtually no other system can spin a yarn that reaches a value below 0.20 warping breaks per million meters. The durable technology components of COMPACTdrum ensure that the yarn quality remains consistently high over the long term. In addition, the unique SERVOgrip system eliminates the need to underwind the yarn for doffing preparation. This reduces fiber fly and ensures high yarn quality.
K Gokul, Managing Director, Sri Jayajothi, summarises: "We are very satisfied with the performance of the ring spinning machine G 37 with the compacting device COMPACTdrum. The machine runs at an exceptionally high spindle speed of 26 000 rpm and produces consistently high yarn quality." 
Highest flexibility for constantly changing trends 
The G 37 with COMPACTdrum is hard to beat in terms of flexibility. Parameters such as yarn twist or twist direction can quickly be adjusted on the machine display. The compacting device COMPACTdrum can easily be plugged in or out so customers can switch between ring and compact yarn. The machine processes almost any type of fibre and can be easily and quickly adjusted to almost any raw material. With Rieter machinery, Jayajothi can respond to various market requirements: flexibility for constantly changing trends, better running behavior in downstream processes, better fabric appearance and a diversified, high quality product portfolio.
About Rieter 
Rieter is the world's leading supplier of systems for manufacturing yarn from staple fibers in spinning mills. Based in Winterthur (Switzerland), the company develops and manufactures machinery, systems and components used to convert natural and
man-made fibers and their blends into yarns in the most cost-efficient manner. Cutting-edge spinning technology from Rieter contributes to sustainability in the textile value chain by minimizing the use of resources. Rieter has been in business for more than 225 years, has 18 production locations in ten countries and employs a global workforce of around 5 630, about 16.4 per cent of whom are based in Switzerland.