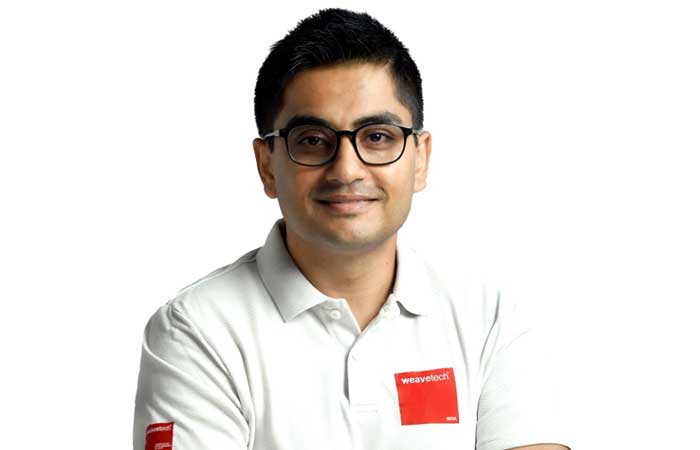 The biggest challenge is the unseen effects of the QCOs
To cater to the needs of the Indian market, Weavetech produces state-of-the-art twisting, winding & coating machines designed specifically keeping in mind the Indian environment & skills of the local labour force. This focus on holistic development ensures that Weavetech's products are well received by the industry while ensuring best-in-class Return on Investment for the Investors.
How was your performance in FY23? What were the key challenges in FY23? How did you manage to grow in spite of the challenges? What were your standout achievements in FY23?
FY23 was a milestone for Weavetech Group, achieving its highest ever consolidated revenues. Domestic sales in the filament value-chain was the biggest contributor in the growth. We saw aggressive investments by SSIs, who seemed to be more open minded about innovative & new value-based solutions rather than top corporates who seemed to prefer traditional tried-n-tested options for investments due to their legacy decision-making processes.
What is your current assessment of India's textile industry?
The biggest opportunities for growth, we see, are in the technical textiles & synthetic yarn segments. With the upcoming QCOs, we see the demand for Indian yarns rise in domestic markets. Another specific area, we see, are new fancy yarns. With extensive competition in commoditised yarns, it has become imperative for existing players to create a range of fancy yarns / fabrics that can create a premium customer base who are not sensitive to price fluctuations. To cater to this opportunity, Weavetech has added a wide range of fancy twisters & winders that can add high flexibility to existing yarn / fabric manufacturers without burning a hole in their pockets.
The biggest challenge, we see, is the unseen effects of the QCOs. There's a lot of uncertainty whether the QCOs will boost growth or whether they'll create resistance to it. Either way, it's clear that QCOs seem to benefit one segment over the other.
Are the government policies to boost the industry's growth working on the ground? What else should the government do to propel growth?
Though Make-In-India started off with a bang, it seems that it has not touched the textile machinery industry as expected. We do not see any FDIs or major brands setting up factories in India. One of the major reasons, we observe, is lack of incentive and a very unstable demand graphs of the user industry. We look forward to policy initiatives that will attract & promote global textile machinery manufacturers to setup shop in India
What kinds of trends are you seeing in the market at present? How is your company gearing up to tap these trends?
The biggest trend that we see is interest in improving lead-times. We believe that shorter lead-times are going to be a defining skill that will separate the winners from the rest. With technologies like Cone-2-Cone Sizing, Electric Beam Sizing, Online Coating lines, Weavetech is currently focusing on technologies that can reduce time-to-market for its customers.
What are your expectations & growth plans for FY24?
With a dedicated recognised R&D Application centre and a world-class manufacturing setup spread over Surat & Silvassa, Weavetech has developed many patented technologies which allow it to compete globally in its targeted segment. We welcome the industry to make use of excellent facilities available at our R&D Application Centre to develop new yarns & applications.