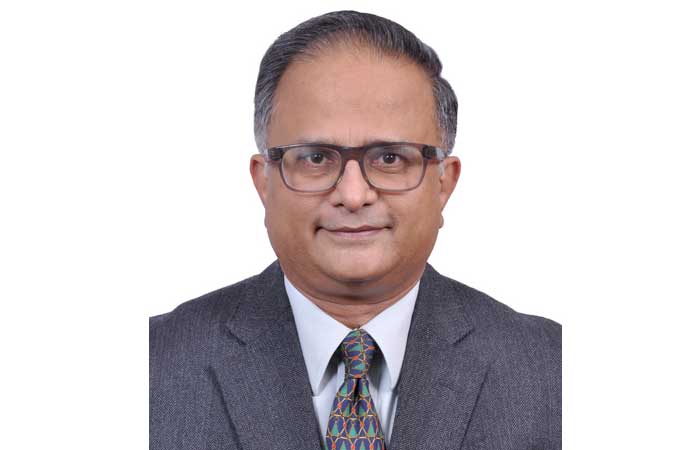 Our focus is on small to medium scale segment of the weaving industry
Founded in 1948 by the Shanghvi Brothers, 'Laxmi' Group, today is one of the leading manufacturers of weaving looms in India. Ketan Sanghvi, Managing Director. Laxmi Shuttleless Looms, highlights current trends and future plans of the company.
Kindly brief us about your company.
Laxmi Shuttleless Looms is one of the group companies of 'Laxmi' Group, specially incorporated in year 2002 for manufacturing of Shuttleless & Automatic Shuttle Weaving Machines.
Our facilities, spread over 1,00,000 sq m, consist of a modern foundry for our casting requirements with machine-moulding & a fully equipped shop floor staffed by a dedicated team.
Our focus is on the small to medium scale segment of the weaving industry of world which plays vital role in manufacturing of fabrics and to provide best suitable weaving technology by understanding their technological needs as well as their economic constraints.
Our objective is to fulfill weaving requirements of small to medium scale weaving industry by providing quality weaving looms with maximum weaving flexibility at reasonable cost by continuous development in technology and in quality of manufacturing.
How was your performance in FY23?
FY 23 was looking very promising, at the beginning of Year and Laxmi performed fairly except for the last quarter.
What were the key challenges in FY23?
To shift our focus for the customer segment from micro industries to medium and corporate industries.
How did you manage to grow in spite of the challenges?
By focusing on continuous development & introduction of new products for different segments of weaving industries.
What were your standout achievements in FY23?
Commercial introduction of our CMR PLUS Flexible Rapier machine in woollen & silk segment during FY 23.
What is your current assessment of India's textile industry (and/or textile engineering industry)?
As per our understanding, the entire industry is currently going through difficult times. Export orders have been curtailed and so is the domestic demand. This sentiment has percolated down to the textile engineering industry. There may be some segments more affected than others, but the current outlook is pessimistic. There are windows of opportunities for machinery and accessory manufacturers who offer reasonable cost alternatives compared to more expensive global manufacturers and also for a few companies who have chosen to focus on offering world class products at a competitive price.
There is also an increasing focus on circularity and sustainability with many countries, particularly in the European region, working on legislation in this direction. These could pose a short-term challenge and there could be pressure on exporters to these countries to ramp up on compliance for such legislation. There has also been a discussion within the Indian Government and some stakeholders for similar issues, though at an early stage.
What is the global standing of the Indian textile industry (and/or textile engineering industry)?
There are some interesting opportunities for the Indian textile and textile engineering industries, particularly as customers look for an option away from China. However, the industry will have to compete with other Asian companies also keenly focused on taking advantage of this situation. Vietnam and its neighbouring countries along with Bangladesh are keenly vying for a piece of the pie.
How can India become more competitive globally?
One possibility is to move up the value chain. The other is to focus on automation, sustainability and circularity as these will surely become important in the near future.
Are the government policies to boost the industry's growth working on the ground? What else should the government do to propel growth?
The government has been working hard in trying to work out the best possible options to stimulate growth in the industry. There is a shift in direction as the focus shifts from cash subsidies to production linked incentives. However, the industry has gone into limbo as regards fresh investments in manufacturing capacity due to the delay in finalization of such schemes not only for the textile industry but also for the engineering industry. Also, those leading policy formulation should ensure that PLI is not perceived and implemented as a standard solution for all industries and all problems.
In our opinion, PLI can help for large-ticket projects but the government also needs to focus on the small and medium sector or the decentralised sector or the unorganised sector, where the bulk of fabric and garment production is currently taking place.
As far as the engineering sector is concerned, all the stakeholders agree that the textile engineering sector is a critical input for the textile industry. While the government has implemented various measures to protect and nurture the domestic automobile and more recently, the domestic electronic manufacturing. There is a huge amount of imports of machines, particularly lower-end weaving machines which are being imported from China, mostly in refurbished condition, to the severe detriment of the local engineering industry, which is more than competent to offer equivalent or better quality machines. More efforts need to be made to encourage and nurture the domestic textile engineering industry in order to minimise the huge forex outflow due to imports, significant savings in time due to logistic optimisation, to ensure more efficient supply chains and generate local employment in the process.
What kinds of trends are you seeing in the market at present?
The market looks for products and services which are best-in-class quality with the latest technology and at a competitive price, while following the global trends on sustainability and circularity.
How is your company gearing up to tap these trends?
We are gearing up to tap new trends by providing state of the art technology in terms of machinery by continuous development. Our efforts are focused on cost-reduction as well as energy efficiency.
What are your expectations & growth plans for FY24?
First quarter of FY24 has not been good, but we look forward to meeting our sales target in remaining quarters of FY24.
We have launched our new product LHR 450 High Speed Rapier Machine in ITMA 2023 at Milan.
With the introduction of our new products we are targeting exports across the globe and also exploring technical textile weaving segment.