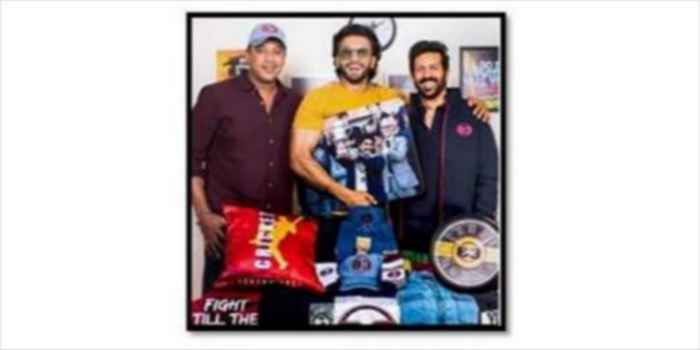 Spykar is official fashion apparel licensee for film 83
SpyKar joins hands with Swag Fashions and becomes the official fashion apparel licensee for Kabir Khan's new movie, 83, set to release on 4th June 2021. This partnership will make SpyKar a cricket-based lifestyle brand.
Mumbai
SpyKar has recently joined hands with Swag Fashions to create the 83 Fashion Line. This duo also became the official licensee for fashion apparel for the most-awaited movie, 83. This movie, directed by Kabir Khan, is a biographical Hindi sports picture, set to release on 4th June 2021.
The 83 Fashion Line will be a one-of-its-kind cricket-based fashion and lifestyle brand. In a country where cricket is celebrated as a religion by billions of people, this brand is an expression of the country's passion for the sport. This brand is based on India's World Cup victory in 1983.
The brand is designed based on two aesthetic tones – contemporary and sports lifestyle and heritage and subtle expression.
"The Film 83, paves the right platform for launching the fashion and lifestyle Brand 83, as this incredible story being retold via Cinema, strongly establishes the emotional connect with our TG about our glorious Cricketing Victory in 1983, a moment which marked the beginning of the new cricketing era," says Vishal Sinha, Chief Operating Officer, Swag Fashions Hub Pvt Ltd., Mumbai. He further added that just the way brands are built on heritage and a formidable story, Brand 83 also fully depicts the cricketing spirit in India and offers products that have the right influence on fashion and culture.
SpyKar is a brand that is synonymous with the idea 'young and restless'. Established in 1992, the brand has come a long way in creating individualistic and contemporary lifestyle apparel. SpyKar is also India's leading Jeanswear brand.
"It's a moment of pride for SpyKar to associate with 83. SpyKar being the best in the apparel brands and 83 being an exciting entertainment brand, we are keen to explore the synergies with limited-edition merchandise branded "83 by SpyKar," says Sanjay Vakharia, CEO, SpyKar.
Also read
https://indiantextilejournal.com/latest-textile-industry-news/smriti-irani-launches-project-su-re-at-lfw
https://indiantextilejournal.com/latest-textile-industry-news/spykar-launches–vintage—rare–jeans
https://indiantextilejournal.com/interviews/underjeans-by-spykar-to-energise-men-s-underwear-category