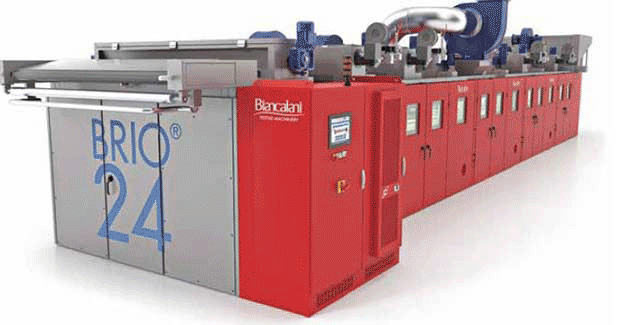 Recent developments in textile finishing
The finishing industry today demands machinery, which meets ecological requirements at the same time as enabling mills to operate profitably.
The finishing industry today demands machinery, which meets ecological requirements at the same time as enabling mills to operate profitably. Latest technological developments in dyeing and finishing industry are discussed.
One of the most important manufacturing segments in the textile industry is yarn, fabric and textile finishing. The desired fabric/fabric fibre properties such as stiffness, smoothness, softness, protection or colour can only be accomplished throughout finishing. Machine components, especially in the textile finishing process, are incessantly exposed to mechanical, chemical and thermal challenges. Textile finishing machines have to perform at highest levels and withstand daily operating conditions such as extremely high loads, high temperatures and well as contamination with water, chemicals, detergents and hot steam.
Textile dyeing and finishing is one of the most chemically-intensive industries – a fact acknowledged by Swiss machinery manufacturers. Textile finishing is one of the important industries related with textile manufacturing operations. It is a general term that covers right from singeing (protruding fibre removal) to finishing and printing of fabric. The various steps a fabric goes into are singeing, desizing, bleaching, dyeing, and finishing. Bleaching is a process to make the fabric or yarn look brighter and whiter. Dyeing is a process of applying colouring matter directly on fibre without any additives. Finishing is the final process to impart the required end use finishes to the fabric and lastly the printing process on fabric which is a science as well as an art. Textile auxiliaries such as chemicals are used for all stages of the textile manufacturing process that is from pre-treatment to dyeing and printing and finishing.
The art of processing of textiles today is well known to all processors. In the past the organised sector dominated the textile scene; whereas today the decentralised process houses are predominant. There is a shift in emphasis from the requirements related to finished products to environment related requirements. Requirements related to the finished product fastness and other properties of dyestuffs and chemicals, processing etc. shift of emphasis environment related requirements, cost reduction, security, energy and water saving, toxicology, hygiene legal regulations, and competitiveness.
Brueckner offers complete line systems for the finishing of woven and knitted fabric: drying, heat-setting, sanforising, compacting, relaxing, and continuous dyeing, curing. It also offers complete line systems for the finishing of technical textiles, glass fibres and floor coverings: drying, heat-setting, coating, lining, laminating, functionalising, desizing, and consolidating. Besides, it also offers world-wide service and support for the various lines: spare parts, lubricants, modernisations, modifications, installation, tele-service, maintenance, training, product optimisations.
Axel Pieper, CEO – Technical Director, Brueckner Textile Technologies GmbH, Germany, said "Industry 4.0 is not just some kind of gimmick to play around with. Industry 4.0 should add value to the products. This is how we look at Industry 4.0 and there are several aspects in Industry 4.0. Firstly, user-friendliness is of utmost importance. In our systems, one can find one's way in an easy and intuitive manner. To enhance automation, we have introduced the mobile operator, which has cut from two operators to one. Apart from saving one operator, this gives extra flexibility."
He adds, "Indian market is a very important market for Brueckner. In the woven category we have some important clients from the northern India. We also have a lot of business from small and medium-sized industries from south. At present, we foresee a lot of prospects in the Indian market. We see stability in the Government and with the Technology Upgradation Fund scheme; we see a lot of potential for our machines in the Indian market."
The finishing industry today demands machinery, which meets ecological requirements at the same time as enabling mills to operate profitably. That was the motivation behind the development of ESC (Energy-Saving Chamber) under the Santex brand of Santex Rimar Group. By re-using exhaust air from the Santashrink dryer, ESC increases production capacity by 15 to 17 per cent from the same amount of heating energy. Maximum performance at low energy use, for low residual shrinkage, soft hand feel and surface luster is the goal of Santex machines. The specialised open-width fabric surface treatment systems always offer energy-saving options for sustainable production and low CO2 values – along with the promise of a return on investment in 1.5 years.
At Jakob Muller, top-quality technical parameters go hand-in-hand with the necessity for environmentally-friendly production in its innovative efforts. For example, its new washing module fulfils product and environmental needs, thanks to improved washing-off results with less energy and water consumption. It is important to the company that any dyeing processes use recycled water wherever possible.
Open-width finishing equipment specialist Benninger tackles another important environmental issue in one of its latest developments by measuring pollution levels in the washing process. A sensor automatically gauges the level of pollutant, so that only the required amount of water is fed into the wash chamber, ensuring minimum use of both water and energy, and high reproducibility of the washing result. This is part of Benninger's commitment to investing in resource-saving technology, offering recovery processes for heat, waste water and chemical leaching.
Pratik Bachkaniwala, Director, Palod Himson Machines, said, "For processing machines, stenters are the main product that we have. It is a very energy-efficient machine and that is the sole selling point to compete with the local manufacturers. With European manufactures, pricing is the major factor where we have an upper hand. The design that we have adopted makes it power efficient. The thermal energy consumption also is much below than our peer competitors in the industry. It is basically only the design element which makes it more efficient in power and thermal."
"Our product-line is widely acknowledged in market for its outstanding performance, low power consumption, minimal maintenance cost, easy operations, high efficiency and robust construction. Moreover, clients can avail these machines in various specifications and configurations at industry-leading prices," he added.
Semi Maner, Sales and Marketing Manager of Elteksmak, said, "First of all, I have to say that Turkish machinery manufacturers have become very important in terms of dyeing and finishing machines. Not only competition in Turkey substantially in overseas markets the competition is between the Turkish machinery. If we go even further the interest in the Turkish machinery abroad is greater than the interest shown in Turkey. Turkish machines, which were previously shown interest due to the low prices, now quality and technical characteristics of the machines are also prominent."
"In today's competitive conditions, it is difficult to satisfy the consumer, which puts the producer under pressure to increase the quality in every aspect. Today's consumers want to wear shirts, blouses, etc. with a perfect silky touch; they want their sweatshirts to not contaminate their white singlet etc… As a result of this, tumble dryers as quality oriented machines are going to be the "sine qua non" machines of textile finishing plants," said Maner.
Said Maner, "Our tumbler machines are working at our customers almost in all fields of textiles such as outerwear, home textiles, knitting, weaving and denim. As Elteksmak, we are one of the few companies producing these machines in Europe, and with our 25 years of experience in this field, we are the only manufacturer in the world who can produce the multi-cabin type, which is production-oriented and mono block type, which is effect-oriented and even if necessary, we can combine these two types of machines. Elmego-X model can be produced up to six drying chambers and is the machine with very high production capacity, with EL NINO model, as the name suggests the desired touch or effect can be taken at the highest level."
Biancalani's AIRO® improves the hand and look of the textile product with considerable effects on its quality, allowing an almost infinite number of finishing combinations. From processes that ennoble the textile material to unique and trendsetting fashion effects that – by creatively modifying the appearance and touch of the fabric – will allow designers, weavers, and finishers, to profitably explore new marketing opportunities.
The flexibility of Biancalani AIRO® functions allows this machine to process all types of products: natural fibres (cotton, ramie, jute, silk, wool…), artificial fibres (viscose, cupro, Tencel, Lyocell) and synthetic fibres (PES, nylon, acrylic, PP, PU) in all types of construction and without limits in terms of weight and width.
Erbatech foulards are made for the most precise impregnation with as little chemical waste as possible. With many different solutions to choose from, depending on your requirements, a SCOUT FOULARD can be equipped with traditional crowned rollers, center-supported rollers or S-rollers. For synthetic fabric applications an integrated vacuum system is also available. The foulards are controlled with the latest process control technology and can be made part of any finishing line for wet-on-wet or dry-on-wet applications.
Erbatech cold pad-batch (CPB) dye padder is of the latest technology and features an advanced control system with graphical process visualisation. The unit is entirely made of stainless steel and thereby easy to clean. Different configurations for knit and woven fabrics are available in working widths from 1.600 mm to 3.400 mm.
Due to the latest additive technologies, LUBCON special greases for the textile industry protect machine components such as chains, roller bearings, adjusting spindles and gears against those detrimental influences. Furthermore, they prevent friction and wear related failures and enable thus long service life and maximum operation reliability. LUBCON greases, oils and pastes can be utilised in textile finishing machines by all manufacturers.
Established in 1975, Cibitex srl is a highly specialised Italy-based manufacturer of textile finishing machinery, providing state of the art technologies, as well as a wide range of consulting, pre and post-sales services. At Cibitex, the company designs its products and selects the best raw materials and components, in order to deliver the customers the highest level of quality, efficiency, reliability and ease of use.
The Cibitex finishing process can guarantee the highest standards of quality for the control of residual shrinkage in warp and weft direction with the traditional wet finishing process, which is the most popular solution in denim sector. The production and controls on the machines are fully automated with the supervision of all the production necessary data for machine setting. Our lines are the fruit of a long experience and research in close contact with end users and Cibitex's customers spread around the world. This long experience is put at disposal of all our new customers who select Cibitex solutions for their wet denim finishing and sanforizing.
The finishing of textiles on Monforts machines and ranges is an internationally acknowledged hallmark of quality and perfection. Monforts offers tailor-made solutions from a single source: Whether liquor application via the Matex finishing padder, minimum application via the ECO-Applicator or the flexible Montex Allround and texCoat application and coating systems. The classic in textile finishing. With the Matex finishing padder, liquor is applied to the textile substrate with absolutely uniform pick-up over the fabric width.