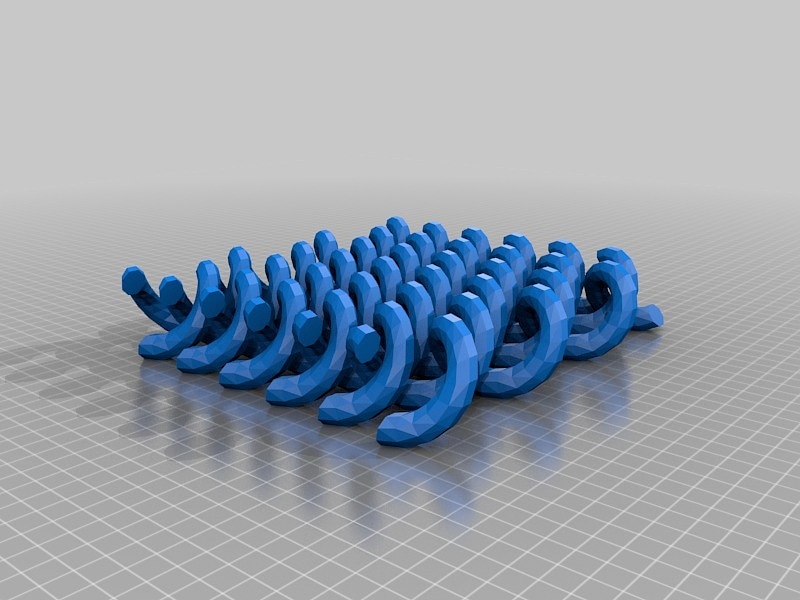 Problems and prospects of 3D textile printing
3D printed clothing could also have sensors and other wearable technology which can make the fashion items and the clothing a lot "smarter" than what they are today.
3D printing is something that almost everyone seems to be talking about these days. We hear about 3D printed houses, 3D printed food, and even 3D printed human organs. Fashion is another area that is about to be disrupted by 3D printing.
3D printed fashion involves turning movable/flexible material into clothing. 3D printed dresses can potentially be as revolutionary as the sewing machine.
When 3D printing was first used in fashion, the process was quite slow. One of the first attempts at making a 3D printed piece of clothing took 7 whole days with the printer running 24 hours a day. Plus, the 3D printers in those days did not offer flexible printing material.
However, technology has improved. It does not take 7 days anymore and flexible printing material is also available. The flexible material is known as TPU 92A-1 and it can be washed and ironed just like normal cloth. FilaFlex is another flexible material used to make 3D printed clothing.
Most of the 3D printed clothing is printed using the selective laser sintering process. This method of 3D printing offers the ability to make intricate designs and achieve a high level of detailing which is a requirement with fashion and clothing.
Once apparel makers adopt the new technologies, more 3D printed clothing will permeate through to the masses. 3D printed clothing is not always the entire garment structure. Often times, 3D printed material is used as an adornment or a feature like buttons or cuffs.
It is true that 3D printed clothing is still not as smooth and flexible as cotton or Lycra. Hence, most of 3D printed fashion consists of accessories. Items like footwear, jewellery, and eyewear have come through plenty of 3D printed innovations. The early adopters of 3D printed fashion are also moving towards accessories.
The process of adoption for 3D printed clothing could be gradual. It could take three or four years before we start seeing 3D printed clothing becoming more common.
Benefits of 3D printed fashion
Designer clothing is expensive because it is made to fit your body. By definition, that would mean that couture clothes or designer clothes are rare, unique, and somewhat difficult to obtain. However, 3D printing can change all of those equations and make custom-designed clothing a mass-market concept.
What has been the purview of rich elite households can now move into the average person's home.
3D printed clothing can also be environmentally friendly and lead to lesser wastage. In traditional designing, there can be plenty of textile scraps which lead to wastage. Dyes used to colour fabrics can also be major sources of water pollution.
Plenty of water is needed for manufacturing textiles and fabrics. Air pollution is also a major concern in textile producing giants like China. 3D printing can address a lot of those issues.
3D printed fashion allows designers to innovate faster. Lead times can get reduced drastically. Wearable clothing can be made with very few geometrical constraints. The digital element of 3D printing removes multiple limitations which designers faced in the physical world.
For large companies too, 3D printing can be transformative in terms of speed to market and supply chain. Garments (and footwear) can be printed within 24 hours. The rate of change of styles has increased over the years while the lifespan of seasonal collections has decreased over the years.
The ability to bring new styles to stores as quickly and efficiently as possible is a prime determinant of any apparel maker's (or footwear company's) success. 3D printing allows the speed and efficiency which is needed to succeed in this evolving industry.
Another transformative effect of 3D printing is small batch sizes. In a traditional setup, an apparel or fashion brand would have to order a 40-feet container of clothing/footwear range from a place like Bangladesh or China. With 3D printing, fashion items can be made on-demand or in small lot sizes. Working capital requirements and budgeting can change significantly with such developments.
Prototyping, or getting a sample made, is also cheap and time-efficient with 3D printing. In fact, prototyping of fashion products with 3D printers is often referred to as rapid prototyping. Compare the rapid pace with conventional methods, which take a much longer time. Besides, the design iterations are also relatively more expensive than iterations done with a 3D printer.
Pitfalls of 3D printing in fashion
No technology or disruption comes without its downsides. 3D printing fashion is no different either. Copyright is one such issue. Similar to music and movie piracy, design file piracy can also affect the fashion industry. Illegal sharing of designs for fashion items can hurt the original creator of the design.
Authenticity is also a potential issue that could affect consumers. How would a person know for sure that the design they are buying is indeed the work of the designer that is advertised?
Loss of manufacturing jobs in the fashion manufacturing industry is also something that could be connected to the rise of 3D printing. With people printing clothes in their homes and companies making small batch sizes for specific collections, the business model of large factories churning out container loads of fashion items could be a thing of the past.
The whole concept of 3D printing is less labour-intensive and more machine-intensive. So, the replacement of cheap human labour with machines could lead to job losses in certain parts of the world.
Quality control can also become an issue if people are going to print their personal items. Big brands normally spend millions of dollars to make sure that the quality of the product, certain important features, and the brand image of the company remain intact and resistant to changes.
However, with each person having access to the design of the fashion item, certain aspects can be tweaked. Controlling the end design could become a challenge for companies. And even if the design isn't changed, there is no way to ensure that the actual 3D printing process is done right. If the seams come off or if the buttons fall off, then whose fault would it be? How would customer returns work out in such a scenario? Brand image and quality control will become a lot more difficult to control in a decentralised world.
Top 3D printed dresses
Gems of the Ocean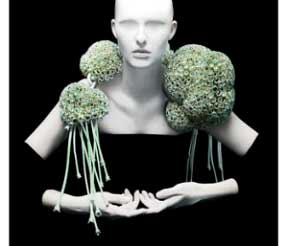 Image Source: materialise.com
One of the world's first full-length 3D printed gowns was created by fashion designers Samuel Canning and Melinda Looi. What was unique about this piece of work was that the entire gown was printed as a single part. The gown also has mermaid-themed accessories which are all 3D printed.
Synapse Dress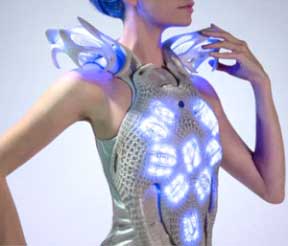 Source: 3dprint.com
Designer Anouk Wipprecht is a well-known personality when it comes to cutting-edge 3D printed clothing. He has created the Synapse Dress which uses Intel's Edison module to capture data and make the dress perform various functions.
For example, one sensor captures the wearer's attention levels. If the wearer is performing a complex task that requires a lot of attention for long spans, then it makes the dress alert other people around the wearer to not disturb the wearer.
Another sensor tracks the proximity of people who come towards the wearer. If a person comes too close to the wearer, as if invading the wearer's personal space, then it will illuminate a portion of the dress very brightly to signal that person to step away.
Ministry of Supply's Seamless Jacket
Source: i.all3dp.com
Imagine a jacket that is so comfortable, that it won't feel like a jacket. Ministry of Supply came out with a 3D printed jacket and priced it at $250. It was sold out in record time.
The reason for the incredible response was the fact that the jacket had no seams. Being 3D printed, there was no need to have seams. The jacket can also be custom made for each individual's body shape and size. About 15-30% of the material also gets saved every time this jacket is made because a 3D robotic knitting machine made these jackets.
Comfort and low cost of production make this jacket a unique one.
The Smoke Dress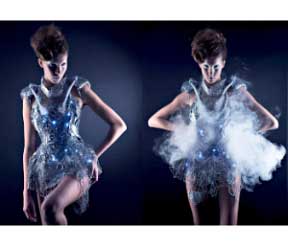 Source: static1.squarespace.com
Anouk Wipprecht is famous for making his 3D printed designer dresses hi-tech. He has created a dress which releases smoke when someone steps to close to the wearer. The idea is to create a veil of barrier and alert the person that they are within the personal space of the wearer.
The Smoke Dress was created as part of an eight-piece collection for Volkswagen.

Voltage Collection Dress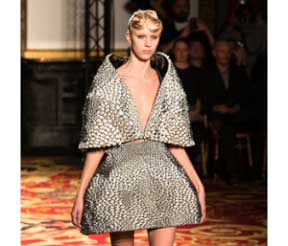 Source: dezeen.com
Iris Van Herpen, a well-known 3D printing fashion designer, collaborated with Julia Koerner, to create an intricately designed dress as part of the Voltage Collection. The dress has a lace-like texture which was created with utmost precision using a process known as Laser Sintering.
Iris Van Herpen and Julia Koerner have beautifully blended technology and fashion for this masterpiece.
The Spider Dress 2.0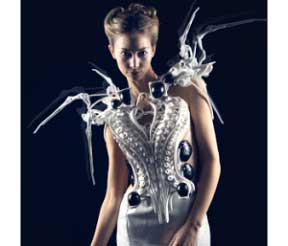 Source: pinimg.com
Anouk Wipprecht manages to embed sensors and technology into her 3D printed fashion like no one else. She has created the Spider Dress 2.0 which captures the breathing intensity of the wearer.
If the breathing becomes heavy, then the robotic arms on the dress extend out like the legs of a spider to "defend" the wearer.
Other notable 3D printed fashion items
Panerai Watch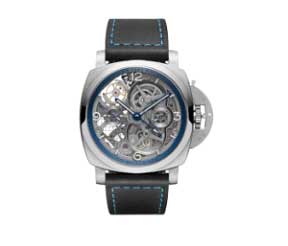 Source: chrono24.com
Costing a whopping $170,000, this timepiece is pretty exclusive. It is made using metal 3D printing technology. The Lo Scienziato watch by Panerai has a titanium housing which is created using a laser sintering process
Futurecraft 4D by Adidas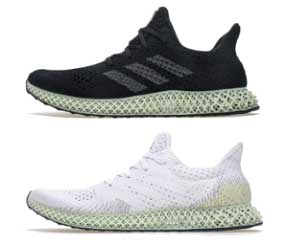 Source: anpkick.com
Adidas, the giant footwear maker, has teamed up with a company called Carbon to make its first mass-produced 3D printed midsole. Carbon specialises in resin 3D printing and Adidas has tons of experience making sports and running shoes.
Together, the two have made a 4D midsole for Adidas's new Futurecraft 4D shoes. This show requires a special 4D midsole which would be almost impossible to produce using conventional manufacturing techniques. 3D printing makes it possible to create a midsole which incorporates the years and years of athlete data that Adidas has. A truly milestone product in the sports footwear industry.
The future…
3D printed clothing clearly has plenty of benefits. Fashion designers and architects who plan to use 3D printers to make jewellery, accessories, and clothing will need to invest some time and money into learning modelling software.
Once 3D printing becomes common, there could be a situation where anyone can simply use easily downloadable patterns and print clothes right in their homes. There may not be a need to produce garments and fashion items in low-cost countries. There could also be corner shops and stores where anyone can walk-in and 3D print their fashion items
Issues regarding piracy and authenticity are discussed above. However, a solution like iTunes and Spotify can tackle such problems in a world where download-and-print will become common.
3D printed clothing could also have sensors and other wearable technology which can make the fashion items and the clothing a lot "smarter" than what they are today. It is quite possible for the clothing and the fashion accessory to "talk" to each other and change colours according to a particular occasion.
Well-known fashion institutes and design schools around the world have 3D printers on their campuses. They are also offering courses in the field of 3D printed fashion. These learning institutions are providing students access to body scanning technologies and wearable technologies. There is a good chance that some of those students, with exposure to new technologies, will end up launching 3D printed fashion products which will accelerate the mainstreaming of this concept.
Whether it is a download-and-print-yourself option or a custom-designed 3D printed dress, the possibilities for the future seem to be quite broad in nature.
About the author:
Dr.N.Gokarneshan, A.Jothimani, P.Periasamy, M.Ponmaniselvam and L.D.Kiruthika
Department of Textile Chemistry, SSM College of Engineering, Komarapalayam
Sona.M.Anton
Department of Fashion Design and Arts, Hindustan Institute of Technology and Science, Chennai.