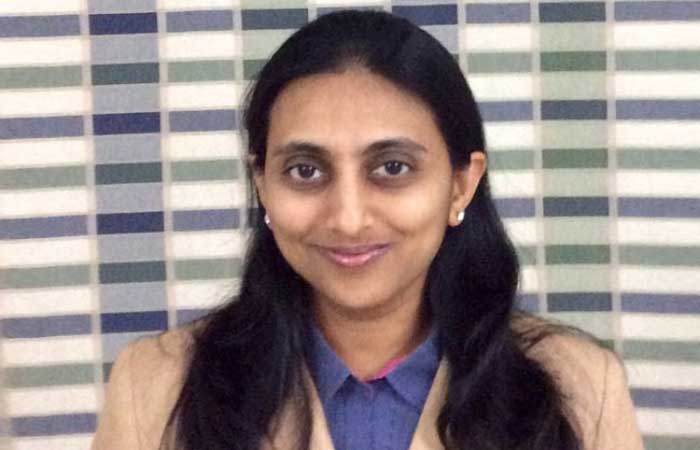 Many foreign buyers insist their suppliers to use sustainable technology
Prashant Group is India's prominent and fast growing textile machine manufacturing companies. The Group has co-operations with leading European and American textile machine manufacturing companies which bring an edge in updated technology and enhancement in product profile. Amoli Shah, Director, Prashant Group, highlights company's current offerings and future plans.
Kindly brief us about your company.
Prashant group, established in 1975 is one of India's leading textile machinery manufacturers. The group has made its mark on the industry since last almost 5 decades and is continuously growing. Spread across more than 100000 sq. meter area, group has ultra-modern infrastructure to manufacture complete range of weaving preparatory machinery. R&D is the core competency of Prashant Group.
Complete product range include
High Tech Sectional Warpers and Creels
Automatic Robotic Sectional Warper
Sizing Machine, Direct Warper, V Creel and H Creel
Denim Preparation Equipment
Indigo Rope dyeing and sheet dyeing
Poly-Beamer and Unrolling creel for PP and HDPE Tapes.
Single End Sizing
Beam to beam rolling machine
Motorized and Manually Warp Beam Handling System.
Computerized vertical Beam Storage system.
Inspection and packaging machine
Complete Range of Narrow Fabrics Machinery.
We are catering to weavers of various types of textiles/fabrics such as yarn dyed Shirting, Suiting, Technical textile, Home furnishing, Denim, silk and specialised fabric manufacturing.
Prashant group is having satisfied customer base in more than 50 countries worldwide.
How was your performance in FY23? What were the key challenges in FY23? How did you manage to grow in spite of the challenges? What were your standout achievements in FY23?
FY 22-23 was a milestone year for Prashant Group.
There were many challenges like supply chain disruption, longer procurement time, raw material price increase etc., due to which our input cost and delivery time had increased. Despite all the challenges, we could achieve over 25 per cent growth.
To overcome the challenges, we made advance planning of more than 6 months and made advance purchase of critical electronic components. We have inhouse fabrication facility which is equipped with different CNC machines, Lathe machines, Laser cutting, Plasma cutting, Robotics welding, VMC, Drill machines and many other equipment. Due to which we were able to cater increased demand easily.
Year 22-23 was also important in terms of new product developments. We successfully launched specialised warping machine for fibre glass and also sizing machines for filament and assembly units. We developed revolutionary Nitrogen technology for indigo dyeing.
In high tech sectional warping machine, we could cater more than 75 per cent market share in India. So it was definitely a milestone year for us.
What is your current assessment of India's textile industry?
After Agriculture, Textile is the most important industry for India in terms of employment. Our self-consumption of textile is huge. Post Covid, India has also benefited in terms of export market share. Currently, our neighbouring countries are facing financial crisis and energy crisis. So this may give some advantage to India in terms of export.
Technical textile is one of the emerging field and there is lot of scope for growth.
If we talk about textile machinery industry, India has good machinery manufacturer for spinning, processing, finishing and weaving preparatory. But there is lot of scope of improvement for high speed weaving looms. We do not have any weaving machine producer who can produce high speed airjet looms in India.
Prashant group is the only group in India to provide complete range of weaving preparation textile machinery.
Are the government policies to boost the industry's growth working on the ground? What else should the government do to propel growth?
Government is working on different schemes to boost textile industry's growth since more than 2 decades. We have witnessed different schemes from central and state government and that has been helpful so far.
But when one scheme ends, there are uncertainties about next scheme, benefits, blackout period etc. Textile industry requires support from both the Central and State governments to become competitive in the Global market.
Production Linked Incentive (PLI) scheme has already helped to corporates and we are also hopeful for extension of TUF which will help small and mid-size players also.
To do trade in Indian Rupees has been made possible for few countries. In future, we can expect this numbers to grow which can definitely help to ease out export and this will help Indian textile industry.
What kinds of trends are you seeing in the market at present? How is your company gearing up to tap these trends?
This is the time to focus on sustainable technology. Textile engineering sector should provide the solution, which is environment friendly and help reduce the waste. Today, many foreign buyers insist that their suppliers use sustainable technology. We have developed nitrogen technology for indigo sheet dyeing machine. This is state of art technology, which helps to reduce water consumption by almost 50% and chemical consumption by around 15%. This is significant saving in resources and cost.
We are also gearing up for Industry 4.0 solution. Some of our machines are already having Industry 4.0 solutions. As and when there is requirement from buyer, we will offer other machines also with this automation.
What are your expectations & growth plans for FY24?
Continuous growth is the motto of Prashant Group. FY 23-24, our focus will be on adding few more products for technical textile. we are also targeting new export markets for the products which we have developed in last 2 years.
Prashant group has always focused on providing world class technology at appropriate price. We are committed for the same in future also.