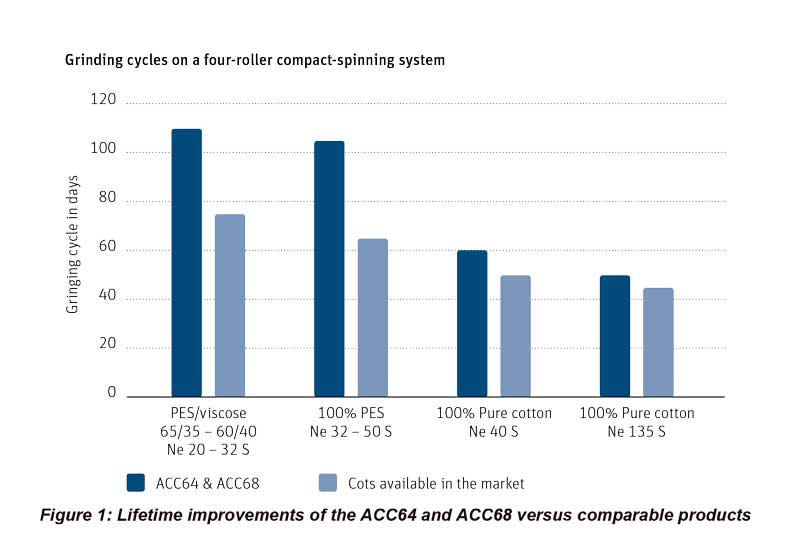 ACC64 and ACC68 Cots boost lifetime
Up to 50 per cent longer grinding intervals in compact spinning.
Accotex demonstrates once again its leadership in the soft cot market with the launch of the ACC64 and ACC68. As a result of sophisticated mixing technology and high-grade raw materials, these cots benefit from an increase of up to 50% in grinding intervals for compact spinning and offers spinners full flexibility thanks to their front-delivery roller interchangeability on Rieter compact-spinning machines.
With enhanced elasticity, reduced dynamic deformation and increased mechanical stability, the ACC64 and ACC68 cots can process fine to coarse yarns from any raw material. Made of premium and innovative compounds, the ACC64 and ACC68 cots, with respectively 64 and 68 shore A hard- ness, offer outstanding anti-lapping properties and do not require UV treatment.
Up to 60 days grinding interval in compact spinning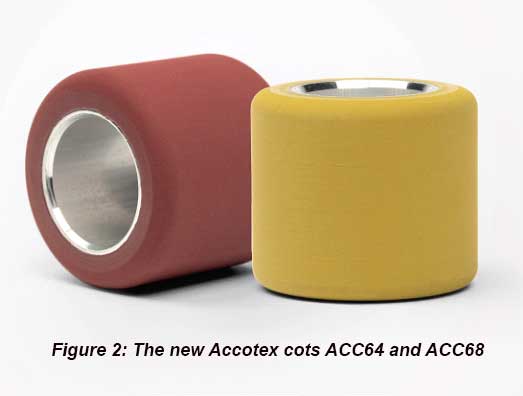 Grooving has a major impact on the lifetime of cots. Thanks to a unique elastomeric structure due to increased mechanical stability and enhanced elasticity, the Accotex ACC64 and ACC68 display unsurpassed grooving performance which leads to up to 50 per cent higher lifetime (Figure 1). Of course, it goes without saying that the new ACC64 and ACC68 offer the same yarn quality and grinding ease as the other Accotex cots.
Highest flexibility
The ACC64 and ACC68 (Figure 2) are suitable for any type of staple fibre and yarn count and can be run on both front and delivery position. Depending on the yarn count and type of fibre, the cots can be switched easily from front to delivery roller and vice versa. This gives spinners high flexibility to adjust the machines to specific yarn counts and fibres with- out changing the cots, thus ensuring the best possible yarn quality and lifetime.
Excellent anti-lapping properties without UV treatment
To reduce lapping behaviour, an anti- lapping solution like UV-treatment can be applied to cots. Thanks to new polymer technology, the ACC64 and ACC68 cots offer excellent anti-lapping properties without the need for any additional treatment. Cot maintenance is reduced and machine downtime minimized.