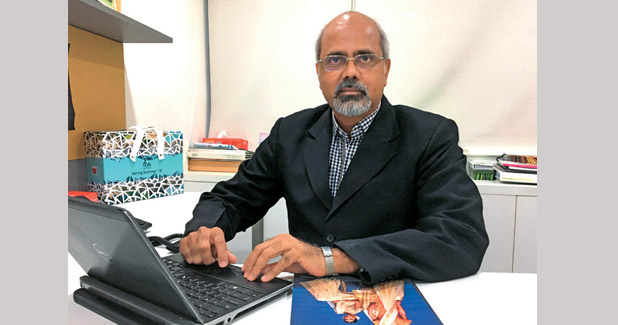 LIVA journeys into new realms of applications: Manohar Samuel
LIVA, the new-generation fibre created by the Birla Cellulose of Aditya Birla Group since its launch, has been enjoying an enviable fame for its fluidity in the textile market.
LIVA, the new-generation fibre created by the Birla Cellulose of Aditya Birla Group since its launch, has been enjoying an enviable fame for its fluidity in the textile market. Top brands loyalty and the partners' dedication have lifted its repute to new heights. But, LIVA's insatiable appetite to seek new applications is undiminished.
"The pulp and fibre division in Taloja of the Aditya Birla Group is actively innovating and finding new applications to promote LIVA on a wider scale. At the TRADC
in Vadodara, new fabrics are developed after finding new applications. LIVA's latest entry
is the saris category, which is the single largest selling category for ladies in India," said Manohar Samuel, President – Marketing and Business Development at Birla Cellulose of Aditya Birla Group, during an exclusive interview
with Samuel Joseph, Editor of Indian Textile Journal.
Said Samuel: "The true fluid factor of LIVA goes well with saris. In this category it also goes well with blends including cuprammonium, viscose filament yarn, silk and cotton. Besides fluidity, LIVA's asset is the exquisite drape it gives to saris. Today for the young fashion-conscious ladies, LIVA's drapeability and easy-wear quotients are the best. The last but not the least is the comfort level LIVA gives to the saris."
LIVA listens to consumers demands with missionary zeal. "We are working on an anti-bacterial fibre, which will arrest the odour coming out of fabrics because of sweat. The fabrics we are working on will have the ability to transport the moisture and also prevent odour, borne of sweat. LIVA is keen to stretch further to reach new areas. Recently, brands which have been happy with our association in the last few years, want us to create something out of LIVA that can go well with materials like denim. Ceremonial attire is another area we are looking into for imparting the fluidity of LIVA. This
needs intensive engineering and works are on to create something that is accepted by the consumers."
Talking of blends, Samuel said that a recent tie-up with Ruby Mills has brought out the best in poly-viscose with no pilling and also the best in look and feel. "Besides, we are working on technology collaborations. Rieter has come out with airjet knowhow, with which
we have developed some excellent fabrics at TRADC. Second are the collaborations with NGOs, who have certain noble intentions. The third level of collaboration is with chemical units, which are very important to improve the quality and acceptability of the products.
We are a signatory member of ZDHC and this is a move
to reduce the harmful effects to the environment. All these efforts are made towards achieving higher levels
of sustainability," said Samuel.
Samuel admitted that the recent research in viscose is driven by consumers, and their expectations. "We have a strong R&D set-up from plant to retail. It starts from pulp and alternate raw materials. All these merge to form the innovative pipeline. Recycling and circular economy are the in-things today. LIVA, a major innovation from the Aditya Birla Group is the result of a process innovation. The uniqueness of this fibre is the tracer inside, and this is a great contribution to sustainability. The GRS (Global Recycle Standard) certification is getting ready for LIVA. Cotton is also a good fibre, but it takes a lot of land and water, unlike viscose. So, this is a consumer-driven product since it can be recycled unlike cotton which has to be either dumped into landfills or made into downgraded products," said Samuel.
LIVA's journey into new territories is continuing. Said Samuel: "The initial success for LIVA was when we roped in a host of partners and brands to promote this new concept. This was done with consumer-focus and to deliver consumer values. The second stage was the LAPF, LIVA's partnership with accredited partners. LIVA has already delivered in numbers of growth and business volume. Now it has become an eco system. The global attraction to LAPF and LIVA is significant. Secondly, the fast fashion is wooing LIVA because fast fashion which has come to stay in India is a big challenge. The global brands have lapped it up, and we are happy with the result. We have also worked with STS, Singapore and developed the eco system. 'LIVAECO' is the outcome
of an upgraded eco system."
Dwelling on LIVA, Samuel said: "The awareness of LIVA and eco system has reached a good level. About 50 per cent of consumer we talked to in 13 cities have admitted that they know LIVA and are happy with the brands promoting it. But there are gaps and we firmly believe that we will reach the rest of percentage."
Talking on the virtues of viscose, Samuel said: "Viscose is a renewable fibre though the process of converting the wood pulp into fibres needs some man-made procedures. Though trees are cut to produce viscose, we plant more trees than we cut and hence are not depleting the natural resources. In synthetics, they are using the petroleum products, which are non-renewable. Though chemicals are used in viscose manufacturing, we are on a journey to pursue circular economy by making the least damage to the environment. In the end, viscose is a biodegradable product and eco-friendly, which is a very important factor."
Giving details of obtaining raw materials, Samuel said: "There are two systems from which we harvest our raw materials. One is the forest and the other is social forestry. There are three types of certifications—FSC, SFI and PEFC globally—when woods are sold by private owners for pulp. These have very stringent conditions. Social forestry is outside India since mostly forests are owned by the Government, and we have developed forests for getting us the raw materials. These are also governed by strict rules. This forms only 10 per cent
of our needs."
After having had a tete-a-tete with Samuel Manohar, one feels that LIVA is a living example of Aditya Birla Group's unrelenting quest for excellence in an eco-friendly man-made fibre for the overall benefit of the consumers. It also confirms the Group's persistent pursuit of a product, which makes perfect business sense!