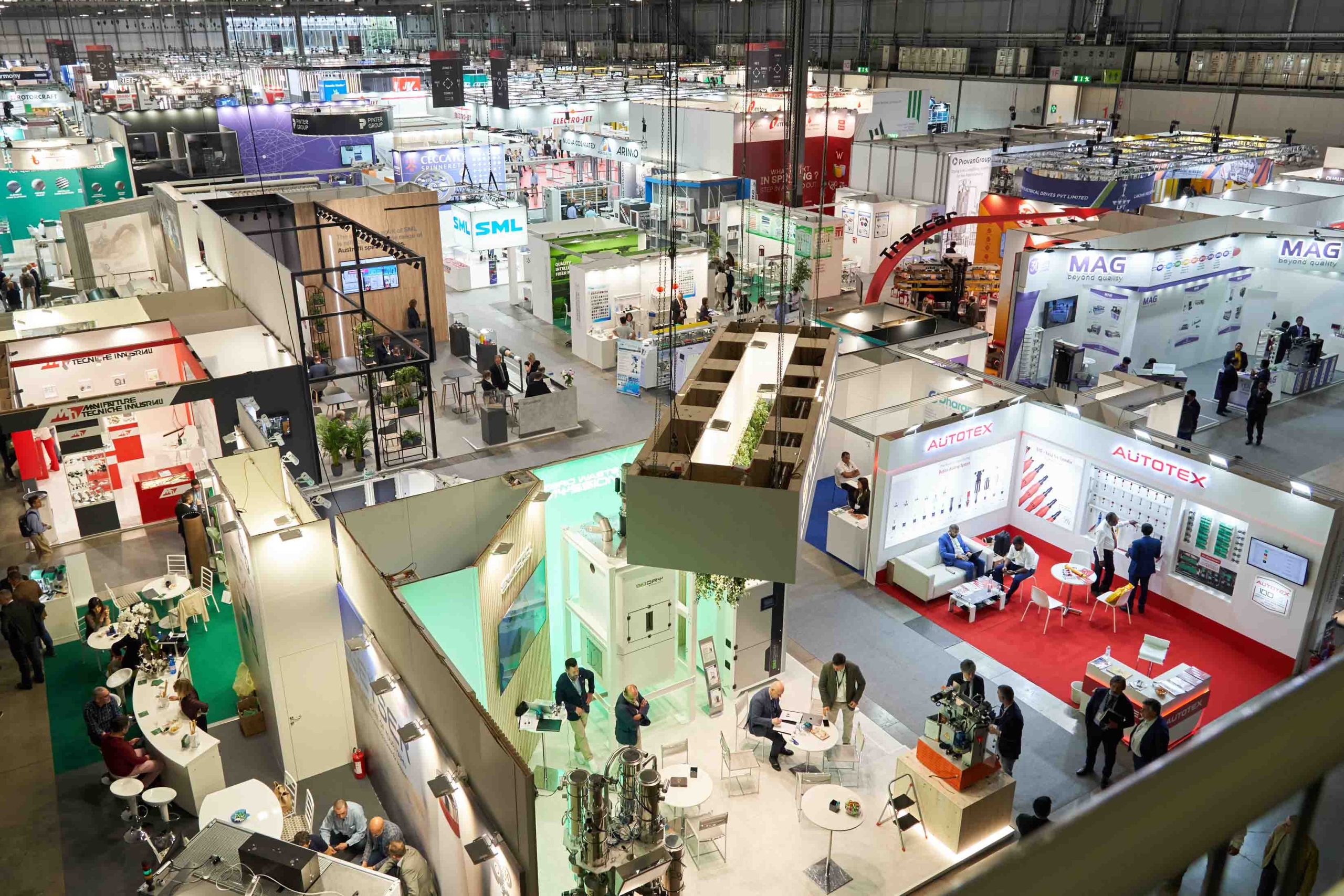 Indian firms showcase textile engineering prowess at ITMA 2023
Over 175 Indian companies – one of the country's largest contingents to the global textile engineering expo so far – showcased the prowess of their cost-effective, eco-friendly engineering solutions to the world. Message is clear: India is a force to reckon with in the global textile machinery industry, writes Rakesh Rao.
With trade dynamics changing after Covid 2019 pandemics, the world was looking at India with great expectation to drive not just economic activity but also to present a viable alternative to the global engineering industry. The textile machinery industry's potboiler show, International Textile Machinery Association (ITMA) 2023 exhibition, in Milan (Italy), provided an opportunity to Indian companies to make their presence felt with solutions that the world is looking forward to adopt. India was represented at ITMA 2023 by over 175 companies – one of the country's largest contingents to the expo so far. Indian exhibitors showcased their prowess with their cost-effective, eco-friendly engineering solutions to the global textile industry, which is looking at the country as an alternative to China.
Darshana Jardosh, Union State Minister of Textiles, and Rohit Kansal, Additional Textile Secretary, visited the expo, and interacted with Indian participants encouraging them to scale new heights. ITJ interacted with a few of Indian exhibitors to know their new offerings to the global textile industry and growth plans.
ColorJet launches eco-friendly EARTH printers at ITMA 2023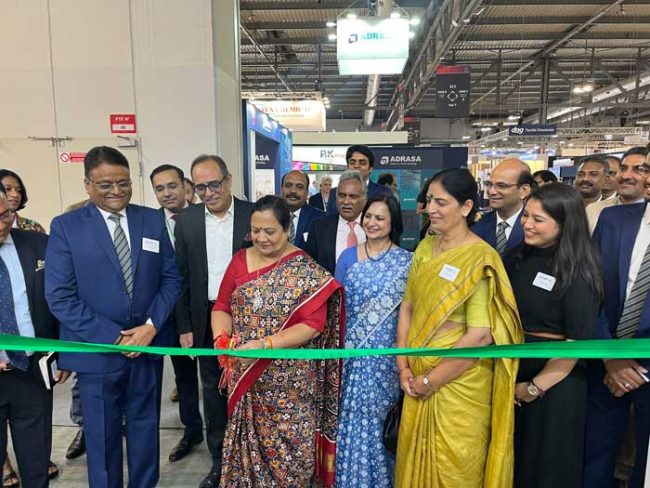 Darshana Jardosh (third from left), Union Minister of State for Textiles, inaugurated ColorJet pavilion at ITMA
ColorJet Group displayed its commitment towards environment with its sustainable practices and cutting-edge technologies at ITMA 2023. With the textile industry demanding green solutions, ColorJet, who was the Platinum Sponsorer of ITMA 2023, unveiled its EARTH series of sustainable digital textile pigment printers – EARTH Eco 16 and EARTH 32 – at the exhibition.
The ColorJet pavilion at ITMA was inaugurated by Darshana Jardosh, Union Minister of State for textiles, along with Rohit Kansal, Additional Secretary for Textiles, and Neena Malhotra, Ambassador of India to Italy. The Minister urged Indian textile engineering companies to invest in R&D and manufacture quality products for the global market. Stating that the Government of India (GoI) gives top priority for the textile sector, Rohit Kansal highlighted steps taken by GoI – such as Production Linked Incentive (PLI) scheme, SAMARTH scheme for capacity building in textile sector, and the PM Mega Integrated Textile Region and Apparel (PM MITRA) parks – to propel the growth of the sector.
Madhu Sudan Dadu, Chairman, ColorJet Group, commented, "India today is the fastest growing economy in the world. Textile sector, being one of the key drivers of the economy, stands to gain immensely from this growth. It is anticipated that the textile sector in India will witness investments of $ 100 billion by 2030, which augurs well for the textile engineering industry. At ITMA, ColorJet will reinforce itself as a leading global brand in digital textile printing with its sustainable solutions."
ColorJet's EARTH series printers offer benefits like consumes only 20 per cent water as compared to conventional textile printers; eliminates steaming, washing, and stentering processes; high fastness properties; high printability sharpness, etc. The company also displayed other printing solutions such as Metro NXT (the high speed, high-quality digital textile printer) and SubliXpress Plus (the go-to sublimation printing machine for a variety of applications).
Lakshmi Card Clothing ventures into combing business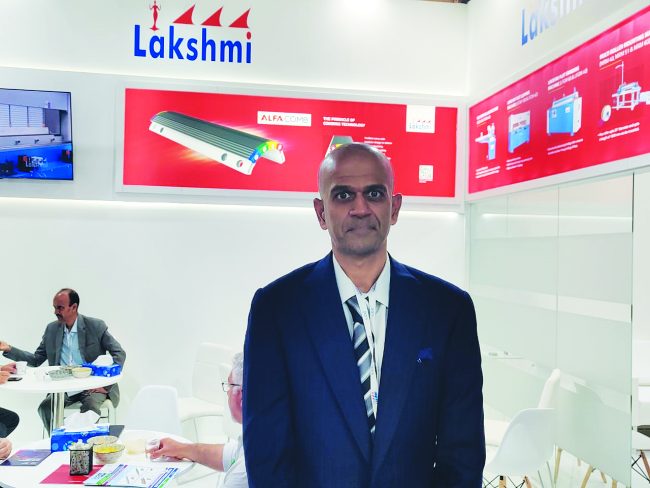 S Hari Shankar, Jt MD, Lakshmi Card Clothing Mfg Co Pvt Ltd, and Chairman, India ITME Society
Lakshmi Card Clothing Mfg Co Pvt Ltd, a leader in providing complete card room solutions, displayed the Alpha Comb accessory at ITMA. S Hari Shankar, Jt MD, Lakshmi Card Clothing, and Chairman, India ITME Society, said, "Alpha Comb marks our venture into the realm of combing accessories, having previously concentrated solely on carding segments. Currently, we are reaching the culmination of the pilot phase, where we have been rigorously testing and evaluating the product. Starting from the upcoming quarter, we will be fully prepared to officially launch our products into the market."
Sharing his experience at ITMA 2023, he said, "Returning to ITMA after four-year brings us great encouragement. We are immensely delighted by the positive response we have received. Our visitors not only included companies from India but also from various other countries. Today, there is a growing inclination towards suppliers from India, as we have earned widespread respect and support worldwide due to the exceptional quality of our products. We are hopeful that the cotton market will recover in the next 6-8 months, which will further propel our progress."
From a user standpoint, the company is actively implementing sustainable manufacturing practices at the factory level. Lakshmi Card Clothing is introducing various packaging solutions that prioritise environment-friendly methods, which will be extended to their customer base. They are adopting recycling measures for packaging materials, minimising the use of wood and plastic.
Hari Shankar added, "In our industry, we are in a continuous cycle of evolution. It requires us to consistently focus on R&D to develop innovative solutions. The size, speed, and productivity of cards are constantly increasing, necessitating a continuous improvement in quality levels. As a result, we are constantly engaged in the development of new products. Additionally, exports serve as a significant growth driver, particularly during periods of domestic market recession. We are optimistic about our prospects in this regard and have also received substantial orders, which further boost our confidence."
Prashant Group displays automatic section warping machine at ITMA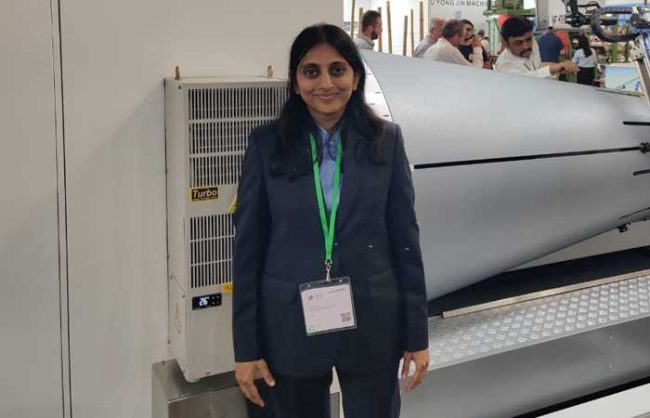 Amoli Shah, Director, Prashant Group of Industries
Using ITMA as a platform to showcase its latest technologies, Prashant Group of Industries – a prominent name in textile machine manufacturing in India – highlighted a completely automatic robotic section warping machine at the trade show. "The machine increases 40 per cent productivity (compared to a regular warping machine) and saves up to 20 per cent of space and 30 per cent of labour," informed Amoli Shah, Director of Prashant Group of Industries.
The company also showcased sustainable green technology at ITMA. She explained, "We are promoting Nitro technology for the indigo dying machine. Typically, in traditional indigo dying, it requires 7-8 tanks of water to complete the process and get the shades. But with Nitro technology, we can conclude the process with only 2-3 tanks of water. It saves around 50 per cent of water and 15-20 per cent of chemicals providing the better and darker shade at the same time."
Prashant Group's display also contained some material handling equipment and specialised tensioners for technical textiles. Exports contribute 20-25 per cent to its business with deliveries to over 50 countries. The export for sectional warping machines to Europe only contributed to 10-15 per cent.
As with any other business, the market has impacted due to the slowdown. "Currently, the market is little slow worldwide but I think this is cyclic effect and things will improve after some time. Fortunately, we have the backlog of the pending orders, which has kept us in good shape," stated Amoli Shah.
Stating that the new development is a continuous process at Prashant Group, the Director said, "The company is focusing to produce weaving preparatory machinery in future. We have a strong reach in sectional warping and cotton sizing. We are planning to increase sizing bandwidth by introducing polyester sizing, filament sizing, and fibreglass sizing. At present, there is a good market for polyester sizing in Surat, India and Russia, Taiwan and Europe, abroad."
Speaking on the Indian market, Shah said, "In India, there is an increased awareness for automation and sustainability. Labour costs, land prices are also increasing and people are looking for efficient production. We can see a surge in demand for new Industry 4.0 and digitalisation products in India."
LRT showcases LEED and new application tools at ITMA 2023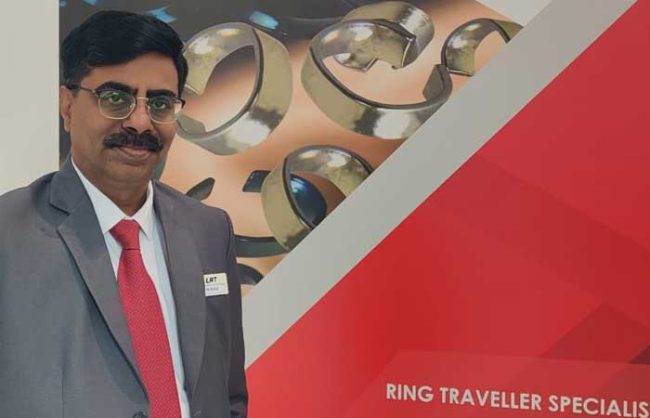 J M Balaji, Head Marketing, LRT
Lakshmi Ring Travellers (Coimbatore) Pvt Ltd (LRT), a global leader in ring travellers, serves the needs of more than 4500 spinning mills in over 40 countries, with over 40 million spindles operating with their products. Additionally, LRT is an environmentally conscious company that provides comprehensive solutions for wastewater and solid waste management through its group company, Lakshmi Energy and Environment Designs Pvt Ltd (LEED). LEED has successfully implemented more than 170 projects across 40 countries, supplying Zero Liquid Discharge (ZLD), Clean Technology Products (CTP), and Sewage Treatment Plants (STP).
J M Balaji, Head of Marketing at LRT, elaborated, "We are currently focused on appointing agents in other countries for our LEED business. We have received many inquiries and we anticipate strong growth in this segment in the coming years. LEED was established in 2011 and, since then, we have been dedicated to its development, with a particular emphasis on exports."
Speaking about LRT's core business solutions, he stated, "We are introducing our new range of application tools, including cleaning tools, battery-operated and manual operators, EC3, FR3, as well as a special traveller insertion tool for spindle monitoring systems. We are proud to present two innovative devices, LRT Insert and LRT Smartfix, which are the first of their kind globally. These devices offer faster installation, minimise traveller wastage, maintain traveller shape, and reduce reliance on workers. We will commence supplies of these devices starting next month."
Balaji added, "Exports account for 50 per cent of our revenue, and we hold the top position in these countries based on our sales figures. This exhibition holds immense importance for us as it provides an excellent opportunity to connect with potential clients from South America, the US, Turkey, Iran, and other regions, thereby expanding our business. We are fully equipped to meet the growing market requirements."
Mayur Reeds & Healds unveils products for technical textiles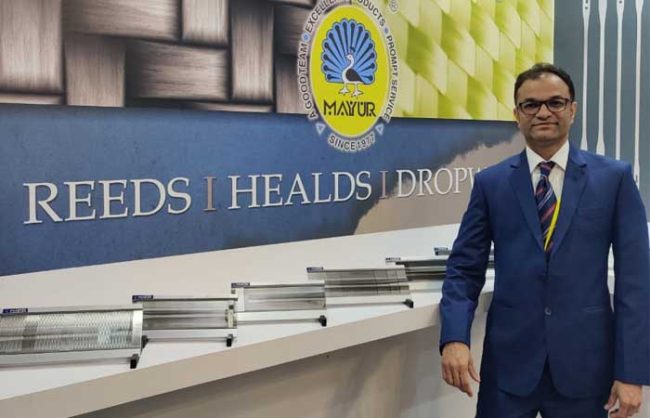 Jignesh Shroff, MD, Mayur Reeds and Healds Pvt Ltd
Mayur Reeds & Healds – engaged in the manufacturing, supply, and export of weaving accessories – offers a wide range of products including air jet reeds, flat reeds, and weaving preparatory reeds.
Jignesh Shroff, Managing Director, Mayur Reeds And Healds, elaborated, "There is a growing demand for technical textiles and industrial fabrics within the textile industry worldwide. In response to this trend, the company has expanded its product offerings to cater to the weaving of technical textiles. With our expertise in reed manufacturing, we have developed products specifically designed for technical textiles weaving, which is a major highlight for us at ITMA. Despite the challenges posed by the post-COVID era, the world is recognising India as a valuable resource, and Mayur, with its 45 years of experience, has established a strong reputation not only in India but globally. The company is committed to continuously learning from the industry and developing new products to meet the evolving needs of the technical textile sector."
Going forward, Mayur Reeds & Healds plans to introduce more products for technical textile weaving. It has already completed the construction of a new building, which has provided additional infrastructure and capacity.
AUTOTEX displays bobbin holders for modern spinners at ITMA 2023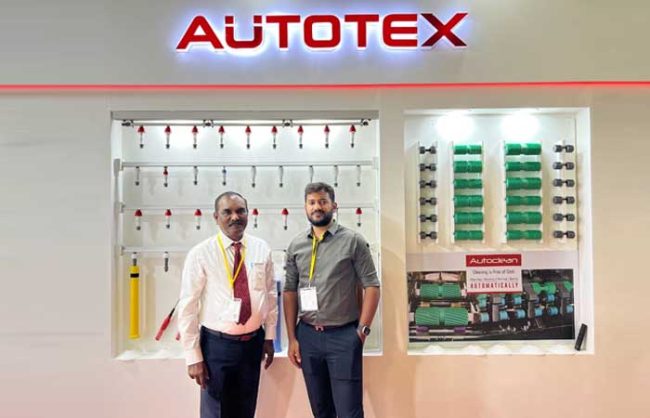 Caption for Image – R Vishnu Vardhan (right), Executive Director, AUTOTEX Pvt Ltd, with his team member
AUTOTEX Pvt Ltd, the 35 year old company from Coimbatore, showcased latest range of bobbin holders, autoclean roller and easy fix spindle at ITMA 2023. "We have been constantly innovating to offer best solutions to customers. We have bobbin holders, which are supplied to major OEMs, for all applications. At ITMA, we are displaying our upgraded range of products," stated R Vishnu Vardhan, Executive Director, AUTOTEX Pvt Ltd.
Commenting on exports potential, he said, "We export to more than 15 countries. Through this exhibition, we would like to expand our overseas business by exploring new destinations to supply our products."
AUTOTEX is all geared up to support textile mills that are opting for automation to increase the manufacturing efficiency. "As innovations happen in textile machinery, we are equipped to handle those changes. Many spinning mills are looking to go into bobbin transport systems, which involve automating the transportation of bobbins from one process to another. We have a range of products which are suitable for these kinds of systems to ensure process of transferring or exchanging happens in accurate manner, while maintaining efficiency."
Ramsons presents eco-friendly solutions for garment makers at ITMA 2023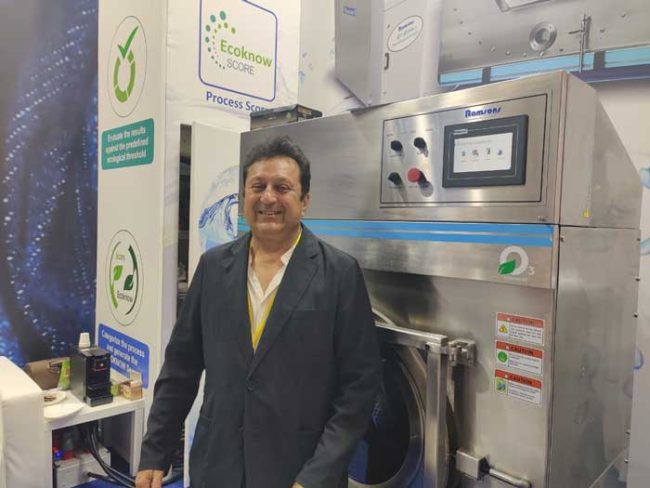 Sunder Belani, CMD, Ramsons Garment Finishing Equipments
Ramsons Garment Finishing Equipments Pvt Ltd highlighted its eco-friendly washing and finishing solutions for garment makers at ITMA 2023. "Ramsons is one-stop-shop for anybody who is into garmenting – both in the finishing and washing segments. We are one of the biggest producers of vacuum steam ironing systems for garments. We also supply co-related machines like washing machines, etc. Sustainability has been a part of the company's strategy for the last more than 15 years. We have been supplying machines which are waterless, use ozone, have energy efficient IE3 motors, etc. Our mantra has been to use less chemical and generate less effluent load and thus helping the environment," stated Sunder Belani, Chairman and MD, Ramsons Garment Finishing Equipments Pvt Ltd.
He added, "At ITMA, we are displaying new nebulizers. We are also focusing on the concept of washing garments with the aid of ozone dissolved in water, which is the innovative technology in washing that is capable of reducing chemical consumption and help save energy."
There is lot of pressure on the textile companies from brand owners to opt for sustainable processes and equipment. "This provides big opportunity of us as we have been developing eco-friendly solutions for the last 15-20 years," he stated.
In addition, Ramsons' machines are Industry 4.0 compliant with PLCs talking to each other. "Being located in Bangalore, the IT capital of India, has helped us in gearing up our products and machines to be Industry 4.0 compliant," opined Sunder Belani.
Ramsons Garment Finishing Equipments has presence in major textile manufacturing countries with exports contributing about 40 per cent to its turnover. Exhibitions like ITMA provide a good platform to increase penetration in the international markets. "As we are the only Asian company to offer these kinds of niche products, we provide a viable alternative to companies who are looking for cost-effective solutions. Our machines offer RoI of less than one year compared to our competitors' machines which have RoI of 3-4 years. While Bangladesh is one of our biggest export destinations, we also supply to countries like Sri Lanka, Indonesia, Africa, Egypt, etc. We are also looking at new destinations for exports," he stated.
Speaking about market opportunities, Sunder Belani said, "The textile industry has been going through a slowdown in the last few quarters. However, looking at the response at ITMA 2023, one can say that apparel trade is all set to take off and we can expect the demand to pick up soon. Our company is all geared up to ride the wave. We are looking at minimum 10 per cent growth year-on-year with more concentration on exports. Near shoring is a big trend in the world and we would like to tap countries, which will enhance our business prospects."
Ganesha Ecosphere promotes recylced yarns at ITMA 2023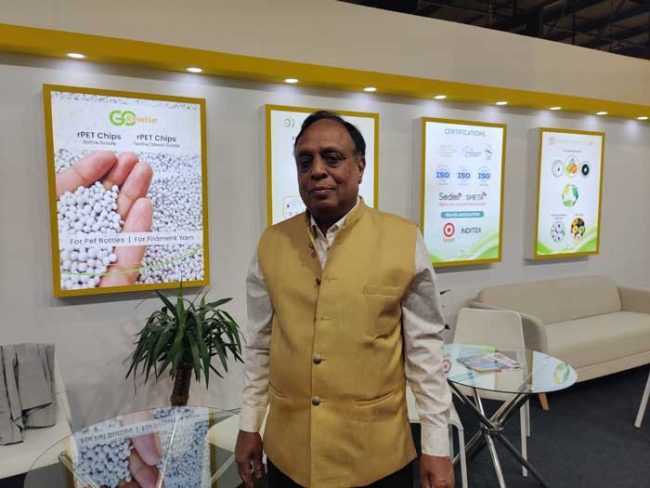 B P Sultania, Jt President, Ganesha Ecosphere Ltd
The Faridabad-based Ganesha Ecosphere Ltd, one of the leading recycled PET (rPET) fibre and yarn manufacturers in India, used ITMA 2023 platform to promote the cause of sustainability with its recycled yarns. "Ganesha Ecosphere was the first company in India to foray into recycling business (in 1994). We started with 300 metric tonne per month (MTPM) and today our capacity stands at 11,000 MTPM. We have started rPET bottle-to-bottle (B2B) grade chips, which are suitable for the production of bottles as well as filament. We produce filament yarns like fully drawn yarns (FDY) and are also into recycled yarn spinning with 70,000 spindles capacity," stated B P Sultania, Jt President, Ganesha Ecosphere Ltd.
The company has four factories in India – Kanpur (Uttar Pradesh), Rudrapur (Uttarakhand), Bilaspur, Rampur (Uttar Pradesh) and Warangal (Telangana). Recycled fibre and yarns find application in production of textiles, functional textiles (nonwoven air filter fabric, geo textiles, carpets, car upholstery) and fillings (for pillows, duvets, toys).
He added, "We are highlighting specialty fibres and B2B products at ITMA. We export around 1000 tonnes of recycled fibre every month. While raw material cost in India is high, low cost scrap is available in other countries. To propel exports of recycled yarns, the industry wants government to ease the availability of raw material as we are not allowed to import PET bottle scrap."
Speaking about future plans, Sultania said, "As per the government mandate, from 2025 all packaging products must have 25-30 percent recycled component, which provides good opportunity to recycling business. To capitalise on this trend, we are expanding our capacity of bottle-to-bottle grade capacity in our Warangal facility by 2025."
Batliboi Air Engineering showcases prowess of automation at ITMA 2023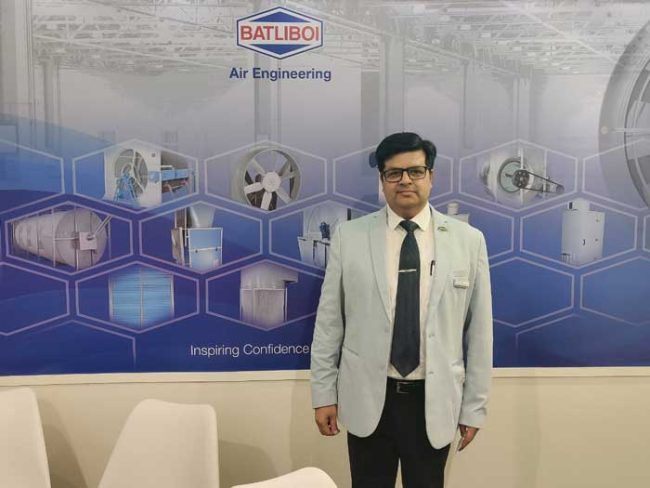 Manish Kapoor, VP, Batliboi Ltd, Air Engineering Group
Batliboi Air Engineering Group, which supplies the entire range of air engineering equipment, highlighted its automated solutions at ITMA 2023. "At ITMA 2023, we are showcasing highly advanced automated systems. We have developed automation solution with Industry 4.0 standards so that one can access the data from anywhere on his/her mobile device. This will help mills to increase efficiency and productivity of their plants," stated Manish Kapoor, VP, Batliboi Ltd, Air Engineering Group.
The company offers air engineering equipment such as high-efficiency fans, air washer systems, chiller packages, rotary drum filter, rotary water filter, fibre recovery and condensing systems and other auxiliary equipment. He elaborated, "Our air engineering business focuses on two segments – natural fibre and manmade fibre – which encompass the entire value chain of textiles. For natural fibres, we supply humidification and waste evacuation systems. For manmade fibres, we provide air conditioning systems and air handling units which are responsible for producing filament yarn. Our systems are tailor-made solutions to meet the changing requirements of the textile industry."
Speaking about growth plans, Manish Kapoor said, "We recently added innovative products to our portfolio to fulfill the new requirements of textile industry. We are looking to scale up our overseas business with our new range of products and related solutions. At present, exports contribute 10-15 per cent to our turnover and we intend to see at least 20 per cent year-on-year growth in exports. Exhibitions, like ITMA, are a good platform to engage with new customers and explore new markets."
Elgi Electric displays futuristic solutions at ITMA 2023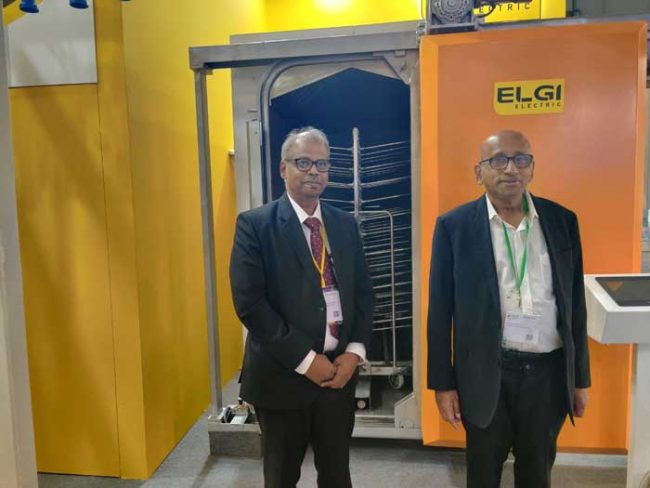 L-R: V S Balasubramanian, VP Operations, and Sumanth Ramamurthi, Chairman & MD, Elgi Electric & Industries Ltd
Elgi Electric and Industries Ltd, known for providing engineering solutions for the textile industry, showcased the power of automated solutions at ITMA 2023. "We are displaying our three important products – overhead traveling cleaner (OHTC), bobbin transport system and yarn conditioning System – upgraded with futuristic technologies at ITMA 2023. Our Smart OHTC can continuously monitor suction system, which is very vital for the performance of ring frame or loom, in overhead cleaners. About 25-30 per cent of ring frame performance depends on the quality of over head traveling cleaner; thus, ring frame performance is severely affected in the absence of good overhead cleaner. So, we have added Industry 4.0 feature to OHTC which helps the user to understand the performance of overhead cleaners," said V S Balasubramaniam, VP – Operations, Elgi Electric and Industries Ltd.
He added, "In India, companies are moving towards auto doffing speed frame, which calls for an overhaul of the conventional system. Our automated bobbin transport system is suited for auto doffer. Besides, we have new cubical yarn conditioning system wherein we can condition in the form of pallets, which can be linked to an automatic conveyer line."
Stating that Elgi Electric has been focusing on strengthening R&D activity for growth, Balasubramaniam said, "India is moving towards consolidation with average size of textile projects witnessing massive increase. As a result, logistics within a spinning mill is becoming a challenge with unavailability of skilled manpower. In this scenario, we are looking to find solutions for spinners by developing new automated products and systems. To start with, we will launch a new overhead cleaner by September 2023 and three new products focusing on automation for spinning segment by April 2024. The new product range will also help us scale up our overseas business. We aim to increase exports contribution from present 20 per cent to 50 per cent of our turnover in the next three years."
ICC exhibits novel card clothing solutions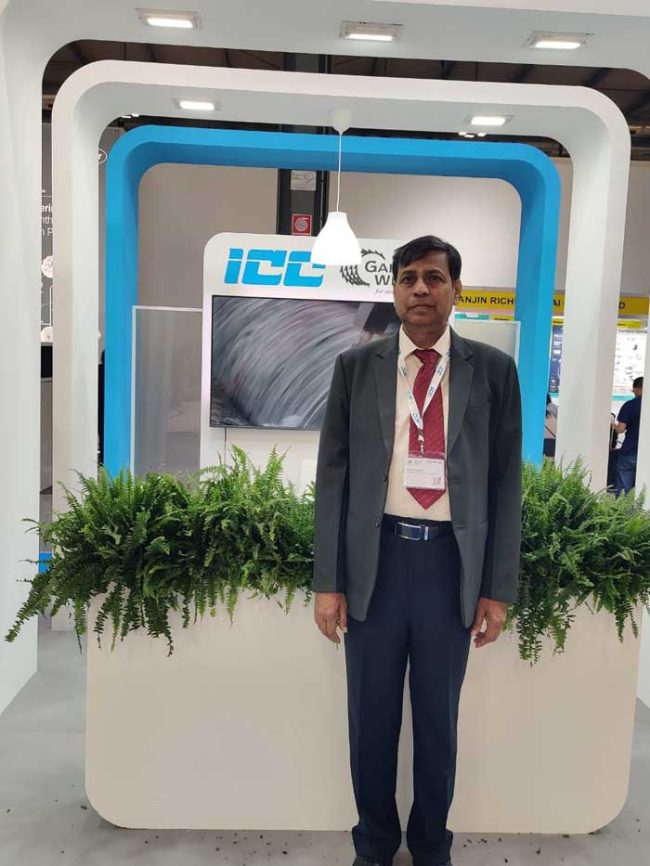 A K Pal, VP, Product Development & Technical Support, ICC
The Indian Card Clothing Company (ICC) is among the few global companies that produce card clothing for processing various types of fibres, both natural and man-made, using all kinds of carding machines, whether they are conventional or super high production cards. "At ITMA, we are introducing a new line-up of card clothing and nonwoven card clothing solutions. The response we have received here has been fantastic, particularly for our nonwoven machinery and nonwoven card clothing requirements. We have also noticed significant interest from visitors in our Prolyf Gold Cylinder series," said A K Pal, VP of Product Development & Technical Support, The Indian Card Clothing Company.
To enhance cotton processing, the company has launched Prolyf Gold, a product that offers exceptional durability and consistent product quality. The aim is to provide customers with 20 per cent higher productivity and improved quality. For the nonwoven/technical textile industry, ICC has introduced a groundbreaking range of cardroom servicing equipment, the first of its kind globally. Recognising the importance of maintaining cards while developing non-woven wires, the company created nonwoven service machinery. These solutions were unveiled at ITMA. "We have received an enthusiastic response from European, Latin American, and Indian customers," Pal stated.
Additionally, ICC debuted its comprehensive wire range at ITMA 2023, marking its entry into the nonwoven industry. The company anticipates expanding its nonwoven industry clientele by more than threefold within the next two years. In the ring spinning sector, ICC expects to achieve a minimum 20 per cent increase in market share on a compound annual growth rate (CAGR) basis.
Jumac Manufacturing showcases smart can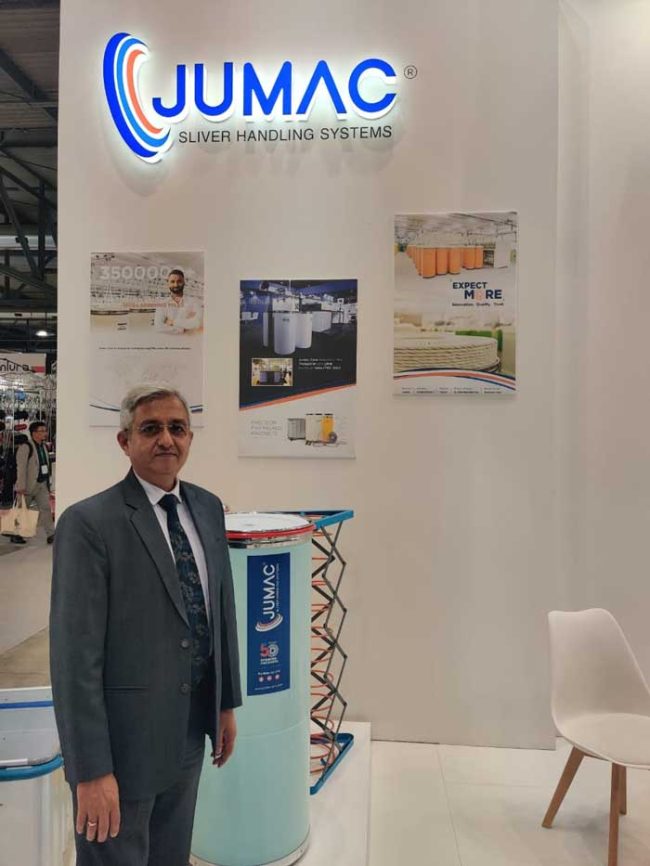 Surendra Sharma, CEO, Jumac Manufacturing Pvt Ltd
Jumac Manufacturing Pvt Ltd, an industry leader in spinning can manufacturing in India, is renowned for delivering high-quality cans tailored to the jute & textile industry. The company's comprehensive range of products and accessories are manufactured in-house, ensuring complete control and monitoring of the entire process.
"This time, at ITMA, we are showcasing our Ji+ Can. Mill owners will find this technology highly cost-effective, and it proves to be extremely beneficial for shop floor operators as well. With this technology, they can access all the results at their fingertips," stated Surendra Sharma, CEO, Jumac Manufacturing.
Utilising advanced sensor technology, Ji+ cans accurately detect the sliver status. The LED light band on the top sheet changes colour based on the sliver status within the cans, and these colours can be easily observed from a distance. The Ji+ technology ensures that spinning cans are never idle and eliminates manual errors, thus enhancing productivity through increased automation.
He emphasized, "With Ji+, our floor management has become much smarter. Can changeover time will be significantly reduced, and can inventory will see a reduction of 20-30 per cent. Visitors to our stall have shown great appreciation for this innovation and are eager to purchase the cans immediately. However, we will need another 1-2 months to ensure its readiness for commercial use."
Discussing expansion plans, Surendra Sharma stated, "Currently, our focus is on introducing new cans and related accessories to the overseas market. Within the next six months, we may unveil another ground-breaking innovation at a different exhibition, which has the potential to revolutionise the spinning industry."
Laxmi Shuttleless Looms offers world-class weaving equipment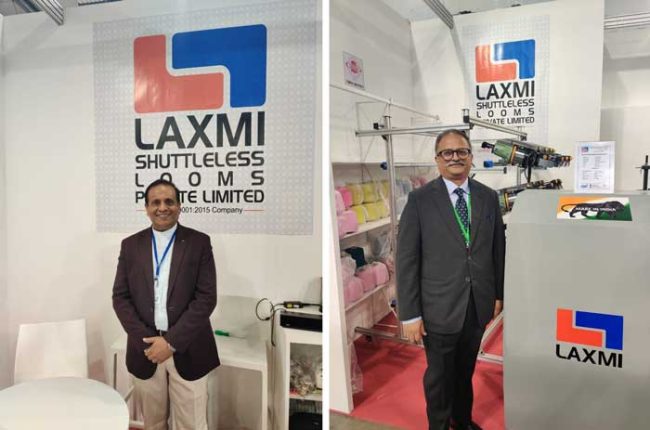 Hemang Shanghvi (left) and Ketan Sanghvi, Directors of Laxmi Shuttleless Looms Pvt Ltd
Laxmi Shuttleless Looms Pvt Ltd, a prominent manufacturer and exporter of weaving machines, offers a range of exceptional weaving equipment such as the rapier weaving loom, weaving loom machine, and automatic shuttle change loom. Hemang Shanghvi, Director of Laxmi Shuttleless Looms, expressed, "We have observed a preference for European machines among customers. In order to showcase India's capabilities on a global scale, we have introduced the high-speed rapier machine LHR450 at ITMA 2023."
The Laxmi LHR 450 high-speed rapier loom is an advanced cam beat-up loom developed by the Laxmi team at their Ahmedabad plant as part of the "Make in India" campaign. This initiative aims to promote sustainability and growth through domestic manufacturing and in-house automation development. The loom features a control cabinet for integrated and efficient performance, with operational parameters easily accessible on a touch panel. Additionally, the company envisions incorporating IoT 4.0 integration in the near future.
Shanghvi emphasised the significant contribution of exports to their company, as the production of such machines attracts a wide range of fabric manufacturers. Laxmi Shuttleless Looms consistently engages in research and development for expansion purposes. With the successful manufacturing of LHR 450, they are adapting it to accommodate various types of fabric, ranging from lightweight to heavy and technical textiles. Furthermore, the company has plans to enter the airjet technology sector, leveraging their current foundation. Hemang Shanghvi concluded by mentioning their production of automatic punch-in machines, which are particularly suitable for denim and technical textiles.
Silverstone presents novel printing solution at ITMA 2023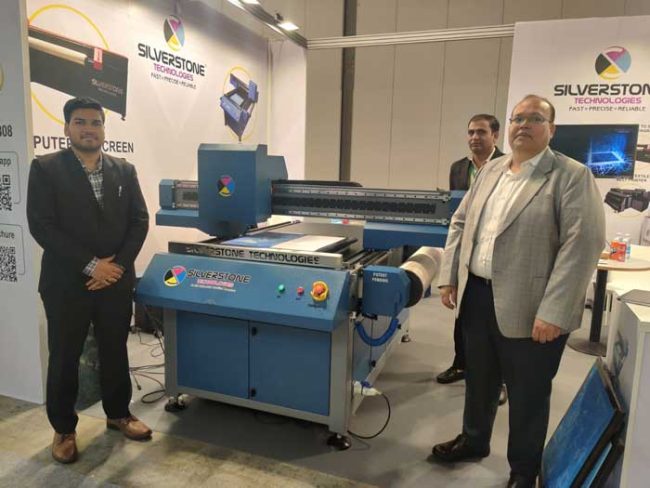 Rishi Dugar (left), Director, Silverstone Technologies India, with his team
Silverstone Technologies India Pvt Ltd displayed some of the innovative printing solutions at ITMA 2023. "For the last 15 years, we have been supplying computer-to-screen engravers in India. At ITMA, we are displaying new product based on DLP technology, which does not use ink and other expensive consumable ingredients. We are also launching our innovative two-in-one machine, which can engrave flat-bed screen as well as rotary screen. This machine, for which we have applied a patent, helps in saving space, labour and maintenance cost. The quality of screen can match digital quality," commented Rishi Dugar, Director, Silverstone Technologies India Pvt Ltd.
Established in 2008 at Surat, Gujarat, Silverstone Technologies India is one of the leading manufacturers of inkjet and UV printing machines. The company's products find use in textile printing industry and comprise computer-to-screen imaging systems like flatbed and spiral rotary inkjet engravers, direct-to-garment printer for T-shirt printing industry and UV printers for signage and industrial printing.
Speaking about growth plans, Rishi Dugar said, "At present, we have products for screen as well as digital printing. We intend to increase our exports from present 20-25 per cent (of our turnover) and use ITMA to expand our business to more international destinations. We are also in process of setting up a large facility in Surat. The new facility, which will start commercial production in January 2024, will increase our capacity four times."
Rabatex announces capacity expansion at ITMA 2023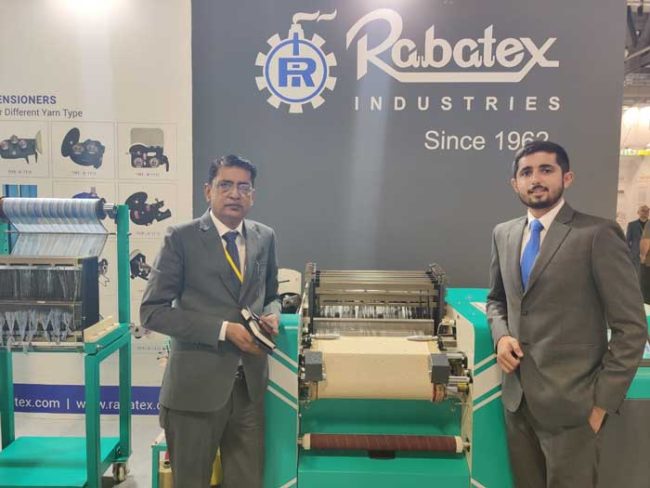 Haresh Panchal (left), MD, and J Panchal of Rabatex Industries
Rabatex Industries – a leading name in sectional warping machines in India with a worldwide customer base – highlighted single end sample warping machine, which enables manufacturers to produce sample warps of short lengths (less than 100 meters), at ITMA 2023. "With a minimum quantity of yarn in the shortest possible time, the sample warping machine allows the manufacturer to produce the required samples to display to their customers. Many visitors especially from the European continent are showing interest in the machine. With respect to sustainability, the machine also helps to reduce wastage of yarn and other material," said Haresh Panchal, Director, Rabatex Industries.
The company is also looking to expand its manufacturing footprint by adding a new production line at its plant in Ahmedabad. Panchal elaborated, "The company is looking to include advanced technology and upgraded machines at the site conforming to Industry 4.0 and digitalisation. It will help us to increase our productivity by 25 to 30 per cent and will be operational by Auguesg 2023."
Nestling Technologies: Creating elegance in fabric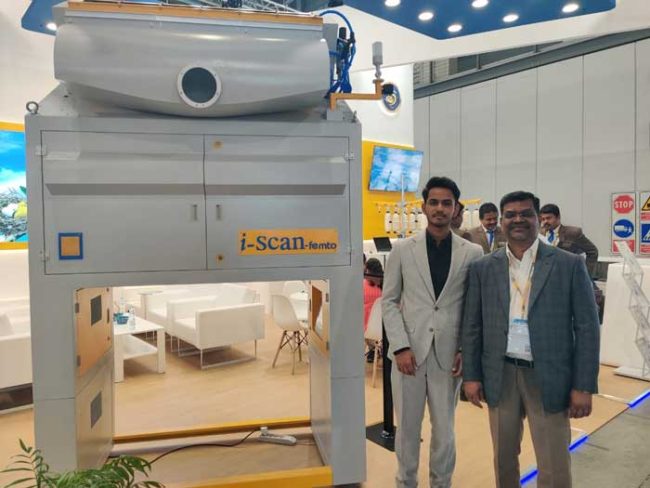 L-R: Vel Chandrasekaran, Director, and Chandrasekaran S, MD, of Nestling Technologies India Pvt Ltd
The Coimbatore-based Nestling Technologies India Pvt Ltd showcased innovative solutions for improving quality of yarn. "We help our customers to create elegance in fabrics by providing quality raw material and resources to improve productivity. We ensure the purity of cotton and serve the total value chain with machinery, instruments, and intelligent solutions for the textile and allied industry. We help in optimising productivity and enhancing the quality. In raw material, we are creating purity and at yarn stage we are creating dignity, and the combination of purity and dignity is leading to elegance in fabric," stated Chandrasekaran S, MD, of Nestling Technologies India Pvt Ltd.
He added, "We are also helping industry on its sustainability path by offering our solutions for recycling cotton process."
Digitalisation has been part of Nestling's growth strategy, with its spindle monitoring system already being Industry 4.0-compliant. "Industry is moving towards digitalisation to increase efficiency. Nestling is in a crucial stage as it offers spindle monitoring control in the ring frames, which is one step towards digitalisation. Nestling is currently offering solutions to mills that can help them transform into Industry 4.0 complaint firms. We also offer machine learning (ML), AI and cloud-based computing in our machines," commented Vel Chandrasekaran, Director, Nestling Technologies India.
Commenting on future plans, Chandrasekaran said, "Exports account for 10 per cent of our business and we mostly supply to South East Asia. ITMA presents an opportunity to interact with global audience and take our India success story to the world. It will also help us boost our exports to new overseas markets."
VXLRT presents high-quality ring and ring travellers at ITMA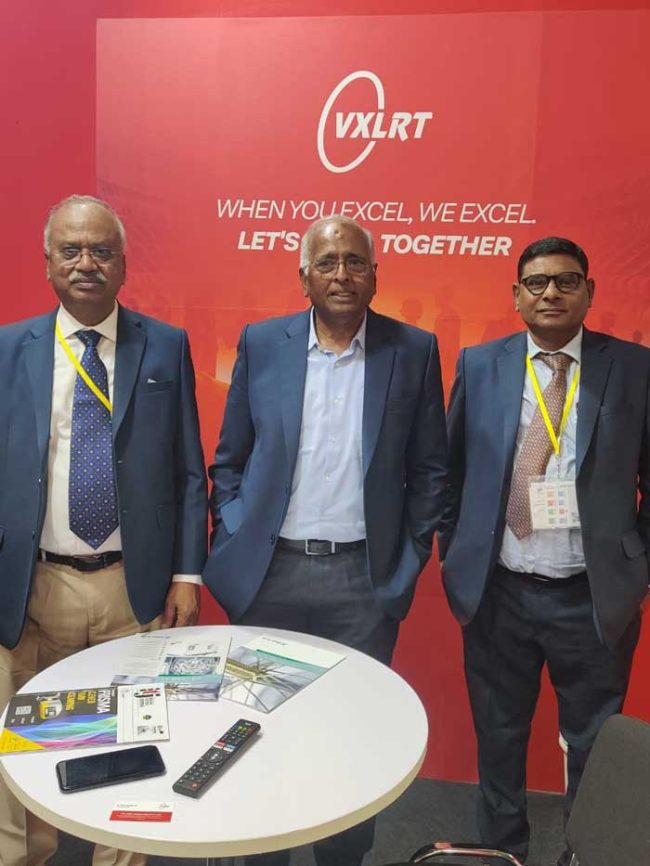 L-R: R Govindaraju & N Damodharan, Managing Directors, and N Hariharan, Sr Manager Sales & Service, VXL Ring Travellers Pvt Ltd
At ITMA 2023, VXL Ring Travellers Pvt Ltd (VXLRT) displayed its entire range of rings and ring travellers that are crafted for high-speed, superior quality and lesser breakage resulting in higher productivity. "We have displayed some of our new products at this exhibition. We have introduced the new Astra traveller, which is designed to minimise imperfections and achieve exceptional hairiness index, for black-dyed synthetic and synthetic blend yarns," said N Damodharan, Managing Director, VXLRT.
The company also displayed Ultimate+ ring travellers crafted for cotton & synthetic blend, and High Speed rings for good yarn quality and operational performance. R Govindaraju, Managing Director, VXL Ring Travellers, stated, "We have developed travellers for blends of manmade and cotton fibres that improve yarn quality. With the introduction of the new products, we are able to cater to all application needs."
At present exports contribute over 65 per cent to VXLRT's business and it mostly supplies to Asian countries. The company is now looking to increase its business from oversees market by foraying into new countries. Damodharan explained, "Travellers are smallest, high-tech product, without which spinning cannot take place. These are consumable products, which are required in small quantity. Individual mills in far off countries cannot procure these products as importing in small quality can increase the cost. So, we want distributors/agents who can stock our products near to our customers."
Govindaraju added, "Our products are well accepted globally. Our purpose, at ITMA, is to meet our global partners and discuss future plans. We also plan to increase exports by exploring other countries (especially in South America and Central Asia) and we are scouting for partners to open new overseas markets for us."
Speaking about VXLRT's growth plans, Damodharan said, "We had geared up our production last year itself and we are fully equipped to meet the increase in demand in the near future."
Paramount displays IIoT prowess in quality testing at ITMA 2023
Manjit Singh Saini (2nd from right), CEO & Technical Director, Paramount Instruments Pvt Ltd, with his team

Paramount Instruments Pvt Ltd showcased its whole range of next generation IIoT 4.0 driven testing instruments for quality control at ITMA 2023. The company also displayed capabilities of its cutting-edge testing instruments such as PickGlass, DigiVision, and Yarn Contamination tester.

"Team Paramount spent seven phenomenal days at the ITMA 2023 exhibition. Every single day at our booth brought us amplified learnings, fun & excitement due to delightful interactions with industry experts from various realms of textile industry. For Paramount, these were seven golden days of rekindling our life-long connections and feeling sheer joy with our hundreds of clients from more than 45 countries. We are so grateful to ITMA for offering a platform where professionals from all around the world can come together, engage, network, and cultivate valuable business relationships. We are eagerly looking forward to participating in ITMA 2027 in Hannover, Germany," said Manjit Singh Saini, CEO & Technical Director, Paramount Instruments Pvt Ltd.
(With inputs from Divya Shetty and Ayushi Khandelwal)