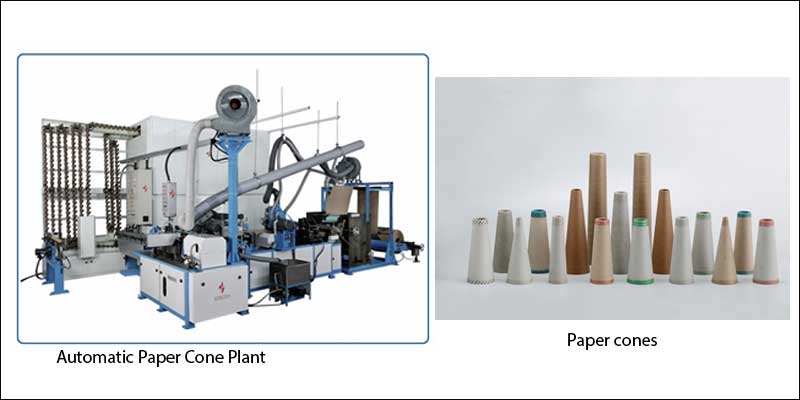 K U Sodalamuthu and Co offers high performance solutions
The company introduced Automatic Paper Cone Plant and Ultra Heavy Duty Spiral Paper Core Winder.
K U Sodalamuthu and Co, Coimbatore, is offering high performance Automatic Paper Cone Plant for production of textile paper cones for yarn spinning and Ultra Heavy duty Spiral Paper Core Winder with on-line fine cutting system suitable to produce ultra-strong tubes suitable for textile yarn carriers for Draw Texturised Yarn (DTY) and Partially Oriented Yarn (POY) winding.
Automatic Paper Cone Production Line
This production line has a maximum rated capacity of 55 cones per minute depending upon quality of raw materials. The machine is equipped with a unique gripper winding system to prevent slippage of cone patterns and fitted with imported SERVO drive system for the winding section. The machine is versatile enough to produce cones of various tapers viz., 3 deg 30′, 4 deg 20′, 5 deg 57′ and 9 deg 15′ with suitable toolings with minimum changeover time. Programmable controllers facilitate setting up of the machine to desired speeds depending upon the quality of paper.
The winding machine is linked through a conveyor to an Automatic Cone Drier which can be heated by electric, gas or steam with suitable heat exchangers.
The plant includes automatic cone finishing machine which does the following operations automatically.
Lubrication at nose end, bull nosing, base burnishing, velvet finishing, bottom grooving, notching for 'y', 'u', 'v' shaped tail-end notches, auto counting and nesting.
The plant is ideal to produce high quality cones with superb consistency in dimensions to meet the demanding standards for usage in latest model autoconers.
Ultra Heavy Duty Paper Tube Production Line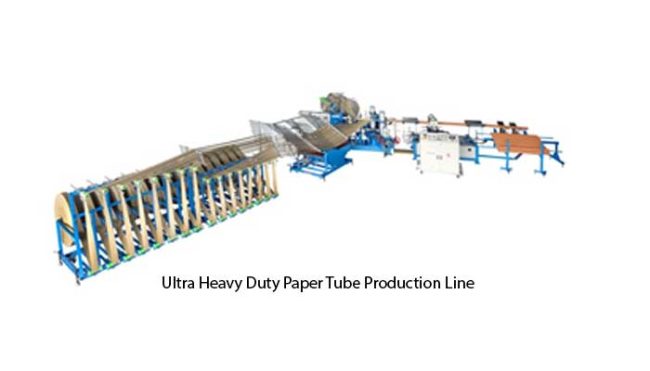 This machine can produce carpet yarn cores and carpet storage cores. This latest model spiral paper core winder is fitted with independent motor drive to the winding drums to prevent slippage of winding belt.  Reel unwinding stand and glue tank are fitted with motorized movement system to save time in setting of various sizes.  The reel unwinding stands have capacity up to 40-plies and the cascade type glue application system comes with glue circulating pump.  The on-line fine cutting unit facilitates burr-free cuts of cores eliminating dust emission.  The production line is capable of producing cores and tubes of inner diametre ranging from 50 mm to 600 mm with wall thickness up to 18 mm and length up to 5000 mm.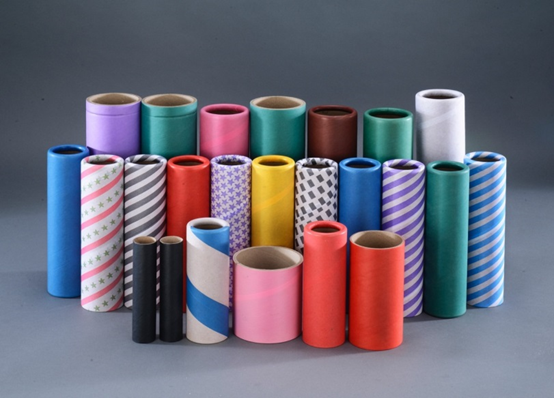 Paper tubes
The production line includes automatic recutter and automatic paper tube finishing machine to finish DTY and POY Tubes with bull nosing, polishing, punching, slotting, grooving etc.