ITMA 2023: Innovate to minimise environmental impact
While ITMA provide a perfect launchpad for firms to showcase their innovations, it also promoted environment cause with many companies unveiling breakthrough solutions in sustainability, says Rakesh Rao.
When the global textile industry was going through a lean patch, ITMA 2023 provided a glimpse of hope with all stakeholders (machinery & technology suppliers and textile manufacturers) discussing business prospects and growth plans. The industry demonstrated remarkable resilience with an impressive participation rate that brought cutting-edge technologies to life. Over 1,700 companies exhibited their latest solutions to 111,000 visitors from 143 countries.
ITMA provided an ideal platform for the global textile engineering firms to showcase innovations for the textile and garment industry. Besides innovation, ITMA 2023 also promoted environment cause with many companies unveiling breakthrough solutions in sustainability. These companies showed ways to save cost, time efficiency and improve quality by using solutions that minimise environmental impact. ITJ spoke to a few of the multinational companies to know more about their new offerings and their plans for India.
Benninger showcases eco-friendly solutions at ITMA 2023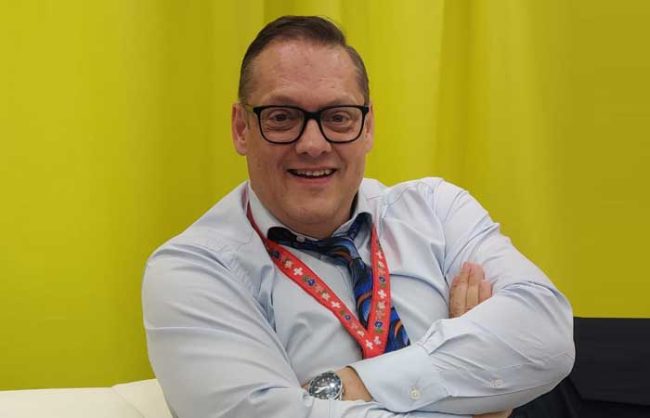 Rolf Erik Schoeler, Global Head of Sales & Marketing, Benninger Group
Benninger Group, a leading global technology provider for continuous wet processing and discontinuous dyeing, highlighted its eco-friendly solutions at ITMA 2023. "As a solution provider to textile companies, we take our responsibility towards sustainable textile production very seriously and the machines & technologies displayed by us at ITMA 2023 are testimony to it. For example, Benninger's new jet dyeing machine Fabricmaster reduces water consumption and is the most sustainable way of discontinuous dyeing today. It is fast, cost-effective and on the road to zero footprints. We also have new singeing machine, SingeRay, which reduces gas consumption, for ensuring perfect singeing effects, cost efficiency and uniform quality," said Rolf Erik Schoeler, Global Head of Sales & Marketing, Benninger Group.
Benninger Group, which supplies overall solutions for all important textile wet finishing processes, specialises in the continuous open-width treatment of woven and knitted fabrics, technical textiles as well as jet dyeing machines, jiggers, along with the complete and integrated dye house supply systems.
India has been a major market for Benninger for many decades with its manufacturing footprint in the country. "In fact, during ITME India 2022 (which was held in December in Noida), we introduced some of our new machines for the first time. We have been producing Fabricmaster in India. We see huge growth potential because people see us as the right partner to help them achieve their business goals with Benninger's eco-friendly, efficient technologies," stated Rolf Erik Schoeler.
He added, "We have been observing, over the last couple of years, that textile brands are looking at ways to decouple from China and India will benefit from this trend. India, which is one of the big markets for jet dyeing, is an important market for us. The country is showing strong growth and we are growing with it. In India, we see good potential to add 30-40 per cent more to our turnover every year."
Loepfe demonstrates prowess of sensor technology at ITMA 2023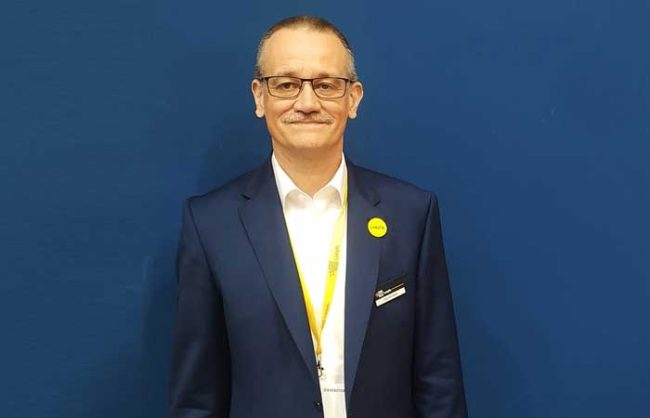 Jurg Schneider, Head of Sales and Services, Loepfe Brothers Ltd
Loepfe Brothers Ltd demonstrated advantages of its cutting-edge sensor technology to yarn producers at ITMA 2023. With its most advanced yarn monitoring systems, yarn producers can reduce costs and waste, increase efficiency, and enjoy ease of use. "We have tangible evidence that our products and solutions exceed the expectations of our customers. That's why we have the slogan 'One Step Ahead' for this year," commented Jurg Schneider, Head of Sales and Services, Loepfe Brothers Ltd.
Loepfe showcased its YarnMaster PRISMA and YarnMaster ZENIT+ technologies, both of which lead in technology, performance, and proven reliability for all applications in winding. It also highlighted the newly launched PRISMA Autoclearing functions, which provide the perfect solution for ease of use in yarn clearing. In the open-end sector, Loepfe present its YarnMaster EOS rotor yarn clearer, which is known for meeting the spinner's requirement for consistent yarn quality and maximum machine efficiency.
Beyond the spinning sector, Loepfe offers the WeftMaster CUT-iT for thermal fabric cutting and the all-rounder sensor WeftMaster FALCON-i for zero-defect manufacturing, regardless of colour, conductive materials, monofilament, or multifilament yarns.
The contamination of cotton with synthetic fibers is a growing concern among spinning mills today. "If the polypropylene contaminations are not removed properly during production, the spun yarn can cause costly complaints. We have solutions that can clear contamination and improve the yarn quality considerably," he said.
Trützschler showcases innovations for spinning and recycling at ITMA 2023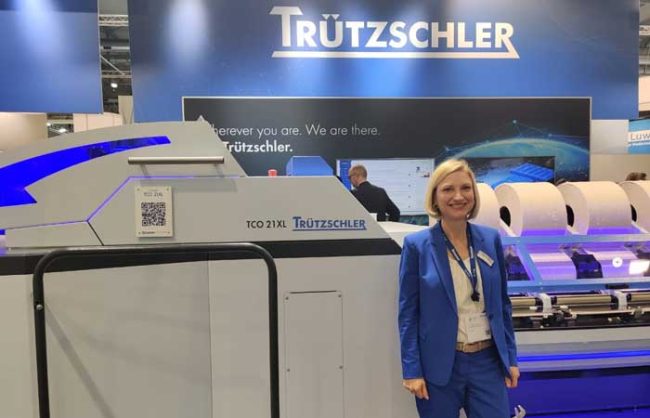 Caption for Image – Dr Bettina Temath, Head of Global Marketing, Trutzschler Group SE
Trützschler Spinning highlighted its innovations for carding, draw frame, combing and recycling at ITMA 2023. "We are showcasing solutions for fibre processing that deliver higher efficiency and helps in more sustainable raw material utilisation. We are also displaying the potential of intelligent, digital technologies for spinning mills," informed Dr Bettina Temath, Head of Global Marketing, Trützschler Group SE.
On sustainability front, she said, "Increasingly, textile waste is becoming a big problem in the industry and we see good growth potential in recycling sector. We help our customers (who are looking for reducing waste) by offering recycling solutions for textile waste. Our machines also ensure right raw material utilisation so that we do not waste any fibres. Our machines are optimised for energy consumption."
Trützschler has a big presence in India, being a global leader in the spinning industry. "India is one of the major markets for us. We see huge potential, especially in air jet spinning, which is witnessing fast growth. In addition, we also see good prospects for recycling solutions in India. We are in process of expanding capacity in India for spinning machinery," stated Dr Bettina Temath.
Speaking about future plans, she said, "We have a global reputation in combing and carding machinery, and now our ambition is to be a leader in spinning preparation as well. So, we have developed new generation of integrated draw frame. We also have the next-generation combing machine TCO 21, which is able to produce at a rate of up to 600 nips per minute. In addition, we are focusing on opportunities in recycling area. Trützschler offers proven solutions for textile recycling such as the intelligent card TC 19Ri for recycling."
Biancalani's new solutions harness efficiency and ecology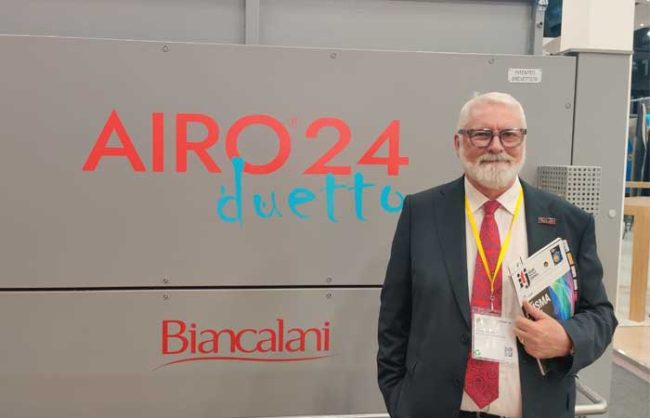 Rossano Biancalani, President, Biancalani Srl
At ITMA 2023, Biancalani Textile Machinery, the producer of finishing machines, presented two innovative machines – the new AQUARIA open-width continuous washing system and AIRO24 DUETTO (the continuous open drying equipment). "The new AQUARIA, which is a continuous washing machine, is capable to wash every kind of fabric and do lot of different wet treatments. AIRO24 DUETTO is AIRO24 air dryer with double capacity but same dimensions," stated Rossano Biancalani, President, Biancalani Srl.
Aquaria is designed to reduce water and energy consumption and, hence, can be used in very different processes that are usually considered to be expensive and power and water demanding. Airo24 is the original dryer for continuous and open-width tumbling treatments of woven, non-woven, and knitted fabrics. "The DUETTO is consistent with our philosophy to dry and soften fabrics while reducing energy consumption and significantly increasing productivity & efficiency," he informed.
Rossano Biancalani added, "Customers want increase in production & quality (in the treated fabric) in an environment friendly way. We have obtained Green Label for machines as our machines are able to work with 95 per cent efficiency and reduce water & energy usage."
Commenting on potential of India market, he said, "India is very important market for Biancalani with lots of companies as customers and we continuously invest in growing the market through our local partner."
A.B. Carter showcases innovative Royal Rings & GS Series Ring travelers at ITMA 2023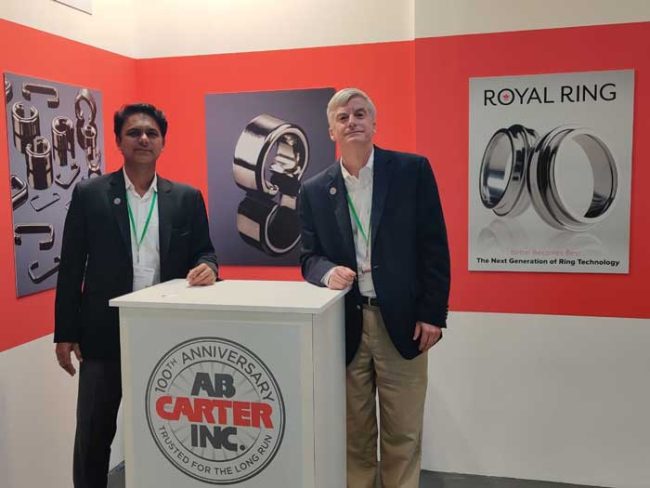 Henderson Wise (right), President & CEO, A.B. Carter Inc, with Sandeep Shetty, MD, A.B. Carter India Pvt Ltd
A.B. Carter displayed its latest range of Rings & Ring Travelers and Spinning Solutions for the global textile industry at ITMA 2023. "We are showcasing here our new Royal Spinning Rings, which was introduced at ITME India 2022. We are also displaying our GS Series of Ring Travelers with new designs for increased speeds and longer traveler life. We have got good response from visitors from across the world to our solutions that are on the display at the expo," commented Henderson Wise, President & CEO, A.B. Carter Inc.
Commenting on India, he said, "We see India as a growth market for A.B. Carter. We have tremendous respect for Indian spinners, who use advanced technology and operate at highest speed in the world. We have a strong team in India who work closely with our customers to provide suitable solutions to them."
A.B. Carter, which started manufacturing in India 2006, has been witnessing 20-25 per cent year-on-year growth. In the last 17 years, the company has invested in new Ring plant and has tripled its production capacity. Sandeep Shetty, Managing Director, A.B. Carter India Pvt Ltd, elaborated, "A.B. Carter is a strong brand in India today. Our value proposition to Indian spinners has been to provide world class products near to their location. Being a vertically integrated company, we are able to give cutting edge technologies to the customers through our collaboration between the local and US R&D units. Many global companies find it hard to crack Indian market. But, we have been successful in doing so by leveraging on our global R&D support with a strong local presence. We have been able to deliver cost-effective products to help Indian textile industry to compete globally."
With respect to future plans, Henderson Wise said, "Spinning market is always changing with higher speed, variety of yarns and better quality requirements. So, we work on developing new products and solutions to fulfill the evolving requirements of the industry. We will continue to focus our effort on providing better, improved solutions to our customers."
BRÜCKNER presents green textile finishing solutions at ITMA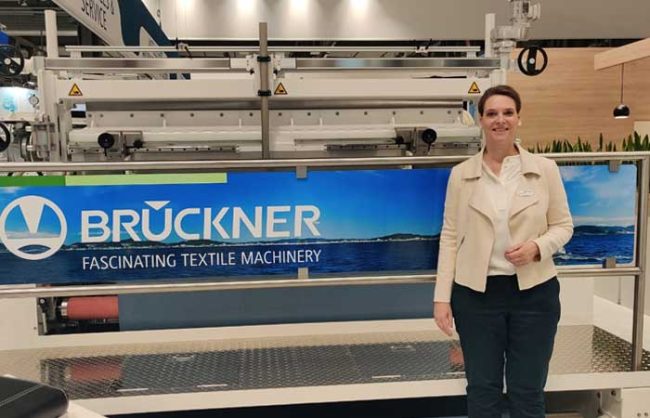 Verena Ruckh, Head of Advertising & Marketing Dept, BRUCKNER Trockentechnik GmbH & Co KG
BRÜCKNER Trockentechnik GmbH & Co KG – manufacturer of machines for the coating and finishing of apparel fabric, technical textiles and nonwovens – showcased sustainable and digital solutions for textile industry at ITMA 2023. Driven by the energy crisis and the constant focus on energy-efficient solutions, the company has developed new dryer that combines different heating media like gas, steam, oil or electricity. BRÜCKNER also offers burners which can be operated with hydrogen in the future. The company also displayed the next stenter generation POWER-FRAME SFP-4 with many new features like electric/hydrogen-powered heating systems, intelligent software solutions for optimising formulas, systems for heat-recovery and exhaust air purification, innovative application systems for chemicals, and newly developed machine concepts.
Verena Ruckh, Head of Advertising & Marketing Dept, BRUCKNER Trockentechnik GmbH & Co KG, stated, "Going green by saving energy, water and chemicals seem to the trend in the industry. Our vision is to help our customers to have CO2 neutral textile finishing. One of the solutions for this is the new stenter frame."
Also on the display was newly designed high-performance relaxation dryer POWER-DRY which can be heated CO2-free by means of a high-temperature heat pump. Besides, the new generation of ECO-HEAT heat-recovery and ECO-AIR exhaust air purification systems – featuring a new type of intelligent control – can help textile industry to save energy and solve existing exhaust air problems.
Speaking about India market, Verena Ruckh said, "India is an important market for us, where technical textiles are gaining traction. We see potential for us in India as we can support the growth of Indian textile industry with our machines and solutions."
DiloGroup unveils MicroPunch technology at ITMA 2023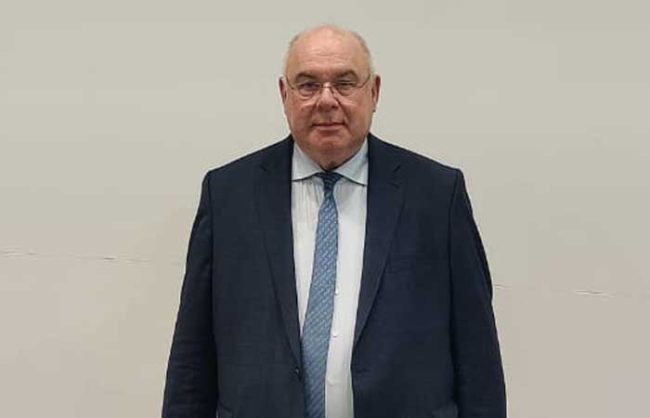 Johann-Philipp Dilo, CEO, DiloGroup
DiloGroup, a manufacturer of nonwovens machines, presented MicroPunch, a complete production line for intensive needling. This was the first time worldwide that an industrial MicroPunch installation ran with fiber to show the industrial exploitation of Dilo MicroPunch technology for needling fine and lightweight nonwovens to be used in hygiene, medicine, apparel and other applications.
The good abrasion resistance of the intensely needled material suggests further application fields apart from medicine and hygiene, such as apparel, artificial leather, battery separators and filter media.
The classical needlepunching technology and its use for production of lightweight fleeces at low cost per kg of nonwoven has been proven technologically and economically over many years of R&D work. This has been made possible by a high density of needles in the board, and by very fine barbs on specialty needles, which allow economic loading and a fast exchange based on the new module technique.
"Compared to hydroentangling, the MicroPunch needling line allows a reduction of the energy consumption (electricity and gas) of about 75 per cent based on the complete installation. Given recent increases in electricity and gas costs, this reduced consumption has a great impact on the total costs per kg of finished material in some countries, even at the lower production speeds of needling technology," said Johann-Philipp Dilo, CEO, DiloGroup.
A MicroPunch line consists of Dilo Temafa components for fiber preparation, a Dilo Spinnbau universal or random card and three MicroPunch specialty needlelooms for pre- and finish needling as well as a winding unit.