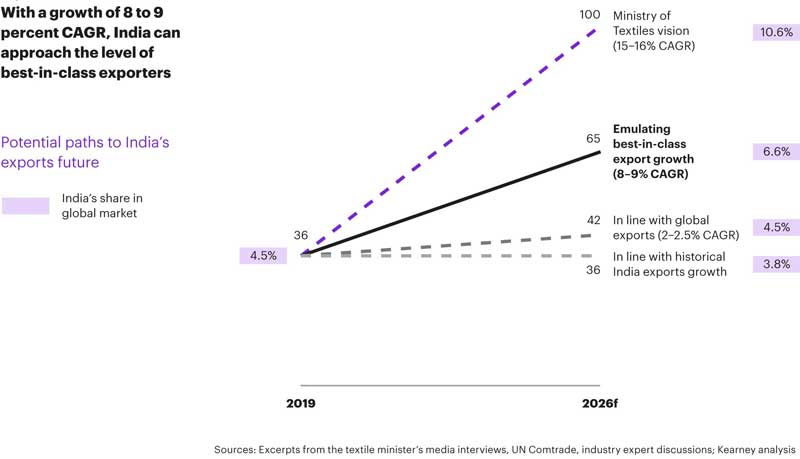 India needs to reinvent itself to increase textile exports
The post-COVID world – with a realignment of geopolitical relations – presents a chance to India to reclaim its top position in the global textile market. With targeted actions from government and industry players, India can gain a leading edge on the global stage, says this CII-Kearney report.
The textiles industry is the backbone of India's economy, making major contributions to both employment and exports. Textile products hold a key position in the global value chain, with India being the world's fifth-largest exporter for apparel, home, and technical products. This industry employs almost 45 million people in the farming and manufacturing sectors.
However, the country's recent performance in global trade has not been commensurate with its abilities. Exports declined by 3 percent during 2015–2019 and by 18.7 percent in 2020. And yet during the same period, other low-cost countries such as Bangladesh and Vietnam have gained share.
A variety of factors have contributed to India's recent trade performance, including the following:
India has cost disadvantages. For example, power costs 30 to 40 percent more in India than it does in Bangladesh.
Lack of free or preferential trade agreements with key importers, such as the European Union, United Kingdom, and Canada for apparel as well as Bangladesh for fabrics, puts pricing pressure on exporters.
The high cost of capital and high reliance on imports for almost all textiles machinery makes it difficult to earn the right return on invested capital, especially given India's slight cost disadvantage.
Longer lead times than for Chinese manufacturers make India uncompetitive, especially in the fashion segment. For example, India's lead time is 15 to 25 percent longer than the competition in fabrics and apparel.
India is overdependent on natural products with a limited presence in the global trade of man-made fiber products.
The trend of nearshoring in western economies has not helped. For example, EU-based textile and apparel manufacturing grew by 5 percent.
However, against this backdrop, India's textile industry also saw positive developments, such as dominance in home textiles and favourable geopolitical undercurrents encouraging the China Plus One sourcing strategy, which promises a better future. Moreover, the government's focus on textiles is at an all-time high, which bodes well for the industry's future.
The strong government focus is accentuated by the launch of multiple schemes, including the following:
Remissions of Duties and Taxes on Exported Products (RoDTEP): Remissions of duties and taxes on exports to help exporters partially offset production costs
Production-Linked Incentive (PLI): A production-linked incentive scheme to promote manufacturing in man-made fiber garments and fabrics as well as technical textiles
Mega Integrated Textile Region and Apparel (MITRA): A plan to create world-class infrastructure with plug-and-play facilities to boost global competitiveness
Aiming for $ 65 bn in exports
COVID-19 has triggered the redistribution of global trade shares and a recalibration of sourcing patterns, providing a golden opportunity for Indian textiles to stage a turnaround and regain a leadership position as a top exporting economy. We believe India's textile industry should target 8 to 9 percent CAGR during 2019–2026, driven by domestic demand growth and significant growth in annual exports (reaching $65 billion by 2026). The Ministry of Textiles has set an even higher export target of $100 billion over the next five years—growth that should help generate 7.5 million to 10 million direct new jobs in textiles.
Achieving the $65 billion exports target – up from $36 billion in 2019 – will require India to double down in the following areas:
Man-made fiber and yarn: Target a $2.5 billion to $3 billion jump with a focus on gaining share in man-made products, an almost 100 percent and 140 percent increase respectively.
Apparel: Target a $16 billion increase by riding the China Plus One sentiment. India is suitably positioned on this, thanks to its relatively large strategic depth compared with Vietnam or Bangladesh.
Fabrics: Target a $4 billion jump by positioning India as a regional fabric hub, starting with cotton wovens and then extending to other sub-categories.
Home textiles: Target a $4 billion increase by building on existing advantages to expand the global customer base.
Technical textiles: Target a $2 billion jump by building capabilities in select key sub-segments on the back of potential domestic demand growth.
The path to achieving these targets will entail both government and industry taking crucial steps. The biggest prerequisite will be to attract new investments of $20 billion to $25 billion. The government, which has already made major announcements in this regard with the PLI, MITRA, and RoDTEP schemes, must follow through with efficient implementation and suitable tweaks based on feedback.
India should also take on the following imperatives:
Reduce the cost of investments by either exploring lower duties on textile machinery or promoting indigenous textile manufacturing.
Augment market access via new trade agreements with select economies to reduce duty differentials (for example, 11.7 percent in the EU and 17 percent in Canada for apparel).
Build human capital, with industry players investing more in technical education and employee training and the government expediting implementation of select key reforms, such as fixed-term employment, which have been implemented only in select states.
Create a dedicated task force that can boost foreign direct investment outreach efforts by reaching out to the right investors and pitching India as the ideal investment destination.
The other important theme is to ensure that businesses scale up and operative effectively with the right profitability and service levels. The following initiatives can help India achieve this:
Optimize factor cost competitiveness in power through policy-driven initiatives to increase the share of renewable power, such as increasing subsidies on renewable power usage or encouraging more states to adopt open banking of renewable power, thus reducing limits on the use of renewable power. Branding all new textile parks as "green parks" (where the bulk of power is consumed via renewable sources) could be a significant gesture in this direction.
Embrace advanced analytics and Industry 4.0 solutions such as IoT-based real-time performance monitoring, predictive maintenance, robotic processes, automating administrative operations, and automatic guided vehicles to boost productivity and drive cost efficiencies.
Adopt digitalization across the value chain, from planning to customer outreach and engagement as well as manufacturing and warehousing.
Enhance service levels by investing in the nation's logistics infrastructure and with industry players optimizing their manufacturing processes to reduce order lead time.
Continue making investments in sustainability and traceability, which are becoming key expectations from global customers and could be India's most important differentiators. India could be a global leader in circular textiles with investments in recycling of pre- and post-consumer waste.
India must also guard itself against falling yields in cotton fiber. (The annual yield dropped below 500 kg per hectare for four out of six years during 2013–2019 while it crossed 500 consistently during 2011–2014.) The country must promote the introduction of new seed technologies, which could help counter the menace of insects, which are now resistant to older technologies, and thereby boost the crop yields in the future.
India should aim to project the country's textiles industry as a one-stop destination for products that are manufactured in a sustainable manner in transparent value chains with best-in-class quality at competitive costs and lead times. This will truly differentiate India for global consumers.
These imperatives are a steep ask for all stakeholders, be it the government or the textiles industry. But India's performance over the next five years could set the pace for many years to come. With the country's global positioning and millions of jobs at stake, India will have to move—and move fast—on all defined fronts. Time has given India an opportunity to reinvent itself. It's time to grab it with both hands.
Courtesy: CII-Kearney Report
This article is a part of joint report by global consulting firm Kearney and The Confederation of Indian Industry (CII)