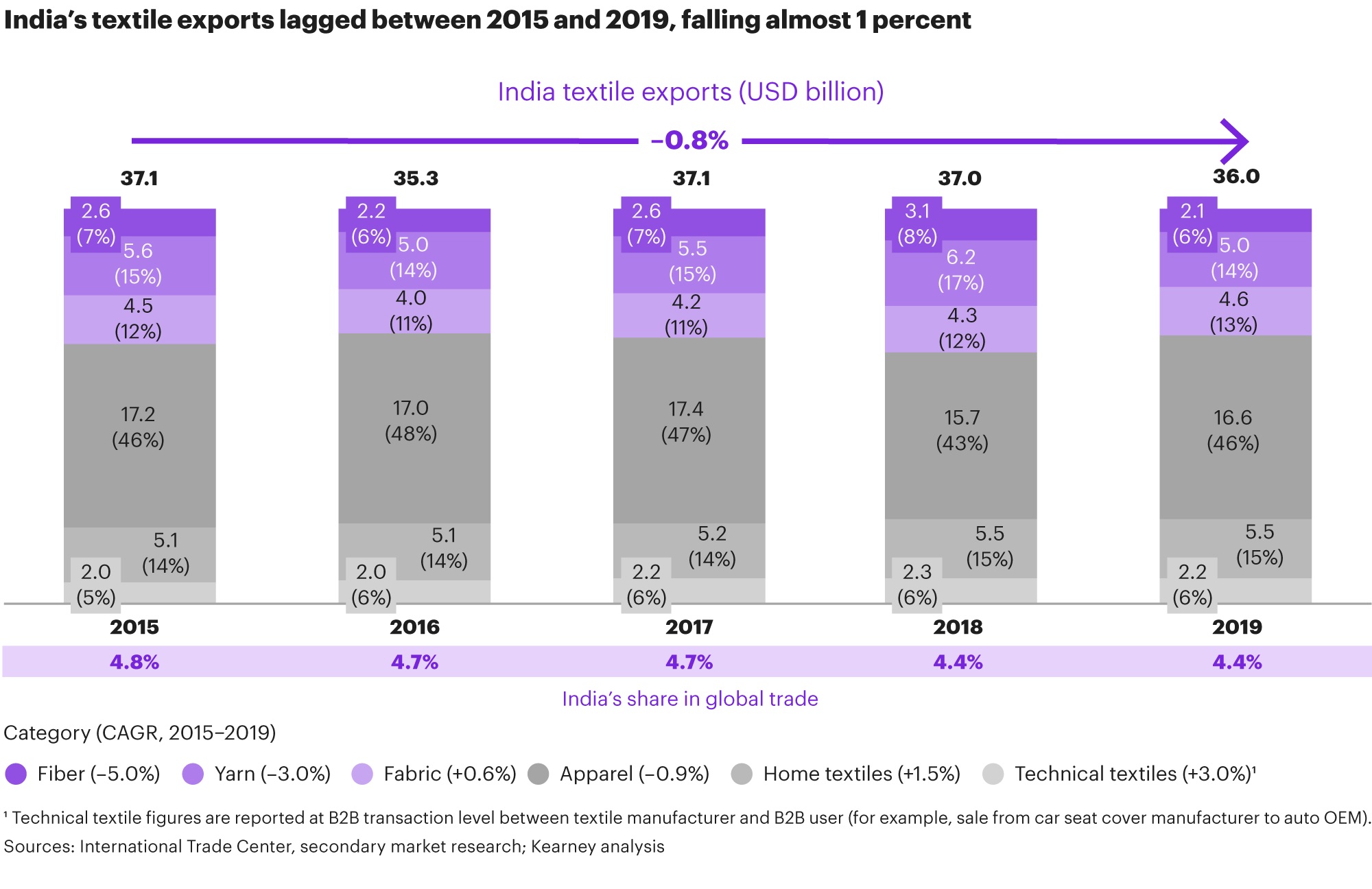 $ 100 bn in textile exports: A dream or a reality
The government is aiming to take India's textile exports from $ 29.6 billion in 2020 to $ 100 billion by 2026. It will take humungous and coordinated efforts (both from the government and industry) to reach this highly improbable target, says Rakesh Rao.
Textiles industry has been a very important part of India's economy due to abundant supply of cotton, its job generating capabilities and availability of traditional skills required for making fabrics and garments. However, potential of the industry has not been fully utilised to increase its contribution in the global market. The poor performance of India's textile exports is glaring. In 2015, India stood second in the pecking order in the global textile & apparel market with $ 37.1 billion worth of textile exports (refer Figure 1). It slipped to the 5th position in 2019 (with $ 36 billion exports) while some of the smaller countries (Bangladesh & Vietnam) moved ahead of India. Though the global textile exports market grew by 2% from $ 764 billion (in 2015) to $ 825 billion (in 2019), India's exports in value term declined by 0.8% during this period (2015-2019), according to CII-Kearney report. Home textiles (1.5% growth) and technical textiles (3% growth) were the only bright spots.
"Our position in the world trade hasn't been commensurate with our capabilities. Countries both larger and smaller than India have beaten us when it comes to gaining a share of the world market. China has been the big player in fabrics, and Bangladesh and Vietnam, which are much smaller than India, have grabbed a greater share in garments. Relatively limited market access, not being a cost leader or a lead-time leader, the high cost of capital, and lack of ease of doing business have been the main reasons," said Neelesh Hundekari, Partner, Kearney, in the CII-Kearney report.
Performance in recent years
According to Wazir Advisors, in 2020, the global textile and apparel trade was $ 774 billion, which was 8% lower compared to 2019 due to impact of COVID. Apparel was the largest traded category with a 54% share, followed by fabrics with a share of 16%.
With $ 29.6 billion exports, India was the 6th largest exporter in 2020 with global share of 4%. "Overall, the exports have slightly declined in 2020 because of the Covid impact on the textile industry. Also, there were better price and scale realisation provided by other competing nations such as China, Vietnam, etc," said Sanjay Arora, Business Director, Wazir Advisors.
India was the largest exporter of natural spun yarn with a share of 23% in 2020. "India is the leading exporter of natural spun yarn (mainly cotton based). In several categories, it features among the top 5 global exporters – natural fibre, MMF spun yarn, filament yarn, woven fabric and home textiles. MMF staple fibres, knitted fabric and apparel are the categories where India lags in global rankings," said Wazir Advisors in its annual report on textile industry.
The global textile and apparel trade is expected to reach $ 1 trillion by 2025 growing at a CAGR of 3% from 2019. This will open more windows of opportunities for India.
Focus on MMF and tech textiles for exports
In the global textile market, India is currently on the cusp of a potential growth cycle, as per ICRA – the rating agency. As a result of geo-political changes taking place across the world, China, which is leading the global textile market, is likely to lose some of its share; thus, giving India a chance to enlarge its export revenues.
India lags behind its competing peers in segments like man-made fibre (MMF) value chain, apparel and technical textile. These segments offer huge growth opportunities in the global trade. Acknowledging this, the Union Government has brought policies/schemes which emphasise on bolstering India's presence in these segments.
Late in December last year, the government approved the Production Linked Incentive (PLI) Scheme for textiles. The scheme will promote production of man-made fabric (MMF) apparel, MMF fabrics, products of technical textiles, and aims to increase the global footprint of India in these products. The government has also announced extension of the Rebate of State and Central Taxes and Levies (RoSCTL) Scheme for apparel and made-ups for three years. Similarly, it has released the notification of seven textile parks under the PM-MITRA Scheme.
"A lot of global brands, which were hitherto concentrating on China sourcing, now want to reduce their dependency on them and are looking at other alternatives. India has a brighter chance to grab this golden opportunity. Recently announced PLI scheme exclusively for the manmade fibres and the MITRA parks scheme would definitely help to tap this golden opportunity. However, it all depends on how best this is facilitated by the government mechanism and how textile industries use these schemes," said Raja M Shanmugham, President, Tiruppur Exporters' Association (TEA).
Rising raw material costs
After hitting low price range in 2020 (due to lockdown triggered by first wave of Covid), cotton prices have seen continuous escalation. "US ban on import of cotton products from China's Xinjiang region on account of human rights violation caused a major shake-up in the global textile supply chain. The region accounts for four-fifths of China's domestic cotton production and about one-fifth of the world's cotton production. Cotton prices registered unprecedented growth in 2021. The Cotlook A index started the year around 77 and peaked at approximately 120 in Nov 2021, an increase of 55%. Prices of all other major fibres also increased in the range of 35-45% in 2021," said Wazir Advisors in its annual textile industry report.
Escalated cotton prices – which are 60-70% higher than the Minimum Support Price and international prices – are making the yarn, fabric, garments and made-ups exporters uncompetitive. Thus, domestic manufacturers of textiles and apparel are losing their competitiveness to international counterparts like Bangladesh and China.
"From Tiruppur perspective, exports in 2020-21 dropped to Rs 24,000 crores from Rs 28,000 crores in 2019-20 due to Covid interventions and closures. This year our annual turnover is inching towards Rs 33,000 crores. Unfortunately, this growth prospects got dented economically due to all round cost escalations on all inputs and services," said Raja Shanmugham.
To maintain its competitive edge in the global cotton textile value chain, Indian textile & apparel manufacturers are demanding removal of the import duty on cotton and urging the government to take steps to control the rising cotton prices.
Aiming for $ 100 bn exports
According to Wazir Advisors, the global apparel market shrunk from $ 1.6 trillion in 2019 to $ 1.3 trillion in 2020 (decline of 22%). However, in 2021, the market recovered by approximately 16% to reach $ 1.5 trillion. The market is expected to become approximately $ 2 trillion in 2025, growing at a CAGR of 4% from 2019.
According to Union Ministry of Textiles, exports of textiles and apparels from India increased by about 41% in April-December 2021 over last year. During April-December 2021, the total textiles & apparel (including handicrafts) exports was $29.8 billion as compared to $ 21.2 billion for the same period last year. As compared to April-December 2019 (a pre-pandemic year), export of textiles and apparel has increased by 14.6% in April-December 2021. Specifically, textiles exports grew 31%, cotton yarn/ fabrics/ made-ups, handloom products 43%, and jute products 33% in April-December 2021 as compared to the same period in 2019-20. The robust growth signals an economic rebound, claimed the Ministry of Textiles. The government has envisioned a target of $44 billion for textiles and apparel exports in 2021-22. Approximately 68% of the annual target has already been achieved.
"In FY 2021-22, India is going to export approximately $ 40 billion to other countries. The export of yarn is expected to grow by 68% in FY 2021-22 from last year, Also, the export of fibre is expected by 41%," said Sanjay Arora.
Speaking at an event in early January 2022, Piyush Goyal, the Union Minister for Textiles, said that India can take up bigger and bolder targets — especially eclipsing the elusive target of $100 billion in textile exports. For the textiles industry to achieve the target of $ 100 billion in exports in the next five years, the government will have to give fiscal push by incentivising investments.