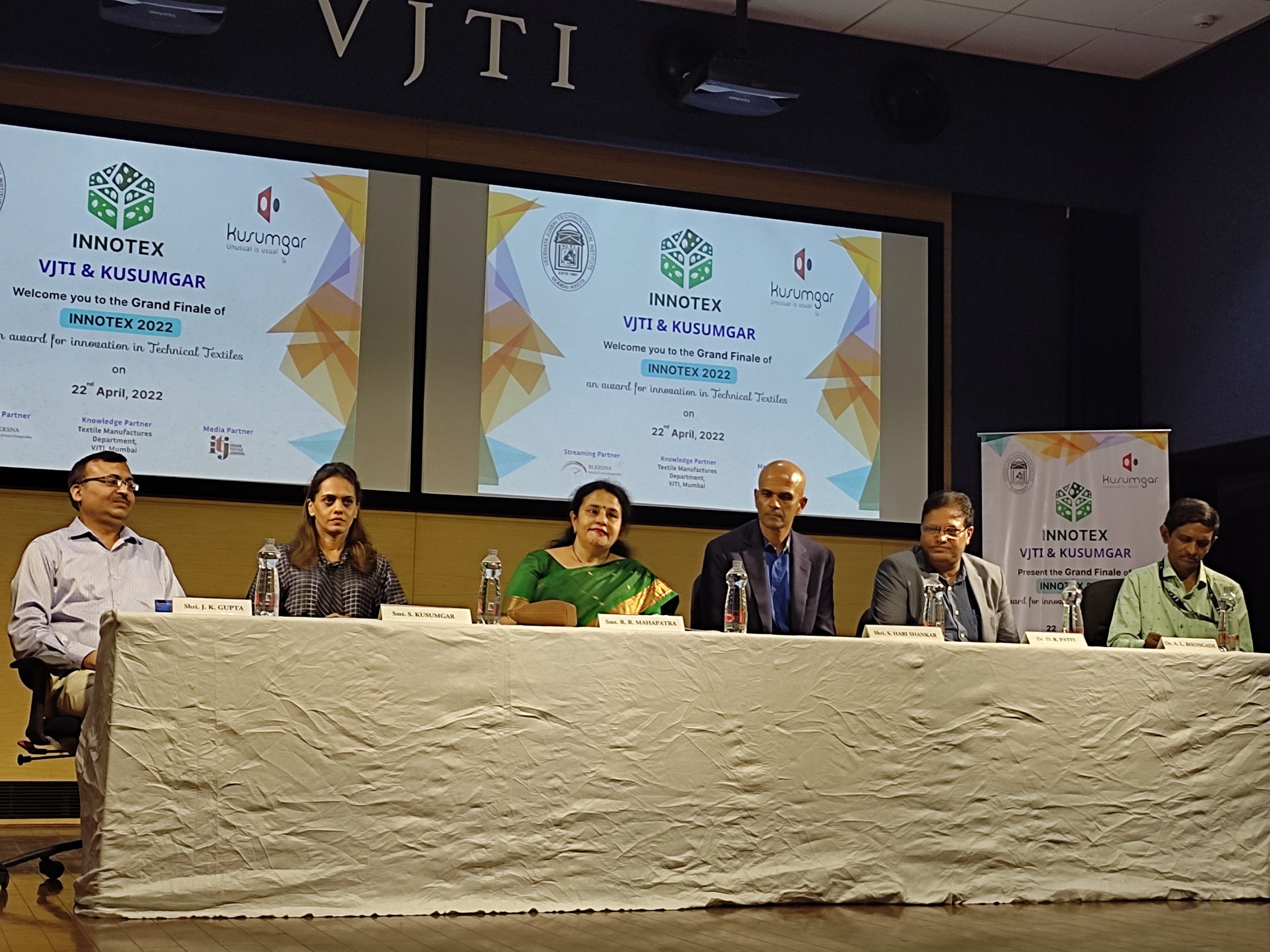 Grand finale of INNOTEX 2022 held at VJTI turns out to be a massive success
The national project competition aims to recognise the top minds in technical textile sector.
Kusumgar Corporates, the technical textile manufacturing company in association with the Textile Manufactures Department of Veermata Jijabai Technological Institute (VJTI) Mumbai organised the second season of INNOTEX 2022, the country's first and only national project competition of its type, with the aim to recognise the top minds in technical textile sector.
INNOTEX encourages students and academia from all over India to submit their finest ideas for technical textile innovation. The grand finale of the competition was held on 22nd April 2022 in offline mode at Krantijyoti Savitribai Phule Auditorium, VJTI Mumbai in the presence of Roop Rashi Mahapatra, IA & AS, Textile Commissioner, and Government of India as the Chief Guest for the event and a slew of other textile veterans from India. Mahapatra was overwhelmed by the projects and highlighted the relevance of technical textiles in recent times by saying, "We should focus more on producing technical textile because it is still quite niche. The technical textile market was valued at 2.17 billion dollars in 2020, and we expect it to reach 5 billion dollars in the next five years." She further added "The future of technical textiles in India is promising, as indicated by the fact that we met our export targets earlier this year, within 17 days before the deadline."
There are companies that are specialised to manufacturing technical textiles in India and are looking for government assistance. "In technical textiles, the country has experienced a growth of Rs 19,000 crore 2022 to Rs 4,000 crore in the mid-1990s, and is projecting double growth in the next ten years. It's time for us to focus on specialty product development and promote Aatma Nirbhar Bharat. Technical textiles are used in a wide range of applications, from aerospace to metro, from army to medical; the market is growing, and it would be great if the government provides more support to help promote this business," stated Sapna Kusumgar, Director, Kusumgar Corporates.
JK Gupta, Scientists-E & Head, Textiles Department, Bureau of Indian Standards, discussed how Indian technical textiles is a prominent participant in the world, supplying products for various sectors. "Technical textiles account for 13% of India's total textile manufacturing," he continued. "It makes up 0.7% of the world's gross domestic product. We've developed over 500 technical textile standards, and as a result of our commitment and hard work, we're now the leading exporter of mask and geo textiles." Gupta further informed how the country supplies lakhs of bullet-proof jackets to the Indian army and other countries, and how they fulfill all international standards.
"The youths of the country must innovate, should research more, and make our country self-sufficient," S Harishankar said to the youthful audience, motivating them to contribute more to this sector. In the future, we should not be reliant on any other country for the imports."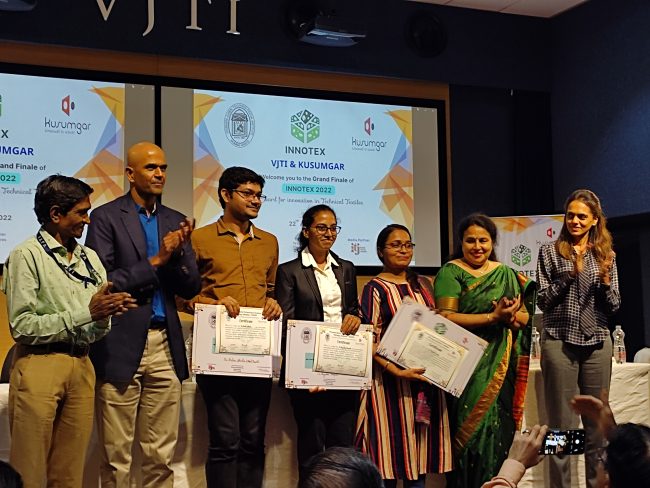 The competition drew many entries from students around the country, with a total of 3 being shortlisted by the distinguished jury. Mahapatra presented the winners with awards and a cash prize, and the event ended with further motivation to submit nominations for the next year.