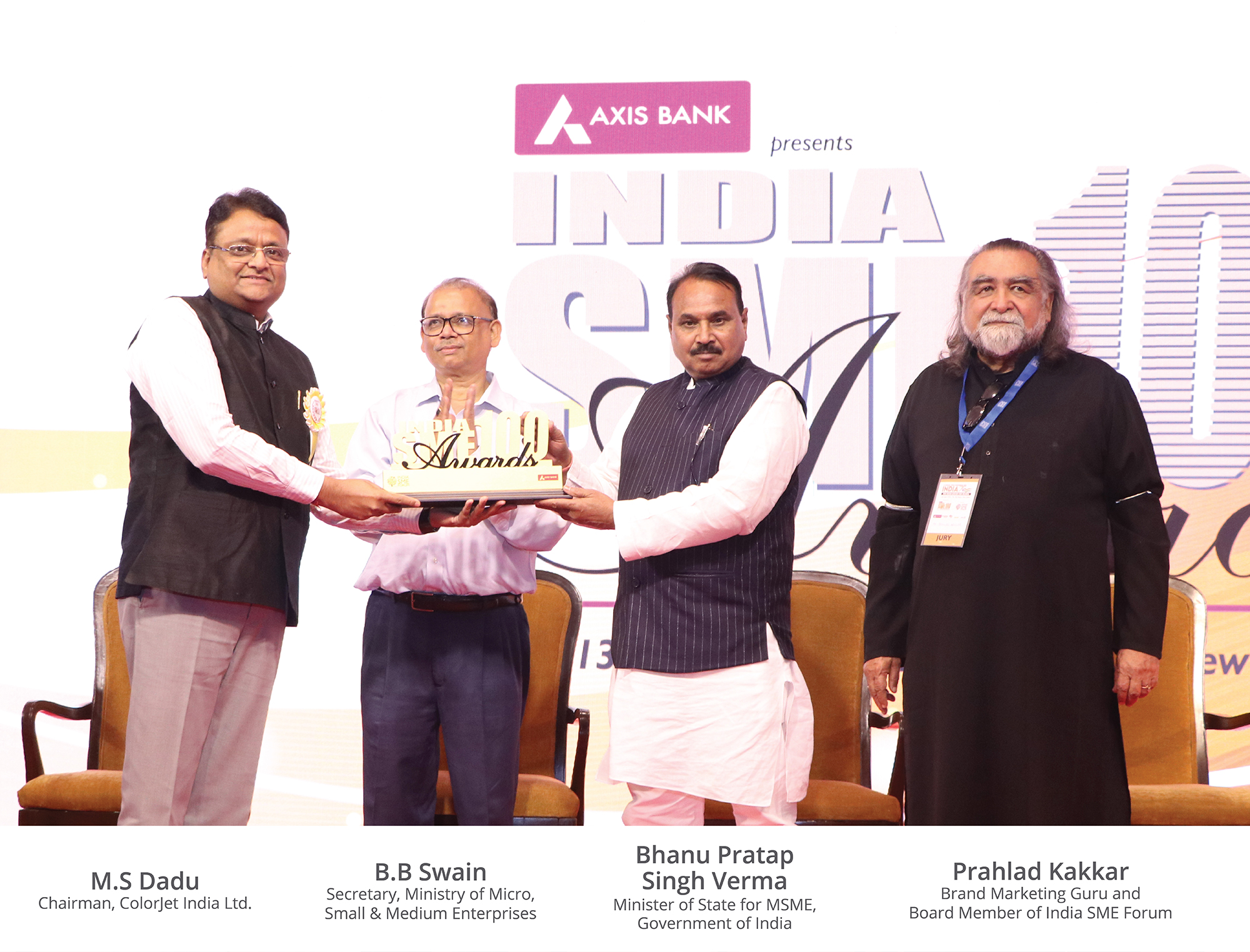 ColorJet Textile receives India SME Forum's Top SME Award
SME 100 Awards is considered as one of the most prestigious award in the SME fraternity.
New Delhi
ColorJet India has been awarded as India SME 100 Awards in a ceremony organised by India SME Forum, supported by Ministry of Micro Small & Medium Enterprise, Government of India.
To recognise the efforts and contributions of SMEs India, SME forum successfully concluded the 9th edition of INDIA SME 100 Awards considered as one of the most prestigious award in the SME fraternity.
On the occasion, the Union Minister for MSME,Narayan Ranehighlighted various initiatives undertaken by the government under the leadership of Prime Minister Narendra Modi which have strengthened MSME entrepreneurial capacities for resilience and competitiveness for the inclusive as well as sustainable recovery.
He further reiterated Modi's clarion of the Atmanirbhar Bharat and guided the requirements of the mantra of 'Make in India' and 'Made for the World'.
M S Dadu, Chairman, ColorJet Group said, "ColorJet India is feeling honoured and delighted to have this recognisation for its deep commitment to the technological innovation, strong outreach & service infrastructure and complete customer focus. Being the largest manufacturer from India, our textile printing technology is exported worldwide and preffered by all leading apparel brands globally."
The Minister of State for MSME, Bhanu Pratap Singh Verma and B B Swain, IAS, Secretary Ministry of MSME handed over the award to Dadu.
The Executive Board of India SME forum has Prahlad Kakkar, renowned Brand Marketing Guru, T R Bajalia, Ex- Dy M D of SIDBI and ED-IDBI, Dr J S Juneja, Ex-Chairman CEO of NSIC, Vinod Kumar, Managing Partner, SDRC India Advisors, all stalwarts and luminaries of India's Small and Medium Entrepreneurship movement. The India SME Forum was presented by Axis Bank along with Airtel Business , MakemyTrip , Acer , BSE SME .
ColorJet Group, maintains its operations via two manufacturing facilities and sales offices spread across seven countries, which include India, China, Bangladesh, UAE, and Sri Lanka. Till date, ColorJet has installed and implemented over 5,000 of its printing solutions and products across 450 cities around the world backed by a strong 278 member team, of which almost 100 are in technical related functions.