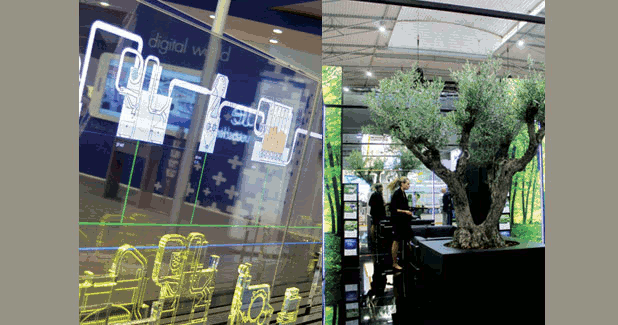 Fuelling Innovations
Of the total number of exhibitors at ITMA 2019, over half are from CEMATEX countries; the balance comprising companies from other parts of Europe, Asia, the Middle East and the Americas.
Of the total number of exhibitors at ITMA 2019, over half are from CEMATEX countries; the balance comprising companies from other parts of Europe, Asia, the Middle East and the Americas.
The ITMA 2019, the second time to be held in Barcelona, came at a time when the global economies are facing new challenges. The USA-China growling, growing regionalisation and the attendant FTAs and ultimately the several structural changes that have led to a new business environment that the global textile industry needed to adapt to are posing new problems, demanding new solutions.
One important outcome of the ITMA 2019 is the factor how innovative the textile industry is, together with the research community serving it, and how innovative it is going to be in future. The exhibition sentiments clearly revealed the importance of automation and sustainability for the survival of this industry. Historically, strong and innovative materials, chemicals and machinery/component manufacturers have made vital contributions towards helping the textile and clothing industry in their efforts to be sustainable.
Since its launch in 1951, ITMA has enjoyed wide industry recognition as the world's largest textile and garment technology exhibition. This year's exhibition in Barcelona sees its reputation solidify further with the largest gathering of exhibitors in its history. The record number of exhibitors totaling 1,717 from 45 countries has set a new milestone.
Speaking at the press conference on the opening day of the 18th edition of the exhibition, Fritz P Mayer, President of the European Committee of Textile Machinery Manufacturers (CEMATEX), said: "The global economy is still facing challenges, accentuated by trade tensions and disruption. However, textile being the world's oldest manufacturing industry has demonstrated its resilience over the years."
He added, "This is also the spirit of our exhibitors who continually innovate and launch new technologies and solutions. We are glad that ITMA has been providing a reputable platform for textile machinery manufacturers to market their innovations. This has enabled us to record the largest number of exhibitors in ITMA's history."
The exhibits are showcased over 1,14,500 sq m of net exhibit space, a 9 per cent increase over the previous edition in 2015. The exhibition occupies all nine halls of the Gran Via venue, including the space under the linkway. To allow more companies to participate, many exhibitors were allocated lesser stand space than what they had originally applied for.
Charles Beauduin, Chairman of ITMA Services, organiser of ITMA 2019 enthused: "The exhibition would have been larger if we had not turned away applicants due to a lack of space. Unfortunately, we could not accommodate a wait-list of about 250 applicants who booked some 8,200 sq m."
Nonwovens and technical textiles sectors due to their wide range of applications continue to be an important sector at ITMA 2019.
He added: "ITMA has also evolved into a more international exhibition with a rich diversity of technology offerings from both East and West. Almost half of the total number of exhibitors are from non CEMATEX countries. This augurs well for the development of ITMA into a definitive textile and garment platform for the industry."
Of the total number of exhibitors, over half are from CEMATEX countries; the balance comprising companies from other parts of Europe, Asia, the Middle East and the Americas. Reflecting the international composition of the participants, the largest number of exhibitors are from Italy (364 exhibitors), China (276 exhibitors), Germany (222 exhibitors), India (169 exhibitors) and Turkey (164 exhibitors).
CEMATEX countries continue to occupy the largest exhibit space, taking up 65 per cent of the total net exhibit space. Italy booked 26 per cent of the space, followed by Germany which booked 18 per cent. The top non-CEMATEX countries are: Turkey with 9 per cent, China with 8 per cent, and India with 5per cent of the space booked.
Visitors were able to make efforts to source a wide range of integrated solutions across the entire value chain in 19 exhibit sectors. Printing, which has seen many advances being made in the last few years, is an exciting growth sector. Chalking up a 38 per cent increase in the number of exhibitors compared with the previous exhibition, it is one of the top five sectors at ITMA 2019: finishing – 325 exhibitors; spinning – 281 exhibitors; weaving – 182 exhibitors; printing – 157 exhibitors; knitting – 136 exhibitors.
Nonwovens and technical textiles sectors due to their wide range of applications continue to be an important sector at ITMA 2019. Garment making, which has been impacted by digitalisation and fast fashion, is also making a bigger impact at ITMA.
Mayer said, "We are extremely pleased to bring garment technology back in focus at ITMA. While ITMA has been traditionally strong in textile making technologies, we are glad that we are able to present garment making solutions from some of the world's most renowned technology providers. There is an increase of 27 per cent in number of exhibitors as compared with ITMA 2015."
Completing the entire value chain is the showcase on fibres, yarn and fabrics. The addition of innovative fabrics in the fibre and yarn chapter at ITMA further completes the sourcing experience for buyers.
The theme of ITMA 2019 is 'Innovating the World of Textiles'. To support the innovation drive, CEMATEX has introduced the ITMA Innovation Lab. A new umbrella branding of a series of activities, the Lab includes the Research and Innovation Pavilion, ITMA Speakers Platform, ITMA Sustainable Innovation Award and Innovation Video Showcase. Speakers from the industry were invited to share their perspectives and experiences at the Speakers Platform. A finance forum was also be held on 21 June.
To encourage the exchange of knowledge, collaboration and networking, several events are staged alongside ITMA 2019. The ITMA-EDANA Nonwovens Forum and Textile Colourant and Chemical Leaders Forum have met with overwhelming response and seats have been added. Similar strong response has also been received by partner events, including the Better Cotton Initiative Seminar, European Digital Textile Conference, Tex-Summit Global, Planet Textiles, SAC & ZDHC Manufacturer Forum and Texmeeting by TEXFOR.
"The series of co-located events is part of ITMA's outreach programme to engage industry partners and to create an inclusive platform for the global textile and garment community. We have over 190 international, regional and local organisations lending their support to our exhibition," Mayer said.
Exhibitors portrayed at the show in Barcelona their most advanced technology solutions and applications of Industry 4.0 (also called Industrial Internet of Things for intelligent and integrated manufacturing) including Smart Services. At a conference where the VDMA members highlighted their companies' offers, Axel Pieper, CTO, Brückner Trockentechnik said: "Software innovations around textile machines are becoming increasingly important in product development. Our newly developed mobile machine operation panels and management cockpits have increased user-friendliness significantly. Advanced production assistance systems support the operator to maximize production output at the lowest possible cost while maintaining a consistent high-quality level. Our advanced service tools offer new features such as predictive maintenance, video tutorials and augmented reality support."
Said André Imhof, COO, Autefa Solutions: "Digitalisation succeeds when the focus is on customer benefits. Our Service 4.0 covers all aspects of improving the bottom line of a production line during lifetime. Based on the availability of a permanent digital communication, Autefa Service 4.0 provides well-graded services for customer's benefit. Autefa Service 4.0 integrates tasks from well-known daily jobs up to high sophisticated big data algorithms always focused on customer needs."
Sebastian Mayer, Member of the Management, Mayer & Cie., said.: "We aim to always be one step ahead. The digitization offers us valuable opportunities to stay true to our company principle, beyond the developments in technology."
André Wissenberg, Vice President Marketing, Corporate Communications and Public Affairs, Oerlikon Manmade Fibers Segment, summed it up: "Clean Technology. Smart Factory." is the motto of the future. Andreas Hannes, Marketing Manager, Sedo-Treepoint said: "Digitalisation and the smart factory are big challenges for our customers – especially in dyeing and finishing, there is a high potential for savings and technological improvements."
Seven Taiwanese textile machinery companies with TAITRA (Taiwan External Trade Development Council), have showcased their intelligent/smart textile machinery and innovative solutions at ITMA 2019.
Taiwan's textile industry is attracting more and more international attention. Global brands such as Nike, Adidas, Uniqlo, etc. use functional fabrics from Taiwan, 70 per cent of the international market, which makes the country one of the best textile manufacture suppliers in the world. As well as the talent, experience and the healthy relationship with big global manufacturers, there's a big effort in Taiwan's textile machinery supply chain.
As Jenny Tsai, Director of TAITRA Barcelona office, says: "In Taiwan's textile industry, the upper, middle and downstream of the industry chain is working hard to transform itself, actively pursuing a refined and differentiated layout, and gradually paving new roads. Industry 4.0 flipped the manufacturing industry, allowing small enterprises to rely on smart machines' software and hardware integration to build their brand features."
Candiani wins Itma 2019 Sustainable Innovation Award
One of Europe's largest denim producer, Candiani SpA has won the ITMA Sustainable Innovation Award, held in conjunction with ITMA 2019. Its innovative product, Candiani Re-Gen is a 'circular denim' fabric created from regenerated and recycled raw materials. Fifty per cent of the Re-Gen fabric comprises Tencel x Refibra Lyocell made of pulp from cotton scraps and wood pulp using Lenzing's efficient closed-loop process; the other 50 per cent consists of post-industrial recycled Candiani fibres. Candiani's fabrics are also dyed using green technologies, resulting in substantial reduction in the use of water and chemicals in the fabric production and jean washing process.
According to Alberto Candiani, President of Candiani SpA, the fabric was created to commemorate Candiani's 80th anniversary. He said, "We are a strong believer in sustainability. In creating the Re-Gen fabric, we leveraged Lenzing's Tencel Lyocell fibres with Refibra technology, and combined it with our inhouse expertise to create an innovative product that is fashionable and environmentally friendly at the same time."
Nominated for the award by ITMA 2019 exhibitor Lenzing Ag, Candiani SpA received the trophy from CEMATEX president Mr Fritz P. Mayer, at a presentation ceremony on the opening day of ITMA 2019.
Mayer said, "We would like to congratulate both Candiani and Lenzing for their excellent collaboration.
CEMATEX launched the ITMA Sustainable Innovation Award in 2015 as we would like to encourage greater industry collaboration and synergies, as well as spur more research and development efforts. Ultimately, we need innovation to drive our business and contribute to a more circular economy."
The two other finalists of the ITMA Industry Excellence Award – Levi Strauss & Co, and Lee – were also praised for their efforts to introduce green innovations into their products and processes.
Winner of the first ITMA Sustainable Innovation Award in 2015, Levi Strauss & Co launched FLX Customisation Studio which revolutionalises in-store customisation by allowing customers to pick their denim finish and create a unique pair of jeans in less than two hours. The mobile studio uses sustainable garment finishing technologies and operates on 100 per cent recycled water. It leverages ITMA exhibitor Jeanologia's water recycling system, H2Zero.
Established denim jeans brand Lee leverages Tonello's innovative garment finishing system for its denim jeans. The All-in-One System combines four technologies that drastically reduces the water needed in the finishing stages of jean manufacturing thus reducing processing time and total production cost.
Research & Innovation Excellence Award
The ITMA Research & Innovation (R&I) Excellence Award for Master's students of R&I Pavilion exhibiting institutions is won by Mathias Zidda, Institut Für Textiltechnik, RWTH Aachen University for his thesis: Development of a gear driven 3D rotational braiding machine and its control concept. He receives prize money of 10,000 euros.
The first runner up is Sarika Sunil Borikar of D.K.T.E. Society's Textile & Engineering Institute (thesis: Sanitary Napkin: A Greener Approach), followed by Ms Pamela Massaccesi of Universidad De Buenos Aires (thesis: TUTTI – Reusable Food Wrapping).
The ITMA Sustainable Innovation Award is one of the components of ITMA Innovation Lab which brands a series of activities promoting research and innovation. Other components are the Research and Innovation Pavilion, Speakers Platform and the Innovation Video Showcase.
Italian Green Label Award
Meanwhile, at the press conference held by ACIMIT and the Italian Trade Agency at ITMA Barcelona, two ACIMIT associated textile machinery manufacturers, Loptex and Tonello, were awarded the Italian Green Label Award for their commitment to reducing their machinery's carbon footprint.
The commitment of textile machinery manufacturers in researching and developing technology solutions capable of improving the energy consumption and/or environmental performance of their machinery is implemented through the Sustainable Technologies project. Promoted by ACIMIT since 2011, the project's focus is on the Green Label, through which machinery manufacturers can communicate their engagement. The quantity of carbon dioxide equivalent emissions produced during the operation of the machinery (CFP) is the parameter chosen to give value to the environmental efficiency of the machinery subject to the special labelling.
Eight years after launching the Sustainable Technologies project, which occurred right here in Barcelona at the 2011 edition of ITMA, ACIMIT has now instituted the Italian Green Label Award, to reward companies that have shown the most commitment in pursuing the project's aims. Loptex Srl, a company based in Montano Lucino (CO), specializing in quality control systems in textile fiber, both in the spinning and non-woven sectors, was awarded a prize as the company that achieved the best results, expressed in terms of percentage reduction in the value of CFP for its machinery. Tonello S.r.l., of Sarcedo (VI), which manufactures technologies for finishing garments, for its part received the award as the company that showed the most engagement in exploiting all the functionalities of the tool dedicated to generating the Green Label, producing numerous labels for a variety of different machinery and updating them over time, in an effort to communicate continuously up-to-date information on the path to sustainability undertaken.
"With the Italian Green Label, ACIMIT intends not just to reward those companies that have been most intensely engaged in our project, but also bears witness to what we have achieved as a sector on the issue of sustainability," states ACIMIT's President Alessandro Zucchi. "I believe that the search for sustainable technology solutions is an indispensable element for textile manufacturers who are intent of providing a response to the market's needs. And Italian machinery manufacturers are leaders on this issue as well."
The winning companies expressed their satisfaction. Renato Gerletti, owner of Loptex: "We're obviously very pleased to have received this award. The Italian Green Label Award recognises just how much we have achieved so far on the issue of sustainability. It will to motivate us to do even more, dedicating additional resources to researching and developing sustainable solutions for our customers."
Flavio Tonello, CEO of Tonello: "We have joined the Green Label project since its start. Tonello has always focused on sustainability in building our machinery, and our Research and Development team have always endeavoured to provide innovative, sustainable solutions."