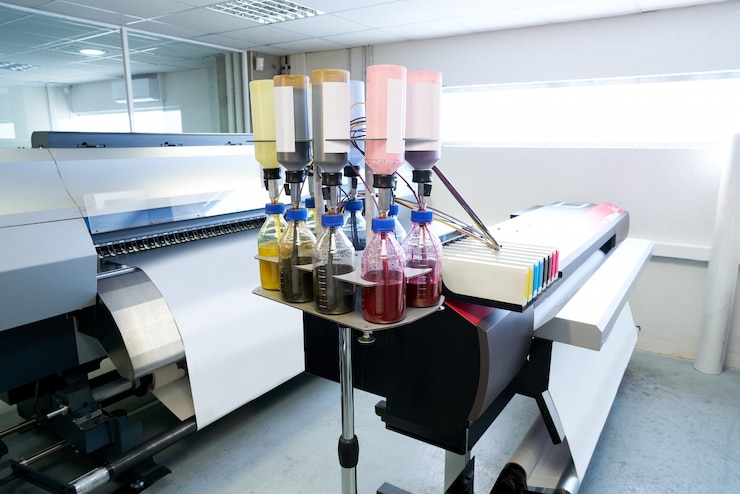 Digital textile printing: A step towards sustainability
Controlling the colour valve by an inbuilt automatic colour measurement device is key to digital printing, which helps online control colour combination and proportion in ink mixture, observes Harshal Patil and Prof Ashok Athalye.
Digital textile printing is the latest innovative textile printing method. It is inkjet-based printing, making it possible toprint any design on virtually any fabric. The pretreated fabric will pass through the inkjet printing machine at high speed and subsequently be dry, steamed, washed and finished. In a digital textile printer, a data file of the printable design is uploaded. The processor will read the right colour information and prints the desired colour directly onto the fabric with micro-size at a higher production rate.
The printed textile material is more focused because of its attractive designs and novel fashion styles. Conventional textile printing is a wet process that consumesa thousand litres of water for post-treatment of printed textile, and its results generate the same amount of wastewater.  The treatment of textile wastewater adds extra cost and processing challenges. The minimum application techniques were developed to solve the problem of wastewater generation and also help to reduce the consumption of chemicals, water. Digital printing is a novel dry printing method that drastically reduces water and chemical consumption and can potentially recycle the inks. Digital textile printing has created a unique set of opportunities and challenges for signage companies. The growth of digital printing is still under level because of less direct cost advantages to traditional textile printing. Still, several indirect factors underline the benefits of digital textile printing, like speed to market, design flexibility and new business models. An increase in market penetration will help to reduce direct printing costs.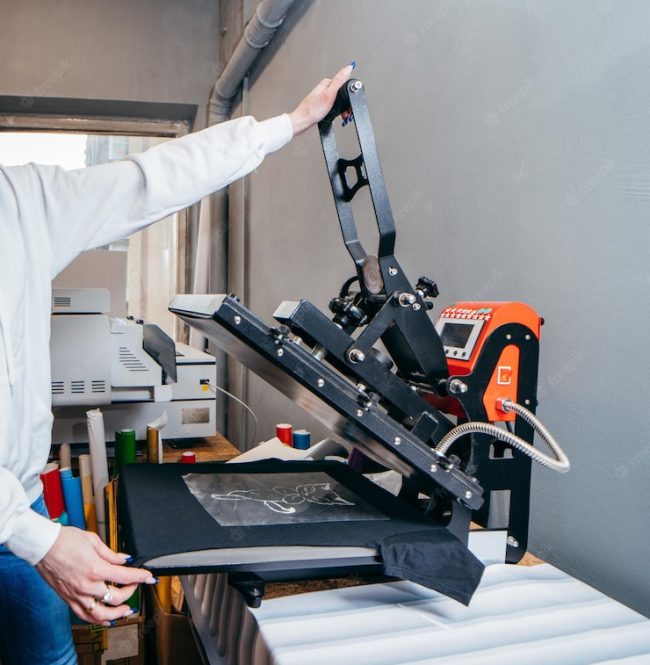 History of digital printing
Around the mid-1900s, digital laser versions of electrophotography were developed and used for printing Banners, billboards, and building wraps were some of the first items digitally printed before clothing, with the very first and most popular item being carpet. In the late 1980s, digital textile printing started as a possible replacement for analogue screen printing; around the 1990s, Inkjet printing technology was introduced with specially developed inks known as disperse direct ink or dye-sublimation. This disperses direct ink made it possible for printers to print directly on fabrics. Today digital printing is the fastest growing area within textile machinery. Continuous development machinery of digital printing helps to increase the production rate from 1mtr/hr to 500 mtr/hr and now it's around 50-100 mtr/min.
Digital textile printing market
In the current textile market, printing is one of the important areas; nowadays, textile printing industries produce 34 billion square yards of printed goods by screen printing technology.  Fashion trends are more dynamic and change day to day; according to McKinsey Global Fashion Index analysis, fashion companies rise in economic profit by 4 % in the year 2019. Consumer purchases of textiles and apparel were hit badly due to the global lockdowns and economic recession. Global apparel consumption is estimated to have shrunk by 22% in 2020. However, 2021 looks brighter, given the onset of vaccination drives, growth in e-commerce sales of apparel, and resumption of global supply chains.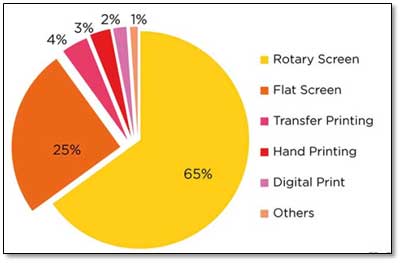 The digital textile printing market continuously grows daily (Fig 1), accounting for 2% of total printing markets. The digital textile printing market is expected to reach USD 2.31 Billion by 2023 from USD 1.76 Billion in 2018, at a CAGR of 5.59% between 2018 and 2023. Nowadays, digital design is a major factor in expanding new market. In past decades posters and wallpaper have been printed digitally, but décor items such as furniture coverings, drapes, curtains, tables, etc., are now digitally printed. Analog printing methods still offer printed material in bulk ata low cost per meter, while digital printing per meter costs very high, and the production rate is less. The market for Digital textile printing is increasing in Europe to meet the need for abroad spectrum of designs with high quality and faster turnaround times. However, market growth in countries such as China and India is slow due to the low labour cost and less strict environmental policies.
Types of digital textile printing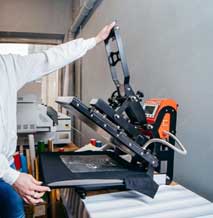 Ink jet print technology:
There are two systems of inkjet printing: Continuous and Drop on Demand; these two systems are classified based on print head technology.
Continuous ink jet printing (CIJ)
In continuous jet printing, a constant stream of ink is used to print onto a rotating drum with the substrate; the extra drops of ink pass through the fabric and get pumped into a reservoir for recycling. As shown in (Fig 2), the binary ink jet method uses various dyes to printmultiple substrates. Uncharged drops of inks were used for printing, and the charged drops of inks were pumped back to the reservoir; in this printing method, only one dot location was printed per nozzle. CIJ printing is the first commercial printing technology.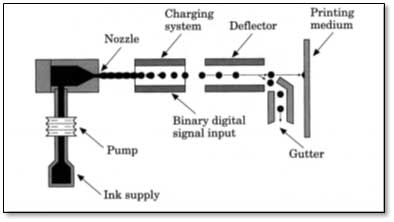 Drop on demand ink jet printing (DOD)
With continuous developments in inkjet printing technology and ink chemistries, the most commonly used method is Drop on Demand (DOD), specifically Piezoelectric, due to the less expensive and zero waste of ink makes DOD more popular. Since 2009, Drop on Demand has been the only major textile digital printing system available. Drop on Demand printing is further classified as Piezoelectric and Thermal. Thermal technology was used in the earliest solutions for inkjet printing for textiles, and piezoelectric technology is focused on textile applications.
Thermal Ink Jet Printing In this method, there are four main operations where the heater heats the ink rapidly to 300-400°C per second, which causes vaporisation of ink and its results to generate bubble and build up the pressure in nozzle and its causes ejection of a drop from the nozzle and burst on to the fabric.  Cooling the heating element causes a vacuum, which draws more ink from the reservoir to repeat the cycle. Due to the heat requirement, there were limited developments of this technology for textile printing. This technology is mainly used for paper printing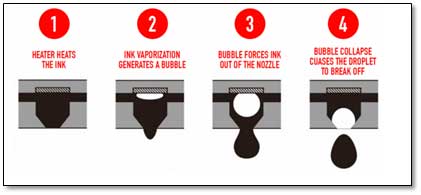 Piezoelectric ink jet printing
 The piezoelectric effect creates a voltage on the surface of piezoelectric material, for example, piezoelectric crystals, by deforming it. Due to this, the printing nozzle is momentarily deformed and creates high pressure on the ink, making the print head eject an ink droplet. Reversing in voltage polarity causes the ink stops flowing from the nozzle. Piezo inkjet printers offer several benefits compared with thermal inkjets, such as high resolution, more control over the shape and size of the ink release, fine print, faster and last longer, and compatibility with a wider variety of inks.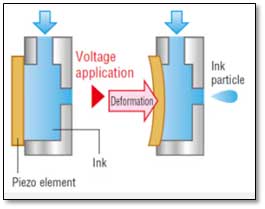 Benefits of digital printing
Digital printing is quick and easy to use directly on fabric machines which minimises the investment in screens, print tables and additional washing equipment. Digital printing works similarly to a home inkjet printer in which the fabric is passed beneath the head of the printer and allows for printing on smaller lengths of fabric, helping to eliminate textile waste. A wide range of prints can be produced compared to conventional printing techniques. Digital Printing allows designers to incorporate graphic design elements, photographs, artworks, and current trends quickly and easily in almost any type of textile print quickly and easily. Using these technologies can continuously increase and expandthe range of endless creative possibilities and generate more complex design ideas for manufacturers. Engineered garments have little to no ink waste due to printing only the design in the pattern pieces necessary and leaving the rest of the fabric white. This process only uses the exact amount of inks and dyes used in the creation of the garment, and there is no leftover printed fabric, decreasing the water consumption for washing.
Challenges of digital printing
The major challenge of digital printing for textile applications is the speed of production, which is directly proportional to the cost per metre of fabric. The installation and maintenance cost of digital printing technology is not in the affordable range for small capital companies. The government is taking various initiatives to help small capital companies install this novel sustainable technology.  Lack of operating knowledge hinders the efficient use of this novel technology, so the arrangement of personal training programs will help to prompt this technology.  The ink used for digital printing is too high; using pigment ink is a cost-effective alternative for digital printing. The physical or surface properties like a stretch, textures and highly porous surface of substrate produce inferior printing quality as the appearance and fabric quality performancesare concerned need to improvethe fastness properties and colour accuracy of digitally printed materials).
Inks for digital printing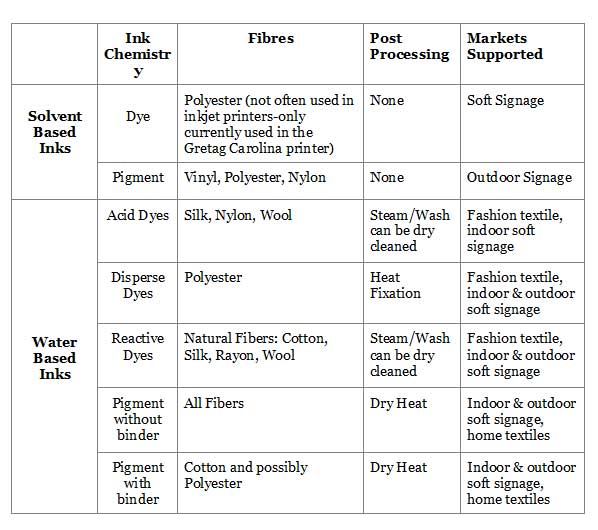 The market for digital textile printing ink is expected to grow continuously. Sublimation inks are most favoured and widely used for textile, clothing, and soft signage segments because of their properties, such as non-solubility, colour fastness and resistance to damage. Sublimation inks are mainlyused on polyester, acetate rayon, poly-lycra, and acrylics and require post-treatment heat. In inkjet printing, the thin ink formulations make it better. Moreover, the colours or dyes to be used for inkjet printing should have a small particle size; oversized ink particles have a chance to block the jets. The average particle size of the inks must be equal to or less than the size of the nozzle orifice, so it will help smooth ink flow during printing. Along with this, the choice of auxiliary system is essential for the stability of ink formulations. Generally, the ink jet printing is classified into two types: Water based inks, Solvent based inks and Table 1.
Conclusion
Digital textile printing is an interesting area with huge potential to replace the current traditional textile printing. As discussed in the above article, digital printing provides a sustainable solution for reducing the consumption of water, dyes and chemicals. Treatments of textile effluent contributeto the overhead costper meterof fabric; in digital printing, this cost is reduced by employingconcepts likea drop in demand and recycling of ink. Controlling the colour valve by an inbuilt automatic colour measurement device is key to digital printing, which helps online control colour combination and proportion in ink mixture.
Modifications and developments like Inline or continuous pre-treatment, post-treatment operations, sensory attachments like fabric wrinkle sensors, auto print head cleaners, empty nozzle detectors, fabric moisture regulators, and ink penetration enhancers. All thesemodifications are helping textile processors to achieveconsistent quality with minimum waste. Digital textile printing is yet facing significant challenges for sizeable commercial large-selection: high installation costs, low speed, untrained workforce, expensive inks, reproducibility, etc.
References
Zapka, W. (2018). Handbook of Industrial Inkjet Printing, WileyVCH.
Chowdhury, Asim. (2014). Environmental Impacts of the Textile Industry and Its Assessment through Life Cycle Assessment. 10.1007/978-981-287-110-7_1.
Unnatisilks blog (2019), digital-textile-printing-a-revolutionary-transformation-compared-to-conventional-inkjet-printing. www.unnatisilks.com.
About the author:
Harshal Patil is a PhD Research student & Ashok Athalye is a Professor in Textile Chemistry at the Institute of Chemical Technology, Mumbai.