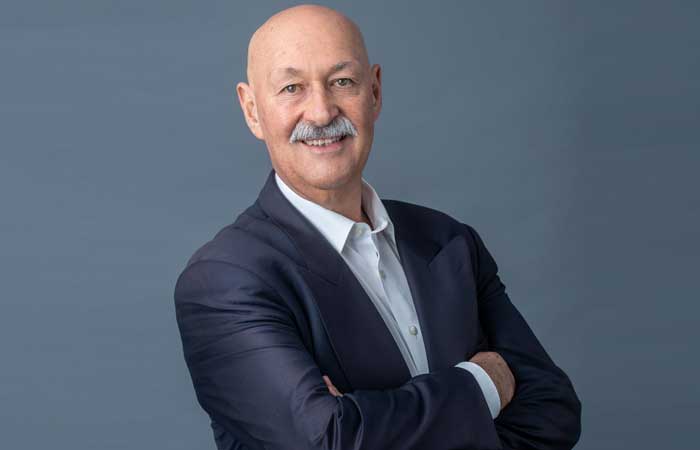 CEMATEX introduces textile composites as new sector in ITMA 2023
CEMATEX promotes and strengthens the textile machinery industry of its member associations. It preserves the role of ITMA as the world's premier exhibition of textile and garment technology. Exhibition policy is the core business of CEMATEX, and as the owner of the ITMA shows in Europe and Asia it aims at a reasonable exhibition cycle and concentration on a very limited number of exhibitions in the interest of its members and to the benefit of their customers. Ernesto Maurer, President, CEMATEX, shares with ITJ highlights of ITMA 2023 and the association of CEMATEX with Indian companies over the years.
You took charge of Cematex Presidency when the world was going through Covid 19 problem. How do you look back at the last 2.5 years since you took over the role?
As providing prominent exhibitions to our ever-growing industry is the core business of CEMATEX, I am leading Cematex through a challenging period. During the coronavirus pandemic, face-to-face exhibitions around the world have been cancelled or postponed. This affected our combined show in Shanghai. ITMA Asia + CITME in Shanghai in 2020 and 2022 had to be postponed.
On the other hand, our upcoming ITMA exhibition which will be held in Milan from June 8 – 14, 2023 has received strong response from exhibitors. To complement our face-to-face exhibition, we have launched an online business platform – ITMAconnect – that will allow participants to be engaged before and after the physical exhibition.
What are key challenges before textile machinery makers in Europe at present? Are we seeing a light at the end of the tunnel?
The energy crisis, supply chain disruptions, and sustainability and climate protection are some of the challenges facing textile machinery makers. During the pandemic, many of our members took the opportunity to conduct research and development, and they will be using the upcoming ITMA exhibition in Milan to launch many of the innovations.
In the past, we have also weathered many crises, and there is increasing optimism that the textile machinery market will grow in the next few years as textile makers embrace digital and sustainable technologies in order to be competitive.
Has Covid resulted in changes in demands/requirements from the textile machinery users (i.e. textile product makers)? If yes, could you please elaborate on these changes?
The pandemic has created a rare opportunity for the textile and garment industry to rethink the manufacturing and supply chain process, especially its impact on the environment. One area is on-demand manufacturing which is more economical and sustainable as it allows brands to minimise excess inventory.
Manufacturers are also investing in chemicals and dyes which are environment friendly and sustainable, as well as water conservation through use of less water during the manufacturing process.
The pandemic has also spawned demand for machinery for the manufacturing of nonwovens, especially for hygiene, protective and medical uses. The demand for technologies for making antimicrobial textiles has also increased.
The global textile industry is moving towards sustainable development (including circularity). How are European textile machinery companies helping textile firms in their low-carbon pathway route?
Many processes and products that go into the making of fibres, textiles and fashion products consume significant quantities of energy. European textile machinery manufacturers are committed to researching and developing technology solutions capable of improving the energy consumption or environmental performance of their machinery through various initiatives and projects.
Another area that manufacturers are developing is technologies for recyclable textile production. At the same time, textile machinery manufacturers are integrating artificial intelligence and the Internet of Things to help customers improve their operational efficiency.
How are European textile machinery companies looking at India at present? How can these companies help India to increase its share in the global textile and apparel (T&A) market?
India is among the world's largest producers of textiles and garments, and it is a very important market for European textile machinery manufacturers. Its textile industry has strengths across the entire value chain from fibre, yarn and fabric to garment.
European textile machinery will support Indian textile manufacturers' efforts to transform digitally and automate processes to increase productivity, thereby, enhancing their competitiveness internationally.
On the sustainability front, European green technologies that reduce carbon footprint or use less water and energy are important as the Indian textile industry is the second-largest consumer of energy after the iron and steel industry.
Many Indian textile companies are looking at technical textiles as a new business opportunity. How can Cematex members help India in the technical textiles area?
Technical textiles have seen trending upward globally and Indian textile companies can leverage European technologies to ride this wave. Cematex members are leading technology innovators and have been helping technical textile manufacturers with their cutting-edge technologies for the production of advanced materials for many years.
We invite Indian textile companies to visit ITMA 2023 and explore the innovations from leading European technology makers, from spinning to nonwovens to chemicals, raw materials and advanced fabrics. Exactly for that reason you mentioned, we have introduced textile composites as a new sector for this edition. Visitors will be able to source machinery for textile reinforcement structures for composites, auxiliary machinery and accessories.
What are the key emerging trends in the global T&A and textile engineering industries?
Among many others, there are two broad areas that the industry is interested in: digitalisation and automation, and sustainability and circularity. These areas are the main forces shaping the future of manufacturing for many industries, including the textile and garment industry.
Both digitalisation and sustainability require a long-term commitment that reshapes the entire approach to business. At the same time, they need to have mind-changing inputs at a technological, as well as economical level. Increasingly, digitalisation can be used as a powerful tool in the journey towards sustainable manufacturing.
What will be the highlights of ITMA 2023?
The theme of ITMA 2023 is Transforming the World of Textiles. There will be many activities to highlight this. It is underscored by four trending topics: automation and digital future, advanced materials, sustainability and circularity, and innovative technologies.
We have value-added to the ITMA experience by introducing ITMAconnect, a one-stop sourcing platform and knowledge hub. The platform connects the global textile community before ITMA, and extends the engagement after the exhibition.
Another new initiative is Start-Up Valley which spotlights companies in its early stages of development with game changing solutions. Sixteen companies have been awarded a CEMATEX grant to defray their participation costs.
Participants can also look forward to attending the Innovator Xchange, ITMA forums and partner events to enrich their knowledge and networking opportunities.
On the eve of ITMA 2023, would you like to give any message to participants (exhibitors as well as visitors)?
This will be the first ITMA to be held post-pandemic. Companies which have survived the downturn will be eager to review ways to strengthen themselves in a very competitive landscape. Searching for innovative solutions at ITMA to enhance their capabilities will be top of the agenda.
We can expect a very interesting presentation from over 1,600 exhibitors, and look forward to meeting textile and garment manufacturers from India.