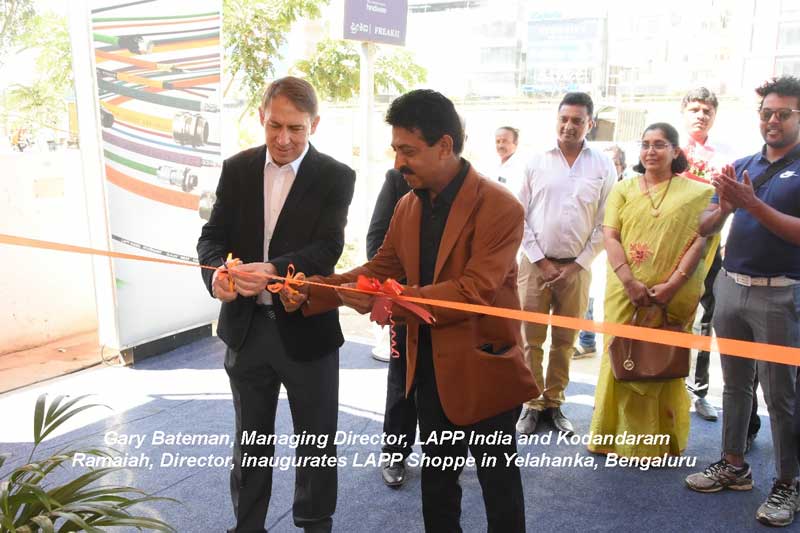 LAPP India inaugurates first experiential showroom LAPP Shoppe in Bengaluru
This experiential retail store is a unique concept in the cable and connection space.
LAPP India recently inaugurated their first experiential showroom at Yelahanka, Bengaluru. The exclusive LAPP Shoppe showroom was inaugurated by Gary Bateman, Managing Director, LAPP India and Kodandaram Ramaiah, Director, M S Ramaiah Hospital. The event witnessed participation of existing customers, channel partners as well as potential customers of LAPP.
This unique launch in the cable and connection space is aimed at reaching out to LAPP India's existing and potential customers. It is an innovative initiative where customers can walk in and experience LAPP's entire product range under one roof. Their end-to-end solutions serves a range of industries and includes power & control cables, data communication cables, industrial communication products, Ölflex Connect, cable accessories, glands and conduits. There will also be a support team present at the showroom to guide customers on product specifications and address their queries.
Speaking on the occasion, Gary Bateman, Managing Director, LAPP India said "With this launch, LAPP India aims to provide an immersive and interactive shopping experience for customers, while working closely with them to tackle industry specific challenges and requirements. We will focus our efforts in expanding the brand's retail presence in Tier 2 and Tier 3 cities across the country in the coming years."
About the company
LAPP India is a 100 per cent subsidiary of LAPP, a leader in cable and connection technology. Headquartered in Germany, LAPP in India started its operations in 1996. They have two manufacturing facilities in India – Bengaluru and Bhopal. In addition, they have five warehouses to serve customers across India. LAPP India provides power & control cables, data communication cables for Ethernet and Fieldbus technology, optical transmission systems, industrial connectors, glands, conduits, cable markers, tools and accessories. LAPP also provides plug and play cable and connectivity solutions under Ölflex Connect and Industrial Communication solutions for seamless network connectivity.
LAPP India has customers across different industry segments ranging from automotive, cement, textile, food & beverage, infrastructure, machine tools, metal & mining, oil and gas, railways, renewable energy, and e-mobility. LAPP's 8 brands – Ölflex, Unitronic, Etherline, Hitronic, Epic, Skintop, Silvyn and Fleximark promises un-compromising quality. Across the globe and in India, LAPP is trusted for manufacturing excellence and highest standards in quality, reliability, and durability.