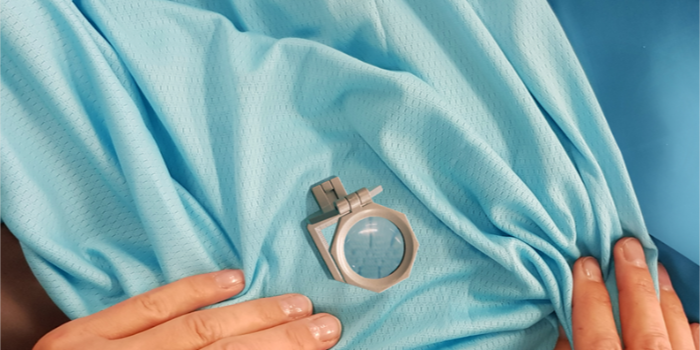 Antiviral fabric: The new buzzword
Antibacterial treatment of clothing was already relatively widespread before the Covid-19 outbreak, marketed as a way consumers could critically reduce the frequency of washing their clothes but the pandemic has hastened demand for its protective qualities.
As the country grapples with the Covid-19 pandemic, antiviral fabric seems to have become the buzzword in the textile industry. Textile companies seem to be betting big on antiviral fabrics with consumer focus shifting to health safety and hygiene post Covid-19 pandemic. Stalwarts say antiviral fabrics combat the spread and transmission of harmful viruses through textiles. Leading players in India like Donear, Welspun India, RSWM (Mayur), Arvind, Vardhman Textiles and D' Decor, among others, have launched anti-viral fabrics for apparel and home furnishing products, in partnership with international textile technology players.
Antibacterial treatment of clothing was already relatively widespread before the Covid-19 outbreak, marketed as a way consumers could critically reduce the frequency of washing their clothes but the pandemic has hastened demand for its protective qualities. Albini is the first major luxury fashion player to enter this sphere, with Grado in India and Sonovia in Israel among the firms now also marketing similar treatments for clothing.
Also read: Shiva Texyarn's anti-viral fabric deactivates corona
While the tests are proving that these treated materials can likely destroy coronaviruses a few minutes after contact, what is less clear is how this and other novel technologies such as antimicrobial surfaces can impact a person's overall chances of catching the illness.
Viroblock NPJ03: Effective against SARS-CoV-2
HeiQ Viroblock NPJ03 is among the first textile technologies in the world to be proven effective against SARS-CoV-2 in the laboratory. Tests conducted by Swiss textile innovator HeiQ with the Peter Doherty Institute for Infection and Immunity in Melbourne, Australia (Doherty Institute) showed that treated fabric achieved 99.99 per cent reduction of the virus.
HeiQ Viroblock NPJ03 is a textile treatment for industrial use, designed to provide textiles with antiviral and antibacterial properties. The combination of silver antimicrobial technology and vesicle technology rapidly destroy enveloped viruses including coronaviruses. It has previously been tested against coronavirus 229E, another strain of virus in the Coronavirus family.
Also read: Belgian co adds multivitamin blend to boost immunity
The research project involved a disinfection test protocol that simulated the real-life interaction of small aerosol droplets contaminating clothing. A known concentration of SARS-CoV-2 virus was contacted with the sample fabric for 30 minutes followed by measurement of remaining infectious SARS-CoV-2 viruses. The fabric sample treated with HeiQ Viroblock NPJ03 had no infective viruses left after 30 minutes. The result indicated a SARS-CoV-2 virus reduction of 99.99 per cent relative to the inoculum control.
Carlo Centonze, Swiss co-founder and Chief Executive Officer of HeiQ Group, stated, "The confirmation of antiviral activity of HeiQ Viroblock against SARS-CoV-2 is an important milestone. This data forms part of our ongoing efforts to help provide textiles with greater levels of protection against viruses and contribute to efforts towards mitigation of the global pandemic."
HeiQ's antiviral textile technology, HeiQ Viroblock NPJ03 has been certified as safe and sustainable as all its ingredients are cosmetic grade, bio-based and recycled. Beta Analytics Testing Laboratory has certified that HeiQ Viroblock NPJ03 contains 72% bio-based carbon. Test results are accredited to ISO/IEC 17025:2005 Testing Accreditation PJLA #59423 standards. HeiQ Viroblock NPJO3 is currently undergoing homologation for the USDA bio-preferred certification. Specialities S.R.L (Italy), a surface chemistry research and development company, has also confirmed that all ingredients of HeiQ Viroblock NPJ03 are selected from the International Nomenclature of Cosmetic Ingredients (INCI).
Industry stalwarts enter the fore
Realising this scenario, India's textile companies have converted the pandemic-induced economic crisis into an opportunity, by coming out with antiviral textiles.
One of the early entrants in this space has been Coimbatore-based Shiva Texyarn, which launched antiviral fabrics with HeiQ Viroblock NPJ03. The company has been working in the technical textiles space, making products for the armed forces, and is one among the top companies that make such products globally. The company is currently in the process of getting various international certifications to target the global marketplace for antiviral fabrics.
Dr Sundararaman KS, Managing Director of Shiva Texyarn, said " We have been at the forefront of the PPE response in the country, with our Technical Textiles Division being amongst the earliest SITRA qualified suppliers of PPE fabric. We have complemented Coverall manufacturing with a range of fabric masks with innovative protective systems and other components of the PPE system. The addition of HeiQ Viroblock to our manufacturing processes gives us another formidable technology in the race to provide high tech, comfortable PPE solutions."
Being a market leader in innovation and excellence, the Donear Group, using NEO TECH® technology, has conceived products that are high quality, utilitarian and have a shield against bacteria and viruses alike. Known for their pioneering efforts, NEO TECH® has partnered with HeiQ to power up its suiting and worsted fabrics with an intelligent textile technology – HeiQ Viroblock NPJ03. HeiQ creates some of the most effective, durable and high-performance textile effects in the market today, which lasts up to 30 washes.
The Group is very confident that the combined power of NEO TECH and HeiQ Viroblock will prove to be a game-changer for the Indian textile industry, especially in the performance fabrics category.
Rajendra Agarwal, Managing Director, Donear Group, comments, "We have always wanted to extend our forte in poly viscose and worsted fabrics – be it for trousers, jackets or suits. This partnership has added another feather in our cap for breakthrough technology with anti-corona fabrics that shows its effects within minutes rather than hours! I strongly believe that the antiviral fabrics will boost our established group turnover (of Rs 1300 crore) by at least 15 per cent." In a lighter vein, he adds, "This technology makes us best suited for the future!"
Donear Group has collaborated with India's leading men's wear brand, ZODIAC for a revolutionary new product range: antiviral shirts called SECURO. The 'SECURO' range from ZODIAC retains its properties for 30 home washes. The fabric is safe for human contact & on the environment and has been tested by HeiQ with the Peter Doherty Institute for Infection and Immunity Melbourne, Australia. The SECURO antiviral shirt range is available at all ZODIAC Stores and online only at www.zodiaconline.com.
Gujarat textile major Arvind announced launch of anti-viral textile technology for the first time in India under its brand 'Intellifabrix'. Arvind has partnered with Swiss textile innovation leader HeiQ Materials AG and Taiwanese specialty chemical major Jintex Corp to introduce the revolutionary anti-virus technology.
Arvind Executive Director Kulin Lalbhai, said, "The world is facing an unprecedented crisis due to COVID-19. In this context, we are committed to keep our customers safe and that is why we have tied up with HeiQ to bring its revolutionary Viroblock technology to India. We are excited with this partnership and in a very short period of time we will introduce into the Indian market fabrics that will provide best-in-class viral protection and are fashionable at the same time."
Morarjee Textiles, a vertically integrated textile company manufacturing high-end products in prints, dyed and yarn dyed fabrics in a variety of substrates, has launched ViroShield range of protective finishes in collaboration with Australia-based Health Guard Corporation. ViroShield by Morarjee meets anti-viral efficacy of 99.99 per cent on all corona strains including COVID-19, as per ISO18184 anti-viral test and Bacteriostatic efficacy test ISO 20743. The fabrics have a special chemical molecule which destroys the envelope cell wall of the virus, and as a result the virus dies. Thus, it helps in minimising the chance of re-transmission of pathogens by killing viruses and bacteria upon contact with the fabric.
ViroShield is compatible with all textile substrates and gives protection from droplets and fluids. In addition to being anti-viral and anti-bacterial, the finish is anti-odour, hygienic, skin compatible, non-irritating, and has no impairment on hand feel. The anti-viral finish on the fabric persists up to 30 home/laundry washes at 40 degree centigrade.
For the first time ever, the famous six-yard wonder—Surti Saree—has come in a new, 'infection-free' avatar. Laxmipati Industries, a manufacturer and exporter of sarees and textile fabrics from Surat, uses 40,000 metres per day to make sarees, kurtis as well as lehengas and the fabric is treated with antimicrobial finishing chemicals to keep them free from bacteria, viruses, fungi, algae and mildew.
Home textile companies join the bandwagon
Welspun India launched a range of antiviral home linens. Treated using a technology from Australia's HealthGuard Corporation, the fabric is 99.94 per cent effective against coronavirus and it will be made at company's plant in Anjar, Kutch. HealthGuard AMIC technology, has been used to develop the new range of antiviral home textiles, which includes products like, bed linens, carpets, rugs, terry towels and reusable cloth mask. The antiviral home textiles will be marked under brands – SPACES and Welspun Health.
Dipali Goenka, CEO and Joint MD, Welspun India, said, "In response to the challenges posed by the COVID-19 pandemic, Welspun India has consistently innovated to address evolving consumer requirements. Having recently ventured into the health and hygiene category with Welspun Health, we are now launching a range of high quality anti-viral home textiles."
D'Decor home fabrics has joined hands with Swiss textile innovator, HeiQ, to help their customers live safe and live beautiful. The D'Decor antiviral and air purifying range of products live up to the philosophy of safe and beautiful home spaces. They have formed an exclusive partnership with HeiQ to launch ViroGuard by D'Decor and AeroFresh by D'Decor.
AeroFresh by D'Decor, powered by HeiQ Fresh, is an air purifying function that uses UV light to improve indoor air quality. Indoor air hygiene has been a major growing concern with increasing risk of human health hazard, and indoor air contains volatile organic compounds (VOCs) that are released from household furnishing, carpets, glues, cleaning sprays, aerosols, flooring, etc. D'Decor home fabrics has adopted HeiQ Fresh, HeiQ's breakthrough air purifying textile technology on their custom-made curtains to help users improve indoor air quality. It works by turning any textile surface into an air purifying surface by immobilising the VOC molecules in the air and then decomposing them using light. It works quickly (within 24 hours) and lasts up to 20 washes.
"D'Decor has always been about beauty and variety. But we feel, that given today's scenario and the fact that our products form such an integral part of the home, we want to ensure that our products go beyond beauty and actually provide a level of safety and hygiene to our consumers. In HeiQ we've found a perfect partner that can augment our creativity and quality with the bleeding edge of technology, with solutions like Viroblock and Fresh. Home furnishing is the most touched surface at home right from the time you draw your curtains, to rest on your couch, cuddle with your cushions or sleep on your bed. With ViroGuard and AeroFresh by D'Decor, we are offering our valued customers a promise to help them live safe and, thereby, live beautiful", Ajay Arora, Managing Director at D'Decor home fabrics said.
RSWM of the LNJ Bhilwara Group has unveiled anti-viral fabric 'ViroSecure' via a technology partnership with Swiss firm HeiQ. 'ViroSecure' is in the premium segment and will be marketed under Mayur brand. Mayur will offer this fabric for making uniforms for frontline healthcare workers, school children, and defense and police personnel, in addition to suiting and shirting requirements.
Suketu Shah, CEO and Business Head, Mayur Suiting and LNJ Denim said, "ViroSecure fabric range offers anti-COVID protection against the spread and transmission of the pathogen. Together with HeiQ, we aim to become a reliable choice for consumers and we are targeting 20 per cent of the sales from the ViroSecure fabric in this fiscal."
Indonesia-based Shinta Indah Jaya has launched a range of anti-viral fabrics using HeiQ Viroblock NPJ03; one of the world's first textile treatments to be clinically proven to be up to 99.99 per cent effective in reducing SARS-CoV-2, the COVID-19 causing virus. Shinta Indah Jaya is leader in Viroblock fabrics, along with its existing range of customised fabric treatments.
Shinta Indah Jaya believes in going beyond tradition, which means responding to the challenges of today by embracing the latest technology and innovations in combination with its long term commitment to product quality. Taking a personalised approach to each customer, this latest collaboration with HeiQ adds to Shinta Indah Jaya's suite of customisable options so as to provide its customers with a comprehensive toolkit to develop innovative new products that will enable them to adapt and thrive in the post-pandemic business environment.
Rudolf Group has introduced an antimicrobial coating for textile applications with antibacterial and antiviral properties. With Covid-19 causing an increase in demand for products with antimicrobial properties, Rudolf invested in adding antiviral feature to one of its leading technologies. This resulted in a new antibacterial and antiviral textile finishing. As a consequence of COVID-19 global pandemic the demand for chemical auxiliaries with antimicrobial effect has boomed. Rudolf Group invested important resources in the meticulous assessment of a new antiviral feature which is now added to one of its leading technologies.
Such an effort led to the most comprehensive antibacterial and antiviral textile finishing – Ruco-Bac Agp. The powerful antimicrobial effectiveness of Ruco-Bac Agp is rooted in the properties of silver. Already known by the ancient Romans, Greeks and Egyptians, water and milk were preserved by using silver coins through the early modern age. R and D at Rudolf Group mounted silver on highly sophisticated, functional and registered microstructures that strengthen and amplify the qualities of this metal. Rudolf's proprietary microstructures are the key technical breakthrough behind both efficacy and durability of Ruco-Bac Agp.
This innovation is now the preferred solution to help reduce proliferation and cross-contamination of bacteria and enveloped-viruses on textiles.
Experts see soaring demand in months to come
Textile industry veterans and experts believe that in times of the coronavirus pandemic, the demand for fabrics with antimicrobial and antiviral properties is here to stay. More awareness about hygiene and keeping oneself safe will encourage brands to adopt fabrics that have antiviral properties.
"The fabrics will get an enthusiastic response from customers as people will have a feeling of safety with these products. However, the onus will also be on the manufacturers to ensure consumer confidence is maintained through quality," said Rahul Mehta, Chief Mentor and Past President, Clothing Manufacturers' Association of India (CMAI).
– KARTHIK MUTHUVEERAN