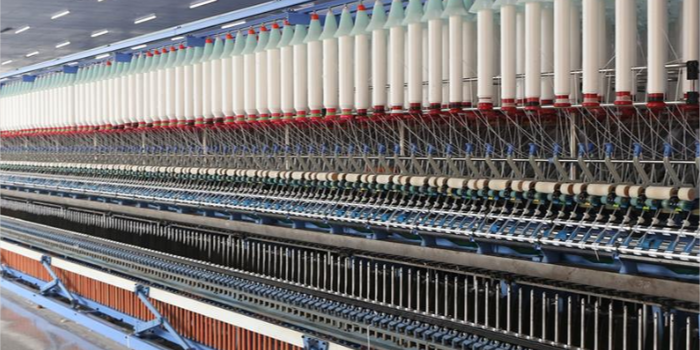 Spinning: A comeback tale
Despite uncertainties in the market created by Covid-19, the textile spinning and machinery and accessories industry is bouncing back with reported rise in orders.
Amid the Covid-19 crisis and the looming economic recession, the textile machinery market worldwide will grow by a projected 7.5 million units, during the analysis period, driven by a revised compounded annual growth rate (CAGR) of 7.2 per cent. Spinning machines is forecast to grow at over 7 per cent and reach a market size of 17.4 million units.
However, as per the report released by the International Textile Manufacturers Federation (ITMF), The total number of shipped short-staple spindles decreased by about 1.7 million units in 2019 to a level of 6.96 million. Most of the new short-staple spindles (92 per cent) were shipped to Asia and Oceania, where delivery decreased by -20 per cent. While levels stayed relatively small, Africa and South America saw shipments increasing by +150 per cent and +120 per cent, respectively. The six largest investors in the short-staple segment were China, India, Uzbekistan, Vietnam, Pakistan, and Bangladesh.
Also read: Ideal combination for more economical spinning
About 5,63,600 open-end rotors were shipped worldwide in 2019. This represents a 1,47,500-units drop compared to 2018. 90 per cent of global shipments went to Asia and Oceania where deliveries decreased by -21 per cent to 5,17,000 rotors. Indonesia and Pakistan, the world's fifth and sixth largest investors in open-end rotors, increased their investments by +120 per cent and 15 per cent, respectively. China, Vietnam, India, and Uzbekistan, the world's 1st to 4th largest investors in 2019 decreased investment by -48 per cent on average.
Global shipments of long-staple (wool) spindles decreased from 1,20,000 in 2018 to nearly 40,000 in 2019 (-66 per cent). This effect was mainly driven by a fall in deliveries to Europe (-72 per cent) and South America (-80 per cent). About 80 per cent of total deliveries where shipped to China and India.
Also read: Tengri launches yarn from Khangai camel fibre
Voltas offers the entire range of products needed for the spinning industry. The company's key principals in the spinning industry is Lakshmi Machine Works (LMW), who is a leader in spinning machinery industry. LMW is the leading player in facilitating investments in spinning, and Voltas' market share is close to 60 percent, which means around 60 percent of the investment in this industry takes place through equipment manufactured by its principal – LMW. So, LMW plays a major role in all the upcoming projects in spinning. In fact, there are many projects in the country where 100 percent of the equipment used is from LMW.
Also read: Changing the traditional route

LMW is one of the only three manufacturers in the globe who offers the entire range of spinning machinery from blowroom to cone winding. LMW offers cutting edge technology products and solutions, which cater to the needs of the different segment in the industry irrespective of the size. The Indian spinning industry has become a leader in the global yarn market by capturing more than 30 per cent of the market share in the global yarn trade mainly because of the quality equipment manufactured by LMW.
Voltas also offers accessories and the replaceable needed for the spinning industry on a regular basis. While the Ring Travellers are offered from Lakshmi Ring Travellers (LRT), the Card Clothing needed for the Carding machines is supplied by Lakshmi Card Clothing (LCC). Both LRT and LCC are market leaders in their respective field, serving the customers for more than five decades.
JM Balaji, Head – Marketing, Lakshmi Ring Travellers (Coimbatore), said, "In ring travellers, LRT has a market share of 73.5 per cent in the Indian market. We have products for all segments of the market – whether it is for cotton or man-made fibres. We have products for the entire spectrum of raw materials, counts and spindle speeds. As far as India and the global markets are concerned, our prospects in this market are pretty good."
He added, "Our products are the best in the industry. We have a range of products in terms of different profiles and finishes across all counts. In Travellers, we have very fine travellers for 300 Ne and 340 Ne counts. Probably, we are the only company in the world that could offer 32/0 and 34/0 travellers. LRT offers total traveller solution. This covers not only the product range but also a very good reach in the global markets, including India. Our delivery is very good. We could offer travellers anywhere in the world within 48 hours to most of our customers."
"We are one of the very few companies that gives problem-solving solutions to the customers so that they can improve the quality of yarn and improve productivity of the mill. These are all done at no cost to the customer. We also have agents across the world who in turn have a dedicated team giving the perfect service," said Balaji.
Balaji, however, thinks that the market size of travellers will decrease because of lesser apparel sales post the Covid scenario. Downstream segments like knitting, weaving, spinning, ginning as well as raw material requirements will reduce. "To what extent it will reduce, we will come to know as the days go by because there is still a lot of uncertainty in the market," he said.
With a robust manufacturing base, and technology partnerships with key world leaders, A.T.E. offers the latest technology systems for blowrooms, cards, drawframes, combers, twisting machines, humidification systems, as well as a range of accessories and spinning machinery components.
Peass Industrial Engineers, which is a solution provider in post spinning winding of textile industry, offers product portfolio services the winding needs of different applications like soft package listing where you need assembly winders in weaving.
Mangesh Chaudhari, VP – Sales & Marketing of Peass Industrial Engineers, said, "Right now in India there is almost no demand for our machines due to the Covid-19 scenario. We have a significant potential export market. Thanks to the continuous technological innovations in the product and manufacturing process to achieve consistently good quality at competitive prices."
To ease the pain of spinning machinery manufacturers, Chaudhari felt that the government has to incentivise exports by supporting participation in major exhibitions. He said, "What I see Chinese companies presence in exhibitions as compared to Indian presence. We should also follow the same of encouraging participation in exhibitions by subsidising those. The government should facilitate acquiring latest technologies through joint ventures and mergers and acquisitions. They should discourage import of second hand machines. What I understand is that around 75 per cent of the machinery that is available in textile industry are imported."
A Senthil Raja, Joint Managing Director, MecGrowths Texmach, which has been in the business for the past 38 years, said, "In 2015, we started our own manufacturing unit for retrofits for spinning and other industry. We are now into manufacturing innovative products like compact systems, and other products for the textile spinning industry. We manufacture three major products for the textile industry – compact systems, retrofits for spinning ring and top arms for ring frames and roving frames. Compact systems is the future for all the manufacturers. Out of 100 only 30 per cent of the spinning industry in India is converted with compact spinning. The remaining 70 per cent market is virtually open. Young manufacturers do not understand the importance of compact systems."
He added, "The second main offering from MecGrowths is the shortstretch retrofits for spinning rings. We have installed this in around 39 spindles globally. This is a very interesting concept as it converts all ring frames. With this, the stretch will be reduced and the travelling length will be reduced. It will increase the productivity of the temple centre. We are the only compact manufacturers to launch compact that is below Rs 1,000 (around $14). This has made a big impact in the market. After the installation, every customer recognises the product, and in a very short period of time, we were able to install many spindles."
"At present, we are operating from Ahmedabad and more or less serving the entire global market. In spinning machinery components, we offer spinning tubes, cones and bobbin holders, which are our flagship products. As an organisation, we are focused on the product, which usually requires precision and uniqueness in designing. We are not really into commodity products. These are high precision engineering products, which requires high level of tolerances," said Laxmikant Rathi, President – Sales & Marketing, Ideal Sheet Metal Stampings & Pressings.
He added, "We need to have that quality or technology to manufacture the product and we should not worry too much about the competition. Even we export our product, so how can I say other countries not to export. The important thing is to have better quality than the competition and give timely deliveries, good after sales service support at an affordable price. I need to be competitive in all aspects."
Balaji of LRT concluded: "LRT is very clear in terms of how they are going to approach post-Covid scenario. We are training all our teams to be very effective in terms of telemarketing. All our agents are very well equipped across the world to seize this opportunity to increase the market share. We are very confident that our market share is going to significantly grow in all the markets with the all strategies which we have devised."