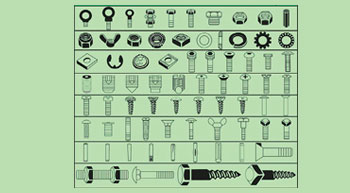 ZIP: The one-stop shop for fasteners
Established in July 2000 by Deepesh R Sheth, Zenith Industrial Products (ZIP)—located in Mumbai
Established in July 2000 by Deepesh R Sheth, Zenith Industrial Products (ZIP)—located in Mumbai—is one of the leading manufacturers and suppliers of industrial fasteners in India. Deepesh received training from his father Rajnikant P Sheth, a veteran with over 40 years of experience in this field. Rajnikant has previously owned companies like Precision Industrial Components and Forged & Turned Components from 1967 till 1999 which were a substitute to quality fasteners.
Following the principles set by his father and keeping up the same goodwill amongst the customers, Deepesh started his own company with the aim to provide quality fasteners at a competitive price in the shortest possible time. At present, ZIP is engaged in manufacturing and supplying standard and non-standard fasteners for all types of industries.
Various products offered by ZIP include:
Bolts, nuts, studs and socket screws: All types of bolts – hex, round, square head, rectangular head, square neck carriage bolts, N/B bolts, coach bolts, eye bolts hex socket head Allen bolts, hex socket and slotted type Grub Sc., Plunger Sc., BSP, BSPT, NPT, NPTF, hex socket type, hex hd, square hd., tapper plugs, hex hd plugs, collars/ washers faced and Allen plug studs, steeped, full thread, tie road and spindle hex nuts, locks, domes, nylock, weld, flanged nuts, square nuts, t-nuts, slotted nuts, wing nuts, eye nuts, clinch nuts, rivet nuts, long nuts, to name a few.
Screws, rivets and sheet metal washers, and other components and pins: Philips Star punch and slotted type machine screws, pan hd, CSK, round, truss, Mashrum hd, washers faced flanged type, hex hd, small hd, cheese sc, captive sc, long size sc, partly-threaded sc, shim sc, terminal sc, self tapping sc (type B – AB – BT cut and drill point), rivet round hd, CSK hd, flat hd solid and hollow type and steel rivets. In washers the company offers: plain punched flat washers, machine washers, tapper washers, square and flat spring washers, star washers, disk fan washers, wave washers, push on washers, bearing washers and disk spring washers. Under pins, ZIP offers spring dowel pins, tapper pins, solid dowel pins, grooved pins, exterior and interior threaded pins, cotter pins, among others.
All these fasteners are used for various applications for general purpose, maintenance work or as a specific engineering part. These are used in machine tools, light, medium & heavy engineering industries, material handling equipment, automobiles, textile machinery, pharmaceutical machinery, home appliances, hydraulic & pneumatic parts, pumps & valves, electrical, electronics, computers, instrumentation, automation, switchgear, telecom, mono blocks, motors, gears, plastic injection moulding machinery, dyes & tools, roofing, aluminum section framing & fixing, scaffolding, earthmoving & agriculture machinery, cranes, rubber industries, cement, chemical, fertilizers & sugar machinery plants, etc.
The fasteners are available as per the latest standards like ISO, IS, BS, DIN, JIS, ASTM, GOST, etc., and non-standard items as per drawing or samples of customers.
At ZIP, there is no compromise in quality of any product supplied to the customers. Vast product range and adherence to global quality standards have made ZIP more popular amongst the OEMs as a one-stop shop for fasteners.
Threads
Metric standard MM threads in coarse & fine pitch, British standard BSW & BSF types, American standard UNC & UNF types, pipe threads BSP, BSPT, NPT & NPTF type, BA threads, #4 to 12 UNC & UNF threads, self tapping threads – #2 to 14.
Material & grade
Mild Steel – 4.6 grade/case hardened, EN 8, EN 8D, 8.8 grade, EN 19, 10.9 grade/12.9 grade, EN 24, 12.9 grade, stainless steel (SS) 410, 202, 302, 303, 304, 310, 316, 304L & 316L, brass, copper, aluminum, phosphor bronze, spring steel, titanium, etc.
Finishing
Zinc platted with silver, blue, yellow or olive green passivation, copper zinc, trivalent zinc, cadmium, nickel, nickel chrome, blackodising, phosphating, natural finish or self colour. For SS items, electro polishing or buffing, etc.
For further information:
Zenith Industrial Products
E-122, Ansa Industrial Estate, Mumbai: 400 072, Maharashtra
Tel: 022-2847 0806 / 6692 3987
Email: zenith@zip-india.com; abc@precibolts.com
Web: www.zip-india.com