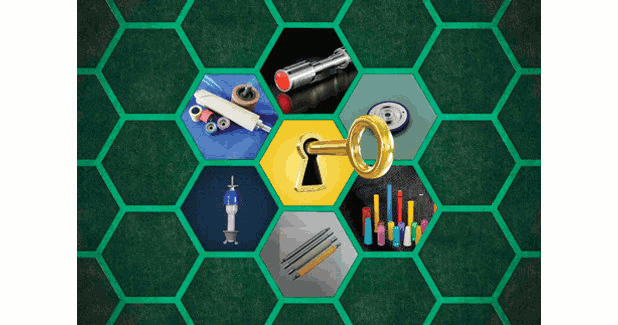 Yet to Unlock Potential
The components and accessory segments of the textile machinery industry have been offering immense scope since the time the industry shifted from West to East, but the Indian industry is yet to tap their full potential, finds the ITJ report.
The components and accessory segments of the textile machinery industry have been offering immense scope since the time the industry shifted from West to East, but the Indian industry is yet to tap their full potential, finds the ITJ report.
With import constituting over 70 per cent
of the total Rs 25,000-crore demand
of textile machinery in India, the
Indian industry saw a new window of opportunities in machinery components and accessories and made a scramble for it. But still a complete success story is proving elusive. The industry is yet to unlock the full potential in the domestic market, and particularly
the export market, where the players in West have
been vacating spaces in spares and components since
the textile industry's shift began over a decade ago.
As per the Textile Machinery Manufacturers' Association (India) data, the spares and accessories market was around Rs 1,205 crore in 2013-14, but now
it has come down to around Rs 920 crore in 2017-18.
The market is diminishing at the rate of 5 per cent
year on year.
Consider a company like Sheeba Engineering,
a small but major player from Ahmedabad producing dyeing accessories and dyesprings, and which has
been exporting to over 42 countries. It sees bigger opportunities in more shores, but is unable to reach them due to various reasons: Says Anthony Xavier, Director
of Sheeba Engineering: "We see a very big market and vast scope for our product for export in the countries other than what we are exporting with 42 countries… We are confident of increasing our export business may be double provided our advertisement budget in foreign countries supported by association or government."
The company has already sniffed out "new countries where we want to promote our product with the customer and with OEM manufacturers".
"To meet the production demand, Sheeba has
added a manufacturing range like CNC machines and
has developed a few more vendors," added Xavier.
There are some big players who have created their own spaces through the online route for selling spares and parts. LMW has even launched an exclusive eSpares portal that promises "spares available for customers 24×7, ensuring that you just have to enter your requirements and have your spare parts delivered
to your doorsteps".
E-age has spawned e-catalogues and e-spares, which have already made inroads. With the need for faster speed delivery and a variety
of products from diverse points from a single source, a new wave has set in – third-party e-marketeers touting parts and accessories 7×24. Says Viren Mehta, CEO of BookMyParts.com: "There is no better time than now for online purchase of textiles spare parts in India. Countries like China, USA, and some part of Europe are already buying spare parts online. There are definite advantages of buying spare parts online. First of all, as you know, machine spare parts trade in India is highly chaotic and disordered which resulted into high cost,
lack of transparency, lower productivity and inefficient supply chain."
Added Mehta, "In the textile industry in India, there are many imported machines bought from China, Taiwan, Korea etc. since last several years, now several factories are facing issues of maintenance of machinery and procurement of spare parts. Many a times, spare parts
are not available so there are production related problems, delay, sometime Textiles factories have to
pay high cost for procurement of these parts, parts have to be stocked because of its uncertain availability. There
is no enough information available on how to procure Imported textiles machine spare parts and so on."
"Online procurement of machine spare parts is having a huge potential to grow so there is a definite growth prospects for online marketers. Conventional practices
of business needs to be replaced with online and modern technology, tools and new paradigms of online marketing and promotion," said Mehta.
Another one such company
that is making good strides in the accessories segment is Ahmedabad-based Ideal Group of Companies. Ideal's President, Laxmikant Rathi agreed that the accessories and parts manufacturers have undergone tremendous changes in the recent times. He says, "Apart from product upgradation, Ideal has undergone capacity increase. During the last two years,
we have increased the production capacity by almost
100 per cent.We have added Japanese and American
make injection molding machines for better quality
and higher production."
Added Rathi: "There is no doubt on the scope and opportunities. Very few manufacturers can make the varieties we make (types and colours). This gives us
an edge even over European manufacturers. Ideal is supplying our products to major OEMs from Europe
and Asia."
Hotlines have become common for not only selling spares and components but also in forging closer ties with customers. Says Jhankar Dutta, Managing Director, B&R Industrial Automation: "In India, we are now taking customer service to the next level with 'World Class Support' – a dedicated support hotline +91 83 80 800 008 that serves as a single point of contact for our customers all across India. Our nationwide customers are enjoying the reduced response times and experiencing an enhanced customer support. This is enabling faster service and reduced machine downtime."
"Cotton spinning ring frames accounted a share of
59 per cent in total spinning machinery exported by India, registering a growth of 26.7 per cent registering a value of $150.16 million in 2017-18. These machines were majorly exported to the Netherlands. Cotton combing machines registered an export growth of 16.93 per cent for 2017-18. Vietnam is the top market for cotton combing machines. Cotton spinning roving frames has witnessed remarkable growth of 388.4 per cent amounting to $11.82 million. China is the topmost market for cotton spinning frame machine in 2017-18 recording a value of $7.06 million," said Avinash Mayekar, MD & CEO of Suvin Advisors.
The Indian textile industry's demand for machinery and parts is about Rs 15,000 crore annually, nearly 70 per cent of which is imported. The textile engineering industry (TEI) produces about Rs 6,500 crore worth of products while operating at about 65 per cent capacity utilisation; 25 per cent of this annual output is exported. In order to achieve the goal of Make in India by serving 65 per cent (instead of current 30 per cent) of the industry's demand through indigenously produced machinery by 2025, the TEI has to increase its production more than four times in eight years to Rs 28,000 with exports at 25 per cent being worth Rs 7,000 crore. That's both a huge opportunity and
a daunting task. This is, however achievable through
(i) Acquisition of latest technology through joint ventures or license agreements, (ii) aggressive R&D efforts with reputed indigenous technology institutions, (iii) subsidised soft loans and policy support from the government for investment in expansion and upgradation of manufacturing facilities and, most importantly, (iv) an eco-system
for innovation involving all four stakeholders (mills, machinery suppliers and service providers, technical institutions, government) working in close cooperation
is what is required to make this dream a reality.
The Indian TEI has the potential to grow more
than 10 times to a $10 billion industry provided all the stakeholders including the government adopt a mission to "Make India a world leader in textiles by 2025".
India has the skills, the tradition, the designs, the manpower, the raw material and a large domestic
market to achieve this but it shall remain a pipe dream
if we do not channelise all forces to this common goal.
Rathi of Ideal provided some suggestions for the betterment of the industry. He says, "Our suggestion
to the industry is to make quality products and help in building "Made in India" brand. Lets adopt to world-class systems and processes, maintain highest standards in ISO, 5S and six sigma."