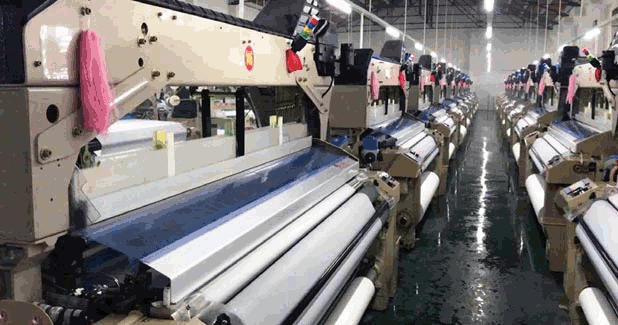 Weaving technologies today
While the new developments in weaving are significant, more developments are still needed to allow the weaving industry to face the tough nonwovens' competition, opines Jeyaraman Anandha Kumar.
While the new developments in weaving are significant, more developments are still needed to allow the weaving industry to face the tough nonwovens' competition, opines Jeyaraman Anandha Kumar.
Weaving machines demands have always been an intricate issue generated by desire of textile industry to meet ever-increasing quality improvement needs. New developments are taking place in such a direction, which ensures reduced time, energy and cost involved. Heavy mechanical parts now being replaced with electronic or microprocessor controlled alternatives.
This article reviews the recent technologies in weaving industry. It sheds light on how the weaving machine manufacturers and woven fabric producers might strengthen the weaving industry by further advances in the technology and taking advantages of the current and new advances in weaving technologies.
Weaving is the action of producing fabric by interlacing warp and weft yarns at right angles to each other. This action can be produced on a frame, hand loom or automatic loom. The handloom has been around many years and with a significant development in 1733 when John Kay developed and patented the 'Flying Shuttle'. This development helped fuel the industrial revolution. The first automatic loom was designed in 1784 by Edmund Cartwright and the next 47 years were spent perfecting this design until Kenworthy and Bullough developed the Lancashire loom in 1842. However, this loom was not fully automatic and had to be stopped every time the shuttle needed new weft yarn. In 1984 George Draper and Son's marketed the Northrop loom, a fully automatic loom, with a self feeding shuttle. It was named Northrop loom after its inventor 'James Henry Northrop'. From 1942 technology advanced again with the invention of modern automatic and shuttle less looms.
In the last two decades, spectacular progress has been made in the field of weaving technology and the most significant being the replacement of convectional looms by shuttleless looms for increasing productivity and quality of the end product. Recently weaving machine producers introduced to the woven fabric manufacturers a sizeable number of technological advances.
Examples of such advances are higher speeds than seen before, a higher level of automation, a new Jacquard shedding concept, waste reduction, and online quality monitoring. These advances may enable the developed nations to drastically lower the labour cost and may be able to compete in the commodity fabric markets. Despite these significant development in weaving, weavers in the developed and developing nations are faced with serious competition from other fabric forming systems such as needle punching and hydro entanglement nonwoven technologies.
These nonwoven technologies established themselves in numerous markets and are expected to seriously compete with weaving industry in carpet and apparel markets. This article reviews the recent advances in weaving industry. Additionally, it addresses the challenges that face the weaving industry and how the weaving machine manufacturers and woven fabric producers might strengthen the weaving industry by further advance the technology and taking advantages of the current and new advances in weaving technologies and supporting systems.
Types of shuttleless looms
Airjet loom: Tsudakoma's airjet loom, the "ZAX9100 Professional." The ZAX9200i saves resources, energy, and manpower. It is an advanced air jet loom that is worthy of the name "MASTER"
This is the world's first weaving support system upgraded to the "Weave Navigation® System -". The "Weave Navigation® System-" employs a 15-inch display – the largest in the weaving machine field. It reduces the hierarchy levels of the menu and the number of button operations is also reduced for user-friendliness. Multi windows are supported. They allow real-time adjustments while observing the result. Due to the optimum weaving conditions, high quality fabrics are produced while saving energy at a high level.
The high-resolution LCD monitor that reproduces 16 million colours provides a maintenance guide on video and allows adjustments based on visual cues. The 15-inch display reduces the hierarchy levels of the menu and the number of button operations is also reduced for user friendliness.
Simultaneously displaying the setting page and the monitoring page allow real time adjustments. adjust the weft insertion timing while observing the weft insertion graph, and can set the warp tension while observing the tension changes.
Loom data can be saved and transported with a special USB thumb drive. The amount of data saved is drastically increased. Data management is easy.
Adjustments for the 1st pick timing are no longer necessary. The timing of the main nozzle and the hook pin for the 1st pick is automatically controlled in response to the initial rise of the motor when the loom is started. When the loom RPM changes while using the same weft type, weft insertion adjustments for the low and high speeds are not required either.
Power consumption for control except for the driving motor is reduced by about 20 per cent.
The number of steps of the weaving pattern data is increased to 19,980,000 picks including the repeat function for the dobby loom, and to 1,980,000 picks for the cam/crank shedding loom. The available number of pick densities is also increased to 32. Therefore, various fabrics can be woven.
Procedures for adjustments and maintenance can be checked through the video.
The required works are easily comprehensible. Toyota Airjet Loom-JAT810: JAT Series is capable of "weaving the highest quality fabric at the lowest possible cost," and the JAT810 boasts a diverse range of original Toyota features, including an Air-Saving System that reduces energy consumption and the new "E-shed" electronic shedding motion. In addition, a newly developed function panel and a factory management system dramatically improve operability.
Main specifications:
Weft insertion: single electric drum, 2-, 4-, 6-, 8-colour exchange electric drum
Nominal reed space: 140 cm, 150 cm, 170 cm, 190 cm, 210 cm, 230 cm, 250 cm, 260 cm, 280 cm, 300 cm, 340 cm, 360 cm, 390 cm
Shedding: negative cam, positive cam, crank, dobby, electric shedding, jacquard
Water jet loom-ZW8100 water jet loom: Tsudakoma's water jet loom "ZW series" model "ZW8100" has been developed for the next generation by applying Tsudakoma's long-cultivated know-how about water-jet weaving. While focusing on higher speed, best quality, wider versatility and higher operability as well as effective environmental measures, it is upgraded completely from its frames to the mechanism. Tsudakoma pursues ultra-high speed operation and designed the "ZW8100" optimally from its frame structure, beating and shedding, and increased its weft insertion performance with the pitch-shortened nozzle. This increases the ZW8100's operation speed by 10 per cent compared with existing models.
The robust frame structure, reinforcement of the let-off motion, and shortening the cloth route at loom front allow higher pick density. High speed while keeping the best fabric quality is attained at high levels. Furthermore, the PSS-W Programmable Start is developed to efficiently reduce stop marks. The "ZW8100" employs the "Weave Navigation® System" for better operability. Almost all electric adjustments can be done via the Navi-board. Its warp line height is 40-mm lower than the existing model for easy access.
Furthermore, it automatically conducts pick finding after recovering from a loom stoppage and re-starts, demonstrating outstanding operability. The "ZW8100" supports a wider range of fabrics: from extra-fine to thick yarns, from narrow to wide widths, and unbalanced construction such as double weave. To achieve this versatility, the "ZW8100" uses a combination of an electronic dobby machine, pitch-shortened nozzle, a twin pump, and 4-colour weft selection. A short cloth route at loom front allows a higher density fabric to be woven steadily.
Tsudakoma always positively works on environmental issues. The "ZW8100" requires 5 per cent less electric power compared with the existing model thanks to redesigning the mechanism for weft insertion, shedding, and beating. In addition, its robust frame structure and the optimised beating mechanism reduce vibration by 25 per cent compared with the existing model. They deliver energy saving and environmental measures.
With an advancing mechanism that is excellent at high-speed and positively separates yarns, even a thick yarn is easily stored and released. It supports various types of weft. It is possible to adjust the diameter of the FDP drum with a simple operation. The pitch between the nozzles is shortened. This decreases the difference between the weft inserting conditions of the two nozzles. The time for weft insertion is increased, achieving stable weft insertion at high speed operation. With the double stabiliser, convergence of jet water flow is enhanced.
Water Jet Loom LWT810: The LWT810 enhances the productivity and the quality with the latest technology advancements that customers expect from Toyota while achieving the highest energy savings to protect our environment.
Main specifications:
Weft insertion: single pump, double pump
Nominal reed space: 170 cm, 190 cm, 210 cm, 230 cm, 280 cm
Shedding: negative cam, positive cam, crank, dobby
Dornier –P2: With a modular machine design rendering the central module 75 per cent more rigid, increased insertion performance, maintenance-free drives and optimised shed geometry with positive centre transfer. With up to 16 filling thread colours it is the ideal tool for creative, flexible, reliable and efficient production of top quality clothing and domestic textiles or technical textiles in cotton, silk, glass, carbon or aramid. And it can be used with cam motion, dobby (up to 24 shafts) or Jacquard machines with up to 30,000 cards and in conjunction with the EasyLeno® leno system.
The P2 is equally capable of working with materials ranging from high-quality silk fabrics through upholstery materials and women's apparel to coating, carbon, aramid or glass fibre fabrics made from yarns with maximum yarn counts for technical applications. The reed beat-up force as much as of 50 kilo newtons for very heavy and dense technical fabrics.
Airjet weaving machine for tyrecord: To make tire cord for car and aircraft tires, a weaving machine is needed that can process large quantities of yarn reliably, precisely, and very rapidly. The flexible, high-performance air-jet weaving machine for tire cord meets these requirements in a thoroughly convincing manner.
Further advantages of the airjet weaving machine for tire cord are its easy operation and minimal servicing requirement while delivering maximum productivity and fabric quality. Since it can process the yarn much faster than machines with mechanical insertion systems, the material does not have to be stored as long, which saves money, time and energy.
Roving weaving machine for high-quality reinforcing fabrics: Roving weaving machine is worldwide renowned for manufacturing high-quality reinforcing fabrics based on carbon, glass and aramide fibres. The machine combines exceptional reliability with a high level of productivity and flexibility as well as low waste generation. It is available in the typical protection classes for processing carbon fibres. The warp material is supplied from creel or warp beam. Two rapier heads with positively controlled central transfer transport the warp threads into the open weaving shed. Shedding is carried out with a powerful dobby. A special product take-off guarantees precise transport of sensitive fabrics.
Features for performance hybrid fabrics:
Superior product quality
Two-colour waste saving device
Weaving from the creel or warp beam
Creation of hybrid and multimaterial structures
Processing capability for "heavy tows"
Special surface coatings for low filamentation
Low twist filling thread guide
The tape weaving machine: The tape weaving machine can process strip-like materials such as films and fibre reinforced tapes. It can also be used to manufacture fabrics with low grammage and low undulation. The results are textiles that are ideal for structural reinforcement and design applications. The tapes are introduced parallel from a creel in the direction of the warp. They are fed without twisting in the direction of the filler with the feeder. A positively controlled rapier head pulls them in the direction of the filler into the open weaving shed. Finally, the finished tape fabric is wound up either inside or outside the machine.
Features of tape rapier head
Low grammage, even with "Heavy Tows"
Low tape ripple
Processing of dry and fully impregnated tapes
Material mix for producing hybrid structures
Twistless filling thread guide
Rope weaving systems:
Based on proven narrow fabric needle loom technology
Machine robustness and reliability
High production speeds
Rope diameters of 1–20 mm
Straightforward machine operation
Pattern control via pattern chain with cam disc plates for simple structures
Warp thread take-off from bobbin creels or warp beams
Special solutions for product laying and winding
High productivity and low production costs
Considerably longer, knot-free, woven items due to the extended yarn lengths available on bobbins/warp beams as compared to those from braiding bobbins
Warp beams with over 5,000 m of yarn and in addition, the possibility of using a creel with reserve bobbins
Longer running times without bobbin changes as compared to braiding; so-called "ghost shifts" are possible
Excellent mechanical characteristics as compared to braided structures
Strength at 1 and 2 mm diameters meets the requirements of the DIN standard
Comparable strength at diameters of between 3 and 4 mm
Far higher strength at a thickness of 5 mm and above
Stress-strain curve comparable with that of braided ropes
Differing patterns provide diverse surface structures and rope characteristics
Narrow fabric weaving:
Compact design
Outstanding user-friendliness
Low energy consumption (less than 2 kW)
Virtually unlimited repeat length (maximum pattern length 6,300 picks) due to electronic frame control
Possibility for extremely quick weave changes, no preparation and employment of pattern chains and pattern drums with cam disks
Positive controlled electronic thread transport with smooth adjustment
Electronically controlled fabric take-off
Smoothly adjustable weaving speed due to electronically controlled main drive
Electronically adjustable creep speed
Precise and protective fabric take-off owing to non-slip, drive and pressure roller coatings
Low maintenance requirement
Few mechanical components and therefore minimal spare part requirement
Small lubrication oil requirement
Applications
Production of elastic and non-elastic narrow fabrics with inwoven motifs such as names, logos and fashionable, decorative designs with a warp effect
Patterning possibilities exist for up to 384 harness passages
Bonas SI Jacquard: Over 128,000 micro-selector sensors will be actively powering ten advanced Jacquard systems. This is the equivalent of an average working weaving mill installed with 48 carpet weaving machines, each with jacquards equipped with 2,688 hooks.
A total of ten jacquards will be operating on advanced weaving machines. A multitude of colours in both warp and weft can be expertly intertwined to produce top quality flat woven carpet. Another Si21 on Picanol Optimax rapier will prove the smooth and low vibration running of this 21,504-hook jacquard at high speeds, even with high density fabrics of 112 ends/cm and unbalanced designs. Both jacquards are driven by the Smart Drive, directly mounted to the loom and eliminating the need for a gear box.
Facing the challenges
While the new developments in weaving are significant, the demand for more is needed. Many developments are still needed to allow the weaving industry to face the tough nonwovens' competition. Machine manufacturers should continue to improve the current technologies and introduce new technologies to farther their capabilities and versatilities.
References
http://www.tikp.co.uk/knowledge/technology/warping-and-weaving/
Weaving Technology: Advances and Challenges ,Abdelfattah M. Seyam College of Textiles, N. C. State University,Raleigh, NC, USA,Journal of Textile and Apparel Technology and Management,Volume 3,Issue 1,Summer 2003
www.vandewiele.com
https://www.tsudakoma.co.jp/english/business/textile/product/water_jet_loom/zw8100
https://www.toyota-industries.com/products/textile/shokki/index.html
https://www.lindauerdornier.com
https://www.mueller-frick.com/en/products-applications/rope-weaving-systems