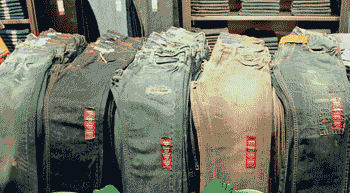 Waste to wear textiles: An overview
During the last 30 years, the consumption of polymeric materials has increased dramatically in large volume applications such as clothing, food packaging, construction, etc., feel Vivek Mane, SB Vhanbatte and Rajanna L Gotipamul.
During the last 30 years, the consumption of polymeric materials has increased dramatically in large volume applications such as clothing, food packaging, construction, etc., feel Vivek Mane, SB Vhanbatte and Rajanna L Gotipamul.
Waste2Wear is a fabric made from recycled plastic bottles. The recycle plastic bottles are converted into eco-friendly fabrics. This unique process involves turning environmentally damaging waste into useable, sustainable yarns. The recycled yarns are then combined with natural fibres to be woven or knitted into 100 per cent eco-friendly fabrics, suitable for garments, home ware, and accessories. Recycling of conventional materials, such as paper, glass, and metals, has been practiced for centuries mainly for economic reasons.
During the last 30 years, the consumption of polymeric materials has increased dramatically in large volume applications, such as clothing, food packaging, construction, etc. Although in-plant recycling of clean industrial plastics has been practiced since the beginning of commercial scale processing of plastics, it is only since the 1980s that ecological considerations have become the main reason for finding cost-effective technological solutions for tackling the problem of post-consumer plastics waste in general and recycling in particular.
It is now well recognised that the recycling of plastics would not only serve as a partial solution to the solid waste disposal problem, but would also help to conserve the scarce petrochemical resources for chemical feedstock?s and energy. Products made from recycled plastics can result in 50-60 per cent energy savings, as compared to making the same products from virgin resins. An excellent overview of the legislative issues, current practices, and technological options relevant to the recycling of plastics has been presented by Nir, Miltz, and Ram. The most eco-friendly products are often those made from recycled materials because this reprocessing prevents large quantities of reusable material from being buried away in landfills. Plastic bottles are particularly significant because plastic bottles, unlike glass bottles, cannot be reprocessed over and over again.
Commercial significance of PET recycling
PET is well established as the polymer of choice in large volume applications, such as textile fibres for apparel, bottles and containers for liquid packaging, industrial fibres in tyre cords, safety belts and bags, technical textiles including nonwovens, audio/video tapes, medical X-ray and photographic films, etc. The other end-uses of PET include sheets for signage, thermoformed articles, injection molded engineering plastics, etc.
One of the main reasons for the widespread use of PET is the possibility of producing a number of grades of the polymer over a broad range of molecular weights in a single multiproduct polymerisation plant. The different PET grades are processed into a variety of shapes and articles by using a range of processing techniques, such as melt spinning, film and sheet extrusion, injection molding, blow molding, thermoforming, and structural foam molding. The consumption of PET in the production of man-made fibres should grow because of the fact that cotton production seems to have levelled off at about 20 million tonne per year and, therefore, the clothing needs of the growing world population will have to be met by the PET fibres, which are more cost-effective than cotton.
The other major sphere for PET consumption, namely, blow molded bottles and containers, has shown a growth rate of about 10-12 per cent, as a result of the introduction of PET bottles for carbonated soft drinks and mineral water in new markets of the developing economies (China, India, etc.) with large potential. The use of PET bottles for beer, edible oils, cosmetics, and Pharmaceuticals is also expected to grow rapidly. In many cases, although PET is more expensive than the material it is intended to replace, it offers other advantages, such as chemical resistance, transparency, and the potential to be marketed as readily recyclable. As compared to the very high consumption of PET, only a very small quantity, about 4,00,000 tonne, of PET is recycled, constituting less than 5 per cent of the annual consumption. PET waste does not pose any direct hazards to the environment.
Types and sources of PET waste
There are two major categories of PET waste, namely
Process waste: The process waste is amenable to ready collection and segregation. It is readily possible to prevent or minimise contamination of process waste through machinery design, as in automatic recycling of edge-trim waste in PET film manufacture, and through well defined shop-floor practices for house-keeping and production operations.
Post-consumer wastes: Comprising PET bottles, films, threads, and fabrics, are generally contaminated with other plastics and additives, such as spin finishes, dyes, pigments, label adhesives, coatings, etc. The logistics of collection of post-consumer waste is complex and the collection exercise has Recycling of Polyesters to be generally driven by legislation and/or economic incentives. The cost of collection, segregation, decontamination, and cleaning of post-consumer waste for recycling is also significantly higher than the cost associated with recycling of process waste.
Recycling methods
Compared with other materials, such as glass and metal, plastic polymers require greater processing (heat treating, thermal depolymerisation and monomer recycling) to be recycled.
Physical recycling: The physical recycling of PET waste involves remelting of the solid flakes or granules in an extruder for pelletisation into chips or for direct melt processing into value-added products, such as coarse denier staple fibers (> 3dpf), hollow fibers for filling, partially oriented yarns, dope dyed fibers or filament yarns, and strappings for packaging. The recycled PET chips can also be used for producing engineering plastics materials through melt compounding in a twin-screw extruder into blends/alloys, and fibre and mineral reinforced compounds.
Chemical recycling: In chemical recycling processes, the PET waste is depolymerised into either the base monomers, namely, EG, pure TA or DMT, or into oligomers. The oligomers may be used for reconversion into PET by polycondensation or for production of polyurethane or unsaturated polyester resins by subsequent chemical reactions with other monomers. The major advantage of chemical recycling processes is the possibility of using any type of PET waste, irrespective of its polymer molecular weight (I.V.) or additive contamination. The chemical recycling processes are more readily amenable to removal of additive contaminants than the physical recycling route. The different process options for chemical recycling of PET waste may be categorised as follows: (i) regeneration of base monomers (methanolysis for producing DMT and hydrolysis for producing pure TA and EG); (ii) conversion into oligomers (glycolysis or solvolysis); (iii) use of glycolysed waste for value-added products; (iv) conversion into speciality chemicals by aminolysis or ammonolysis; (v) conversion into speciality intermediates for use in plastics and coatings.
Fibre grade v/s bottle grade polymers
There are two major differences in the polymer characteristics of the fiber grade (FG) and bottle grade (BG) polyester waste. The molecular weight of the FG waste is lower than that of the BG waste. In terms of I.V., which is a measure of the molecular weight, the respective range for fiber waste would be 0.55-0.65dL/g, whereas it would be 0.70-0.85dL/g for the bottle waste. Another difference is in the chemical structure of the polymer. The FG PET is a homopolymer made from EG and pure TA or dimethyl terephthalate (DMT), except for speciality fibers, such as easily dyeable, low pill, flame retardant polyester. The BG PET is a copolymer based on EG, pure TA, and minor quantities (2-12 per cent) of other comonomers, such as IPA, CHDM, etc.
Market scenario
Each year, around 500 billion plastic bottles are discarded globally. Incinerating them or sending them to landfill increases the levels of pollution generated by the plastics industry. Global consumption of plastics and polymers is likely to grow by an average of 5 per cent per year, reaching 227 million tonnes in 2015. Among the vast family of plastics, it is PET1 (bottle grade) which is expected to grow the fastest (11 per cent on average per year). In India, PET bottles have inundated the market in recent years, with annual growth rates in consumption exceeding 20 per cent. Plastic consumption per head of population in India is 5 kg, representing a total volume of 9 million tonnes in 2010, compared with the global average of 26 kg. Plastic consumption in India is forecast to reach 18.9 million tonnes in 2015, half of it in the form of packaging and bottles (Dolat Capital, 2011). The bottle segment consumed around 350,000 tonnes of bottle resin in 2011, compared with 1.1 million tonnes in Western Europe.
As demand increases, the marketplace will foster more incentives for consumers to recycle PET. As of 2005, 23.1 per cent of the 5.075 billion tonnes of PET bottles produced in the US were collected for recycling. This percentage is likely to grow as consumers become more educated and more countries adopt legislation to use the SPI?s easily recognisable ?Chasing arrows? symbol for PET bottles so that consumers find it easier to know-how to recycle them. Some states in the US have already implemented financial incentives for consumers to bring in plastic bottles for recycling, and others have encouraged ?Curbside? collection to make recycling easierfor the average citizen. The European Union has been more aggressive in PET bottles recycling legislation. In 2001, all EU countries were required to meet a 15 per cent plastic packaging recycling target, and by 2011 the experts say it will increase to 25 per cent. The PET bottles recycling industry has caught up fast in Asia in recent years especially in China followed by Taiwan, Thailand and Indonesia. During 2006, China bought 3.9 million tonnes of PET-waste from across the globe to have cheaper manufacturing of synthetic fibre. The Taiwan Textile Research Institute (TTRI) estimates that about 100,000 tonnes of PET bottles are collected for recycling in Taiwan each year to be processed into yarn for weaving into fabrics.
India Cued into the Trend- In India as well there are companies, which have put up PET phase capacities. As per the estimates, India produces 500,000 tonnes of pet waste every year and due to increasing use of pet bottles in daily consumption, the amount of waste is going to grow by leaps and bounds. At present, the total recycling capacity in India is around 145,000 TPA, out of which Reliance Industries Ltd. has a capacity of 42,000 TPA and Kanpur-based Ganesh Polytex Ltd (GPL) has a capacity of around 39,600 TPA and rest is with other small local players. Presently GPL is recycling about 1.4 billion PET bottles annually at its Rudrapur plant where the bottles are first cleaned and then sent to shredders and grinders to reduce them to flakes. According to Gopal Agarwal, CFO, GPL, the sorting and processing of raw material is a key factor for maintaining uniform quality of finished product on constant basis as raw material is not having uniform characteristics, and quality of finished goods may have significant degree of variations. ?The major customers for our PET recycled fibre are spinning mills like Birla Cotsyn, Chenab Textiles, Orient Syntex to mention a few. The yarn produced out of the recycled fibre is being exported as well as being sold in the domestic market. Delhi-based Orient Syntex is exporting its yarn to Malaysia and in the domestic market it is selling its yarn through agents in Erode, Tirupur, Salem, etc. who are selling these yarns to companies like Export Tex, Javan Knits Garments, etc.According to Gautam Sureka of Eastern Silk Industries, Kolkata which has gone for a joint venture with an Italian company SATI to manufacture technical textiles in India for industrial wear, the recycled PET fibre has not picked up so much in India for textile purpose as it is a very expensive process and there is yet no real demand for the same.
Benefits
The big benefit in making PBT from recycled PET is energy savings. Producing PBT from oil takes approximately 50 GJ/tonne; the PET-to-PBT process uses about 20 GJ/ton of PBT. The 30 GJ/tonne energy savings is the equivalent of keeping 2 tons of carbon dioxide out of the atmosphere.
On average, it takes 70 per cent less energy to produce a product from recycled plastic than from raw materials.
Recycling 1 tonne of PET bottles saves the energy equivalent of 318 gallons (1203 liters) of gasoline.
Applications
The recycled PET thread or yarn can be used either alone or together with other fibres to create a very wide variety of fabrics. Traditionally these fabrics were used to create strong, durable and rough products, such as jackets, coat, shoes, bags, hats and accessories. However, these fabrics are too rough on the skin and could cause irritation. Therefore, they are not used on any clothing that may irritate the skin, or where comfort is required. But in today?s new eco-friendly world, there has been more of a demand for ?Green? products. As a result, many clothing companies have started looking for ways to take advantage of this new market and new innovations in different ways to process the fabric, to use the fabric, or blend the fabric with other materials for better finish so as to be more wearer-friendly.
Development With Recycled Polyester
Widows treatments made of plastic bottles: Curtainworks is introduce the caress voile sheer, a fashionable and affordable new window treatment featuring REPEVE fibre made from 100 per cent recycled materials, including used plastic beverage bottles.
Graduates wear gear made from plastic- Greensboro based manufacturer Unifi turns recycled plastic bottles into a yarn, which is used to make the gowns. The product will not only help the environment ? it takes 23 bottles to make one gown.
Nike Pro turbo Speed suit: Nike developed a turbo speed suit with the 13 recycled plastic bottles for each suit. This suits creates superior performance that also embraced the values of sustainability.
Seat belt from soda bottles: Ford, partnering with the yarn manufacturer Unifi and developed automotive fabrics like seat belts , seat covers with the help of recycled PET and soda bottles.
Recycling codes
As encountered at the Society of the Plastic Industry (SPI), ,the Resin Identification Committee (RIC) has designated polyethylene terephthalate(PETE), high density polyethylene (HDPE), polyvinyl chloride (PVC or vinyl), low density polyethylene (LDPE), polypropylene (PP), and polystyrene (PS) numbers from 1to 6 respectively, see Figure 9. In 2010 ASTM D7611 was issued, therefore this should be the standard referred to when selected plastic resin needs an identification.
First PET bottle was recycled in 1977
FACTS about PET:
Recycling 1 ton of PET bottles saves 7.4 cubic yards of landfill space
It takes 5 recycled two-liter PET bottles to make one square foot of carpet.
PET bottles and containers are actually a form of polyester, which is why it is so easy to recycle bottles into T-shirts, sweaters and socks.
It takes 35 two-liter recycled PET bottles to make the soft filling inside a sleeping bag, called ?fiberfill.?
Plastic makes up 8 per cent of our trash by weight, but is 24 per cent of the volume
Backpacks of recycled plastic bottles
The people at GreenSmart are using recycled plastic bottles to produce a fabric-like material that can be used to manufacture backpacks, laptop sleeves, messenger bags, and other simple products. This recycled plastic fabric is a safe and environmentally friendly use for tons upon tons of discarded plastic water bottles, bottles that if placed in a landfill would practically never decompose.
Conclusions
Although a broad spectrum of process and product possibilities are available for recycling of PET, currently less than 5 per cent of the available PET waste is being recycled. Thus, there is a significant opportunity for the entrepreneurs and professionals in the plastics industry for gainfully recycling PET, thereby minimising the problem of solid waste disposal and contributing to the conservation of scarce petrochemical resources.
References
Mannhart M (1998) Filament yarn from PET bottles, Chem Fibers Intern 48:246-247.
Gargiulo C and Belletti G (1997) Polyester fiber from 100 per cent recycled PET bottles for apparel, Chem Fibers Intern 47:28-30.
Gangloff C (1998) Global demand for textile fibers to exceed 56 million tons by 2001, Technical Text Intern 7:6.
Nadkarni V (1999) Polyester waste recycling: sources, processing methods and end uses, Intern Fiber J 14:18-24.
http://www.petrecycling.net/Eng/index.php
http://www.petcore.org/
http://www.container-recycling.org/facts/plastic/
The authors are from D.K.T.E Society?s Textile & Eng. Inst., Post Box No 130, Rajwada, Ichalkaranji, Dist Kolhapur ? 416115, Maharashtra.