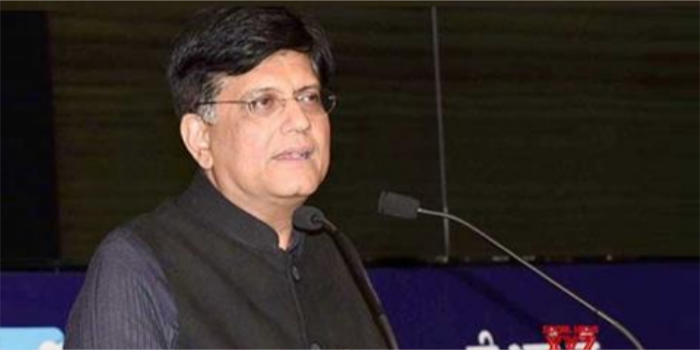 Warm welcome to our new captain Shri Piyush Goyal Ji!
The vision to develop a policy for channelling the growth across all parts & parcels of textiles & apparels is the need of the hour. I am sure Mr Piyush Ji with your strategic approach & global vision we will see the industry soar higher & higher, says Avinash Mayekar, MD & CEO, Suvin Advisors.
Warm Welcome to the Textile Industry!
Your (Mr Piyush Goyal) capabilities & sheer persona for driving growth are no stranger to India. Sir, we all are aware of your remarkable accomplishments from the various portfolios handled by you. With your appointment, the entire textile & apparel industry is expecting the same driving force for its growth under your able leadership. However, being an age-old industry, and one of the major employment generating industries, it should not be ignored by the government. The textile & apparel industry is often seen to be more demanding as most of the times, its demands and credit worthiness are somehow not understood or side-lined in the vast industrial domain of our country. The major reasons for this are:
1. The age of the industry presumes that it is all settled
2. The challenges of connecting the various dots of various fibres, segments, locations, diverse processes, etc. among the industry
Over the years, the industry has witnessed action plans for growth with many Ministers. Each one of them in their capability has tried their level best to uplift the industry. However, being a vast industry with a wide presence of lobbies across fibres, processes, sectors, government bodies, etc. it has number of challenges, interferences and influences. Naturally, there are lobbies which work very closely with the honourable minister in their favour. By the length & breadth of the lobby, things are being taken care of for the growth of their own lobby. So, the overall upliftment of the industry has somehow not taken place to the full extent of India's capabilities.
The vision to develop a policy for channelling the growth across all parts & parcels of textiles & apparels is the need of the hour. I am sure Mr Piyush Ji with your strategic approach & global vision we will see the industry soar higher & higher.
An overview of the textiles & apparel industry, which I am sure you would already be familiarised with. Indian textiles & apparels industry is at distant number 2 in the global trade scenario across the world. But, the position is not to be satisfied with as we are at this position for a very long period & all our neighbouring countries namely Bangladesh, Cambodia, Vietnam, Sri Lanka etc. are now doing exceedingly well despite lower capabilities & other challenges. India having a huge domestic market & a well-established brand 'India'. Also, the recent crisis has shown India's true capabilities of rising to the occasion & being able to do anything & everything under the sun during pandemic. We did quite well with medical textiles.
Since 2012, the entire globe is eyeing for India to emerge as the hub for textiles & apparels. Unfortunately, we have not yet fully understood our potential. The market is also now more favourable than before towards India owing to the dynamics of politics across the world. China, currently the number one country across the textiles & apparels trade, is losing its share, the reason is well known to all. The anti-sentiments & negative vibe that emerged in the pandemic is no more a hidden secret.
The pandemic has also created an alarming situation for countries to look for other options & reduce dependency on China. The US & EU biggest markets of the textiles are now more stringent on rules, regulations, social compliances which is another reason for the reduced share of China in view of not abiding by the led down regulations. Certifications for the originality and tracking of raw material sources are mandate practiced by global brands. Though China's economy of scale & their policy of investment in other countries is the challenging factor in beating their number 1 position. However, India can rise to its full potential & very well reduce the gap & be a competitor number 2 than a distant number 2 player. We can easily drag more share into our belt with a chalked-out vision for the entire value chain of textiles & apparel industry. Some of the guidelines for better mileage generation in line with our vision:
1. To have a global market focus strategy
2. Playing to our strength by mapping target destination countries
A. Raw material & resource availability
B. Focus sectors for exponential growth
3. Focus & organize the domestic market
A. Avoid malpractices
B. Avoid dumping of imported products
C. Loopholes elimination in the duty structure
D. Relining & educating the manufacturers with legal framework
E. Adhering to international norms & regulations
4. Educate & necessitate the need for modernization & developing world-class infrastructure to:
A. Reduce operating cost in terms of power & utility cost reduction by adopting new technologies
B. Renewable sources of energy to take care of environment
C. To adopt & follow environment friendly culture
D. Adopting to all social compliances
5. Strengthening our weaknesses & developing policy to help the producers & create benefits for exporters to compete effectively in the international market
6. History has seen the progress of export-oriented units however, we need to focus on the complete value chain with international standards for exports
7. Boost sectors coming up with finished products for domestic as well as international markets
8. Promotion of marketing wings development
A. Participation in International shows with aggressive brand India
B. Product portfolio development & marketing channel development
C. Support for international marketing activities
9. Cost controls on raw materials to adhere to the international pricing policy
10. New Product developments especially in technical textiles is the need of the hour
A. Our sudden number 2 stature in medical textiles showcases the vast capability of India. However, a more focus on quality is the necessity to continue the success streak across other segments
B. Focus on replacement products especially for producing products through non-conventional technology to encash on the economy of scale.
C. New outlooks for products; e.g. traditional curtains to be replaced with nonwoven disposable innovative curtains & also in line with hygiene necessity especially for hospitality industry
Dear Piyush ji, we have admired your work & are well aware of the dynamics of positive changes that you bring across. We have high expectations from you and we believe you will bring innovative solutions & strategic approach to help Indian textile & apparel industry.
We are once again dreaming for the golden era for our industry and we are sure that it will take its well-deserved position in the global market for leading the textiles & apparels trade under your able leadership!!!
About the author:
Avinash Mayekar is the Managing Director & CEO of Suvin Advisors Pvt Ltd (www.suvinindia.co.in).