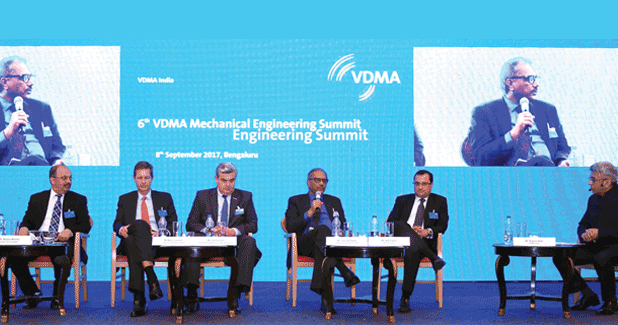 VDMA summit focuses on mechanical engineering
The 6th VDMA Mechanical Engineering Summit was held on September 8, 2017 at Hotel Sheraton Grand, Bengaluru, which was attended by more than 220 people. India is the second-largest sales market in Asia for the German engineering industry.
The 6th VDMA Mechanical Engineering Summit was held on September 8, 2017 at Hotel Sheraton Grand, Bengaluru, which was attended by more than 220 people. India is the second-largest sales market in Asia for the German engineering industry. The summit commenced with a welcome address from Rajesh Nath, Managing Director of VDMA India.
Nath spoke about the history of VDMA starting from its inception in 1892 and is celebrating 125 years in 2017. VDMA India had organised business forums in major cities in India and has been playing an active role in spreading awareness on Industry 4.0 among the Indian industry.
The Business Climate Survey among the German companies conducted by VDMA for the first time in India. The outcome was: 47 per cent of the participants said the climate is good, whereas 48 per cent considered it normal and only 5 per cent termed it slower than last year. The Chief Guest, RV Deshpande, Minister, Large and Medium Scale Industries, Karnataka, congratulated VDMA on its 125 years celebration. Karnataka is a keen supporter of Make in India and is encouraging more companies to set up their manufacturing bases in Karnataka. The Minister also thanked VDMA member companies, who have already established themselves in Karnataka and also extended a welcome to all those members who would plan to invest in Karnataka in the future. The Minister requested more German companies to start operations in Karnataka.
Margit Hellwig-Boette, Consul General, Federal Republic of Germany, Bengaluru, congratulated Nath, who is to be accorded the German Cross of Merit, the highest German civilian honour for the promotion of Indo-German trade. She considered VDMA as an excellent platform for providing network for German companies and helping them to establish their businesses in India.
Ulrich Ackermann, Managing Director, Foreign Trade Division within VDMA Frankfurt, was extremely delighted to meet the members and gave an overview on the history of VDMA. The journey of VDMA started on November 15 in 1892 from Berlin. At present, VDMA has around 3,250 members. Ackermann further gave an insight on the present status of German machinery industry.The Minister launched the VDMA India app and released the VDMA special publication commemorating 125 years. The dignitaries also released the report on "Industrial clusters in India" prepared by knowledge partner, Euro Asia Consulting.
The technical session I commenced by Rajeev Singh, Partner Consulting, Deloitte Touche Tohmatsu India LLP, who spoke on the business impact of GST on the manufacturing industry, who gave an overview on GST from a business perceptive and its relevance for the manufacturing industry. The next speaker was Suvir Davda, Director, Global Market Corporate Services, The Hongkong and Shanghai Banking Corporation Limited (HSBC), who gave an overview on macroeconomic trends and digitisation. Thereafter, Ravi Sastry, CFO, Festo India Private Limited, shared his views on the ways and means, Festo India, took GST as a business transformation exercise. The post lunch technical session began with the release of the report 'Key Sector Overview in India' prepared by Market Research Partner BDB India Pvt Ltd.
The technical session II began with Digitalisation – India Advantage by Gautam Dutta, Senior Director Marketing, Siemens Industry Software India Limited (Digital Factory Division). He explained the three areas that are disrupting and transforming the mechanical engineering industry: IoT, robotics and big data.
The next presentation was on Additive Manufacturing (AM) – The Game Changer for the Manufacturing Industry by Vishwanath Godavarty, Sales Account Manager (India, South Asia), Materialise Software. He explained the advantages of AM like lower costs, design, customisation, sustainability, and emergence of new business models.
The final session of the summit was devoted on the panel discussion on "Coping with Growth and Overcoming challenges in Manufacturing". This panel discussion was moderated by Rajesh Nath.
The participants in the discussion were Marc Jarrault, Managing Director, Lapp India; Georg Graf, CEO, Freudenberg Regional Corporate Centre; Nitin Vyas, Managing Director, Beumer India; Sunil K Gupta, CEO & Managing Director, KION India; and Rajesh Mishra, Managing Director, Vulkan Technologies. The discussions commenced by Nath, asking each of the panel members to explain the growth in their organisation during their tenure and the ways and means used to overcome internal and external challenges during this period.
The various challenges that panel leaders overcame during their career stint in their organisations were: skills training, gender diversity, meeting global standards of manufacturing and quality processes while locally manufacturing in India, integration challenges of acquired company due to poor skills and quality of the supply chain partners of the acquired company.
The summit concluded with an evening presentation by Jai Khurana, Senior Vice President and Head – Business Development, Adani Ports and Special Economic Zone Limited, providing an overview of the Adani Group.