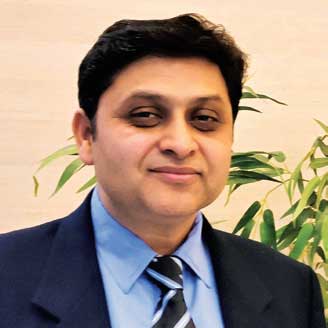 Truetzschler offers intelligent, efficient products to textile industry
Truetzschler offers the most elaborate product basket in India – right from the complete range of spinning preparation to wide range of card clothing. Today, Truetzschler India makes products not just for the Indian industry but also for global customers. In this interview with Rakesh Rao, Ashish Sharma, Vice President Sales & Service, Truetzschler India Pvt Ltd, elaborates on how Truetzschler is helping textile companies to increase their productivity and efficiency with its innovative products.
Truetzschler has been in India since 1977. How has been the journey so far?
Trützschler's Indian subsidiary formerly known as 'Trumac' was established in 1977 in Ahmedabad. In the initial years from 1981 to 1992, the company activity was mainly concentrated on supplying blow room machines. In 1992, cards were added to the production program and, in 2002, draw frames. It was in 2009 that a transition began with supply of Trützschler series of machines to the Indian market under the brand name of 'Trützschler'. These cutting-edge machines ensured that products and services were of the global level.
As on date, Truetzschler India happens to have the most elaborate product basket to offer to Indian market, among all the Truetzschler Group companies, right from the complete range of spinning preparation to wide range of card clothing.
Can you share with us Truetzschler India's manufacturing footprint in India? Do you also supply (export) to Truetzschler's customers outside India?
Today, Truetzschler India Pvt Ltd (TIPL) is not only the place where machines of international quality are produced, but also project planning, sales and nation-wide service are independently taken care of. Truetzschler India's plant admeasuring 36,000 sq m is upgraded with extensive investments in building, machines, and processes in order to align itself with Truetzschler's Global Production Strategy. With the addition of new highly sophisticated machines like high-speed laser cutting machines from Trumpf, CNC press brake Weinbrenner, CNC roll bending machine, machining center from Hueller Hille (MAG), turning center from Magdeburg and Monforts, turn-mill centers from DMG and Mazak and new powder coating plant from GEMA, the plant capacity has stepped up resulting into improved productivity. This helped us to follow the best manufacturing processes and operations, as practiced in Germany.
The company is making products for Indian spinning industry as well as some products for sales on global level mainly the combing machines and high precision blending lines. This is testimony of the fact that Truetzschler India is fully integrated into the high-quality standards of machine manufacturing for which Truetzschler brand stands for.
As a technology leader in spinning, how is Truetzschler aiding the growth of the Indian textile industry? What do you bring to the table for your customers?
Innovation is a buzz word at Truetzschler, we continue to offer most modern and intelligent solutions for spinning industry. BO-P and CLX machines in blow-room, TC12 (the latest carding machine) as well the flagship TC19I (the first intelligent card in the world) are some of the latest products which set benchmark in the industry for their productivity, energy saving and intelligent self-setting concepts.
How is the market for carding machines? Any latest addition to carding machine offerings?
Truetzschler has been the world leader in blow-room and carding. In India, we have a formidable card market share. Traditionally at each ITMA, Truetzschler showcases a new card with innovative features. During the last ITMA, we launched the first intelligent smart card of the world Model – TC 19i. This is machine studded with state-of-the-art features like at intelligent flat setting T-GO, Nep Control device (NCT) and waste control device (WCT). This card is offered from Germany.
From India, we recently launched the new TC 12 card model. This card shares the same platform as that of TC19i. The special precision flat setting PFS 40, the waste control (WCT) and special display panel are major highlights of this machine. The updated version of well proven JUMBO CAN system is being offer in this machine with Can coiling station T-Move-2.
The cards can be equipped with energy measuring device which gives you indication of power consumption right on the display.
What are the key challenges before textile companies today? How is Truetzschler helping them to overcome some of these challenges?
The key challenges in the industry today can be categorised in four major areas. These are operator's fluctuation, quality variation, increasing costs (energy, space) and last, but not the least, the raw material dependence. To overcome these challenges, the technology and machines offered by Truetzschler are loaded with 'self-optimising' functions which minimise the manual intervention and ensure consistent quality. The SHORT CUT process solutions in Open End as well as Vortex spinning offered by Truetzschler help to keep the energy as well as space costs under check. On the raw material front, the Truetzschler technology offers features like WCT, NCT and the latest T GO system which guarantees maximum resource efficiency and highest realisation.
Govt of India has announced plans to give a boost to man-made fibre (MMF) and technical textiles. What kind of opportunity does it presents to Truetzschler? Are you seeing a rise in demand for your products & services from MMF & technical textiles companies?
We laud the latest schemes and incentives for MMF and technical textiles. Truetzschler has a big range of machine technology that can be offered to manufacture products for non-woven and technical textiles industry. We see technical textile as a sunrise industry in India and are hopeful of higher investments coming in this area in coming times.
Do you think initiatives like PLI scheme and MITRA Parks will lead to growth in demand for the textile machinery sector in India?
The market is already booming post Covid and lead times for machines is already running over 2 years for Truetzschler. Having said that, it is matter of fact, that schemes like PLI and MITRA have a long-term perspective and they would give the necessary fillip to the manufacturing industry, in general, and textile, in specific. The schemes would encourage new investments in complete textile value chain and, thus, it lays a strong road map for future.
Sustainability is a buzzword in the textile industry. How is Truetzschler assisting the textile industry in its sustainability efforts? How is your company helping in recycling cotton waste?
There are two fronts for same, one is at home and other is for our customers. Truetzschler India is an ISO 50001:2018 certified company for Energy Management System (EnMS). At the TIPL factory in Ahmedabad (Gujarat), the fuel burners have been replaced by gas burners, rainwater is harvested before being filtered and used to water the ground, and the kitchen equipment in the canteen is solar powered (except for three months of the year during the rainy season). In the past five years, we have also gone into woodless packaging and now only use wood for the bottom of crates. Over that time, we have saved 15,000 trees from being cut.
At the customer front, we have excellent solutions for the recycling segments. We offer customised solutions in blow-rooms and cards to the exact needs of the recycling industry. We are already present in big way in recycling industry with tailor made solution for manufacturing yarn from both pre- as well as post-consumer waste. We have experience in handling the recycled fibres with machines that gives highest reliability and quality consistency on same lines like traditional spinning process.
With demand for automation increasing, how is Truetzschler fulfilling the needs of the Indian textile industry?
Truetzschler offers products with highest degree of automation. The self-learning and self-optimising features in cards be it the auto flat setting T GO, the automatic waste and Nep control sensor, the servo drive in combing, the machines clearly demonstrate the high degree of automation.
Under digitalisation activity, we offer MY MILL solution which helps to connect all your machines and provide a data on single platform which is useful, easy to process and helps to optimise your production and quality activities just by 'click of button'.
Could you please elaborate on some of the emerging trends in the textile machinery sector?
Some of the new trends are:
Blends: Significant shift is happening in the traditional spinning which moves in direction of value-added blends in place of standard cotton. The high-precision blending solution from Truetzschler ensures the consistency and quality of blends.
Vortex spinning: Vortex is really picking up as an alternative to ring spinning. The typical viscose and poly cotton blends for both woven and hosiery application are making their mark in fabric application. The process is made smarter by Truetzschler's IDF+1 route is picking up fast in Vortex spinning.
Recycling: Circular economy and sustainable products are on growth path for their demand in Indian as well as globally. We are already geared up to offer solution for handling all kind of fibres under the umbrella of "recycled fibres".
What are your growth plans for Truetzschler India?
As the saying goes "the road to development is always under construction". We, at Truetzschler, have a big focus on R&D to bring products for our customers which are more intelligent, more productive and efficient. We continue our journey and plan to follow growth trajectory together with our valued customers.