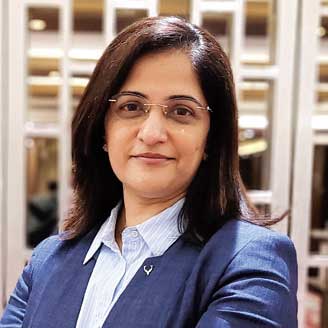 Demand for angle-seated pneumatic valves is growing
Avcon Controls Pvt Ltd has been known to manufacture high-quality automated valves for textile & process control industry. Here Manisha Dabholkar, Director, Avcon Controls Pvt Ltd, sheds more light on the company offerings and its future plans.

Could you please brief us about Avcon Controls?
Avcon is founded by Mr Avinash Kwale in 1969. The 53-years old company manufactures automated valves for textile & process control industry. Avcon is known all over the continents as a manufacturer of 'Quality' products-Solenoid valves, ball & butterfly valves with pneumatic & electric actuators, pneumatically / electrically operated control valves, gas control & regulation products & also for pharma & bio-tech industry.
Avcon is highly motivated team of technical, managerial professionals with strong commitments to excellence in presentation of automated valves which includes solenoid, motorised pneumatic valves used in diverse field where automation is needed such as cement industry, petrochemicals, food & beverages, thermal & hydro power generating plants, automobile, nuclear power, infrastructure projects. We have three plants located in Mumbai & two at Pune, and sales offices in Delhi, Chennai, Baroda, Kolkata, Hydarabad, and Bengaluru.
What are the benefits of using Avcon Controls products?
With top class quality of design & engineering, Avcon Valves offers unparalleled long-term value & customizability for any application. This has earned us the reputation as a manufacturer of the industry's
most durable & reliable automated valves just fit & forget. Avcon provides truly engineered products.
Every Avcon valve is designed with various criteria to ensure the best & everlasting performance. In addition,
our completely captive in-house manufacturing facilities allows for competitive Manufacturing of cost-effective products for special & demanding needs of our customer's quality standards.
Avcon has walked through several years gaining valuable experience & very much sure that there is a product in vast range of Avcon which will meet expectation & requirements of almost all industries where automation is needed.
How are you serving the textile industry?
Avcon has served more than 500 textile & textile related industries in both the segments knitting & weaving industries. Avcon provides 2-way & 3-way solenoid valves, manifold mounted solenoid valves, Angle seated manual & pneumatically operated valves, manual butterfly valves or automated butterfly valves. Our customers are Coates India, Arvind Mills, Siyarams, Raymond, Garden Silk Mills, Vardhaman Group, Oswal, S&P Threads, OCM, etc.
Are you seeing demand for your products from the textile industry growing in the last few years?
In last 5 years, demand for our angle-seated pneumatic valves. Avcon has nearly doubled the production of these types of valves and has kept stock to deliver in either same day or next day delivery.
Could you please elaborate on some of Avcon Controls' latest offerings to the textile industry?
Avcon regularly supply 2-1/2", 3", 4" butterfly valves, 3-way solenoid valves, angle seated pneumatically operated valves in south Indian region near Coimbatore, Cochin, Tiruchirappalli, Ludhiana, Lalvu, Baddi, Amritsar, Bhilvara, Hoshiarpur. Our latest Angle valves are available from ½" to 4" with full bore high flow valves.
What are emerging trends in the valves industry?
In valve industries emerging trend is to build the stock & offer next day delivery to customer to avoid delay in production of our customer.
What are your plans to further tap the textile industry?
Avcon has setup a new manufacturing facility especially for fulfilling the growing demands of textile, food and beverages industries. Because all these industries work with water handling equipment
& accessories.
Manisha Dabholkar, Director, Avcon Controls Pvt Ltd