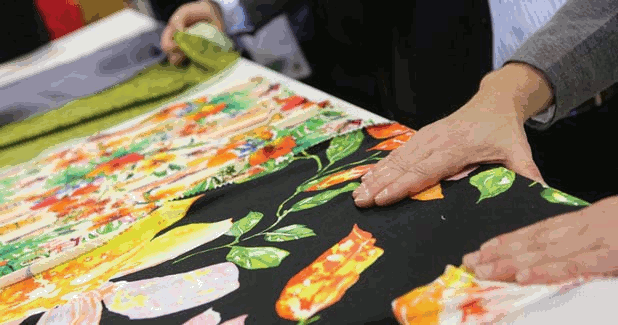 The era of digital textile printing
Most of the renowned digital printing machinery manufacturers have introduced ground-breaking innovations at ITMA, Barcelona this year solving the year-long issues, says Avinash Mayekar, MD & CEO, Suvin Advisors.
Most of the renowned digital printing machinery manufacturers have introduced ground-breaking innovations at ITMA, Barcelona this year solving the year-long issues, says Avinash Mayekar, MD & CEO, Suvin Advisors.
Digital printing has proved to be a blessing to the textile industry. Digital is the key word today for all the needs from sourcing, shopping to payment everything can be done with the click of a button. Naturally this digital has also widened its roots into the manufacturing system. Starting from introduction of digitalisation into machines for quality monitoring and controlling production parameters to a phase where the process itself getting completely digitised. The digital printing has not only given free hand to designers to pour out their creativity and produce a masterpiece without worrying about the colour variants, sharp and minute edge details, but it has also speeded up the production cycle as much sampling is not needed, thereby reducing the cost and eased the process.
Though digital printing has been introduced in early 1990's but it is this era for high growth with better technology and faster turnaround cycles in terms of mass production, mass customisation and cost effectiveness for the textiles and apparel that has attracted the world towards digital printing. We are into the era of social fever where the most demanded service is customisation.
Be it any product people want it to be customised from coffee mugs to towels. Visual presence on every possible product is the key for corporate branding. The fashion is no longer restricted to breakthrough ideas introduced at seasonal renowned fashion gala's in Paris, Milan or Italy. Today every blockbuster movie release brings in tonnes of custom movie-themed garments, home textiles and other products to markets. The digital world has made every kid, a fashion sensation, demanding not just the branded apparels but apparel of their favorite cartoon characters. The millennial no longer prefer formal attire for their workplace but are mostly seen in garments that speak their mind. This has given rise to a collection of garments with customised "tag line". All this breakthrough innovations in printing needs of garments is only viable and because of the entry of digital printing.
Advanced digital printing technologies are transforming the high-end fashion, fast fashion, sportswear and at leisure, home textile industries. The innovations today have turned textiles to an open canvas on which the designers create beautiful and colourful masterpieces. It involves a lot of colours and artistic designs. Sometimes it is not possible to weave or knit certain kind of designs. In such cases, printing makes the job much easier. The introduction of printing into textiles has provided new dimension to the fashion aspect of textile industry. This one invention has opened doors for endless possibilities of designs in textiles. There is no longer need to cut and stitch different colourful patterns of fabrics to get a unique colourful design but a single garment can contain variety of colours with smallest possible dimensions. Today what a camera can capture is what can be transformed into digitally printed fabric, thereby opening doors for all possibilities from printing mesmerising scenery to actual human and animal photos. Just one command and beautiful colour patterns are printed with the digital printing technology.
Textile printing industry represents 30 billion square metre of material volume on an annual basis worldwide (source: Yarns and Fibers). Global digital textile printing market was valued at Euro 1.17 billion in 2016 with growth forecast to reach Euro 2.42 billion in 2021 (source: Smithers Pira). Digitally printed textile is growing at a steady annual rate of 25 per cent.
The inclination of textile world towards digital printing is mainly because of latest developments that the sector has introduced. Most of the renowned digital printing machinery manufacturers have introduced ground-breaking innovations at ITMA, Barcelona solving the year-long issues.
Kornit Presto introduced the fastest and most sustainable way to print on textile. It addressed the major issue of supply chain challenge. It launched industrial single-step solution for direct-to-fabric printing perfectly suitable for the home décor and fashion markets. It eliminates the need for pre and post treatment of fabric and allows for high-quality printing on an extraordinarily broad variety of fabric types. The Kornit Presto solution uses 100 per cent water-free patented NeoPigmentTM process, and is the shortest process from file to finished product, making it the most environmentally-friendly solution available for direct-to-fabric textile printing today.
aleph introduced the LaForte 600 Fabric. It is also an industrial inkjet direct-to-textile printer, designed to deliver high-volume manufacturing of extremely high-quality printed textiles. Enabling a print speed from 600 up to 1,000 sq m per hour at a print resolution up to 1,200 dpi, LaForte 600 Fabric almost reaches the same productivity as single-pass inkjet presses but featuring scanning technology. Its printer features a compact design that facilitates its integration into various production environments, and a waterless process that reduces the consumption of water and energy, resulting in drastically lowered production costs and environmental impact.
Mimaki, a global industry leader and manufacturer of wide-format inkjet printers, displayed for the very first time its brand new hybrid digital textile printer that has capabilities of both direct-to-textile and direct-to-transfer print systems. The novelty allows the manufacturers to load multiple sets of inks simultaneously and supports a wide variety of fabrics to be processed. This lets the manufacturers save time and work with greater flexibility, thereby delivering improved efficiency.
ColorJet India introduced Vastrajet- 8164, a direct-to-fabric printer that will provide outstanding performance, increased productivity, superior printing accuracy and has minimal maintenance needs. The printer is equipped with latest technological innovation from ColorJet–AiS (Adaptive Ink System), which provides its customers with a flexibility to use ink of their choice to address their various issues of logistics, procurement, colour consistency, etc. ColorJet also demonstrated its high-speed Metro-8166 that delivers industrial-level production with speeds of up to 294 sq m/hr. At the expo, Metro-8166 operated on reactive ink, whereas the Vastrajet 8164 ran on pigment ink on cotton blended fabrics.
Apart from the innovations in the technology for printing the exhibition also showcased remarkable innovations in the printing accessories segment. Hunstman launched next-generation of digital ink. NOVACRON® ADVANCE ink is the next generation of reactive inks for cellulosic with outstanding shade depth and color gamut, developed for latest industrial digital printing machines.
Conclusion
Today, the entire world is getting an HD appearance, be it the smart phone devices or the home theatre systems. Branding is merely done on the ultra-crisp and sharp brightness that these devices can offer. So naturally even the apparels needed an HD feel. The digital printing has just made that possible. It has given numerous design choices especially in the apparel and home textile segments. Both these segments demand high level of uniqueness and creativity. In the garment sector print designs are more prominently used for women and kids clothing. A single print pattern with varied colour combinations can create numerous design options by simply changing the orientation, colour and area where the design is introduced. This introduces infinite new prints possibility without much of hassle. As far as men's segment is concerned print designs are preferred for the casual t-shirts but the printable design is of smaller widths.
All though there are endless applications of printed fabrics, the initial huge investments needed for this sector is the major concern. All though a lot of innovations were witnessed at ITMA, Barcelona that will help in bringing down additional accessories cost. The major area of focus must be to bring down the high initial cost of setup.
As digital printing goes hand in hand with sustainability, which is another important aspect in todays business world. Its utilisation as replacement to the older ways will only help in reducing carbon footprints on a large extent. It's a 5G cellular world today with 7D viewing so its natural inclination for digital prints on textile to be the next viral thing in the globe.
Digital printing is the innovation to create new designs by using modern technology and saving a lot of resources and thereby resources and save the environment. I think many more developments are expected in this field and time will come when an user will change the colour of his/her apparel as per the will.