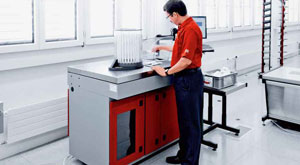 Testing the worlds favourite fibre
Spinners can rely on accurate data from the USTER®AFIS PRO 2 fibre test instrument to optimise yarn processes for quality and profitability.
Spinners can rely on accurate data from the USTER®AFIS PRO 2 fibre test instrument to optimise yarn processes for quality and profitability.
Cotton is the worlds favourite fibre, and a superb raw material for many textile end-uses. But it is by no means easy to work with – as a natural product, its many variabilities present some extremely complex challenges. What kind of cotton to choose? How to process it into goosd quality yarn, profitably? Testing is the answer, accurate testing of fibres using the USTER®AFIS PRO 2 to ensure spinners make the most of their valuable raw material by precisely optimising their processing machinery.
Spinners everywhere are all-too familiar with the challenges of processing raw cotton into best-selling yarns their customers will appreciate. Cotton presents several problems if a yarn is to be made at to the specified quality with a reasonable profit for the mill. A particular headache for spinners is the level of neps – too many of which cause troublesome defects and can leave conspicuous white specks in the yarn.
Tackling the problem before spinning calls for reliable quality data, covering key parameters for neps. And this is where the USTER®AFIS PRO 2 comes into its own, providing accurate information on total nep count and size, fibre nep count and size, seedcoat nep count and size, and maturity. Armed with this knowledge, spinners can optimise their spinning preparation processes to achieve the consistent quality levels their customers demand.
Fibre maturity – a vital test parameter
Selecting the right raw material and the best way to process it are crucial for spinners, and the results from suitable fibre testing routines are essential aids. Good decisions here determine the quality level of the finished yarn – which in turn is a major element in the spinners continuing profitability.
The role of the USTER®AFIS PRO 2 fibre testing instrument from Uster Technologies in process optimisation is wide-ranging, but it can be neatly exemplified by focusing on one specific area of concern to spinners: fibre maturity. The challenge here is to identify and deal with immature fibre content. Immature fibres are a real menace in spinning, causing breakages, unacceptable nep counts, excessive short fibres, and even high levels of waste.
At spinning, these problems inevitably lead to the unwanted combination of high yarn defect levels and low raw material yield. Downstream in subsequent process stages, neps caused by immature fibres will appear as white specks in dyed fabric, rendering the material off-quality and adversely affecting profits.
Spinners can protect themselves from these risks, thanks to the USTER®AFIS PRO 2. The systems data from a sequence of material tests – from blowroom to finisher drawframe – allows constant monitoring and accurate information on nep levels (especially fibre neps), fibre maturity, immature fibre levels and short fibre content. It is then possible to adjust the fibre mix and machine settings to take account of these raw material parameters, cutting down the risk of poor-quality yarn impacting on company profitability.
Getting it right with AFIS®
Proper measurement of the most important fibre parameters is the key to optimised control of machinery settings, production rates and waste levels. Accuracy is essential, of course, and the performance of the USTER®AFIS PRO 2 here is paramount in equipping mill managements with the information they need to get these choices right consistently, achieving both quality and profitability goals.
This accuracy has recently been proven in a series of independent trials by ICA Bremen, one of the worlds leading cotton authorities. Says David McAlister, Product Manager fibre Testing at Uster Technologies: "Less variation and greater