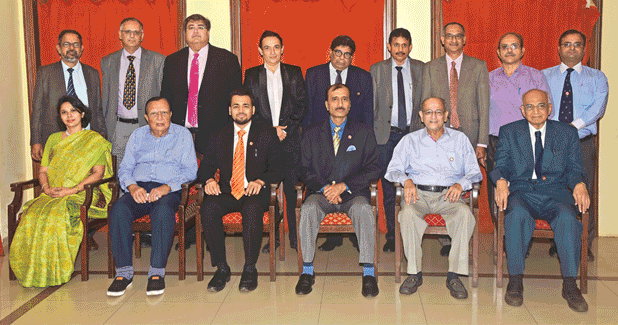 TEI must sharpen competitive edge: ITAMMA chief
As the textile industry moves more into innovative, value-added products, the demands on the machinery and spares manufacturers for quality, innovation, on-time service, turnkey solutions, R&D are increasing rapidly.
As the textile industry moves more into innovative, value-added products, the demands on the machinery and spares manufacturers for quality, innovation, on-time service, turnkey solutions, R&D are increasing rapidly. In order to play a meaningful role in the future of the textile industry, the textile engineering industry has to adopt best practices in manufacturing to become competitive in terms of cost and quality, undertake R&D to develop new products to meet ever-changing demands of users, partner with user-industry to assist them in developing innovative products for their markets and to improve their cost competitiveness, adopt ethical business practices to conform to the increasing stringent regulations of international markets and MNC clients, said Kishore Khaitan, President of Indian Textile Accessories & Machinery Manufacturers' Association (ITAMMA) at the 74th Annual General Meeting of ITAMMA in Mumbai.
He went on to say that ITAMMA has a critical role to play in helping its members transform themselves from small, owner managed and low technology suppliers into fast growing, innovative, high technology and global players that meet the requirements of their clients through offering state-of-the art solutions instead of older technology, reasonable but inconsistent quality and slow response in terms of deliveries and service. This is no mean task but a very important one and ITAMMA has taken several initiatives to address this challenge and the demands of the day.
He disclosed that the Indian textile industry's demand for machinery and parts is about Rs. 15,000 crore annually, nearly 70 per cent of which is imported. The textile engineering industry (TEI) produces about Rs 6,500 crore worth of products while operating at about 65 per cent capacity utilisation and 25 per cent of this annual output is exported. In order to achieve the goal of Make in India by serving 65 per cent (instead of current 30 per cent) of the industry's demand through indigenously produced machinery by 2025, the TEI has to increase its production more than four times in eight years to Rs 28,000 crore with exports at 25 per cent being worth Rs 7,000 crore. Khaitan said: "That's both a huge opportunity and a daunting task. This is, however achievable through (i) Acquisition of latest technology through joint ventures or license agreements, (ii) aggressive R&D efforts with reputed indigenous technology institutions, (iii) subsidised soft loans and policy support from the government for investment in expansion and upgradation of manufacturing facilities and, most importantly, (iv) an eco-system for innovation involving all four stakeholders (mills, machinery suppliers and service providers, technical institutions, government) working in close cooperation is what is required to make this dream a reality."
To promote the concept of innovation ecosystem, ITAMMA took the initiative to organise Workshops on "Creating an Eco-system for innovations and technology development in Textile industry" at Nagpur, Rajkot, Bhilwara and Ludhiana which received overwhelming response, active participation and valuable suggestions from the Mills, Machinery and parts manufacturers, Consultants, Academicians & Govt. bodies. Said ITAMMA chief: "We will continue this initiative in other parts of the country and compile a report that will be presented to Industry Ministry (DHI), Textile Ministry, NITI Aayog, CITI, etc. for implementation."
The Indian textile industry has ancient roots and has been a global leader for centuries, which attracted the British and others to our shores.
However, we lost our pre-eminence due to advent of the industrial revolution but though the industry today faces stiff global challenges, it currently has the opportunity to regain past glory and its rightful place as a global leader in textiles. Indian textile industry has the potential to grow its global market share from under 5 per cent to over 15 per cent by 2025, not by imitating the Chinese model, which incidentally is currently facing its own challenges, but by exploiting its own strengths of innovative skills, cultural heritage in design, large domestic production and market base and lower costs.
Madhav M Deshmukh is Head of SME – Business Enterprises of Mahindra & Mahindra Financial Services Ltd, was the chief guest, who appreciated ITAMMA for organising a large number of activities during the year related to technology, innovation and marketing issues, said that "everyone wants to achieve the excellence in this World but is reluctant to change. Basically you should know what changes have happened and what is required to achieve the excellence."