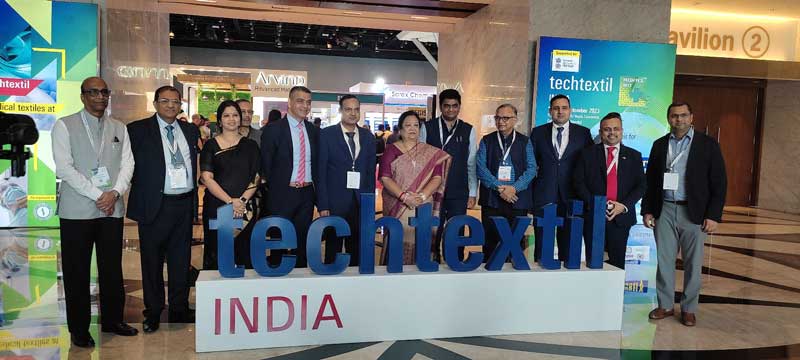 Techtextil India 2023: Showcasing the future of textile tech
The exhibition was an impressive amalgamation of companies showcasing a wide range of segments, says Divya Shetty.
After a two-year hiatus, Techtextil India 2023 returned to the show floor and took place from September 12 to 14, 2023, at the Jio World Convention Centre in Mumbai. This three-day event gathered more than 160 industry participants who presented over 200 brands, featuring specialised products and cutting-edge technological solutions from the industry. The event also included a lineup of live demonstrations.
Technical textiles, a vital component of the textile industry, were the focus of this event, which was produced and meticulously designed to fulfill a distinct purpose. The exhibition was an impressive amalgamation of companies showcasing a wide array of offerings, including machinery, equipment, accessories, fibres, yarns, nonwovens, filtration systems, masterbatches, functional textiles, composites, coated textiles, and much more. ITJ spoke to a few of the companies to know more about their new offering and plans for the Indian market.
Messe Frankfurt gives a push to the sunrise sector technical textiles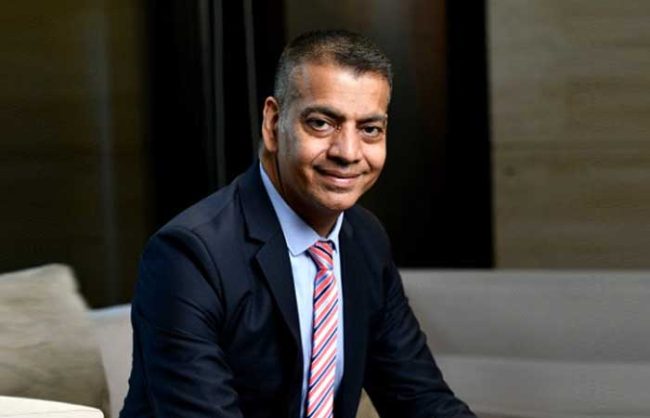 Raj Manek, Executive Director and Board Member of Messe Frankfurt Asia Holdings
With the promising growth prospects of technical textiles in the textile industry, companies are venturing into this new sector. Leading organisers like Messe Frankfurt are assisting the industry in showcasing its capabilities to the world.
Raj Manek, Executive Director and Board Member of Messe Frankfurt Asia Holdings, express during Techtextil, 'Technical textiles in India are now truly beginning to develop, thanks to a significant government push. There are numerous subsidies and incentives encouraging startup companies to enter this field. Especially during COVID, we witnessed many companies benefiting from the demand for hygiene products, PPE equipment, and masks. So, in 2023, we are delighted to see Techtextil returning to the vibrancy of 2019. Although international participation remains somewhat limited due to travel restrictions, we have representatives from seven countries in the technical textile sector this year. We believe we are back on track, and the response has been excellent. We are thrilled to be back, and I believe we are just at the beginning of a wave of development in technical textiles in India. Of course, technical textiles consist of 12 different sectors, and not all of them are growing at the same pace. However, the ones experiencing growth are doing so rapidly, which bodes well for India."
Messe Frankfurt's events cover a wide range of industries, including building technologies, consumer goods, electronics & automation technologies, environmental technologies, event & entertainment technologies, food technologies, manufacturing technologies & components, mobility & logistics, safety, security & fire, textile care, cleaning & cleanroom technologies, and textiles & textile technologies. These events are recognised as international leaders in their respective fields.
Zimmer presents coating machines, lines, and digital application technology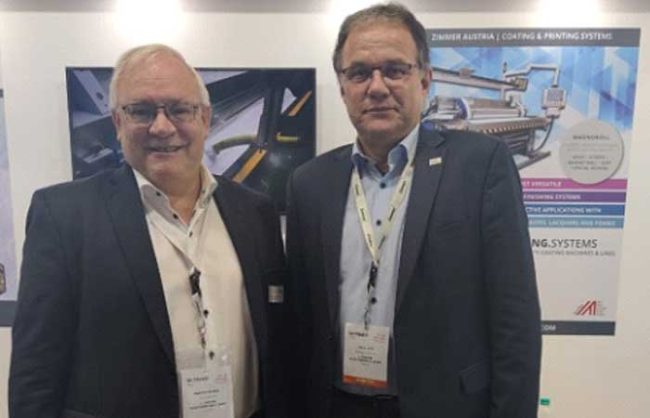 (L-R): Martin BASSET, Sales Manager, Zimmer Maschienbau GmbH and Horst ROS, Managing Director Sales
Zimmer Austria GmbH operating out of two development & manufacturing sites in Austria, located in Klagenfurt & Kufstein.
Zimmer Klagenfurt offers a range of products, including coating machines, screen and printing lines, hot air dryers, heat treatment machines, and loop steamers. The Zimmer Kufstein team specializing in digital textile and carpet printing/ coating machines.
In India, well reputed A.T.E. company serves as a sales and service partner for Zimmer Austria.
Horst ROS, Managing Director Sales, Zimmer, states, "We are promoting a versatile, multipurpose, coating machine, suitable not only for standard textiles but mainly for technical textiles, nonwovens, paper, foils and many other substrates. We are glad to have already captured a substantial market share in this segment, which we aim to fortify and expand further. Thus, this remains our focal point at the exhibition. Furthermore, we are introducing our new digital machine designed for coating processes and camouflage printing, particularly relevant in the realm of technical textiles."
When asked about their growth plans in India, ROS emphasises, "India has unquestionably been one of our most significant global markets over the past decade. In recent years, we've seen substantial orders pour in for our company, resulting in the establishment of a strong brand presence in the country. This reputation is now extending into the technical textile sector, as we've successfully placed our machines with market leading companies in India. With all the buzz surrounding these developments, we find ourselves in an expansion phase, targeting the placement of more of these specialised coating and printing machines every year."
Anvertech showcases plasma treater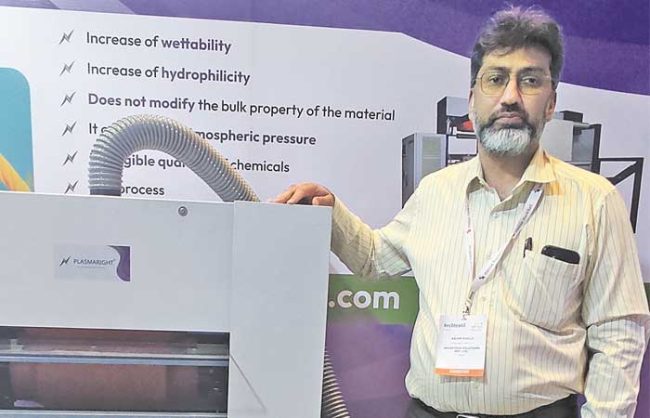 Aslam Moolji, Managing Director, Anvertech
Arshad Electronic, a 50-year-old company, specialises in manufacturing corona treaters for plastic films utilised in printing, coating, and lamination processes. In 2016, the company acquired technology from IPR, Gandhinagar, for plasma treatment on textiles. By 2020, Anvertech Solutions (a sister concern of Arshad Electronics) had developed its own in-house technology for plasma treating textiles.
At Techtextile'23, Aslam Moolji, Managing Director, Anvertech Solutions, states, "We are showcasing a plasma treater for textiles designed to enhance dye absorption, reduce water consumption during the process, and improve colour fastness. This sustainable model applies the plasma treatment prior to dyeing and finds applications in processes such as scoring and singeing."
Currently, the company primarily serves the medical and garment textiles sectors. When discussing future growth plans, Moolji mentions, "The machine we are currently offering is designed for lower speeds. However, we are actively exploring options for higher speeds and larger web dimensions. Initially, we began with a width of 1.5 metres and plan to expand to three metres. We are also diversifying our product range to accommodate various applications. While our focus is presently limited, we anticipate that plasma technology will find broader uses within the textile industry as we continue to explore its potential."
The company is fully prepared for the commercial utilisation of this plasma treater and seeks partners for collaborative ventures in commercial applications.
"We are the technology partner to our customer"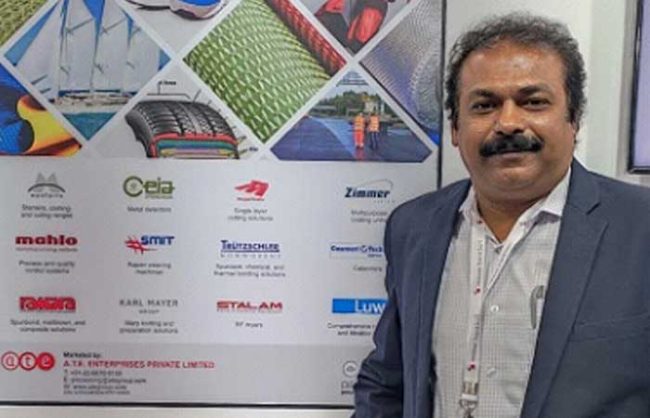 S Rajendran, Senior Vice President Business Head, A.T.E. Enterprises
ATE Enterprises is in the textile industry for eight decades. The company offers complete machinery solution for the textile industry from spinning to finishing. "ATE is known for supplying the top class technology, providing complete technological support to the customer including the after sales services," says S Rajendran, Senior Vice President, ATE Enterprises.
Over a discussion on the shortage of raw material in India, Rajendran says, "When we talk about the technical textile, raw material is not a problem in India. Technical textile comprises many things. One of which is we convert the normal textile into the functional textile. So this kind of fabric is already available. We also have infrastructure to prepare this fabric. The finishing process remains at the rest. Another sector is the non-woven, which is also going for various applications. So, the basic material is available with us. But there is a lot of scope in the country to convert this basic material into the functional material."
Rajendran also highlighted the emerging trends in the country as per the demand witnessed by him globally, "India is a growing country and the infrastructure is also growing at a good pace. The infrastructure growth gives it a good opportunity of growth in the textile industry. Geotextiles, medical textile, industrial textile, sports textile etc are some growing market in that lead. There is a huge growth opportunities in these sectors." ATE is focusing on the technical textile market and sustainability in the future. They are closely working with their customers to educate them on the upcoming technologies in this lead.
B-tex unveils highly automated systems
Bhupinder Singh, Managing Director, B-Tex Textile Machinery
B-Tex embarked on its journey approximately two decades ago, establishing itself as a prominent choice in the textile industry for fabric inspection, winding, slitting, and packing systems designed for technical textiles, woven and knitted fabrics. This reputation was achieved through collaboration with RealTime Srl (Italy), which provided technical expertise and defect logging software.
"We specialise in technology for technical textiles, encompassing winders, knitting, and inspection systems. Our presence here at Techtextil, revolves around the discussion and showcasing of these highly automated systems, seamlessly integrated with ERP solutions, offering numerous advantages to our customers. The future of technical textiles is promising; over the past decade, it has experienced remarkable growth, amplified by events like these exhibitions. As participants, we strive to facilitate integration and support decision-making," explained Bhupinder Singh, Managing Director of B-Tex Textile Machinery.
Addressing expansion plans, Singh remarked, "When industries adopt coated fabrics, laminated fabrics, or technical textiles and expand into new territories, we, as machine manufacturers, reap the benefits and contribute to their growth. We have recently embarked on an expansion project on the outskirts of Mumbai, and looking for a joint venture with an Italian partner. This venture entails the establishment of new systems, including software and complete automation in our production line."
Barnet highlights diverse range of technical textiles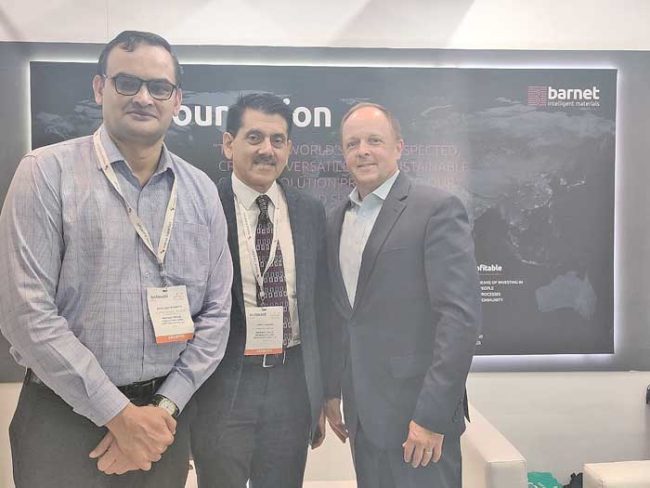 (L-R): Siddharth Gupta, Business Manager – Speicliaty Fibres & Yarns; Uday Grover, Managing Partner; Charles A. (Chuck) Hall, resident & Chief Executive Officer, Barnet
Barnet manufactures and supplies various resins, including polyester, polyamide 6, polyamide 6.6, acrylic, polypropylene, and viscose across diverse markets. Their product range spans from industrial quality to specialty and high-tech products in every market.
At Techtextil, Charles A. (Chuck) Hall, Resident and Chief Executive Officer, Barnet, emphasised the significance of technical textiles, stating, "Technical textile solutions offer much more than just garments; they provide solutions for a wide range of applications, from infrastructure and safety to automotive and aerospace. There are no limits to where technical textiles can be applied."
During the expo, the company showcased a wide range of segments, including nonwoven filtration markets for applications such as high-temperature gas filtration, automotive, workwear, and currency paper. Barnet also specialises in water filtration with specific fibres tailored to this market. In addition to reinforcement fibres, Barnet highlighted polyester fibres for infrastructure applications.
Uday Grover, Managing Partner, Barnet, mentioned, "Currently, we do not have any manufacturing plants for technical textiles in India. However, Barnet offers a diverse range of eco-friendly technical products, which are manufactured in the UK using recycled materials sourced from around the world. We are finding a strong market for these products in India, essentially creating a market, and our immediate plan is to expand this business."
Discussing how Barnet serves its customers in the Indian market, Siddharth Gupta, Business Manager for Specialty Fibres & Yarns, explained, "We bring the same products available in other parts of the world to India, including products not readily accessible to our local customers. Barnet also operates a warehouse in Mumbai, which allows us to provide excellent customer service with short lead times."
Groz-Beckert highlights felting and carding solution for nonwovens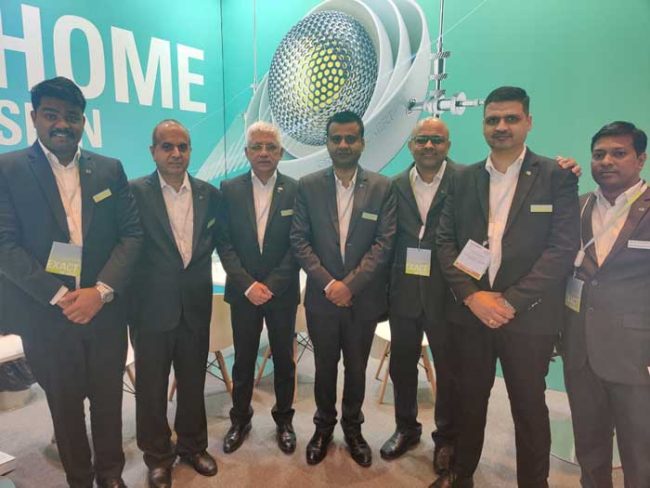 Sanjay Chawla (third from left), VP – Sales & Marketing, Groz-Beckert with his team
Groz-Beckert is a renowned supplier of industrial machine needles, precision components, fine tools, and comprehensive systems and services dedicated to textile fabric production and assembly. Their offerings span various textile domains, including knitting, weaving, felting, tufting, carding, and sewing.
At Techtextil, the company showcased its Felting Needle Module, a specialised working component featuring fine barbs. This cutting-edge product is tailor-made for the demanding needling technology required for lightweight nonwovens. It boasts exceptional deformation resistance and facilitates swift felting needle module replacement. The felting needle finds versatile applications in apparel, artificial leather, battery separators, filter media, medical and hygiene nonwovens.
Additionally, the company presented its carding division's latest advancements targeting nonwoven industry applications. Groz-Beckert's InLine V39 wire stands out as the world's finest interlocking wire. In comparison to similar-sized conventional plain rib wires, it significantly minimizes the risk of mishaps.
Groz-Beckert is an integral part of the Groz-Beckert Group, a leading player in the development, production, and distribution of critical textile precision tools, industrial cutting solutions, and comprehensive textile construction and reinforcement solutions composed of high-performance technical fibers for composite materials.
Perfect Engineering unveils recycling solutions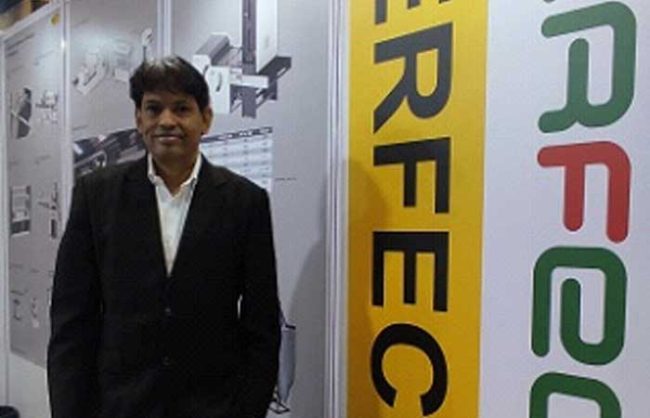 B Sankar, General Manager (Tech & Development), Perfect Engineering
Perfect Engineering Corporation is a 45 years old company based in Ahmedabad leading busing into the Yarn manufacturing segment. The company is a prominent manufacturer and trader of a highly efficient range of MS baling press, hydraulic cylinder, hydraulic press machine, etc.
At the exhibition the company focused on showcasing the recycling of trims. "In any non-woven fabric manufacturing, the edges are being cut which amounts to 40-50 mm of selvedge. Those cut materials can be opened again into fiber and this fiber can be mixed back to the regular Virgin pipe. So, if there is a 40 tonnes of output then 2-3 tonnes out of that are getting wasted. Companies now are selling this waste which gives out 1/8 of the original price, which is a good conversion rate. So we are showcasing these machines at the exhibition today," told B Sankar, General Manager, Perfect Engineering Corporation.
Company is also working on manufacturing 2.5 to 3 metre wide with tarts, which is an operation unique to itself by the company. In the financial year 2024, the company has set ambitious expectations and growth plans to capitalise on the evolving market dynamics and trend.
Prashant Group offers Polybeamer and Unrolling Creel for the industry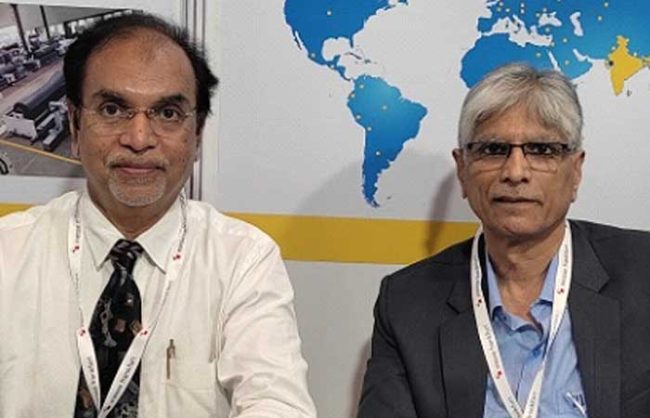 Prashant Group is a fast growing Textile Machine manufacturing company in India. The group has co-operations with leading European & American Textile Machine Manufacturing Companies which bring edge in updated technology and enhancement in products profile. In the technical textile segment, company has a sizable presence. "We have supplied some good customer installations in sectional warping sector. In geo-textile and packaging industry, we offer Polybeamer and Unrolling Creel with upto 30 KN Beaming Tension capacity," tells Salil Shah, Marketing Consultant, Prashant Group.
Prashant Group quotes itself as the top manufacturer of textile machinery in the country. "Prashant accept challenges, and we have executed this type of sectional warping with upto 5.4 meter of working width. We have also supplies 6 meter wide sectional warping to one of our customers. As far expansion is concerned, it depends on market requirements as Prashant has always been customised solutions as per customer requirements. As of now we are manufacturing 22 sectional warping machines per month which is a sizable figure."
On the future of technical textile industry in India, Shah said, "Indian technical textile industry has a huge potential in the coming years. This is still a grey area and a lot of opportunities are there within. A lot of small entrepreneurs will grow from their existing setup and many more startups are expected to come."
Uster Technologies exhibits fabric inspection systems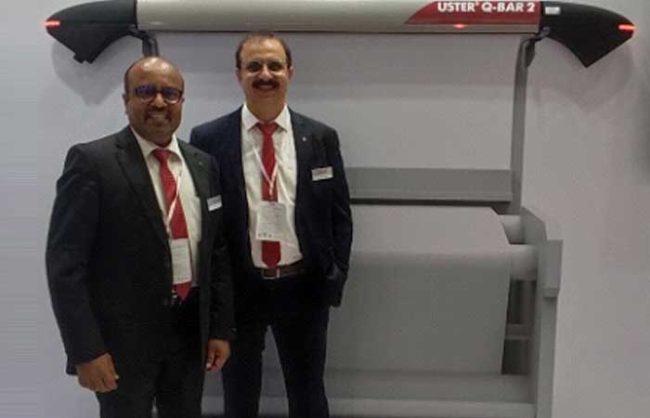 (L-R): CV Suresh, Head – Marketing and Product Management and Amol Kekre, General Manager (Sales & Marketing), Uster Technologies India
Uster Technologies is the global textile brand, based in Switzerland which operates worldwide. It provides high-technology instruments, systems and services and easy-to-use technology for the textile industry. At the event company highlighted Q-Bar 2. "Q-Bar 2 is a monitoring system that controls fabric formation, thereby detecting problems in the weaving process before they become a defect (instead of just inspecting the surface). A quick response at this point helps avoid extensive or recurring defects. It has a customisable alarm and stop signals let you rectify problems immediately. Uster Q-Bar 2 significantly reduces seconds and material loss. For other kinds of applications like tricot, we have Fabriq Vision inspection system in which we have developed new kinds of artificial intelligence classifications. We are adding new defects album into our system," told Amol Kekre, General Manager-Sales & Marketing at Uster Technologies (India).
The company is planning for a high end business in India. "We are targeting a good growth in especially for the high end application. We are focusing on hygiene market and tricot industry," told Kekre. The Ukraine-Russia war has brought a global slowdown for many markets. Kekre says, "Our customers who were exporting to the European market witness a slowdown in the market. This indirectly affects us as well. But at the same time there are many greenfield projects coming in which is balancing the market. But we hope the European demand should pick up soon."
India, Bangladesh are major focus market for Yash Textile Machines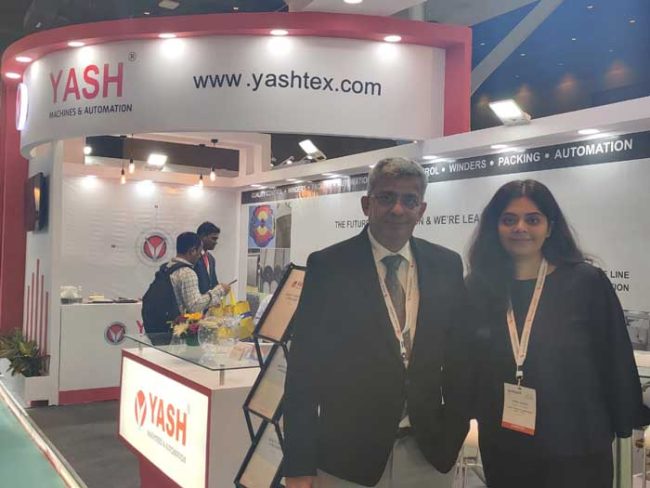 (L-R): Navin Sharma, Founder & Managing Director, Yash Textile Machines and Ashna Sharma, Director – Marketing, Yash Textile Machines
Yash Textile Machines is machine and automation solution manufacturer for textile industry based in Thane, Maharashtra. The company is also a provider of advanced solutions for technical textiles in woven and nonwoven sectors. At Techtextil India the company showcased variety of machineries with automation solution. "This year we are highlighting winding solutions, knitting solutions, and packaging and automation solutions to our customers," says Ashna Sharma, Director – Sales & Marketing, Yash Textile Machines.
Over a discussion on current scenario of textile industry in India, Sharma says, "It's not a niche industry now. This is the growing market in the country right now. We are going into depth; we are talking about medical textile, sports textile, composites etc. We majorly focus on India and Bangladesh. The markets are very huge. We are growing on our customers as well as exploiting our existing customers."
"We also have our team into research and development, who are trying to engineer solutions for the industry," she added.
Monforts presents sustainable solutions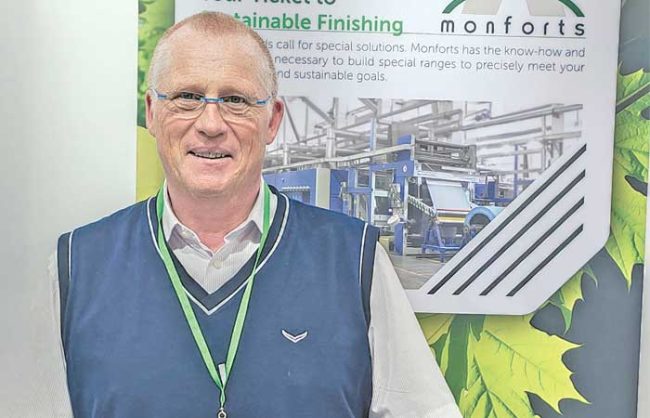 Hans Gerhard Wroblowski, Area Sales Director SEA Head of Product Management Denim, Monforts
Monforts is a leading supplier of textile machines and systems for the finishing and coating of woven and knitted goods as well as special applications. There are almost one hundred agents represent Monforts in all textile centres on the world.
Hans Gerhard Wroblowski, Area Sales Director SEA Head of Product Management Denim, Monforts, says, "We are showcasing an our eco technology at techtextil. With constant new and further developments in the field of ecological and sustainable technologies that also offer a concrete economic benefit for the customer, Monforts is continuing to defend its long-established leading position on the world textile finishing markets."
"At India, we are serving the technical textiles industry by training people and teaching them the process to create technical textiles. To understand what kind of fibres we are taking for nonwovens, Secondly we try to give them the information what equipment to be used for manufacturing. The people should learn not to get over sophisticated in engineering machines. Stay rooted. That Is our job as Monforts to guide. Our focus right now is to give the information to the industry and get the information from them for developing and doing R&D'" concludes Wroblowski.
Brückner displays coating technology at Techtextil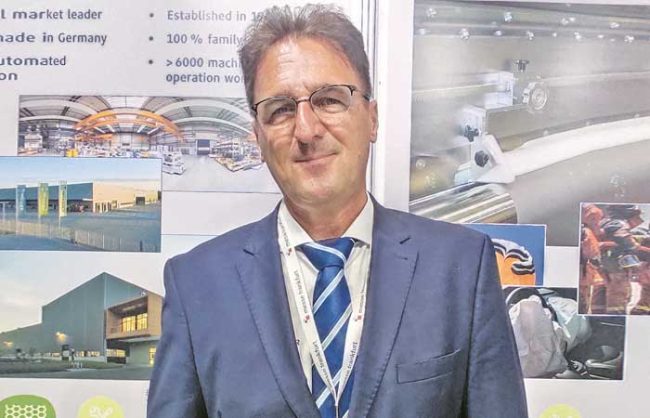 Thomas Wiget, Sales Manager, BRUCKNER Textile Technologies
Brückner is a globally renowned, family-owned machine engineering company with a worldwide presence. Since its establishment in 1949, the company has been dedicated to developing, manufacturing, selling, and installing machines and complete production lines for textile finishing, technical textiles, nonwovens, and floor coverings.
Thomas Wiget, Sales Manager, Bruckner, stated, "At Techtextil, we are showcasing our cutting-edge coating technology. We have introduced several innovative products for blackout coating, with a particular focus on sustainability. In this regard, we've equipped all our machines with the latest Siemens IE4 drives to enhance efficiency. Sustainability is a paramount concern in today's industry, and we are committed to addressing it. Another crucial aspect is digitalisation. Our core business revolves around the drying process, which has now been fully automated. This means that the entire production process is under precise control. Operators simply need to press a green or red button to start or stop the machine, as the machine itself self-adjusts. Furthermore, all data related to production, machine settings, and recipes are seamlessly transmitted to our office computers through a network, providing real-time insights."
Discussing their expansion plans, Wiget added, "We firmly believe in manufacturing our machines in Germany and delivering the highest quality machinery from Germany to India to meet our customers' demands. When you invest in a Brückner machine, you can be assured of its exceptional longevity. Our machines, found all around the world, have been in operation for over 25 years, which is quite exceptional. While this is a testament to our product quality, it also poses a challenge for us as a company, as it potentially limits sales opportunities. Nevertheless, we remain dedicated to maintaining the quality of our machines, whether it pertains to electrical or mechanical components, as well as staying at the forefront of textile technology."
(With inputs from Ayushi Khandelwal and Pranay Maniar)