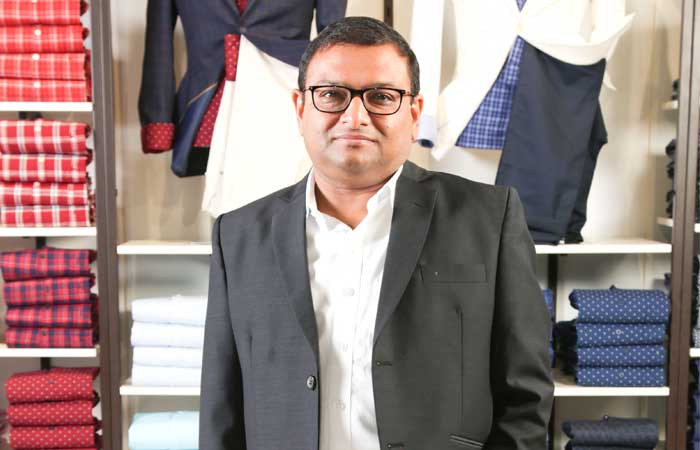 Our garmenting segment has a clear advantage with China+1strategy
Raymond is a diversified group that is a leading name in the Textile & Apparel sectors, along with an established Engineering business and a rapidly growing presence in Real Estate sector. Amit Agarwal, Group CFO, Raymond, in this interview with Divya Shetty, discusses Raymond's company performance and future plans.

Kindly brief us about your company.
Raymond is a home-grown company, with roots dating back to 1925 as a small woollen mill at Thane (Maharashtra) delivers world-class products and offerings. Also, now, with a sharper focus on our core businesses of lifestyle, realty and engineering while being a net debt free group, Raymond is now primed for growth to achieve new milestones.
Branded textiles: Raymond's branded textile is the flagship business of the Raymond Group. Raymond is a leading B2C branded player for suiting and shirting in India, and over the years commands the largest market share in domestic worsted suiting fabric industry. The business has also grown to become the largest B2C branded shirting player in the domestic organised market since its launch in 2015.
Branded apparel: Raymond has been one of the leading players in the Indian menswear segment, offering diversified products and creative line of high fashion apparel through four differentiated power brands — Raymond Ready to Wear (RRTW), Park Avenue (PA), ColorPlus (CP) and Parx. Additionally, our uniquely positioned brand – Ethnix by Raymond, offers ethnic wear apparel suited for special occasions and celebrations designed to appeal to the discerning Indian men.
Garmenting: Raymond's garmenting unit is a white-labelled business that is an integrated supplier to international brands. The business vertical has been consistently blending global trends and quality standards with production excellence to offer contemporary products to global labels. It houses a selection of high-value clothing products in Menswear, such as suits, formal blazers, jackets, formal trousers and shirts.
High value cotton shirting: Raymond manufactures a diversified selection of the finest shirting fabrics in India, which incorporates latest contemporary design trends. The wide product portfolio includes high-value cotton and linen shirting and bottom weight fabrics for leading domestic and international brands.
Engineering: Raymond's engineering business is a prominent manufacturer and seller of precision engineered components for tools and hardware such as steel files, drills, hand tools and power tool accessories as well as auto components such as ring gears, flexplates and water pump bearings. For decades, the business has consistently and successfully delivered high-quality products across both domestic and international markets which has subsequently resulted in long-term relationships and the recognition of being a reliable partner. We are number one brand in steel files as well as in ring gears in domestic PV & CV auto markets.
Real estate: Raymond's Real Estate business was launched in 2019 with development of a land parcel on our Thane land. Raymond Realty is reckoned as one of the best-selling real estate projects in Thane, Maharashtra as it lends distinct advantages of offering the right product, at the right price. We have already launched 5 projects in Thane and sold ~80% of the total units have been sold in the first project 'Ten X Habitat' as well as in the second project 'The Address by GS'. Also, we have sold more than 38% of launched units of our newly launched project 'TenX Era'. Post the success of 'Address by GS', recently in July 23, we have launched two new projects 'Address by GS 2' and 'Invictus' and received an overwhelming response with over 50 units sold on the Launch Date.
Manufacturing facilities
Our manufacturing facilities are strategically located across India that are seamlessly interwoven by our supply chain network to create world-class products. Some of their key manufacturing locations include Chhindwara (Madhya Pradesh), Vapi (Gujarat), and Jalgaon (Maharashtra).

Market leadership:
⦁ Leader in worsted suiting fabrics in India and amongst the largest in the world.
⦁ Largest exporter of men's tailored suits, jackets and trousers from India.
⦁ One of the leading players in branded apparel menswear segment.
⦁ Largest installed manufacturing capacity of steel files in the world.
Exports
⦁ Raymond has a significant presence in the global market and exports its products to over 45 countries.
⦁ The company's export division plays a crucial role in expanding its reach across international markets
⦁ Raymond has earned a reputation for the quality of its textiles and garmenting, making it a preferred choice for international brands worldwide.

How did your performance fare in FY23, and what were the primary challenges faced during this period? Despite these challenges, how did you successfully achieve growth, and could you highlight any remarkable accomplishments from FY23?
On a consolidated basis, the financial year 2023 has been an accomplishing year full of milestones as Raymond delivered on a consolidated basis highest ever revenue of Rs 8,337 crore with an increase of 31 per cent compared to previous year. We also delivered the highest ever EBITDA of Rs 1,322 crore with a margin of 15.9 per cent which is a 50 per cent increase compared to the previous year. We also recorded the highest ever net profit of Rs 529 crore, doubling from Rs 260 crore in the previous year. In our B2C business of branded textile we have successfully leveraged the core strength of our brand coupled with our wide distribution network across the country.
We witnessed a strong demand for customers for our product, especially for wedding celebrations as well as festivities. In the export markets adoption of China Plus One strategy and vendor consolidation adopted by global brands continue to drive the performance of a garmenting segment. The engineering segment performed well with resilient demand in the domestic markets while export orders were impacted due to significant challenges of global inflation Euro depreciation in the first half and devaluation of currencies in certain geographies.
Key highlights of the year in branded textile business: This segment witnessed strong growth achieved through higher volumes and realisations driven by consumer demand throughout the year in an inflationary environment. In addition to the higher demand during the wedding and festive season, innovative products launched for formal and daily wear boosted sales across primary channels and our pan-India retail network, with customers preferring our new innovative offerings.
⦁ The suiting business witnessed growth across categories, including strong demand for wool blends at attractive price points, led by robust festive demand and wedding-related purchases.
⦁ The B2C shirting business saw high volume growth, driven by a robust performance across all channels and an increased demand for cotton, polyblend, and linen along with our unique casual wear offerings.
Key highlights of the year in garmenting business: Our garmenting segment which reported a very strong revenue growth supported by higher demand from our existing and newly acquired global customers. Given our strong capability in manufacturing fabrics as well as garments increasingly, we have acquired new customers on account of vendor consolidation along with China Plus One strategy adopted by leading global brands who prefer integrated suppliers to be their core partners.
⦁ The business witnessed strong momentum in exports to US, UK and European markets.
⦁ We have shaped to our advantage the China+1 strategy adopted by global brands, along with the consolidation of suppliers who have a growing preference to work with large vertically integrated players like Raymond. This has acted as a key catalyst to enable growth.
⦁ With increased focus on new customer acquisitions, we have onboarded marquee brands across Europe and US regions. We are catering to the high growth premium shirts, jacket categories for which continued high demand existed.
⦁ During the year, we have forayed into new product categories – knit jackets, bomber, overshirt and jogger pants to cater new-age demand.

What is your current assessment of India's textile industry?
⦁ Buoyed by India's GDP growth projected to be 7 per cent about, there's a renewed optimism surrounding the Indian textile industry. Timely governmental initiatives have further fortified this positive trend. Primarily, the premium textile segment is set to witness robust growth, which could potentially create a ripple effect, spurring demand in other premium categories.
⦁ Consumer preferences are shifting towards quality and luxury, amplifying demand for high-end textiles. Moreover, increasing disposable income and urbanisation are driving the aspirations of the new-age consumer, further pushing the industry's growth trajectory. Given these dynamics, the textile industry stands poised for a promising phase of expansion and innovation.
⦁ The growth of e-commerce and digitalisation has also opened up avenues for online retail. India's rich textile heritage and skilled labour force offer a competitive advantage. Companies that focus on sustainability, innovation, and quality can thrive in this dynamic market, catering to both domestic and international demand.
⦁ The China Plus One strategy makes India one of its largest beneficiaries and Raymond has leveraged this into opportunity. We have plans to expand our capacity and become one of the top three suit players in the world.
⦁ Increased infrastructure spending and capital expenditure (Capex) in India can significantly boost the textile sector by improving transportation, logistics, and manufacturing capabilities. Enhanced infrastructure reduces operational costs, making textiles more affordable for consumers. Furthermore, infrastructure investments create jobs, increasing disposable income and driving domestic textile demand.
What is the global standing of the Indian textile industry? How can India become more competitive globally?
⦁ India is in fifth position and holds 4 per cent share of global textile and apparel market ($ 840 billion). India faces tough competition from Asian neighbours China, Bangladesh, Vietnam & Pakistan. While other Asian countries are focused on garment lead exports India holds advantage of diverse value chain – fibre, yarn, fabric and apparel.
⦁ To become competitive globally it is important for India to adopt digitisation and embrace advanced analytics and industry 4.0 solutions. Favourable FTA agreements with developed economies will improve the chances to counter the Asian competition where they enjoy duty-free access under EBA and LDC (Least developed countries) status. Home textiles, technical textiles, Man-made textiles are big tickets available for growth. The Indian textile industry will need to augment its capabilities to attract investments and scale up effectively.
Further details on global standing of the Indian textile industry
⦁ Largest producer: India is amongst the largest textile and apparel producers globally, with a diverse range of products, from cotton and synthetic textiles to garments, home textiles, and technical textiles.
⦁ Significant exporter: India was a major exporter of textiles and garments to various countries. Key export markets included the United States, European Union, and neighbouring countries.
⦁ Job provider: The textile industry was a significant source of employment in India, particularly in rural areas, providing livelihoods to millions of people.
⦁ Value chain integration: India had a well-integrated textile value chain, from raw material production to finished product manufacturing.
Strategies for enhancing global competitiveness:
⦁ Invest in technology and innovation: Embrace advanced manufacturing technologies, such as automation, digitalisation to improve production efficiency and product quality.
⦁ Focus on sustainable practices: Implement eco-friendly and sustainable manufacturing processes, from reducing water and energy consumption to using organic and recycled materials. Compliance with international sustainability standards can also attract eco-conscious consumers.
⦁ Product diversification: Explore opportunities in high-value segments like technical textiles, specialty fabrics, and fashion-forward clothing to diversify product offerings.
⦁ Skill development: Invest in skill development and training programs for the workforce to enhance their technical and managerial capabilities.
⦁ Supply chain optimisation: Streamline the supply chain to reduce lead times and costs. Efficient supply chain management can help in meeting global demand more effectively.
Raymond garmenting: Raymond is the largest exporter of men's tailored suits, jackets and trousers from India to the world. It exports garments to 25+ countries, with US, Europe and Japan being the key markets. Raymond recently has also been a beneficiary of the 'China +1' strategy and consolidation of suppliers by global brands in favour of integrated players like Raymond. India has signed a free-trade agreement (FTA) with Australia and UAE, and talks are underway for an FTA with UK, which should improve market access for manufacturers like Raymond. The company has also expanded its product portfolio by venturing into newer categories, such as knit jackets, overshirt, jogger pants etc. Going forward, Raymond is further augmenting capacity by adding ~35 per cent to the existing capacity.
Are the government policies to boost the industry's growth working on the ground? What else should the government do to propel growth?
⦁ The government has taken significant strides to stimulate product development and attract investments. Notably, the Production Linked Incentive (PLI) Scheme and PM-MITRA have been introduced to bolster the Make in India initiative. These initiatives are poised to create a favourable environment for domestic and foreign investments.
⦁ Furthermore, in a visionary move, the government has charted a comprehensive roadmap to realise the ambitious goal of achieving $ 250 billion in domestic textiles production and $ 100 billion in exports by 2030. This forward-looking approach demonstrates a commitment to fostering the growth of the textile industry and establishing India as a global textile powerhouse in the coming years.
⦁ Another step taken by the Ministry of Textiles towards positioning India as a global leader in technical textiles manufacturing is the invitation of research proposals for funding for design, development and manufacturing of machinery, tools, equipment, and testing instruments under NTTM.
Textile exports
⦁ Textile exports can be scaled up to desired level as India is self-reliant in terms of various fibres like fibres, cotton, viscose, polyester etc.
⦁ Abundant skilled Manpower with median age of 28 years age group, currently we are catering less than 4 per cent of total demand,
⦁ Government initiative in promoting local industries with flagship like Make in India in key sectors supported by enabling schemes like PLI, PM Mitra parks and various subsidies offered by state government make it conducive for industries to scale up with export market in target. This will seen as alternate to China, Vietnam, Bangladesh etc.
Areas to be worked upon
There is scope to enhance capabilities in backward integration & Forward integration
⦁ India is the only country where readymade garments export is lower than textile export just because of capacity constraints. Building capacity around Garmenting will drive the attractiveness of India as a preferred destination for textile industry. Capacities across value chain starting with RMG which will also drive growth in textiles (Fibre & Fabrics).
Garmenting ecosystem
⦁ Creating a robust value chain to offer one stop solution to apparel customers across the world will enhance competitiveness of India's garmenting ecosystem.
⦁ Development of ancillary industry for lining, interlining, buttons etc. has to be taken up on priority for which we are heavily dependent on China.
Strengthen R&D
⦁ Research and development around product development in terms of finishes, performance fabric by incentivising R&D will improve product offerings.
What kinds of trends are you seeing in the market at present? How is your company gearing up to tap these trends?
⦁ Premiumisation & Personalisation: With rising incomes and a growing affinity for luxury brands, we're relaunching a premium All Wool collection. Our aim is to capture a larger share of the imported fabric segment while offering personalised tailoring services. This approach aligns perfectly with the increasing demand for custom-fit clothing.
⦁ Functionality and sustainability: To cater to the demand for functional, ethical, and sustainable products, we're establishing a strong connection with our channel partners. We're developing a product portfolio that covers popular price points, featuring items like the Techno Series and Wellness Series.
⦁ Consumers today expect seamless digital experiences across channels. Our strategy includes leveraging technology for new ways of visualising fabric-to-garment transformations and enhancing the fabric-selling process.
⦁ Capitalising on the shift in the wedding market towards Indo-Western and ethnic wear by offering a diverse range of ceremonial fabrics. This multifaceted approach positions us to thrive in an ever-changing textile landscape.
What are your expectations & growth plans for FY24?
We intend to introduce a range of innovative products tailored to diverse market segments at various price points. Driving growth and improving capabilities is the core focus of the group. The company has Rs 1,500+ crore net cash on our books (as a group), including infusion by promoters on de-merger, which will provide growth capital.
⦁ Focus on individual business: Raymond has sharply defined its strategic focus areas in each of the businesses to allow seamless execution.
⦁ Premiumisation, share gains and casualisation: Focus on suiting (Raymond's largest category) will be to drive premiumisation and category development, given modest industry growth expectation. In shirting, efforts will be to gain market share and build greater presence at the mass-end, along with expansion in casual fabrics.
⦁ Rapid build-out of the apparel franchise: Apparel is poised to be the key growth driver for the lifestyle business, enabled by GTM expansion for existing brands, increased focus on casual wear and rapid expansion in the Ethnix franchise.
⦁ Capacity expansion in garmenting: Beneficiary of 'China + 1' approach being adopted by leading international brands, who are Raymond's customers. Raymond is augmenting capacity by adding 19 new garmenting lines.
⦁ Digital transformation: Raymond is undertaking a digital transformation program, named 'Disha', which entails an overhaul of its ERP system to SAP Hana. This would further optimise planning and help drive better synergies across various businesses. There is focus on developing strong omni-channel capabilities and increase revenue from the loyalty program.

How does Raymond plan to drive growth going forward in textile segment?
Branded textiles – focus now on driving topline growth: there are plans to turn its focus on driving top-line growth, led by volumes. Given different category drivers, growth strategy will also be different across suiting and shirting's.
⦁ Suiting's: Targeting growth, led by portfolio expansion and premiumisation, we have already a high market share in this category. Hence, focus will be on portfolio expansion, to drive premiumisation. We have introduced poly wool fabrics with lower wool blending. Also, Aim is to shift product positioning from only 'Occasion Wear' to also 'Daily wear'. Its latest media campaign positions the Raymond brand as a shopping destination for all wedding guests, and not just the groom.
⦁ B2C Shirting's: Targeting growth led by share gains and casualisation in the shirting category, there is still scope to expand market share especially in lower price points. In contrast to suitings, the strategy here will be to expand market share by ramping presence at mass price points and improving distribution. We have introduced a wide range of causal shirting fabrics which cater to a younger audience and expand its target customer base. It is also focussing on linen fabrics as a differentiating product proposition, where we also have strong in-house manufacturing capabilities.

How does Raymond plan to drive growth going forward garmenting segment?
The garmenting segment has a clear advantage with China+1 strategy. This approach aligns with the preferences of leading apparel brands seeking to diversify their supply chains. Leveraging on existing relationships, the company aims to drive revenue growth. Further this growth is expected to be supported by new capacity expansion.