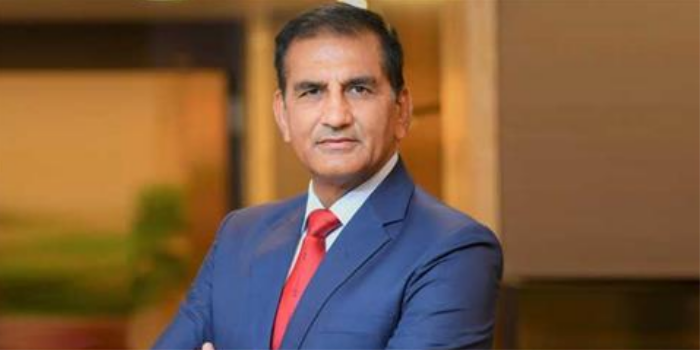 SVP Global's focus is on installing AI-based latest technology
In this interview with Rakesh Rao, Maj Gen OP Gulia, SM, VSM (retd) CEO of SVP Global Ventures Ltd highlights on the company's forward integration plans and use of artificial intelligence in textile manufacturing.
The Mumbai-headquartered SVP Global Ventures is primarily engaged in manufacturing polyester, polyester & cotton blend and cotton yarn across three state-of-the-art manufacturing facilities in Jhalawar (Rajasthan), Ramnad (Coimbatore) and Sohar (Oman). SVP Global's long term growth plan is to be a fully integrated textile company from fibre to fashion manufacturing the entire value chain, says Maj Gen OP Gulia, SM, VSM (retd) CEO of SVP Global Ventures Ltd. Gulia had a meritorious career of 37 years in Indian Army, decorated with gallantry and distinguished service awards. A proven strategic leader and visionary, he specialises in policy making, establishing structures, processes and systems. In this interview with Rakesh Rao, Gulia highlights on the company's forward integration plans and use of artificial intelligence in textile manufacturing.
SVP Global's Q4 FY21 results showed robust growth in revenues as well as profits. How did you achieve this feat? Also, do you see the growth momentum to continue in FY22?
The FY21 has been very tough for the manufacturing industry like ours. We suffered huge set back in first half. However, we bounced back very strongly in Q3FY21 and sustained the growth in Q4FY21. We posted EBITDA growth of 41.4% YoY for Q4FY21 and sustained growth of 10.4% QoQ. In the second half, we ran the plants at 95% to 98% capacity by taking all safety measures and following all COVID protocols for our staff and workers. Our plants are based on most modern Artificial Intelligence technology which enables us to achieve very high operational efficiency. We are the leaders in compact cotton yarn in the world which is high in demand and margin. The northward swing in cotton yarn prices provided the much-needed tail wind.
Yes, I see the growth momentum will sustain in FY22 also due to some basic fundamentals. The demand and yarn prices will sustain due to negative sentiments against China in the world market. Our Oman plant provides us huge operational and logistics advantages. There will be a further jump in revenue from next quarter onwards as Phase 1 expansion in Oman is completed. We have also proposed to board of directors to hive off the South Plant which will help in improving working capital.
SVP Global is aiming to become a fully integrated 'fibre to fashion' company. How has been the progress so far in this direction? When can we expect SVP's foray into garment making?
Yes, that has been the vision of our chairman Mr Vinod Pittie. The second wave of COVID 19 delayed the process a bit. The phase 1 is progressing smoothly and is near completion. We have set up the facility in Oman and production will commence soon. The domestic integration is also progressing satisfactorily. The initial plan is to make hosiery garments and capture the Middle East market. The same will be expanded further.
How has been the performance of the Sohar plant (in Oman)? How has it benefited the company?
The Sohar plant was a strategic decision to expand our operations globally. It provides us tremendous operational and logistics efficiencies. The operational cost is very low due to incentives provided by the Oman Government like low-cost power and funding, Free Trade Zone and port facilities. All the major Asian and European markets are easily accessible from Sohar. The plant has been performing at its optimum capacity and has added value to the company.
What are your future plans for the Sohar plant?
The Oman plant was set up in 2019 with the capacity of 150,000 spindles and 3500 Rotors at an overall cost of $ 150 million. We have planned to extend it further with an equivalent capacity by the end of FY 22 with similar capex. The process for same has already started. Thus, the company will have an overall capacity of 300,000 spindles and 7000 rotors at Sohar. In future, we are focussing on installing the latest technology with major functions being handled by Artificial Intelligence (AI) technology. The company plans to do forward integration by setting up garmenting unit in Sohar, the progress of which I have already discussed above.
How has modern machines and AI-based technology helped the company?
Our manufacturing facilities are the most modern, state-of-the-art, Artificial Intelligence based technology. The AI-based machines need minimum human intervention. Apart from saving on manpower, it also ensures best quality and uniformity. The interruptions are minimised and productivity is increased by running the machines to its highest capacity. The power usage is optimised which results in cost efficiency. All the processes are run at its maximum capacity and best efficiency. The introduction of modern machines has enabled us to switch over to high margin best quality compact cotton yarn from the traditional yarn. The company's yarn output (40 CCW weaving) per spindle is at around 153 gms-154 gms, which is the highest in the industry.
Within the product-mix that SVP has, which are showing good growth in demand? Also, what is driving the demand for compact cotton yarn?
We manufacture Combed Compact Cotton Yarn and Open-End Yarn. Our 85% product mix is Combed Compact Cotton Yarn which is high in demand and margin. It's a premium quality used in manufacturing of high-quality yarn dyed suiting and home textiles. The COVID 19 pandemic is coming under control and retail markets are opening up world over. The demand for textile is resurging. All this put together is what is driving the demand northwards of our premium yarn.
Are you seeing a change in customers' behaviour and buying pattern due to Covid 19 pandemic?
Every challenge throws some opportunities. The COVID 19 pandemic adversely affected the textile sector. However, customers adapted to it and changed their shopping pattern. The demand for casual and home textiles increased. People started buying on line. This sustained the textile demand. Internationally, there was a negative sentiment against China which provided opportunities to other textile nations like India.
Indian textile industry's share in the global market has remained stagnant for the last 4-5 years. What measures should the government and industry take to increase India's global share?
India is the third-largest textile manufacturing industry and holds an export value of more than $ 30 billion. The textile industry is the second largest sector after agriculture in employment generation in the country. With over 45 million people employed directly the textile industry contributes 4% of the gross domestic product (GDP), 20% of industrial output, and slightly more than 30% of export earnings. However, the growth of Indian textile industry has remained stagnant due to lack of modernisation. About 80% of Indian spinning capacity is more than 20 years old. There has been very less capacity addition and modernisation in the last 10-15 years. The government has brought out a number of schemes to modernise the industry like; Technology Up gradation fund Scheme (TUFS) & ATUFS, Technology Mission on Cotton (TMC) and 100 per cent Foreign Direct Investment (FDI) in the textile sector under automatic route. The recent announcement of extension of RoSCTL till Mar 2024 will provide a huge boost to the textile sector particularly to the export-oriented companies like ours.
Will China's Plus One policy create more opportunities for Indian textile companies like SVP who are focusing on exports?
There has been a huge anti-China sentiment after the COVID 19 pandemic. This has affected their textile sector very adversely. In addition, US senate has passed a bill to ban all items manufactured in Xinxiang province of China due to forced labour issue. It has created a big opportunity for Indian textile sector to fill the gap created due to dwindling share of China in world market. We manufacture niche quality Combed Compact Cotton yarn which has huge demand in international market. Our Company is mainly export oriented will get a big advantage.
What are your short & long-term growth plans?
Our short-term objectives are leverage the modern technology and continuously upgrade it to remain ahead of peers in textile industry; complete phase 2 expansion in Oman earliest and consolidate, with that we will have total capacity of 548,000 spindles and 5900 rotors; and reduce our debt by hiving off non-core business and assets. The forward integration into garmenting is in the process and I aim to complete it in short term scenario.
Our long-term growth plan, as mentioned earlier, is to be a fully integrated textile company from fibre to fashion manufacturing the entire value chain like garments, home textiles and technical textiles. We also plan to expand the operations to all continents and be a leading compact cotton yarn producer in the world.