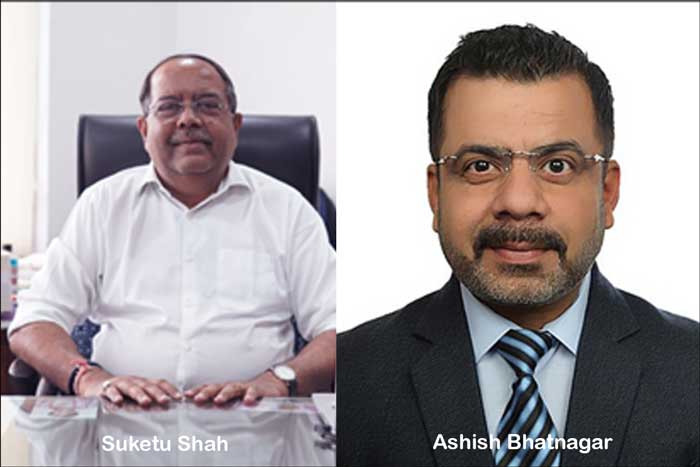 Sustainable denims is an emerging trend in the industry
Operating margin to expand, but inflation to limit it below pre-pandemic levels.
LNJ Denim, a denim-manufacturing facility established in 2007 has a manufacturing capacity of 25 million metre annually. LNJ Denim has earned an excellent reputation amongst international and domestic brands as an innovator and a quality supplier of denim fabric. Suketu Shah, Chief Executive/ Business Head and Ashish Bhatnagar, Senior Vice President Marketing, of LNJ Denim, discusses the company's future objectives, recent product offerings, and key challenges in the denim industry.
How was the performance of LNJ Denim in 2021-22? What factors are contributing to your growth?
LNJ Denim (The denim division of RSWM Limited) is ranked in Top 5 denim suppliers in India and is a preferred partner to various leading brands. FY21-22 was a remarkable year for LNJ Denim with significant increase in both the topline and bottomline as compared to the previous 5 years.
Continuous product innovations, appropriate product placement and robust marketing policies have contributed to the turnaround of the denim segment for RSWM Limited. We expect good demand for LNJ denims in coming years as well.
What kind of new opportunities are you looking to tap?
We are looking at expanding our market share in the domestic and international markets through increased strategic partnerships with our existing as well as new customers.
What are emerging trends in denim industry?
The global denim industry has evolved over the years from just a casualwear to a more versatile category making denim an "everyday" product addressing various segments demographically, economically, genders and all ages as well.
Performance, Comfort and Hand-feel is amongst the key attributes been sought by the leading brand designers, without compromising on the denim aesthetics.
Sustainable denims is another emerging trend in the industry with both the brands as well as denim manufacturers becoming increasingly conscious towards contributing in saving the nature. The denim colors are not limited to traditional blues anymore and the category has expanded to various shades like greys/khakhis/olives/pastels thus catering to a larger wardrobe!
What are the key challenges before the denim industry at present?
RSWM is one of the largest textile manufacturers and Exporters of Synthetic, Blended, Mélange, Cotton, Specialty value added yarns and also manufacturing Denim fabric and Green Polyester Fibre. The entire textile industry including denims is witnessing the key challenges as below:-
Higher raw material prices are getting absorbed by end users with great difficulty and increasing garment MRPs is a challenge for the supply chain as well as end users.
The cash flows are greatly impacted due to liquidity crunch across the unorganised as well organised players.
Indian denim industry lacks the scale as compared to its neighbours Pakistan, Sri Lanka and Bangladesh which makes us relatively uncompetitive on the global scale keeping us away from consistent larger volume brand business.
The fluctuation in cotton prices since last couple of years and also the availability is another key challenge for the entire industry specially the spinners.
Why is sustainability important for the Indian textile & apparels industry? How is LNJ Denim adopting sustainability?
The textile industry is a highly criticised sector from a sustainable standpoint. The textile chain consumes a huge amount of water and energy, along with the use of various chemicals and harmful substances. Most textile industries discharge a huge amount of harmful waste, posing a threat to natural bodies in other words it is one of the highly polluting, resource consuming and labor-intensive industries. The non-biodegradable and carcinogenic components of the chemicals directly contaminate the nearby water resources and affect the locality severely.
LNJ is making conscious efforts to contribute towards sustainability for the fashion industry- few key efforts been using innovative sustainable cotton, yarns & fibres, using solar power to reduce dependency on coal or diesel based power, focusing on reducing, reusing and recycling water with a state-of-the-art effluent treatment plant. As member of ZDHC, LNJ reduces the impact to the nature by using non-hazardous chemicals. LNJ Denim has an inhouse garneting technology which helps in recycling the post consumer used garments as well as the industrial cotton waste to reduce the impact on nature by avoiding these getting into the landill.
As part of the RSWM, LNJ denim has uninterrupted availability of Recycled polyester fibre through the group's inhouse unit which uses pet bottles that are converted into flakes cut for spinning into yarn. This again reduces plastic pollution and helps in conserving nature.
Any new products in the offering? If yes, please elaborate.
The latest AW'23 collection DENIMIC features denim fabrics with multiple blends, exclusive and specially designed sustainable products using fibres like recycled yarns, post-consumer waste, hemp yarns etc. he collection stories showcased were:
Arrow–is the collection of vintage looks assimilated with various blends and in different weights suitable for various silhouettes
Club – This is the premium collection of various blends and technologies curating special fabrics for niche looks
Googly – Includes unique faux knit patterns using complex weaving techniques creating products
Shaft – Has an exclusive range of high fashion lightweight fabrics in various designs and shades
Somersault – Is a varied feminine collection from LNJ with a great range of super-flex denims
What are your short and long term growth plans for LNJ Denim? (in terms of capacity expansion, new product launches, product/business diversification, exports, targets for FY23, etc)
LNJ denim has always increased the bar in terms of our product offerings. Our products get global acceptance due to their superior quality, better designs and focus on sustainable manufacturing. We at LNJ denim have developed a reputation of offering great products that marry quality and sustainability seamlessly, we would continue to surprise customers by offering innovative products.
We added a new manufacturing line last year end increasing the overall capacity and topline by almost 30-35%, as we stabilize this addition we are keen to further add our to our manufacturing capacities to cater to extensive global demand of LNJ products.