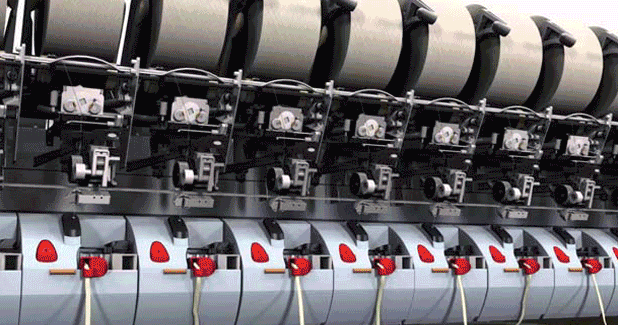 Spinning Automation Makes Headway!
Automation in spinning began with simple systems like Computer Integrated Manufacturing (CIM) and Flexible Manufacturing Systems (FMS), but today it is integrated into the machinery and with IoT, automation is set to make a big leap, reveals the ITJ Cover Story.
Automation in spinning began with simple systems like Computer Integrated Manufacturing (CIM) and Flexible Manufacturing Systems (FMS), but today it is integrated into the machinery and with IoT, automation is set to make a big leap, reveals the ITJ Cover Story.
Automation tiptoed into spinning mills in India two decades ago, but now with technologies making rapid strides is showing signs of maturing into a full blown-up necessity, with many mills going for semi- or full-automation. Automation is no longer an option, but a dire compulsion and undeniably a tool to up the quality and productivity levels, feel industry circles.
The Indian spinning industry is one of the biggest in the works with around 50 million spindles and the installed capacity of rotors in the country is around 8 lakh. India contributes to 25 per cent of the cotton yarn in world trade. India?s cotton yarn production has steadily increased over the years and is 4,058 million kg for FY 2016-17.
Given that the market size of textiles will reach $223 billion by 2021 and $300 billion by 2025, industries need to cope up with the increased demand and produce the required output. These challenges can only be met via automation and IoT concepts, which in turn are the main focus areas of many companies in spinning machinery.
LMW: Leading from the front
For instance, Lakshmi Machine Works offers Spin Connect, a web-based monitoring and control application, which networks the process from blowroom to winder and can be accessed remotely.
LMW blowroom line ensures gentle opening with minimum tuft size. Natural fibres like cotton generally have variable trash content. Removing the trash with minimum fibre loss is facilitated through the auto-adjustable grid bar setting. LMW Carding Machine is unique for the highest real carding area compared to any other card. Online quality monitoring system ensures better sliver quality with a user-friendly interface.
The LMW Comber LK69 is an advanced, robust and sophisticated machine capable of running up to 600 nips/min, facilitating benchmark production. The Speed frame LF 4280, the world?s longest speed frame with 280 spindles, sets benchmarks in terms of productivity, quality, and energy efficiency. LMW ring frame LR9SX series is the most advanced ring frame in the world. It has superlative technology to manufacture regular and fancy yarns integrated with a Flexi drive concept and eco-friendly features for power saving.
Truetzschler?s approach to Industry 4.0
To begin with this, Truetzschler developed ?T-DATA? monitoring system for spinning preparation as a step towards achieving ?Industry 4.0? standards. T-DATA records and stores the data of the individual machines. These data are presented in form of tables and graphics. The so-called dashboard, a compilation of essential data, can be freely configured by the user according to his requirements. To collect these data, Trützschler developed separate sensors in the machines.
Operating mills with a mobile may not be the immediate reality in Indian spinning mills, but they are catching up with the concept of automation faster. But various departments starting with bale opening are fast switching to automation. Says a A.T.E. spokesman, ?earlier bales were opened manually, but today automatic bale opener is everywhere since the former is time-consuming and labour-intensive in addition to being a drag on quality aspects.?
According to A.T.E. spokesperson, small players cannot go for automation because of lack of economies of scale. But with 25,000 spindles, automation is an imperative need to sharpen competitive edge and tone up quality.
Himatsingha located near Bangalore and J.G. Spinners in Coimbatore are using T-Data of Truetzschler by which the owner or operator can see all the parameters in the mill operations from anywhere. If Card No. 50 is stopped, on the Tab with T-Data the owner can see the stoppage sitting in another country. Truetzschler has already introduced the app on Android in India and all the data of the mill working an be seen on a mobile. May be in a year or two, many mills will be taking to remote-watching and operating of functions.
Says the A.T.E. spokesperson, ?In modern bale openers of of today, once one lot with about 150 bales on a side is over, the second lot is pre-programmed and without anyone attending, it is automatically taken for opening. This raises efficiency and quality. For instance, Truetzschler has come out with the latest can changer called T-Move. Earlier, cans used to rotate and change but now the T-Move has made it automatic improving efficiency and reducing downtime drastically. Besides, with T-Move, Truetzschler has come out with 1.2-meter can, which can accommodate 30 per cent more also apart from automating the system.?
Now all machines are 200 spindles and with each bobbin weighing 3.5 kg, who will carry such weight and to what operating efficiency? So obviously, automation is a must. Doffer automation is a necessity and most of the mills have adopted this. With bobbin transport system also getting automated, the movement between speed framer and ring frame is made faster. There are few mills without automatic bobbin transport system today.
Says A.T.E. spokesperson: ?In synthetic-cotton blending also, today automation cannot be avoided because the precise blending can be carried out only on an automatic blending machine. Truetzschler blenders are very accurate even to a decimal fraction and hence the final product can claim to have the perfect blend.?
Rieter?s innovative solutions
SPIDERweb collects and monitors production data and graphically displays the process development. Various diagrams provide a complete chronological display of all production data. This trend analysis simplifies detection of deviations already at an early stage. Decreasing production efficiency or increasing yarn unevenness are visualised by means of trend charts. Intervention, before an important limit is exceeded, is ensured.
SPIDERweb offers combined quality and production data. Only this combination makes a successful optimisation even possible while keeping to cost targets. SPIDERweb uses the sensors integrated in the machines, such as the sensor of the online quality monitor for the draw frame, the Q 10A yarn clearer for the rotor and air-jet spinning processes or ISM for the ring and compact spinning processes. The required quality and production data can be directly displayed. Complicated installation and wiring of additional sensors is unnecessary.
With the SERVOgrip, no yarn residues occur that need to be removed from the wharve. As well as saving yarn, it helps to keep the machine clean. Ends down caused by flying yarn remnants are avoided. Rieter is the only manufacturer to offer an exactly controlled clamping crown. The controlled opening and closing of the clamping crown by the ring rail fixes the yarn exactly and ensures a low number of ends down after doffing. In addition, the risk that fibre fly enters the spinning process and leads to yarn faults is prevented.
The SERVOdisc system works with peg trays that are clipped into a conveyor belt. This achieves a high level of precision in positioning. During doffing, the full cops and the empty tubes can thus be precisely taken over.
With the SERVOdisc system, the machine can be directly linked with a winder or with the ROBOload. According to the customer?s requirements, various automation solutions can thereby be realised. The interface for ROBOload and link are identical. Thereby a ROBOload machine can also be docked onto a winder at a later stage.
Oerlikon POC
?With the Plant Operation Center (POC), manufacturers can maintain a holistic overview of manmade fibre system production — from the polycondensation, the spinning system all the way through to texturing and the downstream further processes,? says Andre Wissenberg, Head of Marketing, Corporate Communications and Public Affairs, Oerlikon Textile GmbH.
According to Wissenberg, global competition within manmade fibre industry and the changing expectations of consumers with regard to fashion detailing are today increasingly presenting yarn manufacturers with challenges. Here the modular structure of the POC system guarantees customer success. More than 250 successfully implemented POC-equipped installations worldwide speak for themselves.
The POC assumes a major share of the functions provided by a manufacturing execution systems (MES), including the link to subordinate ERP systems and to corresponding interfaces for automation systems, such as package handling and storage in the spinning systems. To this end, the control of automation systems within the spinning process is part of the concept, explains Wissenberg.
The POC makes the digital monitoring of as many areas as possible within a production process, which ensures optimum product quality and performance control and can therefore also help achieve optimum cost efficiency for customers. Production orders are optimally prepared and integrated into the production process, hence ensuring transparent production. With this, over- and under-producing are avoided, even in the case of small batches.
Saurer Autoconer 6
Since its market introduction the new Autoconer 6 with E³ offers: maximum energy savings with highest kg/m² output and smart sensor technology for more ergonomic operation. New, self-maximising technologies increase the winding speed and minimise unproductive piecing times. The Autoconer 6 achieves 6 per cent more productivity as a result. With smart control, aerodynamically enhanced com ponents and more efficient technology, the. Autoconer 6 reduces energy consumption by up to. 6 per cent.
Autoconers with splicing and yarn fault detection have been devised to obtain yarns with lower unevenness and better quality. The ring spindle speeds have gone up to 20,000 rpm and high-speed rotors up to 1,00,000 rpm are available. Today, spinning machines can produce yarns up to 20 times faster than what they used to produce 20 years ago. In the last couple of decades, textile companies have accomplished a certain level of process automation by upgrading older machinery and equipment with newer microprocessor based machines. These islands of automation have had a positive impact on quality, productivity, overall machine efficiency and costs.
Other players are not far behind either
USTER?s new tensile test system meets spinners? need to assure smooth yarn performance in downstream processes. Operating according globally-accepted standards for both staple and filament yarn parameters, the USTER TENSORAPID 5 is a universal strength and elongation tester, with a testing speed that is steplessly adjustable between 50 and 5000 mm/min. With a 500 N or 1500 N measuring head, the instrument covers the complete range of force and elongation testing, including all known tensile test procedures. Measurements and results comply with all the international standards, including ISO, ASTM, BISFA and Chinese test organisations. Data also integrates directly with the acknowledged global textile quality benchmarks, the USTER STATISTICS.
The fast-moving nature of the textile industry increases the demands on quality control systems. To stay competitive, yarn producers constantly seek for new yarn structures, core yarns with a high elastane content, for example. These innovations also bring extra challenges for quality control instruments. But the USTER TENSORAPID 5 is ideally equipped to cope: this USTER strength tester has the flexibility to measure all kind of yarns. Its wide range of force and elongation testing possibilities covers all known tensile test procedures and tensile values.
A properly implemented process automation will provide significant benefits in one or more of these areas leading to competitive edge in the global markets. ERP systems are widely being used in the textile industry for managing the Inventory, Orders, Production, Logistics, Sales and Marketing and Financials etc. Many generic ERP solutions as well as customised ERP solutions are available for textile industry. ERP solution helps in integrating the operational processes and establish synergies between various resources of the textile industries. Automated Systems are also being developed for the effective communication between the production floor and other supervisory control systems. Now a days, operating and process related data is being captured from the machines and is being analysed in various BI software for the operations analysis and further productivity improvement. BI reports are being published for the top management and are used for various decision making processes.
Rockwell Automation has updated its HMI software to equip industrial workers with better information to run and maintain their systems. New features in the FactoryTalk View software version 10.0 include greater access to information, new mobile device support and better cross-software integration to improve productivity.
Operators can now use the TrendPro tool in FactoryTalk View Site Edition (SE) software to overlay alarm information on trend data. This feature can help them connect alarm occurrences with data-point values to speed up troubleshooting. They can also use the tool to save and share ad hoc trends with other workers.