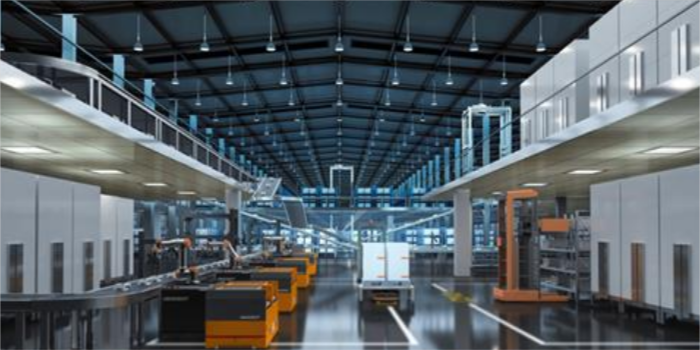 Smart solutions: Redefining the future of manufacturing
Post-Covid-19 phase, e-buying has substantially increased presenting a challenge of timely delivery. Digitalisation of warehouses is crucial for sustaining of business and to be afloat in the competition, says Ramesh Bhorania, VP, Robotics and Factory Automation, Prama Hikvision India.
Smart factory is technology driven concept that is driving the future of manufacturing across the globe. Welcome to the whole new world of Industry 4.0, in which latest technologies, including Internet of things (IoT), Industrial Internet of Things (IIoT), Autonomous Robots, Simulation, Augmented Reality (AR), Big Data, Cloud computing, Additive Manufacturing, Vertical and Horizontal System Integration. Here automation come together with robotics connected remotely to systems equipped with machine learning algorithms that can control the robotics with minimum human support.
Industry 4.0 has highly intelligent, connected systems that create a fully digital value chain. Here the objective is that the machines talk to other machines and products and information is processed and distributed in real time, resulting in profound changes in the entire industrial ecosystem.
Market trend
According a recent Markets And Markets report, the Industry 4.0 market is projected to grow from $ 64.9 billion in 2021 to $ 165.5 billion by 2026; it is expected to grow at a CAGR of 20.6% from 2021 to 2026. The key factors fuelling the growth of the Industry 4.0 market include rapid adoption of Artificial Intelligence (AI) and Internet of Things (IoT) in manufacturing sector, increasing demand for industrial robots in pharmaceutical and medical device manufacturing sector, rising government investments in 3D printing and additive manufacturing, and growing adoption of blockchain technology in manufacturing industry. Additionally, increasing application of AI and IoT in medical wearables is expected to create a growth opportunity for the Industry 4.0 market.
Material management solutions
The material is paramount substance in manufacturing plants to retail stores to even end-consumers. Raw material, finished goods, inventory at each stage, and material movement itself are the important part of an entire business process and takes significant consideration from operational manpower, equipment, and process itself. If all are not in sync, the impact on overall efficiency and production yields will be negatively huge and may become bottlenecks. This synchronization process is broadly termed as material handling or material management. It is clearly apparent that the importance of material handling to the economy of a country is as equal as of industries itself.
Impediments
Conventional material handling systems cannot be replaced immediately by the modern or advanced system in one go. Challenges are of huge capital investment, consideration of an RoI, and the readiness to adopt newer technology. But steady and slowly it is happening and will accelerate this adoption of advanced automation technology for Material Handling Equipment (MHE) in logistic domain. The latest technology is based on machine vision, AI and mobile robotics.
Machine vision will provide visual sensing of material in the form of type and volume and will work in tandem of material handling robots like automatic guided vehicles (AGVs), mobile robots and other equipment. Also, due to vision-based AI, natural navigation becomes an integral part of mobile robots and mobile forklifts. Mobile robots handling pallets, bins and multiple SKUs, it can do inbound, distribution and outbound with 100% accuracy, lower cycle time, high volume management and with less human dependency. Further, this system can cooperate with existing WMS, SAP and ERP and also collaborative in nature with equipment control systems like PLC, etc. Also, integration with pick to light, has removed human errors in inbound and outbound for both forward and reverse logistics.
Significant changes
Automation has brought in many significant changes, which is being witnessed in conveyers and bulk material handling system in process industries. One thing is for sure, conveyers are getting smarter, conveyers are being designed with defined yet flexible purposes, compact footprints for new industrial-conveyor designs, smarter motors and controllers on conveyors of all types and advanced materials for conveyors.
Conveyors are at the heart of an array of exciting changes in material handling — from the vast installations of automated warehousing to humbler stations only recently automated. Each conveyor installation has unique design requirements: Food and beverage conveyors might need to survive wash-down settings; conveyors in aerospace and defense operations may need to be explosion-proof; and conveyors automotive manufacturing facilities may necessitate conveyors with very high load ratings. Conveyor systems that carry a product on uniform pallets and pallet-handling conveyor systems are also becoming more compact. Transfers between conveyors are streamlined, utilising direction-changing modules and pallets with mating features.
Additionally, pallet positioning devices, including stops, locates, and rotates are also being combined into all-in-one modules. This reduces the number of separate devices down the length of the conveyor, which means less floor space is required. Design innovations have also made asynchronous pallet conveyors; that recirculate the pallet possible. Previously separate conveyors as well as vertical transfer units were needed to recirculate an empty pallet back to the start of the line.
Safety features
If the latest material handling equipment is a concern, then yes. Its safety features should be checked and verified with the help of an expert. The Cobots for palletizers are equipped with all safety sensors to work safely in coexistence of human operators. All mobile robots are embedded with obstruction sensors on the front, back and sides, also safety algorithms monitor how far is the obstruction or moving object coming towards Martial carrying mobile robots and dynamically decided the safe speed and stoppage of it. The smart conveyors are also equipped with all safety measures, light curtain sensors and all. Depending of risk factors associated with the process, measures are to be taken.
Emerging technologies
As mentioned, newer technology is equipped with all safety mechanism based on AI, IIoT and latest sensory technology. So far robotics are concerned, Cobots are available now on the floor and it can work with a human operator in safe conditions. Mobile robots for MHE, also work on coexistence of human. Due to ultrasound and laser technology, it can work safely with operators, find dynamic obstructions and plan re-routing in accordance with Robot Control System or Fleet management system. Due to digitalization and IIoT, real-time update of all SKUs is available and this information can be availed for quick delivery of SKUs through mobile robots. The automatic verification of inventory in storage through machine vision-based scanner mounted through mobile forklift is the latest example of changing the scenario at warehouse landscape.
Latest trends
Inbound, sorting, distribution and outbound are the key process of e-Commerce. Post-Covid-19 phase, e-buying has substantially increased and hence the challenges of delivery in time due to high volume, high variants, sorting from the mother hub and dispatch to transit hub, reverse logistics issues, and many more. Digitalisation of warehouses is crucial for sustaining of business and to be afloat in the competition. Manual sorting is replaced by AGV or mobile robot-based sorting, which can be done with 100% accuracy at a rate of 20k to 30K parcels per hour.
Also, another big challenge is to decide the volume of transit bags and total volume or weight dispatched through transportation. Automatic system is required to find the weight and volume of parcels, for efficient baggage and transport handling. Thanks to machine vision systems and image process and AI based analytics, it is possible to find volume through 3D scanners and weight measured through weighing systems can be incorporated in the database. The DWS (Dimensioning, Weighing and Scanning for barcode) system are available to work with mobile robot-based sorting system. This combination has proved to be a game changer for e-commerce and logistics sector.
CATEGORIES Automation