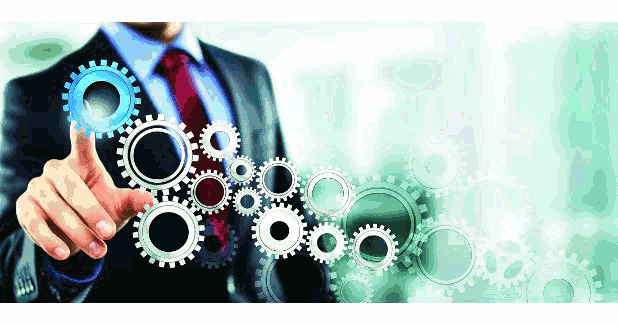 Smart Factory
Gaining Ground: Automation in textile industry started more than a decade ago in India. Now, it is gathering steam and reaching wider areas, finds the ITJ Cover Story.
Gaining Ground
Automation in textile industry started more than a decade ago in India. Now, it is gathering steam and reaching wider areas, finds the ITJ Cover Story.
The automation wave is sweeping the textile world. And India is not far behind, with the textile value chain right from the fibre stage to the retail end trotting at a comfortable pace towards Industry 4.0. On the one side, robotics, which have already made a big entry into fields including pharma and automotives, have started flexing its muscles, albeit in a smaller way, in the textile arena. Globally, Adidas brought a revolutionary automated machine – SEWBOT which will manufacture 8,00,000 t-shirts per day. The company's Sewbots use a combination of patented high-speed computer vision and lightweight robotics to steer fabric to and through the needle with greater speed and accuracy than a human. Sewbo, based in Seattle, WA, was founded by a web developer Jonathan Zornow, who also believes he can offer a solution that would not only produce garments of higher quality, but could also help bring garment manufacturing back to US. "Our technology will allow manufacturers to create higher-quality clothing at lower costs in less time than ever before," said Jonathan Zornow, who invented the technology. "Avoiding labour issues and shortening supply chains will help reduce the complexity and headaches surrounding today's intricate global supply network. And digital manufacturing will revolutionise fashion, even down to how we buy our clothes by allowing easy and affordable customisation for everyone."
COBOT from Universal Robotics has made a small beginning, but is highly upbeat abut the Indian market. A 'cobot' (collaborative robot) is a robot intended to physically interact with humans in a shared workspace, where the repetitive and heavy tasks are taken care by cobots and supervision and quality checks are done by human beings. It is a robotic arm designed to assist human beings in a specific task, as a guide or assistor and as a portable tool. Various researchers have proved that the teams made of humans and robots collaborating efficiently can be around 85 per cent more productive than teams made of either humans or robots. Cobots can safely work alongside humans, without any danger of injury, they are easy to deploy (just plug and play), flexible to use and inexpensive hence they are triggering the demand in the manufacturing industry comprehensively around the globe.
Pradeep David, General Manager, Universal Robots (India and Sri Lanka), says, "We, at Universal Robots (UR), have the 'first mover' advantage and are the leading cobot manufacturers since the term was invented. More than 80 per cent of the UR cobots are in operation worldwide, working right next to humans with no safety guards to shield them. The safety system of our robots is approved and certified by TuV (The German Technical Inspection Association)."
He adds, "Cobots are a part of Industry 4.0 and we firmly consider that the evolution of the manufacturing industry now leads it to the next industrial revolution – Industry 5.0, which enables man and machine to work hand-in-hand. The scenario where humans and robots are inter-dependent and accomplish what each of them does best, safely. We are in an age where the application of next-generation automation is doing more than we ever thought possible, impacting individuals and businesses in many instances without even being noticed."
"We are in talks with various textile companies all across India and we believe that our robots are built for such precisions that we can actually draw out the map of France with the help of them. A fabric industry needs high level of accuracy; weather it's the application of picking the fabric parts from an exact location (by avoiding folding and minimise wrinkling) or cutting of materials in an exact shape or scraping denims. Our flexible, cobots, which occupy a very little space in work area can work alongside workers safely as a third arm and can help them in producing superior products. Hence it's with this precision approach, we are going into the market and we believe that UR cobots have the potential to change the dynamics of the sector," added David of Universal Robots.
From the textile machinery giants, the enthusiasm to push up digitisation, artificial intelligence and automation through OEM route is undiminished. "With our Industry 4.0 solution "Plant Operation Center" (POC) our customers in India as well as globally are using a system which offers Total Quality Management of the production chain for example from POY to DTY. Process deviations are tracked down efficiently, and the products are traced throughout the value chain. Fast identification of error sources and implementation of corrections allows to shift manpower away from trouble shooting and routine jobs," says Markus Reichwein, Head of Product Management, Oerlikon Manmade Fibers.
Another German behemoth, Monforts, which has been introducing automation through a series of innovations, recently calls machine operation via its Qualitex 800 control system a 'child's play'. Access to the internet is turning everyone into an instant handyman and previous obstacles to knowledge such as language and access to specialist manuals are fast disappearing as a result. The same instant connectivity and easy distribution of know-how is changing the face of industrial manufacturing, making the operation of complex machinery much simpler and cutting down the required training periods, while at the same time, reducing the chance of human error.
"Coming to textile industry the era of automation has proven to be a boon to this sector. It has made the process much simpler and has drastically brought down the wastage levels. As reported by technavio research agency global automation market in the textile industry by hardware & software was valued at $1,553.7 million in 2016 and is estimated to grow with a CAGR of 7 per cent till 2021. In Asia, the automation market in textile industry is growing with a CAGR of 6.33 per cent," says Avinash Mayekar, MD of Suvin Advisors Pvt Ltd.
Internet of Things
Global Internet of Things (IoT) market is primarily driven by the advancement in technology of electronic devices, according to a research report "Global Internet of Things Market Outlook 2023" on www.researchnester.com. The Global IoT Market study is segmented into application type. Among this segment, manufacturing sector is expected to showcase a significant growth in near future on account of automation in manufacturing industries. Emerging manufacturing industries are focusing towards the internet enabled devices to manufacture the products efficiently.
The market of internet of things is expected to reach $724.2 by 2023 and is expected to register a CAGR of 13.2 per cent over the forecast period, i.e., 2016-2023. Rising adoption of smart devices and growing awareness towards internet of things among the population in urban regions are fostering the growth of IoT market.
The Asia-Pacific region accounted the maximum revenue share in 2015 and it is expected to dominate the overall market of internet of things across the globe during the forecast period i.e., 2016-2023. Rapid pace in urbanisations and availability of low cost data services are propelling the demand for internet of things enabled devices. Rising tech savvy population across the region and increasing government initiatives to adopt advanced technology in emerging nations such as India and China are some of the key factors which are swelling the growth of internet of things market. Rise in technological advancements, increasing adoption of advanced electronic devices, rising popularity of internet enabled smart gadgets and appliances, availability of numerous consumer electronics with internet connectivity according to the requirements of users and enhancement in user experience are some of the factors which is expected to fuel the market of IoT in near future. Technological advancements in IT sector led to enhancing the internet connectivity and services over the internet. High-speed internet connectivity helps to access remote monitoring through various devices by consumers across the globe.
Factors such as rapid growth in manufacturing and automation sector, installation of advanced internet enabled robots in various end-use industries to reduce the time of processes are key factors which are fostering the growth of IoT market. Although, low internet connectivity in undeveloped nations and lack of awareness towards internet of things are some of the major key factors which are hampering the market growth. Likewise, issues related to privacy and security of credential data in internet connected devices and losses of data are some of the key elements expected to curb the growth of IoT market.
Companies to the foreThe automation market is awash with products for the textile industry, right from tiny automatic measurement systems to drives and controls. IoT has also spawned a breed of products to speed up communication and improve human machine-interface across the seas. Companies including Siemens, Bharat Bijlee and many more have been innovating products to facilitate automation.
Siemens India recently inaugurated its showcase digitalised low-voltage switchgear factory at Kalwa, which is capable of producing more than 180 variants at the rate of one product every nine seconds. Says Karlheinz Kaul, CEO – Control Products, Digital Factory, Siemens AG: "With the launch of the showcase digitalised factory in India, we further deepen our ties with a country in which we have a very strong presence…The technical and engineering effort required to transform this 40-year-old manufacturing facility is a true showcase for Indian enterprises who wish to follow the path towards digitalisation!"
The garment industry has evolved with the introduction of automation, today technologies like reconfigurable robotic handling devices, cutting table with automatic unloading, intelligent transportation system, manufacturability prediction, virtual tryon, 3D garment design, etc. are being used worldwide. Cut fabric parts are now being collected and delivered to the next stage by automated transport system. Automation has gifted the fashion industry a precious gem to print, make and embroider any type of designs on garments at the same time.
Atlanta-based SoftWear Automation Inc recently introduced a radical new approach to sewing automation. The company has developed a system that eliminates fabric distortion issues by relying on an advanced computer vision system. The camera tracks stitching at the needle and coordinates the precise movement of the fabric using lightweight robots. SoftWear's line of sewing robots with their patented high-speed computer vision systems, have the potential to transform today's labor-intensive manufacturing plants into high-tech automated production facilities. Sewbots or sewing robots will reduce production costs, improvise quality, cut lead times and allow brands to take back control of their manufacturing process.
The digitalised factory is proof of how adopting digitalisation will help Indian industry, specially small and medium enterprises (SMEs), achieve manufacturing excellence. SMEs can utilise digitalisation to address growing demands such as mastering increasing product and process complexity, reducing time to market, adapting to changing market requirements, deliver individualised products and secure continuous product improvement.
Says Ashish Bhat, Country Division Lead, Digital Factory, Siemens India: "Siemens follows a holistic approach towards digitalisation. In the machine tool space, we focus on three main areas through the lifecycle of the machine tool, which is build (during production), operate (during operation) and optimise (of the process / machine tool). The machine tool industry plays a critical role in the entire industrial landscape and also the success of Make in India, and it is imperative that it transitions into a digital enterprise at the earliest."
Siemens is the only solution provider offering both a seamless CAD/CAM-CNC process chain The four cornerstones needed to achieve a digital transformation are integrated software tools and systems, industry-capable communication and security solutions as well as data-based services. These will enable manufacturing companies to achieve faster, more flexible value adding processes and so cater more specifically to individual customer needs, allow them to respond far more rapidly to new market demands, and make it easier for them to develop complete new business models. Although industrial enterprises are facing different demands depending on their field, the central challenges are the same for all companies: Reducing the time-to-market and increasing flexibility and efficiency while achieving an ever higher standard of quality.and solutions for integrating machine tools and higher-level IT systems. Using these integrated products and software solutions, machine tool and other manufacturers can benefit considerably from the opportunities offered by digitalisation and enhance their competitiveness.
For the first time ever in India, Siemens recently showcased cutting-edge digitalisation solutions that help develop a digital twin for virtual part production and cloud-based data services – Mindsphere, which can support machine and plant data evaluation using special tools in order to assess and optimise the condition of machines and plants. Other highlights include a comprehensive range of CNC and metal-cutting machine tool technologies, products and solutions – for the smallest job shop to the complex production environment in every segment of the industry.
Many generic ERP solutions as well as customised ERP solutions are available for textile industry. An ERP solution helps in integrating the operational processes and establishes synergies between various resources of the textile industries. Automated systems are also being developed for the effective communication between the production floor and other supervisory control systems. Now a day, operating and process related data is being captured from the machines and analysed in BI software for the operation analysis and further improvements in the productivity. BI reports are being published for the top management and are used for various decision making processes.
Everyone's talking about "Industry 4.0", but opinions differ on how to set up highly flexible production that works as quickly – and as cheaply – as line production does. Researchers of Fraunhofer, a leading organisation engaged in applied research in Europe, have found a solution: they organise production to operate without rigid plans and fixed chains, turning human coordination and decision-making skills into a key component of sequence control. Exactly how that works is what the researchers presented at the Hannover Messe 2016.
Underlying the term Industry 4.0 is the idea that in the factory of the future, machines will communicate directly with each other, with workpieces and with human workers. The ultimate goal is for production to organise itself. Experts hope that Industry 4.0 will provide a more flexible production setup and the ability to respond to customer wishes more quickly.
The four cornerstones needed to achieve a digital transformation are integrated software tools and systems, industry-capable communication and security solutions as well as data-based services. These will enable manufacturing companies to achieve faster, more flexible value adding processes and so cater more specifically to individual customer needs, allow them to respond far more rapidly to new market demands, and make it easier for them to develop complete new business models. Although industrial enterprises are facing different demands depending on their field, the central challenges are the same for all companies: Reducing the time-to-market and increasing flexibility and efficiency while achieving an ever higher standard of quality.
The rapidly changing requirements of consumers are placing manufacturers under increasing pressure to produce customised products at short notice while assuring a consistently optimised standard of quality. The key to addressing all these demands is digitalisation, which allows producers to simulate, test and optimise products, production processes and plants within a completely virtual environment on the basis of a "digital twin". In this way, not only can the manufacturing and process industries significantly enhance their innovation speed and productivity, but they can also define their own new business models. Machine and plant builders can also reap the benefits of this development and pass them on their own customers.
The digitalisation of industry – in which digital technologies are radically reshaping entire industries – is set to create significant opportunities for businesses of all shapes and sizes around the world. Recently, Tata Consultancy Services a leading global IT services, consulting and business solutions organization, and Siemens unveiled a new collaboration around Internet of Things (IoT) innovation. The partnership will enable customers to benefit from new data insights and services based on MindSphere, the cloud-based, open IoT operating system from Siemens.
Milind Lakkad, Executive Vice President and Global Head of Manufacturing at Tata Consultancy Services, comments: "We've been collaborating with Siemens on technology innovation for several years and this latest development will enable our customers to make major strides in IoT innovation. With the MindSphere agreement we will intensify our partnership and support our customers as they realise the opportunities presented by digital innovation. Our clients will not only benefit from expertise in application development and systems integration but also from first hand experience of the platform development."
The Germany-based thyssenkrupp Materials Services is systematically driving the digital transformation of the business area throughout the entire value chain. In many areas, connected collaboration and interactive processes are already well established – from logistics, warehousing and line utilisation to purchasing and administration. The focus is on customers and their individual requirements. The aim: to continuously develop and implement made-to-measure digital solutions that allow for smarter and more effective collaboration and open up completely new possibilities.
Anuj Bihani, Director, Bengaluru-based Alstrut India Private Limited, says, "In India, cobots are just coming up. In textile industry, you can see the interest in cobots. However, apart from SMEW, we do not have any deployment in the textile industry. A lot of SMEs are getting involved in this. This is just a traditional thing. Labour issue is getting more and more challenging. However, people are seeing the benefits of cobots. Cobots will help them increase efficiency."
Rockwell Automation has been in India for the last 35 years and is present in 17 locations inside the country. Its different partners in the country include distributors, system integrators, and technology providers.
Talking about the automation in textile industry, Dilip Sawhney, Managing Director of Rockwell Automation India Pvt Ltd, told that "We are working closely with machine builders in the textile industry. Since the number of variants in the textile industry make it a little complex, we have taken up the challenges and are in the process of building up viable systems as OEM supplier."
Said Dana Richard Burch, Director, OEM Business, Rockwell Automation: "At Rockwell, OEM business started 10 years ago. Conventional manufacturing practices and technologies have been there for quite some time. Smart manufacturing is the in-thing today, and India should not be left behind."
Highlighting the role of Connected Enterprises in smart manufacturing, Burch said, "The Connected Enterprise is an important pillar in helping the manufacturers capitalise on the promise of a more than ever connected world in the form of higher manufacturing velocity, reduced costs and risks and agility to the changing conditions. Rockwell Automation technology solutions enable manufacturers and OEMs leverage their automation investments to achieve their business goals."
Bharat Bijlee, which has set records in motors manufacturing in the last 70 years, laid the foundation stone for producing drives, servos and automation products in 2007. Bhadresh Dani, Vice President, Drives & Automation, Bharat Bijlee, says: "We are manufacturing drives with a capacity ranging from 15KW up to 900 KW. There are servo drives as well as AC drives that we manufacture at this plant. To set up 900 KW, one can go for a parallel set-up of 250 KW. The Bharat Bijlee drives facility is a state-of-the-art IS0 9001-2008 compliant plant for manufacturing the KEB Drives at Airoli, Navi Mumbai. Last year, Bharat Bijlee turned out 3,000 drives, and has set an ambitious goal of making 4,000 drives this year."
What are the USPs of these drives from Bharat Bijlee? "Machines in textile industry work in very harsh environment. For instance, in cotton, there is a lot of fluff and machines have to bear the brunt. Another situation is when there is a power dip, there should not be any yarn breakage. These critical factors are taken into account, when we offer solutions through our drives. We provide a special varnishing on cards to take care of dust. We also have created a special cooling design for the drive structure. This makes it possible for the heat to be outside the panel, which prevents any heating problem," said Dani.
Exhibition indicators
Textile exhibitions have mirrored the big shift that is happening in automation of the textile industry.
At the last ITMA exhibition held in Milan, Italy, in November 2015, digital printing was without doubt the biggest new technology story going. Since the introduction of the first digital printing systems at ITMA 1999 in Paris, the speeds achievable with them have increased from little more than 10 m an hour to upwards of 1,000 m an hour.
Digital printing is just one facet of the digitisation of manufacturing technologies that is now being generally referred to as Industry 4.0. "Suddenly digital printing looks financially attractive to many sectors of the industry for which it was previously unsuited, including both home textiles and the mass apparel market, and the digitalisation of manufacturing certainly doesn't stop or even start there," says Cematex President Fritz P. Mayer. "It's all part of the on-going progression – Industry 4.0 – and the growing integration of design, processing and logistics.
In the recently concluded Texprocess, a leading trade fair for the garment manufacturing and textile processing industry, which took place concurrently with Techtextil in Frankfurt, the focus was on technologies such as digital printing, bonding and separating, CMT, CAD/CAM, as well as topics like individualisation of fashion, enabling serial production with smaller batches, customisation and flexible production processes, made possible thanks to digitalisation and automation of existing processing technologies. The consumer driven trend towards personalisation is growing steadily in areas like clothing and home textiles, causing a shift in a traditional textiles industry supply chain and demanding more cost-effective, short-run production methods suitable to address the new market requirements. Manufacturers, therefore, are looking to convert more of their production to all-digital processes.
Presenting live demonstration of a modern networked production chain for the clothing industry aiming to offer a solution for some of these issues, the Digital Textile Micro Factory debuted at Texprocess, bringing together all stages of integrated production – from the design stage to colour separation, digital printing, automatic cutting out, fabrication, and labelling. The Digital Textile Micro Factory was organised in collaboration with the German Institutes for Textile and Fibre Research in Denkendorf and a number of well-known companies.
The area was organised in collaboration with the German Institutes for Textile and Fibre Research in Denkendorf and a number of well-known companies in the textile sector, such as Assyst, a provider of integrated CAD and PLM solutions, caddon printing and imaging, a specialised manufacturer and service provider for digital, large-format printing and colour management, Ergosoft and Mimaki digital printing specialists, Zünd, a leading manufacturer of multifunctional digital cutters, as well as Dürkopp Adler, the industrial sewing machines manufacturer.
Through the automatically linked machinery, the Digital Textile Micro Factory aimed to demonstrate a cost-effective solution to overproduction, long time to market and lack of flexibility. Instead, according to Michael Nothelfer, Managing Director, caddon printing and imaging, the integrated digital production room offered fast, lean and flexible automatically controlled production which helps minimise downtime, produce a complete garment in 2-3 hours and offers an affordable option to smaller, mainly European brands, fashion labels and sports apparel manufacturers requiring smaller batches and operating short-run production.
Industry 4.0 and digitalisation were the main themes at Texprocess Forum, held during the trade fair. The event hosted experts from SPESA, Lectra, Human Solutions, Hohenstein Institute and Gerber Technology, who shared their insights. Andre Wissenberg, Vice President, Oerlikon, said that one of the main objectives of the Industry 4.0 should be attracting young talents to enter the industry, offering them an alternative to the 'fast fashion' market that operates on the basis of the broken supply chain.
Peter Morrissey, Senior Vice President, Global Sales and Service, Gerber Technology, shared a similar view, saying that as the factory of the future and digitalisation become a recurring theme in the nowadays industry, the task is to obtain and retain talent, whilst optimising production processes and challenging the traditional manufacturing methods.
During the panel discussion, Pete Santora, Vice President of Sales & Marketing, SoftWear Automation, said that disruptive technologies such as robotics and automation are now growing more relevant in the process of creating a cost-effective, vertically integrated supply chain that is closer to the consumer, more networked and results in fewer returns.
The topic of 'disruptive' technologies fighting the lack of flexibility in the garment supply chain dominated the Texprocess halls, with a number of exhibitors presenting their latest CAD/design solutions. EFI Optitex, a leading provider of an integrated 2D and 3D CAD/CAM apparel platform, announced the launch of O/Cloud Collaborate, the first web-based Software as a Service (SaaS) solution offering visual collaboration specifically geared to the fashion industry.
Here is another side—a darker side—to the story of automation! The textile and apparel industry of India, with the Government's declaration of 'Special Package', aims to create one crore new jobs in the sector, but according to a recent report by Texprocil – Ernst & Young, only 29 lakh jobs shall be created, owing to the possible technological advancements in the sector. The new technologies would lead to higher efficiency, but will however reduce job opportunities for the people of the country. In the textile sector, particularly in spinning, machines like auto-coners and auto-splicers have reduced human intervention in the work by reducing the 'man' requirement from 20 workers to just two.
From around 40 workers being employed by the textile industry, the number has now gone down to 25 workers per Rs 1 crore. For instance, the industry has made a shift from inter-fibre yarn spinning, which was relatively more labour-intensive, to synthetic filament yarn segment that requires less human intervention.
According to a World Bank report, nearly 70 per cent of the jobs in India are at an elevated risk of being replaced by automation. With technology evolving every day, and textile and clothing companies making way to robotic ways of production, it will lead to more job cut in the future.