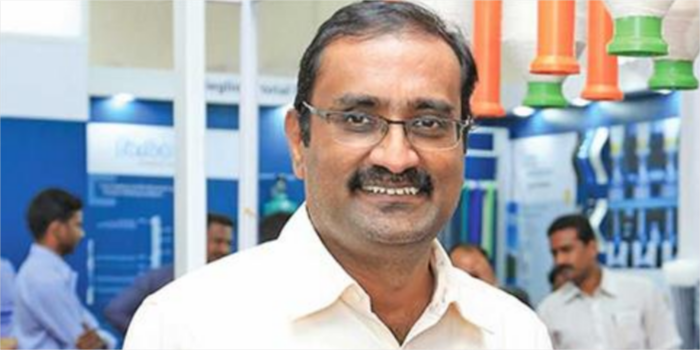 SIMTA is No. 1 manufacturer in terms of shares and production
S Senthil Kumar, Managing Director, SIMTA Machinery Pvt Ltd, speaks on company's plans to expand or diversify into other related products.
SIMTA is an innovative and inspiring company, which has been developed by the acumen and creativity of enterprising technocrats. SIMTA is an integrated group of textile engineering companies, consisting of tapes manufacturing, over head travelling cleaners, bobbin transport system, clearer rollers, sheet-metal engineering and industrial fabrics divisions located at spread-out geographies.
S Senthil Kumar, Managing Director, SIMTA Machinery Pvt Ltd, speaks on company's plans to expand or diversify into other related products.

Excerpts from the video interview…
Take us through the journey of SIMTA over the years.
We started our journey in 1991 with spindle tapes. Most of the leading textile mills have one thing in common: SIMTA spindle tapes. That's an honour for our commitment to quality and our strict adherence to international standards. From 1997 onwards, we ventured into rollers for the textile industry. Top global OEMs trust us to ensure quality in their product performance. LMW, KTTM, Rieter, Zinser, Toyoda, Marzoli, Suessen, Cherry Hara you name any top-of-the line textile machinery in the world partner with SIMTA for OEM clearer rollers. We slowly started capturing the markets step by step.
For the last 30 years, we have been No. 1 manufacturer in terms of shares as well as production in the world. Soon, we ventured into bobbin transport system.
What are the various product offerings for the textile industry? What makes your product unique from those of the competitors?
Our spindle tapes offer low energy consumption, no fibre accumulation throughout the life, constant spindle speed, minimum vibration on spindle wharves, uniform yarn quality, suitable for S and Z direction, almost no vibration in speed while stopping one spindle, saves two to three per cent energy of ring frame main motor consumption, higher power transmission ability which results 2 to 3 per cent energy saving, and investment payback within five to six months.
The clear roller is very easy to operate and maintain, highly efficient and fast in cleaning, the machine can be easily moved in between the ring frames, very low power consumption and noiseless operation, and compact size and unique cleaning principal that completely removes and collect the dust and fluff.
Which are your stronger export markets?
Right now, we export to most of the countries, including Vietnam, Bangladesh, to name a few. We are the leading exporters with 60 per cent of our production exported to more than 50 countries. We have made reliability, a reality through quality. As a machinery manufacturer, we are even present in China. Our stronger market is still Vietnam. We have stock in Central Asia.
Performance-wise, how was the year so far for SIMTA?
Our factory was completely shutdown from March 24 till May 10. however, all our employees got their salaries during this period. We have more than 500 employees working across the group. The business has slowly started to pick up only after August-September period.
Most of the companies are focusing on digitalisation and Industry 4.0 technologies. How do you see the future of this in Asia, and particularly in India?
Every company—be is small or big—are focusing on digitalisation. It is become a compulsion. We constantly innovate ourselves with new and modern technologies. We are investing in new products, and particularly on automation; for example: public health system. We are concentrating on data.
Does your company have any future plans to expand or diversify into other related products? Give some details, if so.
We are No. 1 manufacturer of PVC window profiles in India. Astrix uPVC profiles are made as per the Indian market needs with the world renowned brand machines (Battenfeld Cincinnati Extrusion Plant from Austria). Astrix profiles manufacturing unit is fully equipped for R&D and working with a strategy of continual improvement. Astrix uPVC Profiles are made out of special Compound with the chemicals and additives manufactured by reputed brands like Dupont, Baerlocher, Arkema and Rhom & Hass.
In engineering division, we are diversifying into laser cutting machines and other fabricated machines. Technologies at SIRA are modern and from credible global manufacturers. The range of sheet metal process technologies at SIRA comprise CNC laser cutting, press brake CNC bending, NC shearing Machine, MIG welding, spot welding, stud welding, riveting machine, power press, etc., with capabilities of handling any complicated profiles in sheet metal cutting, bending, fabrication and finishing.
Watch full video interview with S Senthil Kumar: www.IndianTextileJoural.com