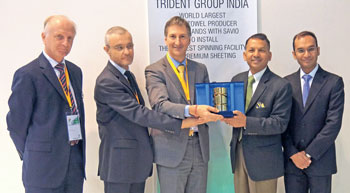 Savio-Trident collaborate
Savio has been having a long association with Trident Group, starting from the 1990s with its very first spinning unit at Barnala in Punjab
Savio has been having a long association with Trident Group, starting from the 1990s with its very first spinning unit at Barnala in Punjab. The unit has expanded from the iconic SAVIO Automatic Winder model ESPERO of six machines in the year 1995 to the total of 11 winders. After the success of this unit, the second unit was completed with 12 ESPERO winders and terry towel was installed with SAVIO TFO model, Geminis 12 machines. Later during the expansion in 2004, the company further added 12 TFO Model Geminis S, plus five more in the year 2006.
Trident later added ORION L, a complete electronic winder in their fleet during the 2004 expansion, and later the fourth generation winder, POLAR, was added in late 2010s in their link project at Barnala. Savio associated this prestigious project with 40 link machines with model POLAR I/DLS in the state-of-the-art plant at Barnala. Following the successful performance records, the Budhni (Madhya Pradesh) unit was installed with 22 POLAR RM machines and 52 link model POLAR I/DLS machines for medium and fine count sector.
During the occasion of Golden Drum Ceremony on November 15, 2015, Mauro Moro, Commercial Director of Savio SpA., Italy handed over the golden drum to Rajinder Gupta, Chairman of Trident in presence of Abhishek Gupta, Managing Director. Also present during the occasion were Valter De Carli, Vice President – Sales, India; and Franco Bonello, Managing Director of Savio India Ltd.
Nitin Spinners
With 62 POLAR winders installation following eight ORION winders, 14 TFO Geminis S and 17 TFO Sirius, Nitin Spinners has set a benchmark in reference for Savio in the Rajasthan region. On November 16, 2015, the Golden Drum Ceremony took place at Savio stand at ITMA 2015 for the delegates from Nitin Group. The Golden Drum was handed over to RL Nolkha, Chairman in presence of Dinesh Nolkha, Managing Director; Nitin Nolkha, Director; and Sandeep Garg, General Manager, among Savio's entire team including Mauro Moro.