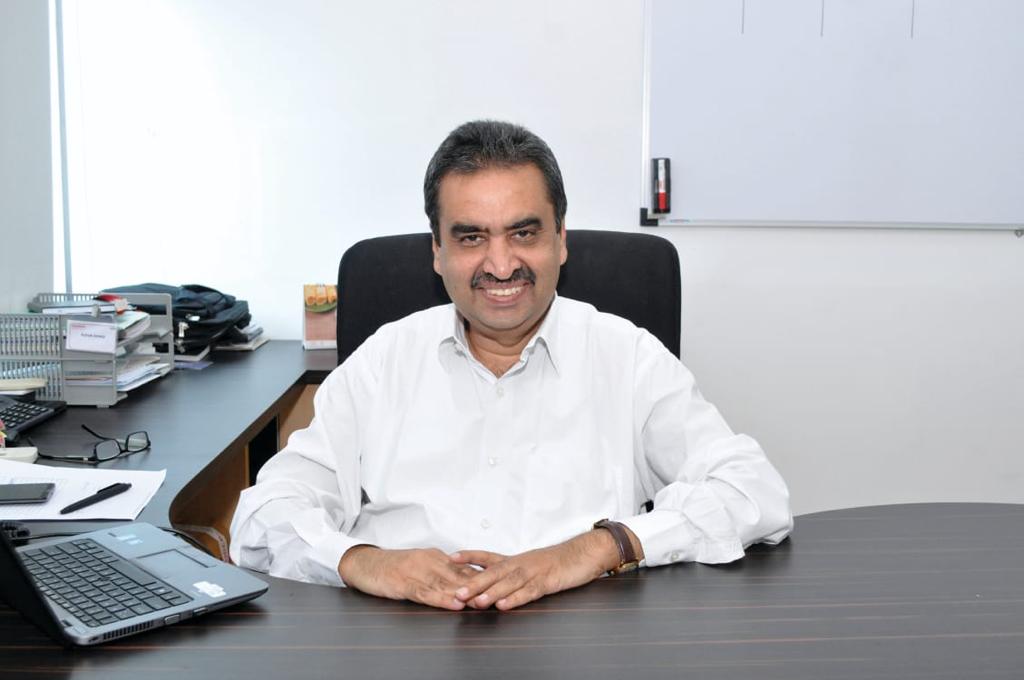 Saurer has dedicated technologies for manufacturing recycled yarn
Saurer is a leading globally operating technology company focusing on innovations for the processing of fibre and yarn, including machinery, components and software. We partner with customers, providing smart fit-for-purpose solutions to help our clients achieve their business aspirations. Ashok Juneja, Director-Sales, Saurer, gives a brief overview of the Indian MMF industry and how is Saurer contributing in this growth to Divya Shetty.
What according to you is the present market of MMF (man-made) industry in India?
The MMF industry in India has been growing rapidly and as of date, India produces all types of synthetic fibres like synthetic yarn, fabrics, made-ups, and home textiles. The MMF fabrics hold a majority share in export segment, followed by made-ups and yarn. India is completely self-dependent across the value chain, from the raw material to the garments. The man-made industry mainly constitutes of two types – polyester and viscose.
As per the segment wise share, yarn accounted for 29 per cent, made-ups for 30  per cent and fabric accounted for 33 per cent of India's MMF textile exports.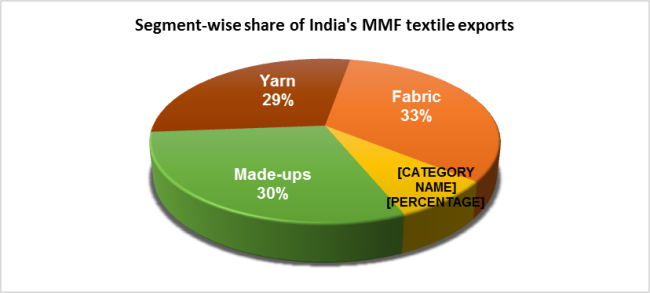 Both polyester and viscose accounts for about 94 per cent (in volume terms) and is expecting a growth of 3.7 per cent Y-o-Y by 2025
The major highlights of Indian MMF industry was; the country was the second largest producer of both polyester and viscose fibre globally.MMF industry contributes 17 per cent of India's textile exports is world's 6th largest exporter of MMF textiles. India exports polyester, viscose and other type of fibres, polyester yarns, spun filaments, ropes, blankets, bed linen, fishing nets, motifs and furnishing articles. Surat is the synthetic capital of India and it accounts for 40 per cent of India's man made fabric production.
The government has also supported the industry by withdrawing the anti-dumping duty on Purified Terephthalic Acid (PTA), the raw material for manufacturing manmade fibre and yarn. India has also abolished the anti-dumping duty on viscose staple fibres, key raw materials for manmade fibre. The PLI Scheme for textiles was announced by the Government to strengthen the MMF industry. It specifically focuses on expanding the MMF and technical textiles segments. Incentives worth Rs 106.83 crore has been offered for a period of five years to manufacture notified products of MMF fabrics and MMF apparel.
In 2021-22, India reached $ 6.77 billion worth of exports, which is an increase of 45.83 per cent over 2020-21.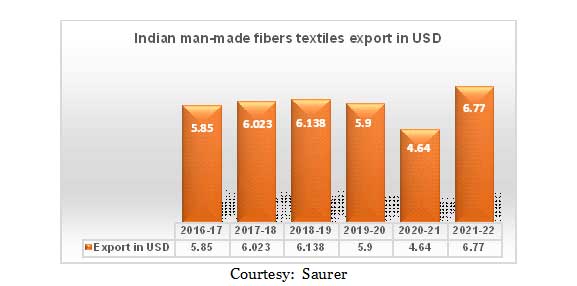 What are the challenges and opportunities in manufacturing machinery industry?
The manufacturing industry build back in 2022 after two particularly turbulent years due to COVID but manufacturers are navigating through new challenges.
In some places the industrial production and capacity utilisation is back at pre-pandemic levels and new orders remain strong, pointing to ongoing growth. However, due to ongoing worldwide tensions market remains highly volatile and are facing following challenges which are adding to a lot of uncertainty
Supply chain disruptions is one of the biggest challenges which manufacturers still continues to face globally—adding costs and requiring businesses to adapt quickly. The industry is facing a volatile supply-chains with increasingly higher demand, rising costs of raw materials and freight, thus leading to increase in parts cost, delay in delivery.
The global shortage of semiconductors continued to haunt the manufacturer in 2022 leading to delay in the machine delivery and spare parts. Although the chip shortage and supply bottlenecks have begun to ease, semiconductor and supply chain issues are unlikely to be resolved in the near-term and are expected to continue to affect production in 2023.
Due to Covid scare and Ukraine war the transportation is another challenge due to congestion at critical ports. As demand outpaces supply, higher costs are more likely to be passed on to customers.
Due to steep increase in raw material price, the manufacturing cost of various spare part have increased to exorbitantly amount thus increasing the cost of manufacturing machines.
Also due to vague delivery time of electronic spare parts the manufacturing of machines are getting delayed which is a biggest stress to suppliers and customers.
Although, the industry may have a lot of challenges to overcome, there are also plethora of opportunities for the industry; since COVID, much development took place in electronic segment leading to redesigning of chips for various use in electronic parts. Although this has disturb the supply chain, delivery and manufacturing cost but this will be the scope of supply for new and future machine hence adapting to the change and acknowledging the new design would actually improve the performance of the machine and its productivity.
As we all are aware of challenges it is better to be smart and ensure to optimise the inventory to maintain sufficient spare part to cater both machine line and spare part department to ensure the delivery as per committed schedule. Over the next 10 years, manufacturing companies in India can really scale from being small and medium enterprises (SMEs) to medium and large companies and the best way to do this is by investing in core manufacturing infrastructure. Whether in terms of equipment or technological innovation, investment in the sector is a great way to boost production and ensure profits not just for the individual companies but also profits that add to the national gross domestic product (GDP).
The future is ripe with possibilities especially with the entire ecosystem for components & core raw material getting developed in India. It has taken India the last 2 decades to build the foundation required for scaling its manufacturing to larger and complex products. Now that the opportunity has presented itself, we as a country should come together and make the most of it.
Further, India being strong in software & information technologies, we can use machine learning, artificial intelligence and other forms of reality technologies to further increase production and process efficiencies to make ourselves competitive.
Any new technological developments in MMF manufacturing machineries?
Some of the spinning technology developments by Saurer are;
Modern spinning systems like compact spinning: For improvement in viscose in terms of smoother, clear appearance making it suitable for usage in fashion garments and replace cotton. Also many are opting for compact to process blend yarn. Saurer have own compact system FX and FX pro compact fitted on ringframe ZI 72 XL suitable for any type of process to attain highest quality in yarn.
Air jet spinning: A distinctive type of yarn called fasciated or wrapped yarn. The idealised structure of fasciated yarn consists of parallel fibres in the core, which are held together by wrapper fibres. Saurer have launched "Autoairo" machine which is suitable to process fiber material like 100% viscose, modal, tencel, and blends with amount of >50% (e.g, CV/CO 60/40 or CV/PES 70/30, etc). The yarns are widely used in manufacturing of fashion items and fabrics, ranging from casual to formal, and from daily necessities to luxury items.
Rotor spinning or open end process: The heart of the open-end process is a rotor, wherein fibers can be collected and then drawn off as a yarn. Saurer is the only manufacturer with fully automatic OE machine "Autocoro"recently we have launched our 3rd generation of revolutionary Autocoro-10 single-spindle technology. The autocoro is widely used in manufacturing yarn for manufacturing sustainable fabrics by processing recycled fibers and coarse count cotton yarn for manufacturing denims. With autocoro slub and injection slub yarn can also be manufactured.
Siro spinning: Saurer offers ring spinning with Siro spun technology combine with FX pro compact system which reduces the pilling and shrinkage in viscose fibre which further makes it suitable to use in place of cotton.
Is Saurer doing any new innovation for recycled or regenerated fibres?
Recycled yarn is created through the process of recovering old clothes, textiles, and other articles from PET plastic for reuse or recovering its raw materials for production.
In its role as market and innovation leader, Saurer has been offering comprehensive solutions for recycled fibres for decades. Our development focus is always on quality, energy saving and economic efficiency. Saurer has the most innovated machine Autocoro have features like syncropiecing, multilots, vacuum trash cleaner, turbostart, Max 8 doffing units, flexible spin box, corolab to name a few.
Saurer is now offering Autocoro 10 to offers flexible, individually adaptable automation solutions.
Saurer also have the dedicated blowroom and carding machine for the process of manufacturing recycled yarn.
Autocoro is the most preferred machines for recycled or for open end unit. Recently we launched the 3rd generation of revolutionary Autocoro 10 single-spindle technology which has revolutionised recycle and rotor spinning mills. Its single–spindle technology, intelligent automation and digitalisation give it unprecedented productivity. The secure platform for Industry 4.0 in the rotor spinning mill is laid in Autocoro
How was Saurer's performance in the year 2022?
Saurer had a successful year as order inflow was good it would have been better if the supply chain issue were resolved in the beginning of the year. Since 2021 the Indian textile industry experienced fair growth that contributed in our growth and we closed year 2022 on a high note.
We also had a successful ITME 22 where we launched air spinning machine "Autoairo" With the Autoairo, Saurer is the only supplier offering five different spinning systems from one company i.e. ring, compact, worsted, rotor, and air spinning systems.
The challenges still continues to loom around us in 2023 also basically the availability and vague delivery time of critical spares part which impacts the business however situation is expected to improve and we are confident of performing well in 2023.