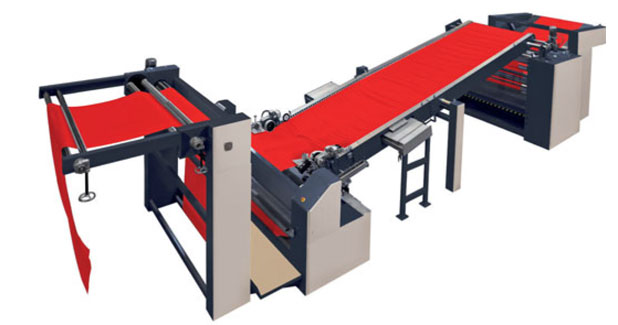 Santex Santasynpact to debut
Santex Textile Division is showing with newest addition to the Santex family of knits finishing machines.
Santex Textile Division is showing with Santasynpact newest addition to the Santex family of knits finishing machines.
The main goal is to provide the highest performance and best fabric quality with minimum production costs. Santasynpact is a combination of rubber belt shrinkage and felt belt compacting unit in one line with levelling frame at the entry.
With this new development compaction results are significantly improved and at production speeds 2-3 times higher than conventional felt compacting systems. Santex will show the latest version with special designed felt belt features to ensure the sensitive handling of cotton or cotton blended knits and to maximise performance.
Cavitec, a brand name of Santex AG Switzerland is showing their new CAVIMELT P+P. It is a streamlined machine developed with the goals of precision, production and cost effectiveness in Hotmelt Coating and Laminating using the rotogravure system. This compact design integrates the unwinder and rewinder in one machine frame, accepting rolls up to 600 mm in diameter and working width of 1,600-2,400 mm.
Operating speed is up to 40 m/min and allows coating weights from 3-80 gsm. All well known adheseves in thermoplastic and reactive Hotmelts are applicable.
The end use of the so produced fabrics are for active wear, automotive interiors, home textiles, technical composites, etc. The machine is delivered pre-wired, assembled and tested. The CAVIMELT P+P stands for Plug+Play, because of short installation and commissioning time.