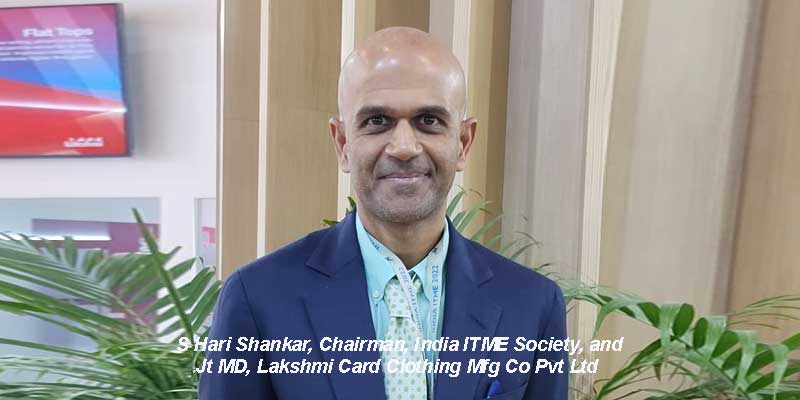 S Hari Shankar: ITME 2022 has been very productive for all
The ITME chairman spoke about the exhibition and also recent trends of the industry.
India ITME 2022 kick started with a humungous response from exhibitors and visitors from across the world. While speaking to ITJ during the trade fair, elated S Hari Shankar, Chairman of India ITME Society, and Joint Managing Director of Lakshmi Card Clothing Mfg Co Pvt Ltd, said, "We were not able to host this exhibition on the scheduled time due to pandemic. Now that the trade fair is taking place, companies are happy to meet their customers face-to-face after a long time. Footfall has been really amazing at ITME 2022. It's not just about exhibitors, the product launches and number of displays that we have here, but also about technical sessions and forums where elite panelists discuss various relevant topics to the textile industry. In addition, there are B2B meetings, where delegations from other countries are interacting with potential suppliers at ITME. All-in-all, it is a very productive event for all participants of ITME."
Sharing his views on sustainability, he said, "Circularity and green initiatives are the need of the hour. These topics are extensively covered in the seminars (that are taking place at ITME 2022) and provide a right platform to key stakeholders to come together to discuss solutions for the green future. Carbon emission is real and we all have to play our part constructively to keep our environment safe for the future generations. Even at this trade fair, companies are exhibiting products and services for providing solutions to textile industry for fulfilling their automation and sustainability needs."
With rising awareness about environment among consumers, textile makers are taking steps to make their processes eco-friendly. "End consumers (especially the younger generation) are more aware about the environmental issues and are playing their part in forcing the textile industry to go green. Hence, entire textile value chain is taking efforts to reduce their carbon footprint," explained S Hari Shankar.
Sharing his view on the upcoming budget 2023, he said, "The government has already launched the first phase of Production Linked Incentive (PLI) scheme (i.e. PLI 1) and is currently working on PLI 2 scheme. Budget should be used to bridge the gap between textile machinery makers and their users (i.e. textile product makers). Both can work hand-in-hand to overcome each other's shortcomings so find solutions for the industry's bright future."